I remember when we went to see a farm (a farm we didn't buy, not this one), the real estate agent took us there and told us that there were "big molecules" on the farm.
My husband and I looked at each other with a look that we've used for more than 20 years. You know the one, right? As soon as she was out of ear shot, we cracked up about that comment.
That was before we knew anything at all about "big molecules."
Now we know. Now that we've moved to a farm we GET the big molecule comment.
We live IN and AROUND and WITH big molecules. Oh how we love the big molecules. Here's what I mean.
I drive by this baby every day. He/she is a miniature horse that lives down the road. I just want to get out of the car and walk into that pasture and cradle it in my arms and hug him/her. The Mom is usually close by, so I don't.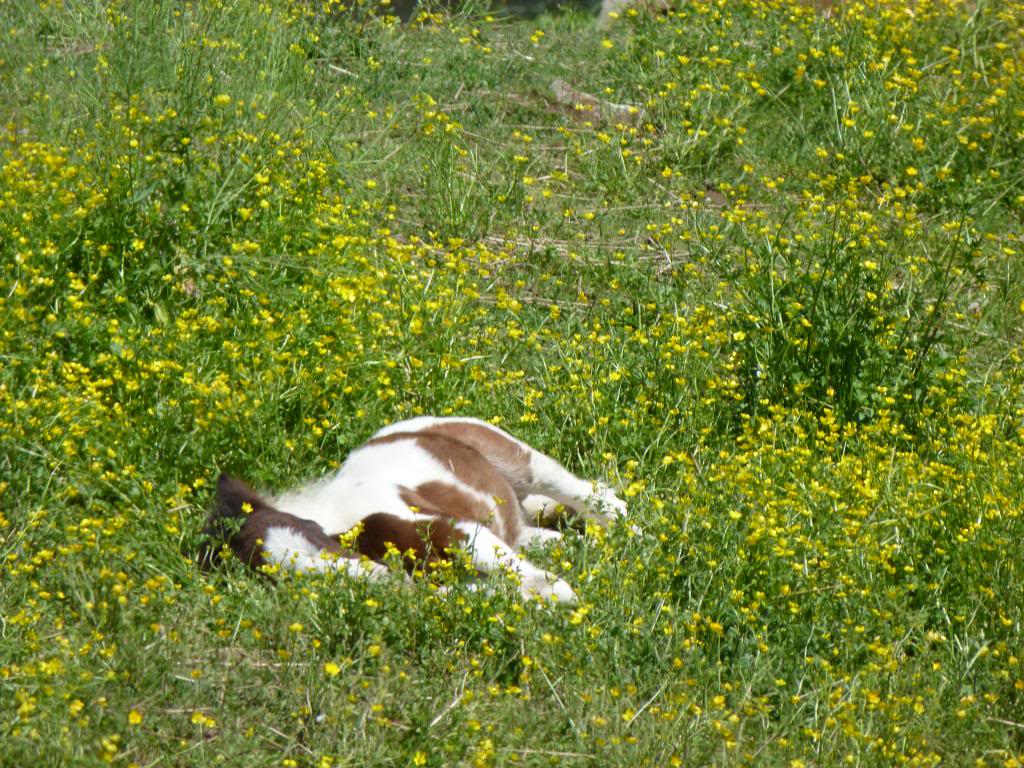 During our last visit, you gave me the idea of raised beds to solve my garden problem. When the sweet potato slips I had ordered came in the mail I knew I should try to build a raised bed since my garden spot is no where close to being ready.
I got some boards and some dirt. And with no skills or plan, I built a box. Because when you live in big molecules you become EMPOWERED.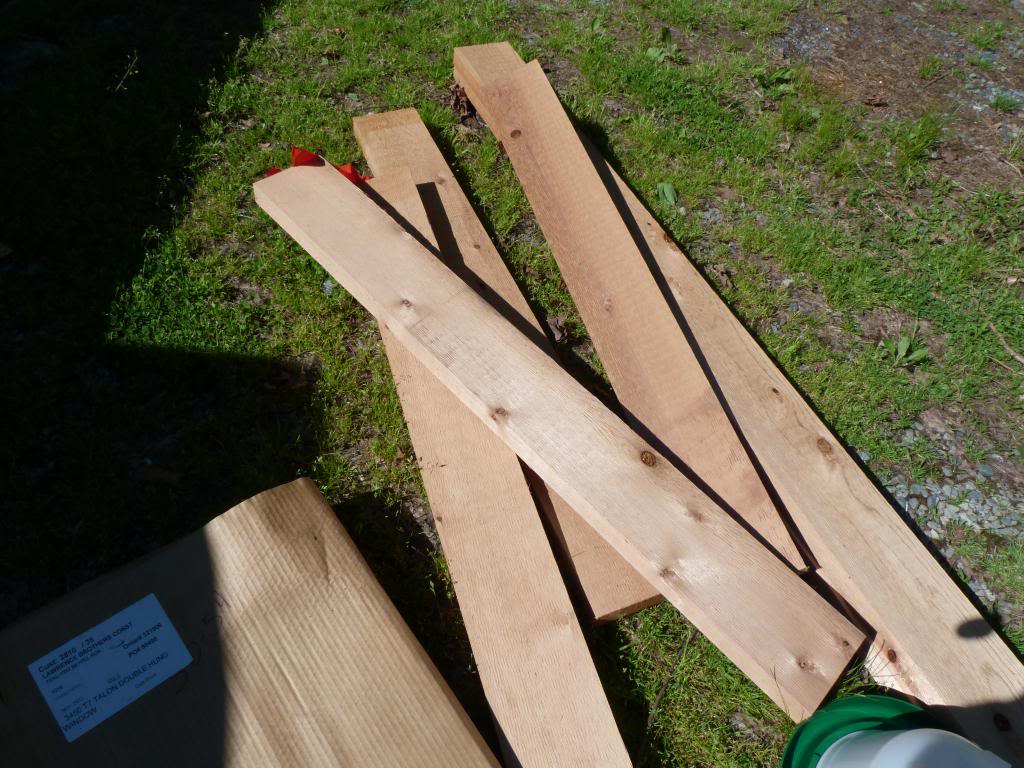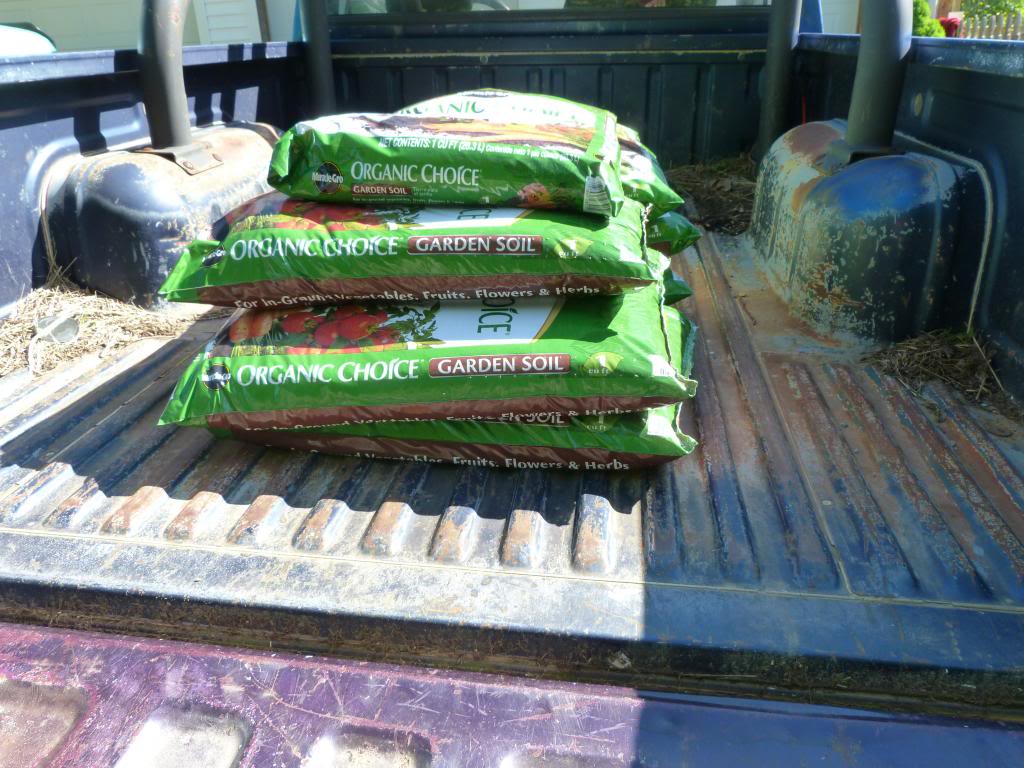 And look what I grew. A child!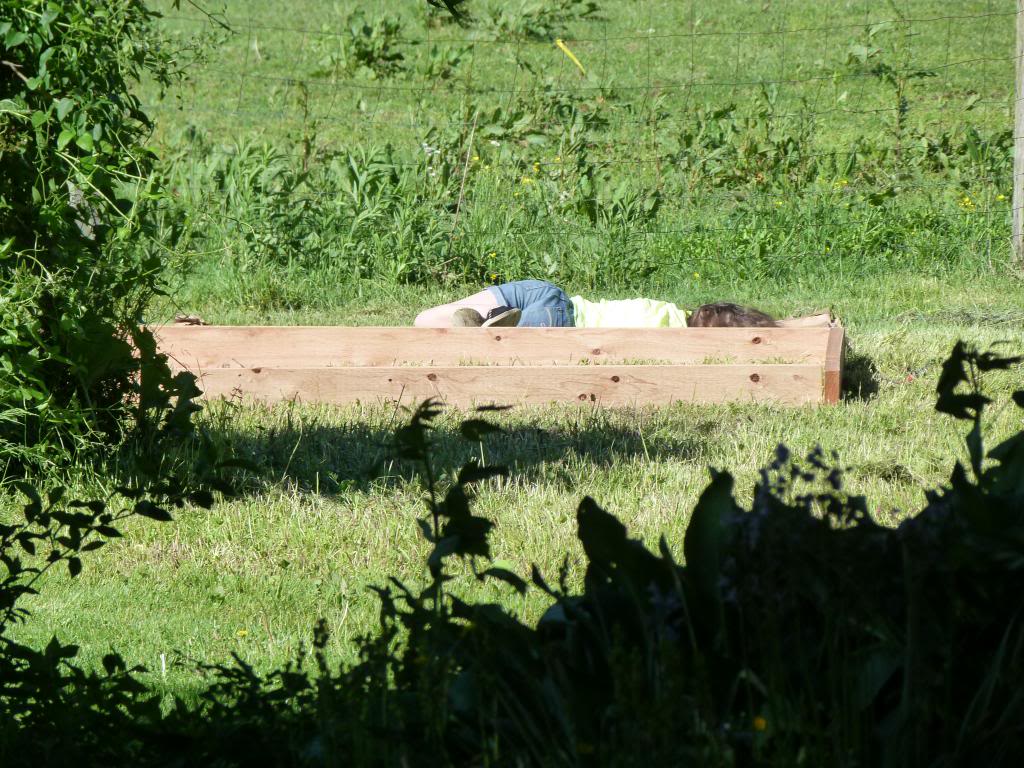 They've been doing standardized testing at school (yes! we are still in school because of all the snow days!). And all the kids around here are exhausted and stressed out. When I went to the house to grab something, I  came back to this. Cute thing. I just wanted to go out there and cradle her and hug her. And I did.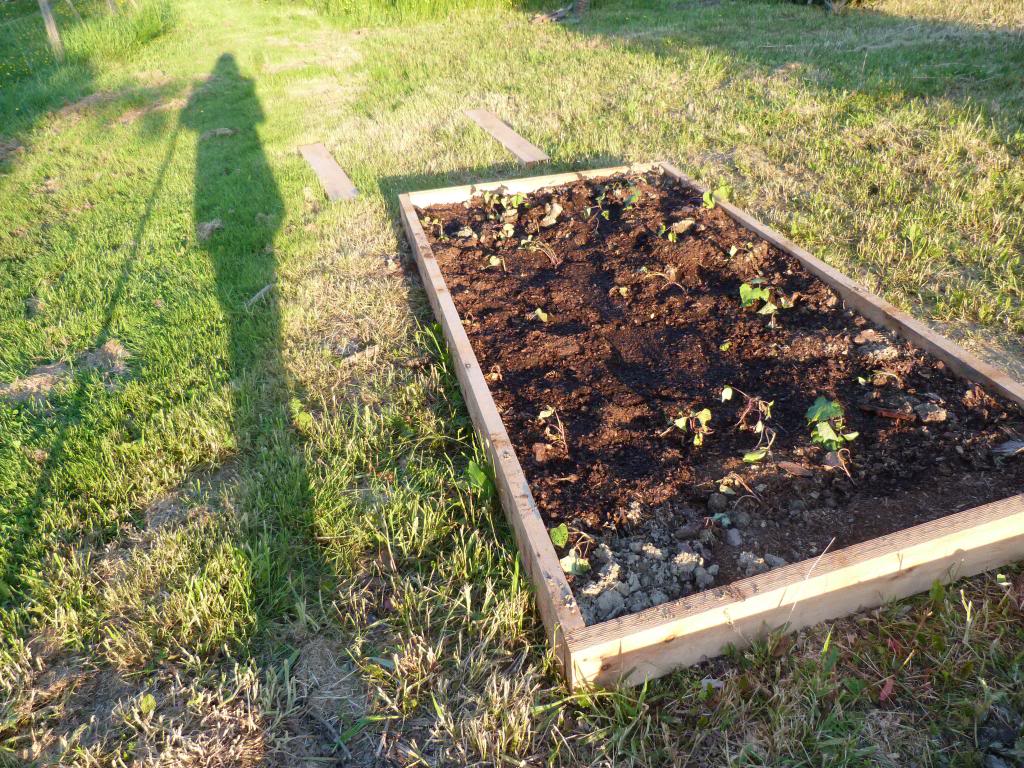 Once she got up, I dumped in the dirt and planted the sweet potato slips.
 Oh, and the horses live in big molecules with us. However, a horse who bucks the person who adores and cares for him gets treated like a regular ole horse. And that means silly fly masks.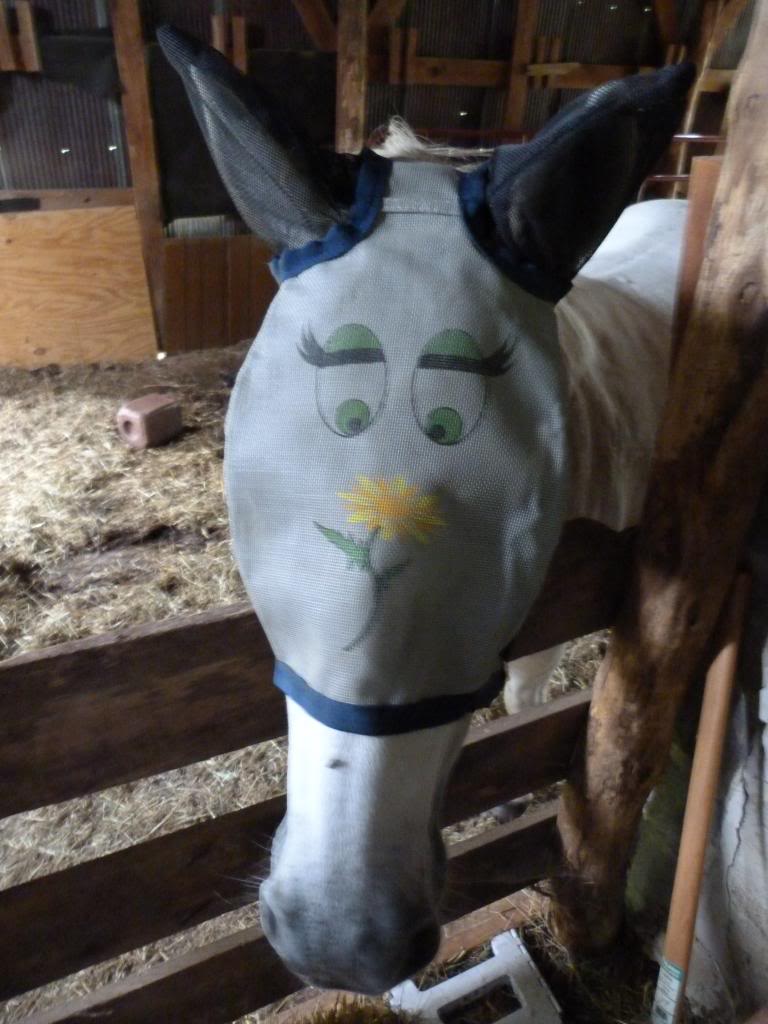 Just kidding. I only made him wear that for the photo. He actually has a regal fly mask befitting his majesty and dignity.
Are you wondering if the chicken house is finished? Here's the answer: no.
We are getting close though.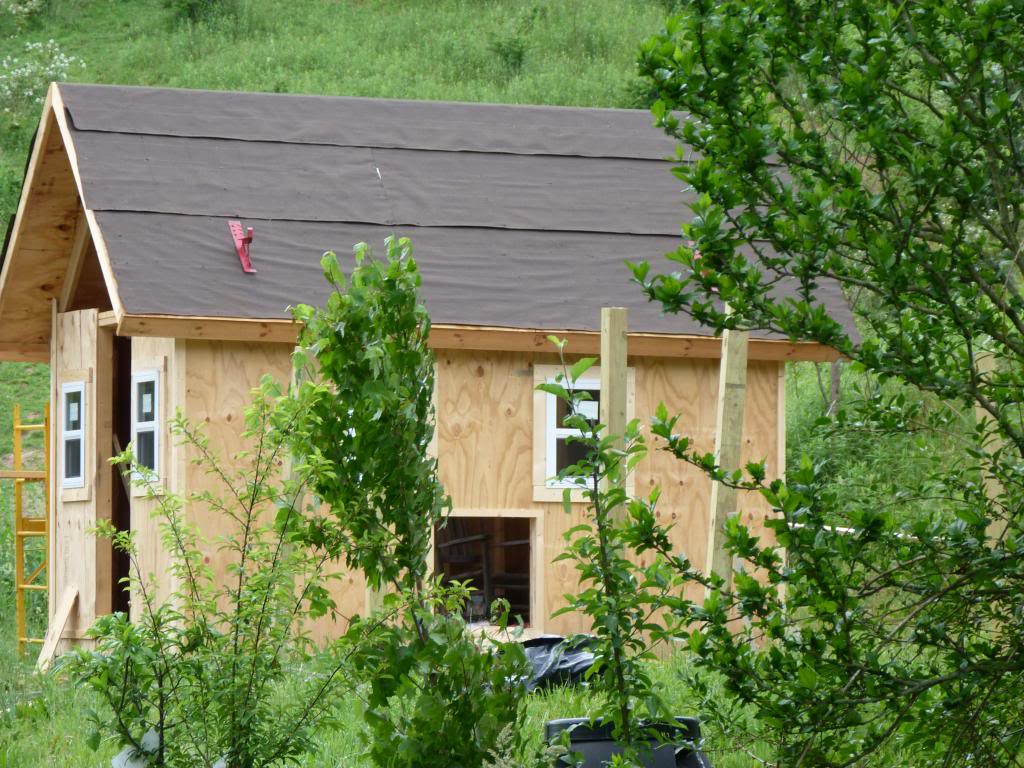 I have high hopes that those not-so-little any more 16 chickens will be out of our bathroom soon. I smell them big time now. We are still thinking this chicken is a Roo. We don't know how to tell, so we'll have to wait and see if it tries to crow.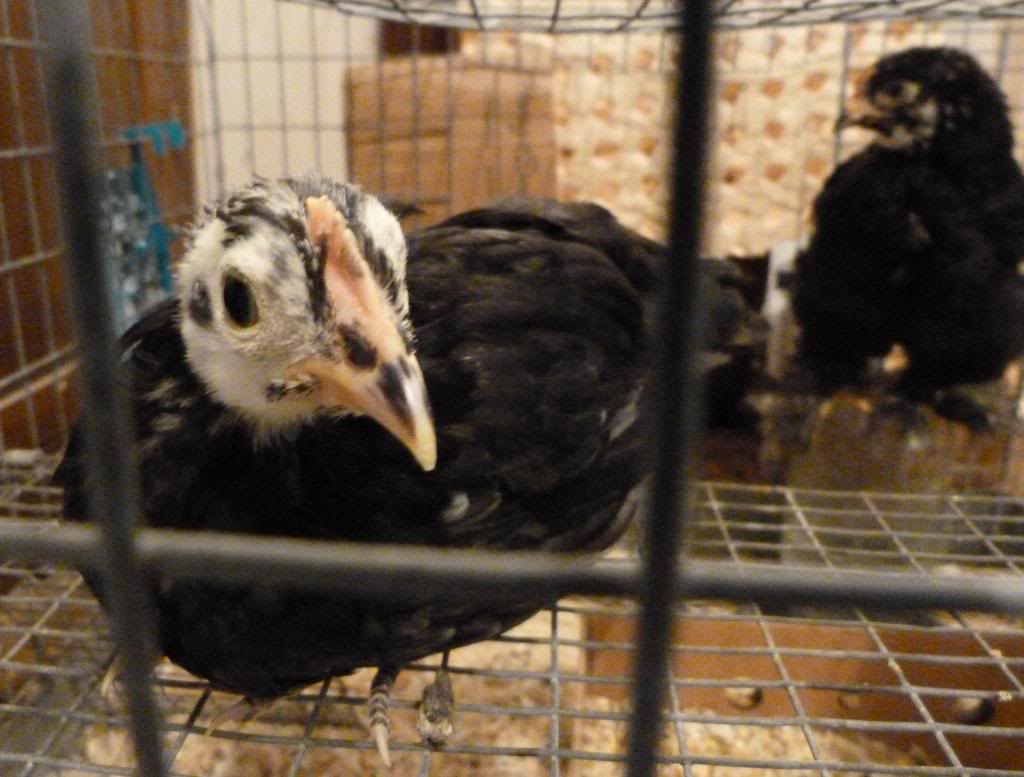 Around here, in the Big Molecules, it is time to do the first cutting of hay. The first cut is the sweetest hay, with all the sugars bursting forth in spring after winter. The next cuts are less sweet.
There was a break between all the rain and everyone in the community started cutting.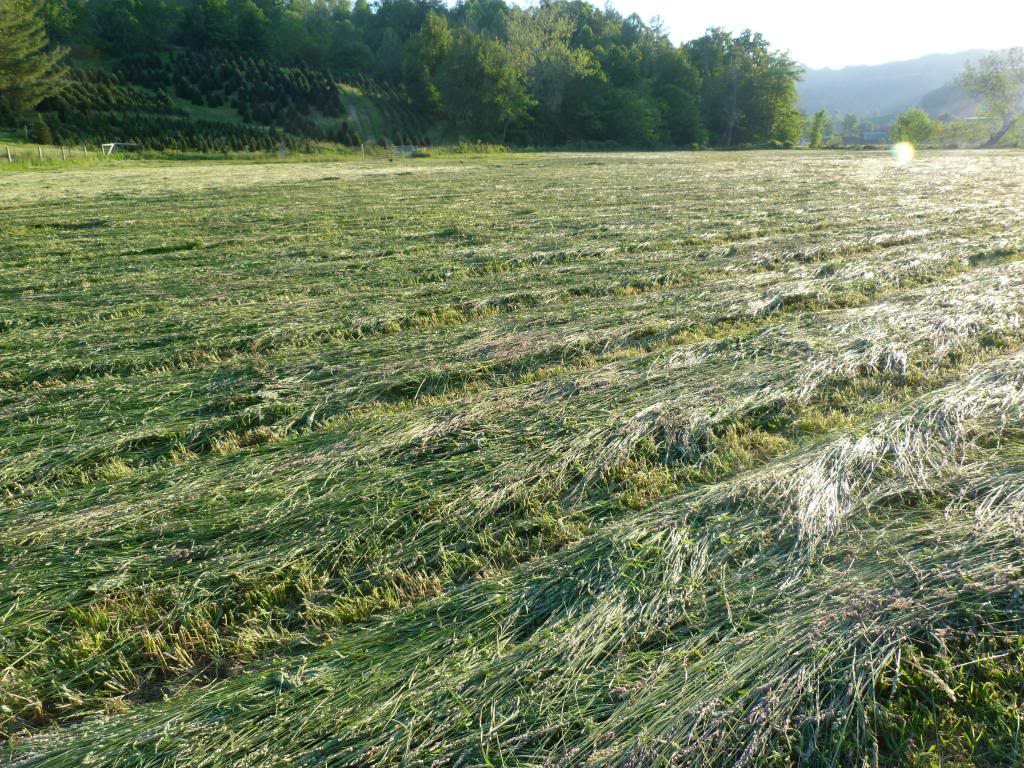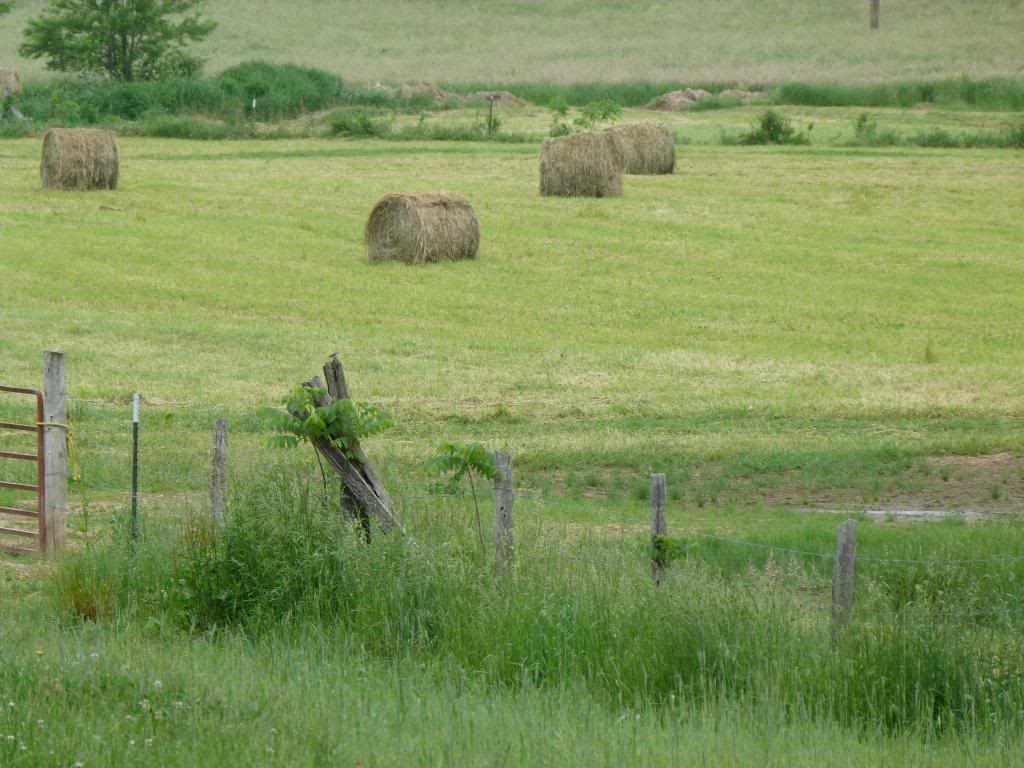 Soon there were rolls in front of everyone's house.
One thing I love about our first year at this old farm in the big molecules is the surprise flowers. We had no idea what was planted or where. You see, by the time we purchased the place and moved here, it was covered in weeds. This spring has been full of surprises in the yard. Just this week a bunch of peonies bloomed.
I admire the people who can go out to their gardens with a pair of scissors and bring the flowers in the house. I had a friend in Georgia who would have her garden flowers gracing every room in her house, even her powder room. That's hard for me to do. I have a tendency to leave them outside.
Peony photobombed by the purple flower whose name I don't know.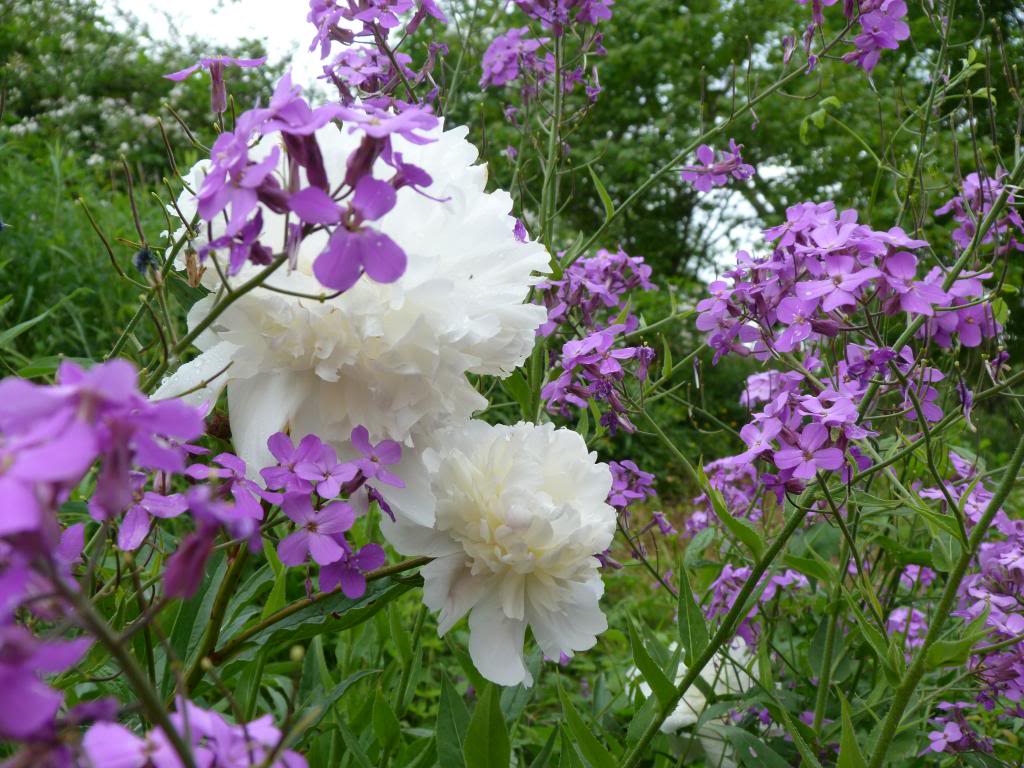 And here's a pink one.
I don't know if the pink one was a mistake since all the other peonies are white?
It's beautiful, isn't it? I've always loved peonies. And now I have a garden full that some one else planted.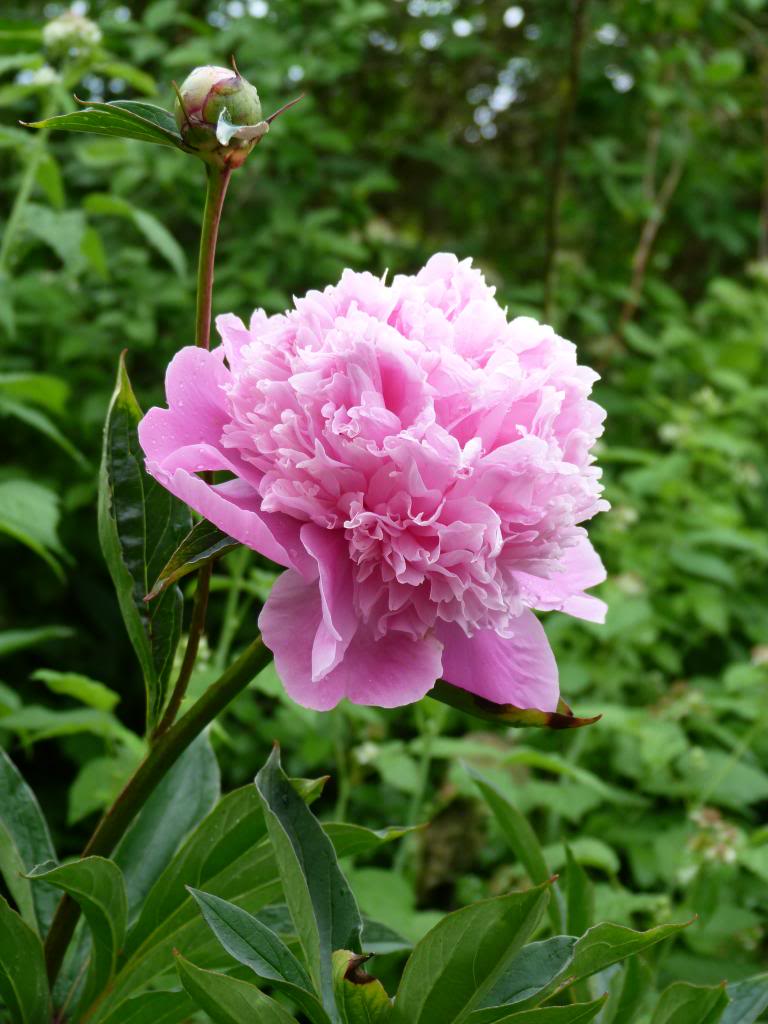 I have always had a Bleeding Heart flower in my garden. Yes, in every single house we've ever lived, we planted Bleeding Hearts. Here, they came with the molecules. I didn't have to plant any; some caretaker before me had already thought of that.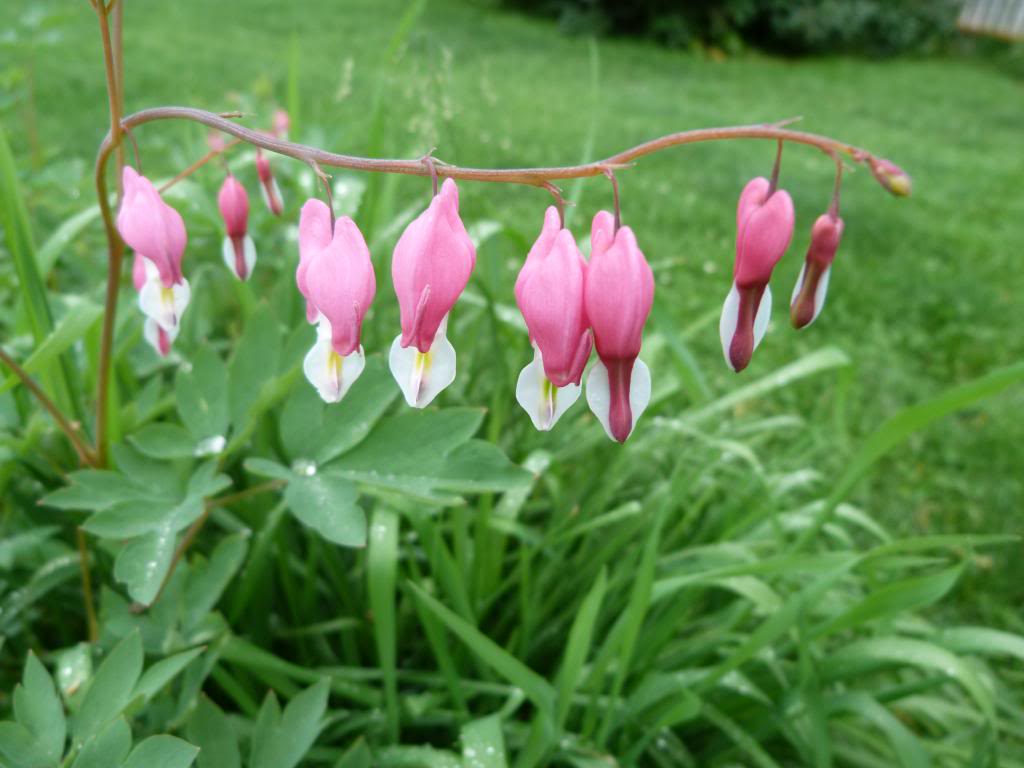 And just look at this bush. It's huge.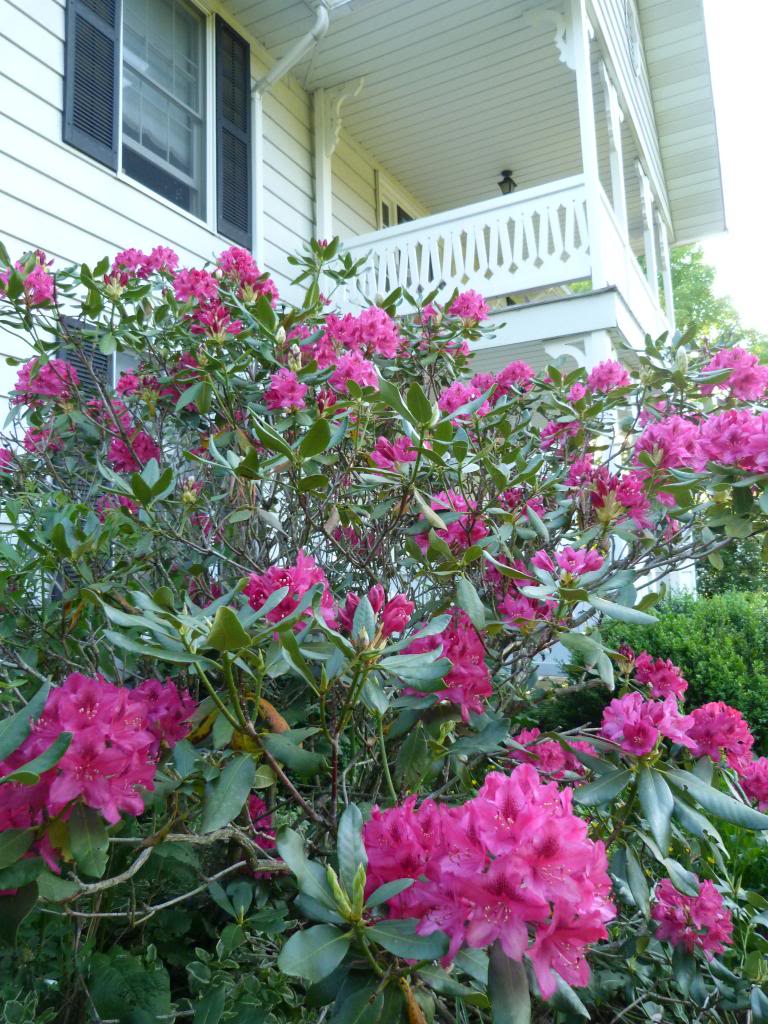 We are very tired. I can tell you that. Spring time  in the big molecules is exhausting. John Denver was wrong. Life on the farm is not kinda laid back. It's exhausting. We are already veru much behind with everything that needs to be done.
I told someone the other day: if we live to be 100, we'll never finish the project list for this old farm.
What to do, what to do?
Enjoy the ride. Breathe in the big molecules. Cherish every minute. Smell and appreciate every flower. Go on a picnic under the maple tree for lunch. Take a siesta. Have a fiesta. Take care of all the animals.
Wait.
That brings me to a bit of news.
I've been spreading the word around here that we want two barn cats. I've seen some mice in our barn and we need to scare them off.
News flash: I don't need a barn cat. We have a barn snake.
A long, black barn snake with a white tummy.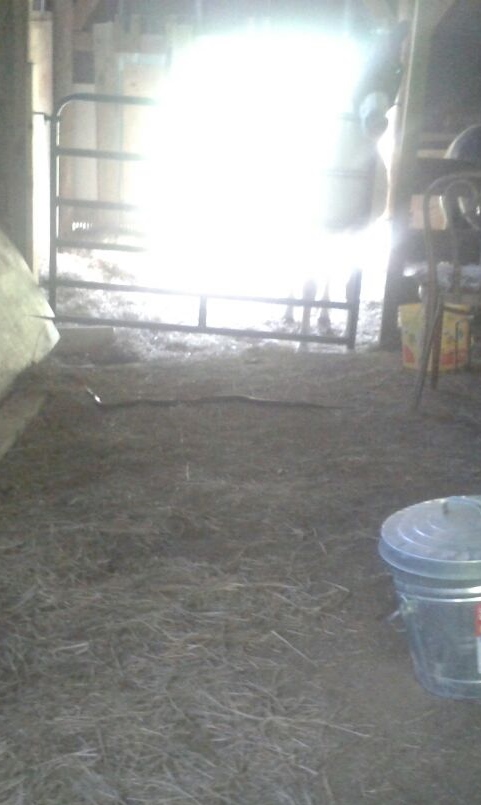 This was taken with my hub's phone, so it is low quality, but I like this photo A LOT. Do you see my Great White Horse in front of all that White Light? He is wearing his dignified black fly mask. He looks like an angel.
And there's the snake.
And, Farmgirl Friends, I'm okay with that.
Me. Snake phobic. Hater.
Somehow, someway, something happened to me.
I can't explain it.
I go into that barn and do what needs to be done.
Now, I can tell you this. I don't spend any time looking around for him. I don't gaze up at the rafters or check out the corners. I just stomp in and do my thing.
And as long as he doesn't SURPRISE me, I'm okay with our barn snake.
I think.
Until next time, Friends, savor the flavor of life!
Lots of love, The City Farmgirl, Rebekah