I went outside this morning, after all the snow we got this weekend and took care of the chickens. Woo. Sure was cold. All of their water containers froze during the night, even the one in their house. Guess it got below freezing again last night. Sunny and beautiful and cold this morning! I love it, I love it, I love it.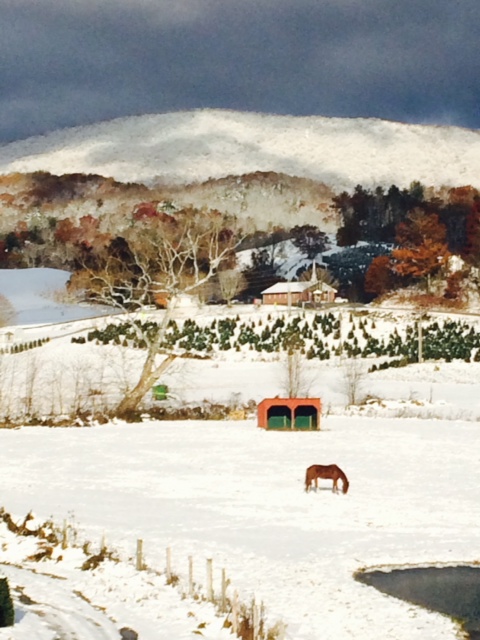 THE VIEW OUTSIDE MY WINDOW SUNDAY MORNING
When I got back inside I looked at our thermometer. 15 degrees! I had no idea it was THAT cold.
See, the thing is. 32 degrees is cold. But as the number keeps going down on the thermometer, you don't really feel it. I was not FREEZING. I was fine. Does that mean I've acclimated to the cold country weather? Well, I wouldn't go that far, I guess. Or would I?
I'm glad I didn't know how cold it was going to get last night. If I had known it was 15 degrees, I would have worried SICK about my chickens and my horses. Ignorance is bliss. Everyone was fine this morning. I still haven't learned how to have FARM animals. That live outside. I think of them as pets, furry family members.
This was our first snow of the season. It came on Halloween night around midnight. It snowed all day Saturday. We got about 5-6 inches. Fabulous!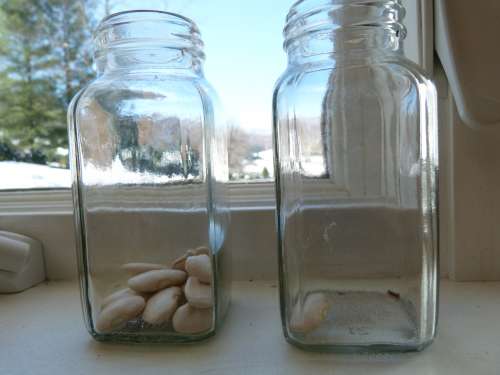 I took one bean out of our SNOW JAR. One down, fourteen to go. (Fifteen foggy mornings in August means fifteen snow events in the Appalachian Mountains. Or so they say.)
Walk with me and Blue around our snow covered farm.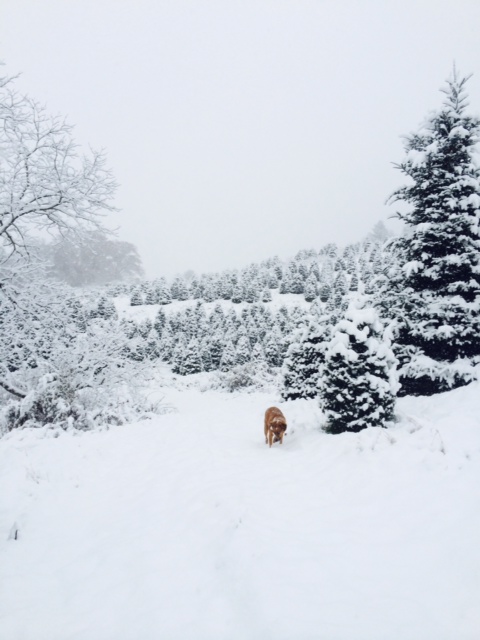 This is my "ONE DAY!" Studio/Office, the old wash house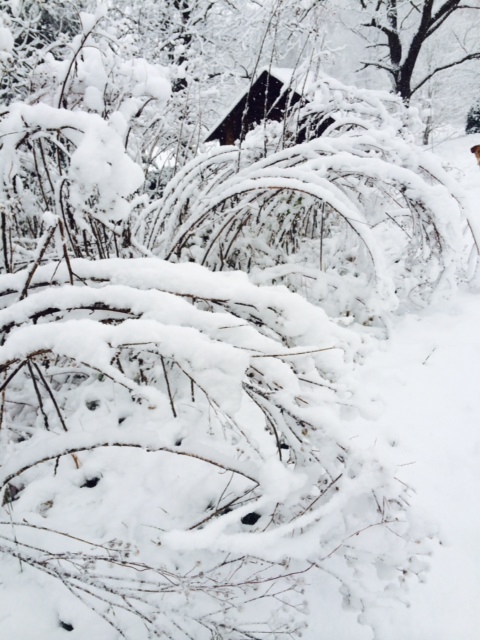 and here~after some snow melted today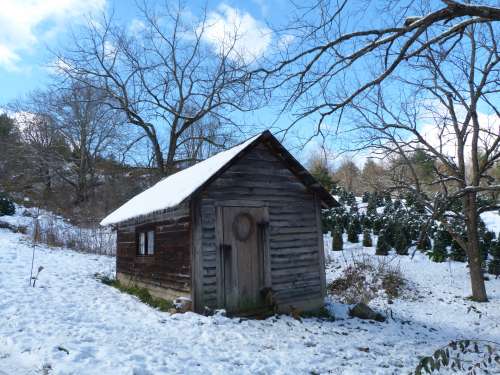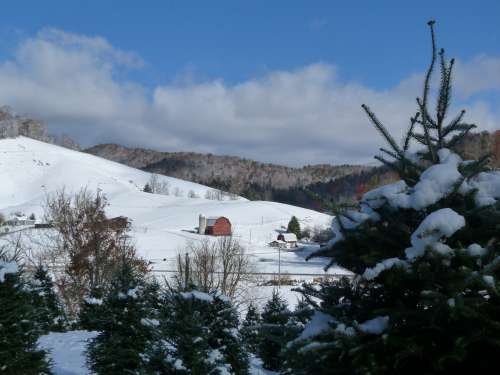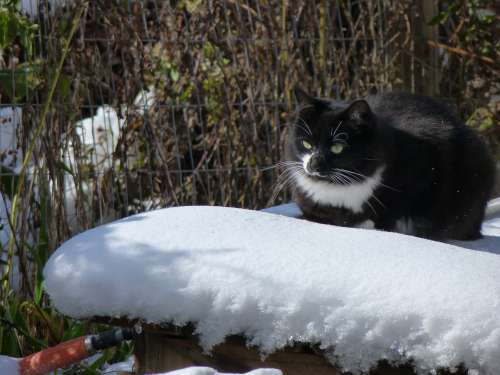 HEY, JUDE!
He has a warm place to go, but instead he hangs out in and on the snow all day. Me too!
Now this lane between the Christmas Trees tells the story of my Saturday night.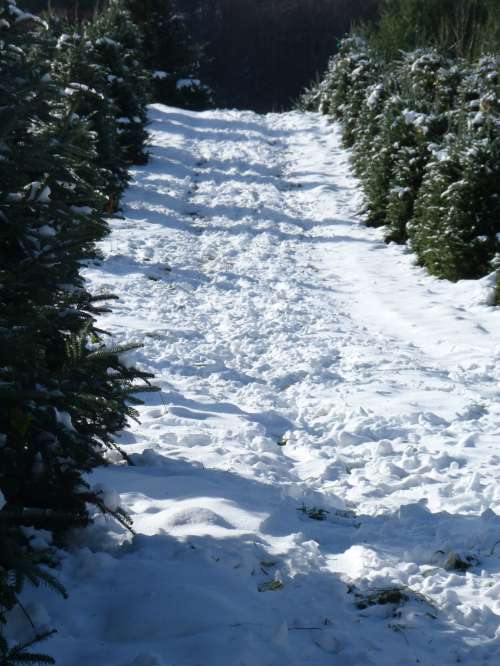 Notice how it is not smooth? It is trampled in. Well, we have two pastures that the horses hang out in, one of the left side of our driveway and one on the right. It takes ME to let them over from one side to the other. Because we are a working farm, there is a lot of activity in our driveway, so we keep the horses on one side or the other.
Saturday night, just after dark, 3 of my horses got out of the fence. I won't give you all the details on how they escaped, just know that it was probably, most likely, definitely MY FAULT.
Anyway, the horses headed up into the trees because the other fence was closed.
And then I lost them.
I trekked all over the place with a headlamp on my head, looking for those guys. My husband looked out the window and saw my headlamp in the darkness on the side of the hill and knew something was up. He came out to help. He brought me the ATV and I attempted to cover some distance on it. NO GO! We don't really know much about ATVs, but I now know that they cannot handle snow covered hills. So, I got back off of it and set out on foot.
I'm glad I was on foot because I finally found HOOF PRINTS in the snow between the Christmas trees. I followed the hoof tracks to the very top of the hill behind our house. Sweet hooved children were up there. It figures that they would have climbed the steep hill instead of just going down a flat farm road. Oh well. It was spectacular to be up there in the dark snowy night. Beautiful! And the horses seemed happy to see me. I didn't have a halter with me, but didn't need one. They followed me down the hill. We slipped and slid. We took it slow and easy. It was icy snow at that point.
ANYWAY. When a bean comes out of the jar, it is time to celebrate! Snow means chilli and cornbread. A big fire in the fireplace. Hot tea and hot chocolate. Fuzzy blankets. Winter music. ("Sleigh bells ring, are ya listenin'", etc)
This weekend I made the first batch of granola that I've made in awhile. The snow made me do it.
I love a breakfast with yogurt, maple syrup and granola.
Here's the link to my Famous Granola Recipe. In this most recent batch, I followed my standard recipe, but included whole almonds, pecan pieces, coconut, pumpkin pie spice along with the cinnamon. After baking I added large dark chocolate morsels and dried cranberries.
Yum!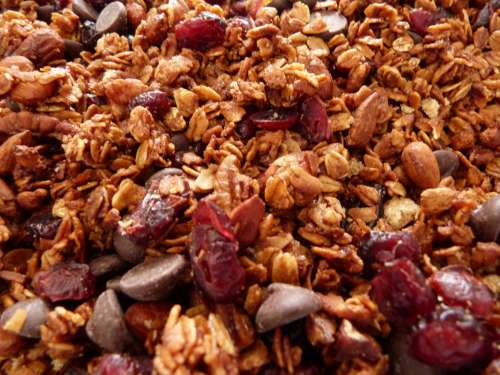 Did I mention YUM?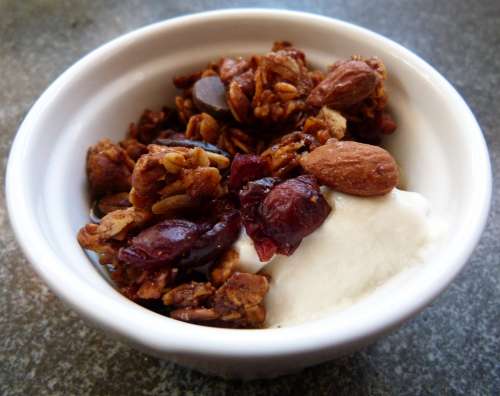 This was a great run-through for the winter. It is supposed to warm up this week into the 60s and this gave us a good idea of what we need to do before winter truly arrives.
We've got firewood and hay. And need to work on our winter pantry and car kits.
Hmmm….SNOW SHELF needs:
coffee
pasta and sauce
cat and dog food
tuna
cans of veggies
can opener
cookies, oh yeah
candles and matches
toilet paper!
what else?
And I've got to create this year's EMERGENCY CAR KIT:
• windshield scraper and small broom
• flashlight with extra batteries
• water
• snack food including energy bars
• matches and small candles
• extra hats, socks and mittens
• First aid kit with pocket knife
• blankets
• road salt, sand, or cat litter for traction
• booster cables
• emergency flares and reflectors
• fluorescent distress flag
Last year I didn't need an emergency car kit at all up here in the mountains, but my husband needed one down in Atlanta. He was there when Atlanta got hit with Snow Jam. He was in his car for 12 hours. We'll be prepared this year! Here or there or anywhere. We're getting ready for winter.
How about you? Are you ready for winter? How do YOU prepare?
Until next time, Friends, savor the flavor of life!
Lots of love, The City Farmgirl in the Country, Rebekah