Making Home "HOME SWEET HOME."
I know FOR SURE we must have talked about this before, but it's on my mind with this new old farmhouse I've got. How does one MAKE a home HOME? How do you take four walls and make them your own HOME SWEET HOME? How do you create a HOME that nourishes and nurtures your family?
I've come up with FIVE WAYS to do that.
I have to tell you. When I first saw this old farmhouse (a year ago now!) and stepped through the door for the first time…well….
The very first word that came to my mind was "HOME."
The agent brought us in the side door, opened it up, and I saw those stairs with burnt orange carpet. I saw into the kitchen with the old linoleum and the brick fireplace. I saw into that dining room with the fuzzy wallpaper and fireplace of its own.  The house had been closed up a long time, so it smelled like your elderly great aunt smells. You know, when you lean down to kiss her and her clothes have that musty, moth ball smell? Stinky, but HOME, HOME, HOME. I knew immediately. I had just walked into My Forever HOME.
And then. We had nothing but problems with the transaction. It fell apart and came back together many times. My nerves and my husband's were shot for months and months as we tried to resolve all the problems that arouse. On again, off again, like some bad addictive romance. And quite frankly, the whole affair cost me 20 pounds. Pounds on, not off, because I tend to be an emotional eater. We lost our HOME and got it back many, many times. Even at closing an big issue arose about a right of first refusal and the thing almost fell apart. Yikes. On. Off. On. Off. Dream comes true. Psyche! Dream falls apart.
And then. Finally. Together, me and my HOME. Ah…..
So this is my HOME. And yes, we are still living out of boxes.
I know you want to see pictures. Thank you for wanting to. But believe me; you don't really, not at this point. The construction and renovation is coming along well, but it is slow (and loud). Our furniture is not here yet. We have stacks of boxes everywhere. We are living with very little.
So. We have our little antique oak claw foot table that we bought out of someone's garage when we first got married. And our old tattered loveseat that seats two. And a couple of other chairs. That's pretty much it.
And yet.
It feels like HOME here.
How can that be? When all our good stuff hasn't arrived yet. None of our pretty things are here.
AHA!
Perhaps HOME doesn't come from a store; perhaps HOME means a little bit more. (taking liberties with The Grinch's speech.)
It's not the decorations or the stuff. It's something else.
So here I am. Living in country bliss. With two pairs of blue jeans. A few beat-up shirts. A Sunday-Go-To-Meeting-Dress and shoes. And that's about it. Coat, hat, gloves, boots. And I thrive. And I sing. And I dance. I am overjoyed with the life I have lived these last 60 days. I have never felt so alive. "This right here is living."
Driving these country roads, especially in autumn, is touching me in a way that I can't describe. Could be that I'm pushing 50, but it makes me tear up if I'm alone.
I took my flipvideo with the other day and recorded a drive I made to go to my horse lesson. I just hung it out the window because I wanted to share it. It's jerky and weird though. My daughter said she couldn't watch it because it was making her car sick. But I tell you this. I have never felt the need to hang my flipvideo out my window before. I had James Taylor and then The Avett Brothers blasting on the CD player. Heaven must be a lot like this.
Happy as a Lark.
Happy as I've ever been.
I'm living over the rainbow.
Folks have asked me if I'm disappointed in any way; if I expected too much from this place; if the dream was better than the reality. NO! Not at all. It's better than I even imagined it would be.
But the pretty stuff will be coming. I've enjoyed the simplicity of these times and don't want to lose it. I'm thinking about balance. I'm considering how less really is more.
I've enjoyed not having a large space to clean and keep up with. I've enjoyed sleeping on a mattress on the floor. I've enjoyed not having to take off make-up at the end of the day because I never put any on. I gaze out the kitchen window at the hillside while I wash dishes. (Haven't had a dishwasher other than people in the last 2 months.) I've come to appreciate the slower pace here. It was hard at first, but I HEART it.
So, back to my question: how does one make a home a home?
I've done my time on Pinterest and blogs and Houzz. I see all the pretty and chic farmhouses decorated to the hilt in white, white, white.
But they don't feel like home to me. They feel unreal, uninviting. Yep, I've got 3 dogs and a cat and I want a horse and cow and goat and chickens. White? Not going to happen. Not in a million years.
I can't keep the grass and dirt off the floor. I can't keep doggy's muddy feet off the sofa. I want a house I can live in. Not a house that looks like a magazine photo shoot or a room in a museum or furniture store. I want to be cozy and comfortable and US.
You should see the house we left behind. Fancy. Not us.
Just sayin'.
So I've come up with FIVE ways to make a house a home. FIVE THINGS that don't cost a penny.
One. Making HOME to me is being pleasant, patient, polite, to each other. Leave the bad moods at the door. We can all think of a reason to be grouchy, but why grouch up somebody else's day? Family should hold each other up, not tear each other down. There's enough of that when you walk out the front door.
Two. Making HOME to me means making delicious food. Baking bread. Making soup. Creating delicious meals. And of course, making cookies. (My daughter recently gave me a username on something as "The Crazy Cookie Lady." She knows me so well!) This first one is a favorite easy kid-friendly recipe.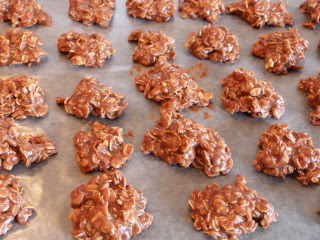 And this one is to die for.
Seriously.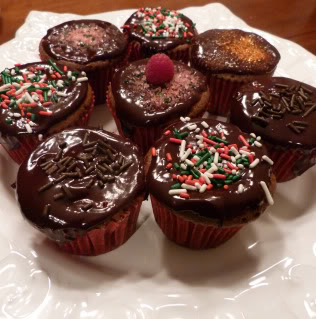 Three. Making HOME to me means family. My parents came up to see us recently and it made my house, with boxes stacked and scattered, feel like HOME. It was so nice to eat breakfast with them and hang out all day. For those of you who visit with me on facebook, you know that my Daddy drove up my old truck, Elvis. Yay, Daddy! Yay, Elvis!
Four. Making HOME to me means pets. I love living in a house with dogs and cats, dirt, fur and all. I haven't lived very many months in my whole 49 years without an animal in the HOME. And. I can't wait to add some farm animals to the mix. My challenge will be to keep the farm animals out of the house.
Five. Making HOME to me is creating meaningful space both inside and outside. Maybe it is hanging photos of people and places that mean something. Outside, it's starting a garden. It is having a fire pit or circle to gather around on chilly nights. It's coming together and creating our own special rituals and traditions.
What about for you? What does making HOME mean to you?
There's no place like HOME….There's no place like HOME…..There's no place like HOME…..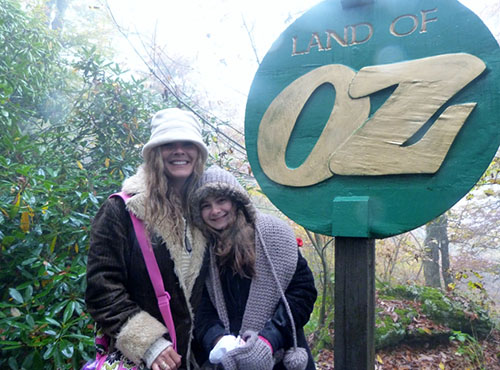 Hey- Went to a groovy place on Sunday, an old closed amusement park called The Land of Oz. It was open for the weekend as a fund raiser. VERY GROOVY place with a very 70's vibe. I really enjoyed it and will post all the pics on my personal blog if you want to see them.
This will give you an idea of what the weather became.  Cold and windy and blustery and rainy. Brrrrr…I caught a picture of the Wicked Witch coming in to change shifts.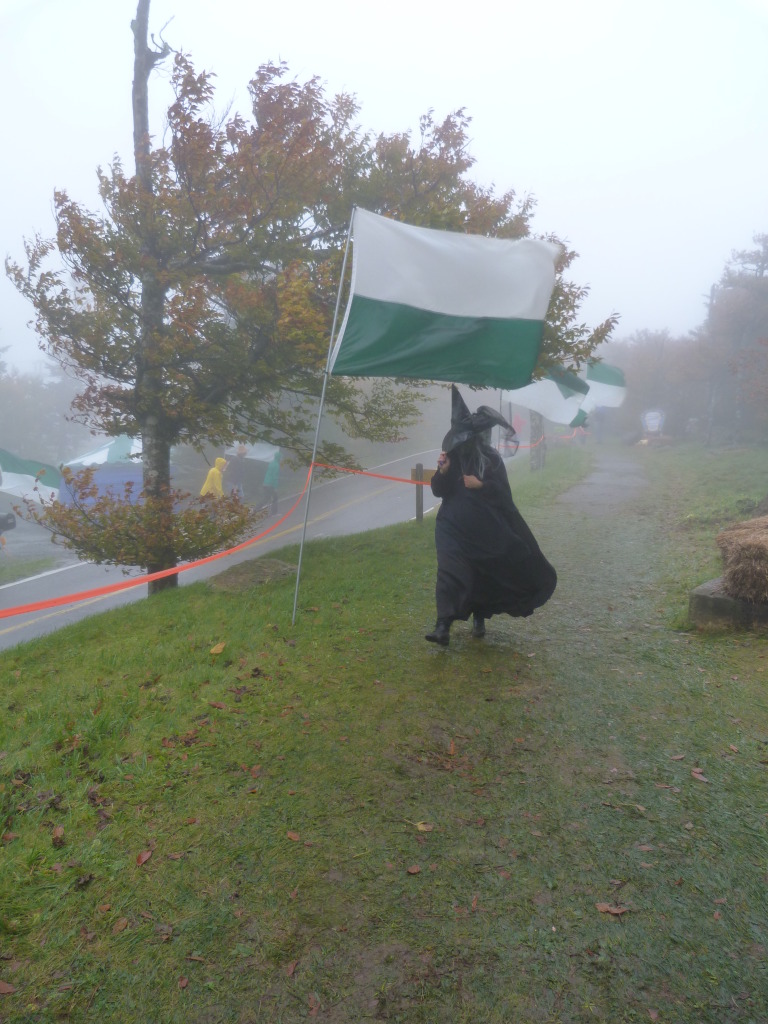 We rode the ski lift down in the wet, cold rain. Our hands and faces numb. We were the only people on it by then. Everyone else had the sense to take the bus!
But for me.
Oh my, riding that ski lift down 'twas PURE AWESOME.
 The reason I bring it up in the first place is this.
A quote from a certain "Kansas Farm Girl named Dorothy." Check this out: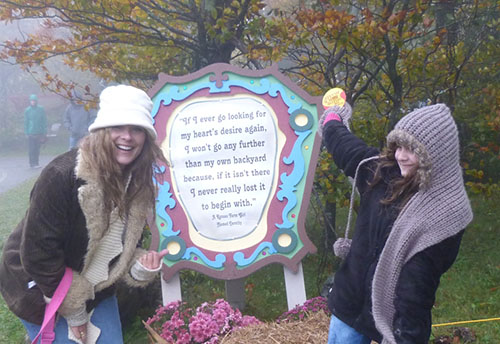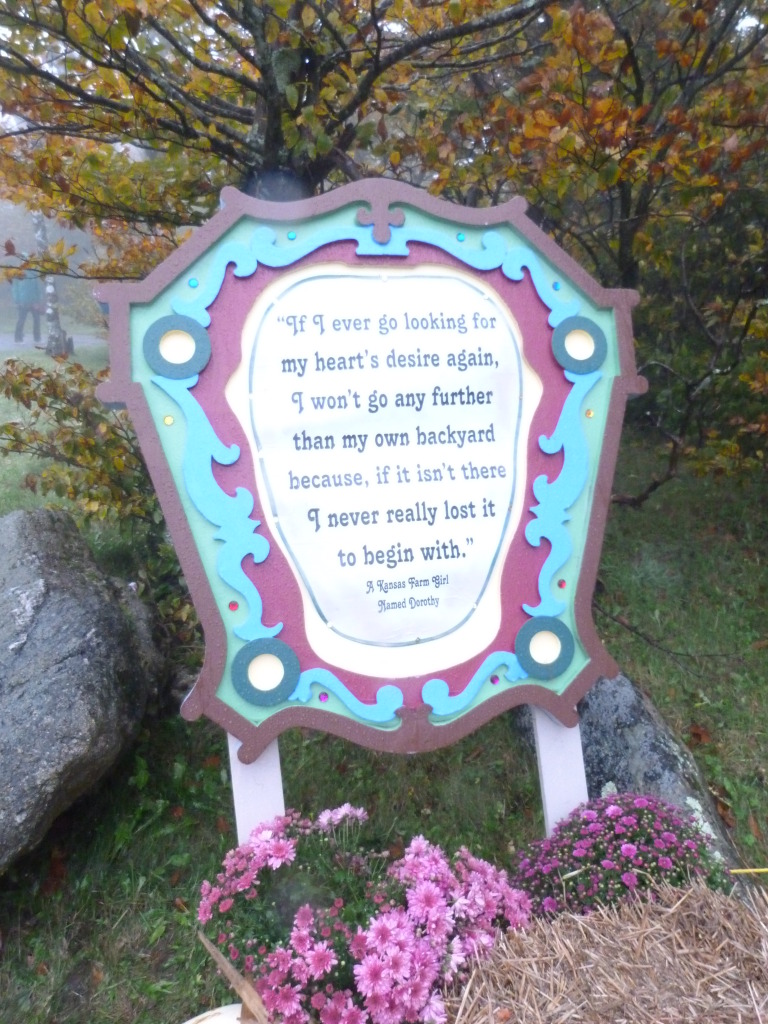 My heart's desire is truly here.
At HOME SWEET HOME.
Until next time, Friends, savor the flavor of life!
Lots of love, The City Farmgirl, Rebekah
PS  Building the first fall fire is one of those things that are a ritual for us. Come fall, I carefully watch the temperatures and on the first day where the high is below 60, well, it's time for our first fire! Here, at this house, as I mentioned, the fireplace guy told me that NONE of the chimneys were safe and sound for a fire, or even vented logs. Eight fireplaces and can't use a one! Well, your good vibes helped me out. The second opinion fireplace guy came. (The way I operate is this: I keep getting opinions until I hear the one I want.)  So the second chimney guy came and said he could indeed most likely make some of these fireplaces safe and sound, but it would be about $2,000 per fireplace opening. So. That's not going to happen right now. Today the high was 47, fire weather. Instead, I just turned on my electric heater with moving pictures of flames. You gotta go with what you have, right? Anyway, the addition we are putting on has a keeping room, so we are putting a brand spanking new fireplace in there. It should be ready to burn in a couple of months. YAY! Then when I locate that money tree, which I'm pretty sure is on this property somewhere, I'll get all of the fireplaces working again. The main thing is that IT CAN BE DONE. That makes me feel better just knowing that. YAY!