So, I don't know. This is one of the things I struggle with.
Am I tough enough to live on a farm?
I've been joking for months with everybody that this move is taking more courage that we have; and apparently there is truth in that jest. We are leaving our life behind. Our family, our friends. We'll be six hours from everything we've known, from everybody that knows us. That feels weird to think about. I have lived in Georgia my whole, entire 49 years. And now I'm moving to a different state. I'm extremely excited and thrilled, but yeah, I'd be lying if I didn't say that I am scared too.
Well, let's get this straight right at the beginning. From the emails I've received, I realize that there is an idea that I'll be homesteading, living off the land. One farmgirl sister asked me about raising meat chickens. Looky. That's just not me. It's great for a lot of folks who live in or move to the country, but just doesn't appeal to me personally.
When it comes to animals, I'm soft. Real soft. (Too soft?)
There is no way that I would ever kill a chicken. "Never say never," I know. But I also know myself pretty good by now. I can say never on this. It's just not something I could do.
Case in point. The other day I found some plastic bins in the basement that I had used in my previous move. I took them outside to clean them up and use them again. There was one that stayed outside for days while it rained and rained and rained.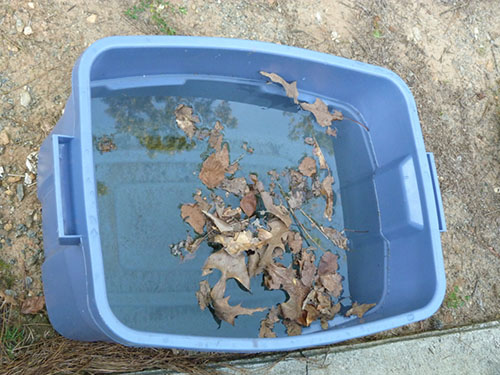 When I finally went out to dump out the water so I could use it, I found two little frogs in there. Stuck. It looked like the sides of the plastic bin were too high for them to jump out. So, I went to get my daughter to see. Then we put them into a little glass pan so they could jump out whenever they wanted. We added a rock so they could use it to climb up on to jump out. Ta da! They are in here somewhere!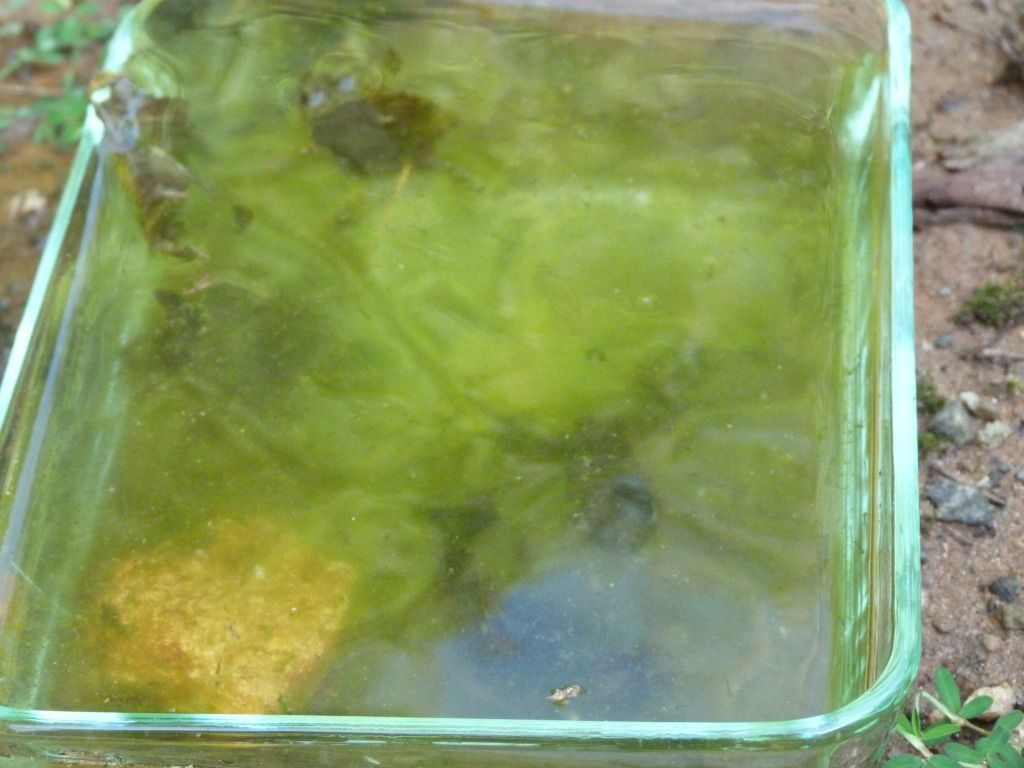 Wait. We thought about it a little later and decided that those little froggies were vulnerable to predators in that little glass pan. So we went back out to create them a little temporary habitat. We took the top of a trash can, poured in some of the water they came out of. Then we added leaves and bark for them to hide under. We also put in a rock, thinking that they might need it to use to jump out of the lid.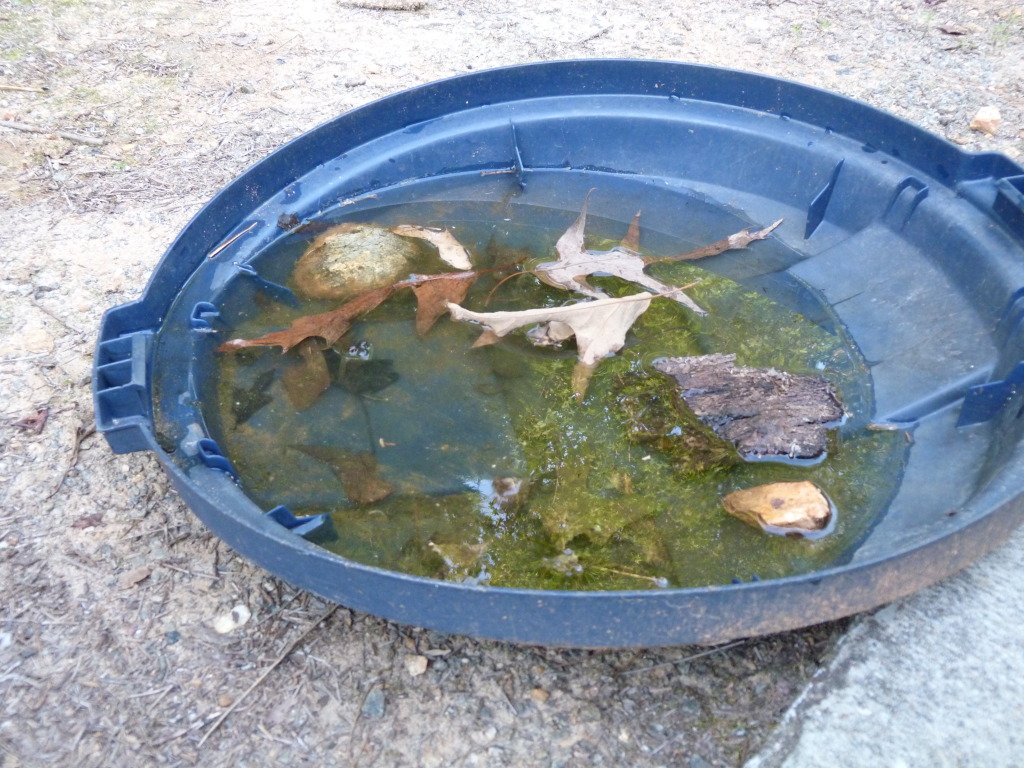 And, while we were at it. We decided that they would need a larger, safer spot if they stayed around. So we prepared some water for them in the future. Since the faucet water is chemically treated from the city, we decided to let it sit out for a day or so in hopes that the chemicals would evaporate or dissipate. So we had a tub full of water just waiting for them.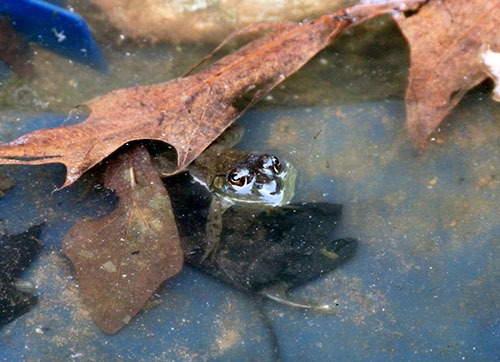 Hello, Cutie!
But. Next morning, they were gone. Where did they go? I have no idea. Were they eaten by something? I have no idea.
But I do know this. Those were some cute little froggies and we spent a great deal of time trying to care for them. I think that's part of my mission in life, part of the reason I am on earth, to care for animals.
So, you see why I could never kill a chicken? I can't even kill a moth in my house. I catch it and take it outside.
I share that with you in an attempt to explain. Yes, I am moving to a farm. Yes, I intend to do some farming. Yes, I hope to make some income from the farm. But, no, I'm not really planning to "homestead." We won't raise meat for us or anyone else to eat. Any animals I have will be for work, for pleasure, or for pets.
And do you know what else I've come to realize? I can't even fish.
No kidding. I've got that wonderful trout stream right out in front of our farmhouse. But no.
It's just not me. It doesn't bother me if someone else fishes, and I hope they do, but I can't do it. You see what you're dealing with here? Weird, I know.
And you know what else?? I keep running into blog posts that freak me out. Yesterday on Facebook, Fresh Eggs Daily had a post with a picture of the black snake someone had in their nest box. There that shiny black thing was, just sitting there eating the chicken eggs.
This concerns me in a huge way. What would I do about that?! Number one, I hate snakes. And number two, I wouldn't kill one unless it was poisonous and threatened me or one of my loved ones (dogs and cats included). So, a black snake in a chicken house? That is not the farm life I'm dreaming of.
Oh my gosh, then I read a blog post about a farmgirl who had to shoot her horse to put it out of its misery when he was injured. Are you kidding me? I'm not made of that.
And to cap it off, I was talking to a new friend who told me that she had spent all day "canning beef." She said that one of her steers had an unfortunate accident, so she was canning him.
All of these things together have made me question whether I was tough enough to move to a farm.
And then something happens. One of those blessing-in-disguise things.
I stepped on a construction staple in the driveway. It went straight into my bare foot, on the fleshy part of my heel. I cussed a little while I knew that I had to take care of this. There wasn't anyone else there. And with each passing moment, the pain got worse and I was losing my cool. I suddenly remembered a story my Daddy told me.
When he was a little boy, he stepped on the spike of a pitch fork while he was working barefooted in the hay loft. It went right into his foot. He was about 12 years old. Well, he had to pull that tine out of his foot. Imagine! His foot hurt for months and months afterwards. And he couldn't wear a shoe for a long time. His older sister would warm a special tonic and soak wool strips in it. She'd then wrap his foot in the woolen strips. The thing that hit me was the courage he possessed in order to pull that tine out of his very own foot.
Was any of that passed along to me?
Surely I could take care of this construction staple. Remembering his story gave me the strength to reach down to pull the stable out. So I tried. But when I did, I saw that it was fully into the flesh; I was unable to grab it with my fingers because it was so deep. There was no way to get hold of it. So I fussed and cussed a little more, sat down in the garage, and pulled the staple out using the flat tip of a screwdriver. And it hurt like the dickens and still does. But I got it. And doing that helped to convince me that yes, I'm tough ENOUGH. I'll be fine on a farm. That, and I'll start wearing shoes!
By the way, I'm glad I had gone a few months ago to get a Tetanus shot.
So I just have to realize. When it comes to animals, I have limits. It doesn't mean I'm any less tough, it just means I'll farm without animals. I've known this all along, I've just tried to ignore it: I'm not my Grandma. I can't head out to the yard, grab a chicken, wring its neck, pluck its feathers, cut it up and serve it for dinner. No sireee bob, not this one, not me. I have zero desire to do that. Zero.
Planting turnips, tomatoes, and garlic? I'm in.
Hosting farm dinners? Sounds great.
Milking a cow or goat and making cheese? Mmmm, sounds interesting!
Doing a farm entrepreneur retreat? Oh yeah.
Slaughtering animals? Nope.
City Farmgirl might move to the Country, but she's still who she is. That won't change. Like Popeye said, "I yam what I yam."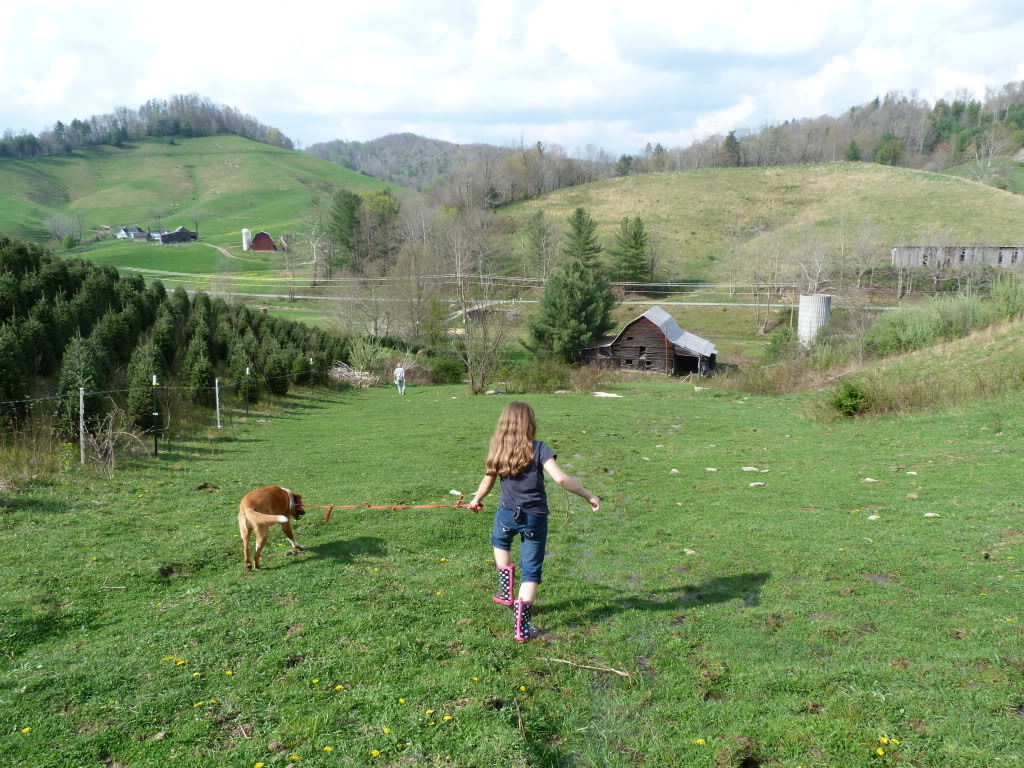 Ready or not. Farm, Farm, Here we come! Finally m
oving there this week!
Until next time, Friends, savor the flavor of life!
Lots of love, The City Farmgirl, Rebekah