oh no….
Farmgirl Diane just let me know that Andy Griffith died this morning. 86 years old.
So sad.
______________________________________________________
"Daylight's precious when you're a young'un."
Andy Taylor, father of Opie, Sheriff of Mayberry.
When you're an old'un too, if you ask me. Yep, summer's long hours of light are precious no matter how old you are.
But first of all: thank you, thank you, thank you.
Now, let me tell you what.
Your comments and emails are just the shot in the arm I need. I bet you have no idea what you ALL mean to me. You are so dear and supportive. Thank you! YOU are such an important part of this blogging journey. You remind me of what is important. You show me that there are other ways of looking at things, better ways.
You send me to websites and books. You help me be a better person and a better Farmgirl. For every real comment that comes in, I get tons of others that are spam. Like 40-50 a day. So I jump for joy when I see a comment or email from an actual real person, one who doesn't want me to check out a porn site, or buy a new medication or a brand-name purse. Pa-leese. But then I hear from YOU. I read your words; I savor every single one. Never quick. I take the time to read it slowly, to hear your voice in my head. And I'm always thrilled. Even if you just say hello, or I understand, I'm thrilled beyond measure. Thank you. I just had to say that! I wanted you to know how much you mean to me.
Now, on to the dilemma of the week. My half bath. I need your help! I forgot to show you our little half bath off the "mud room."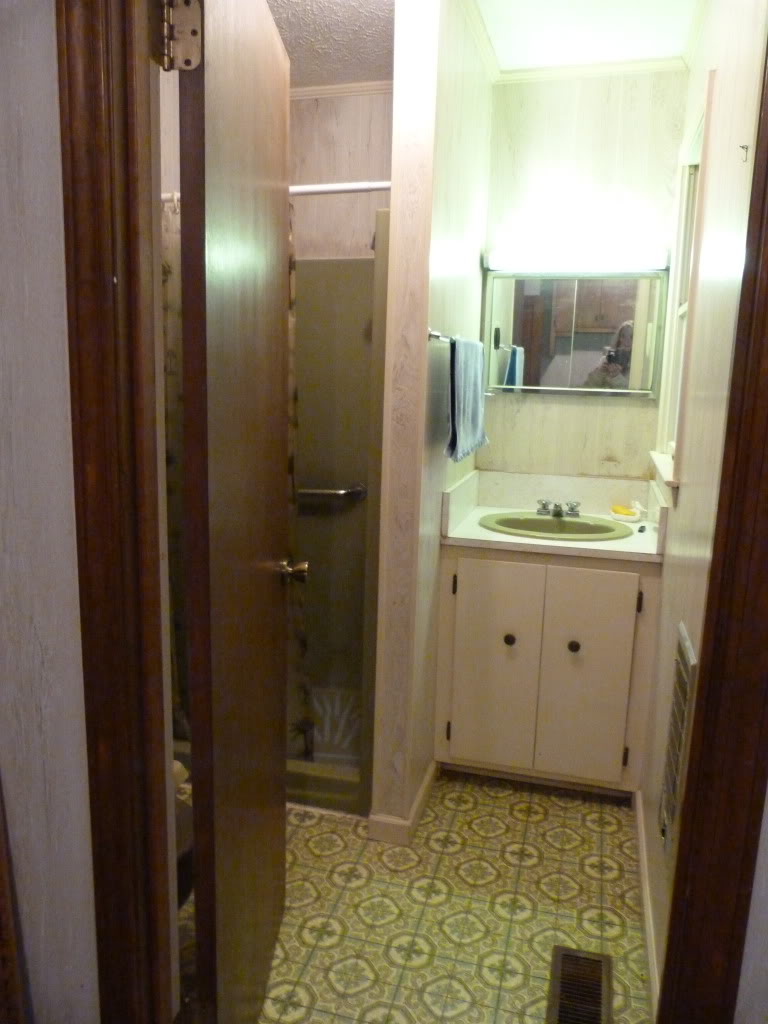 I need ideas! This has g
ot to be  LOW, LOW budget makeover though. Can this room be saved? You know me, I like the flooring. And that green sink and shower. Wasn't that color called "avocado" in its hey-day? Behind the door is a toilet with a yellow tank and green base. I'm pretty sure that the mismatch was intentional because it matches the floor. And truly. I'd like to retain some of its quirkiness and funkiness, yet make it look WAY better. Is that possible? What are your thoughts?
Okey-dokey. Let's get to the real subject of this post. Mayberry!
I'm not much of a TV fan. I pretty much gave it up when Seinfeld went off the air. What was left, after all?
Since then, our TV is mainly used to watch sports (by Handsome Hub, not me) and DVDs of old television shows (by my daughter.)
That's how my daughter became a fan of The Partridge Family…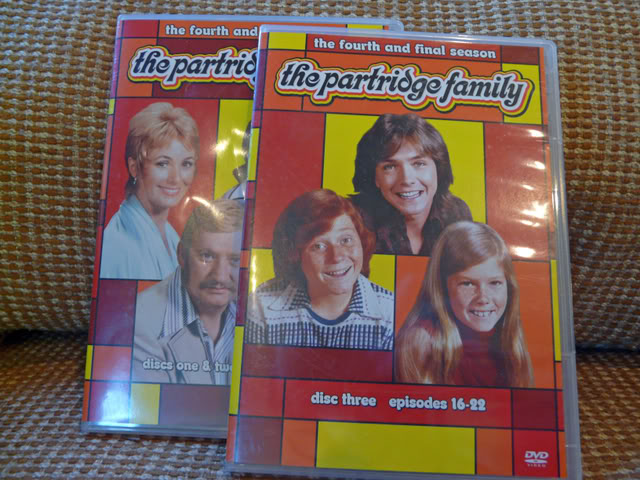 The Brady Bunch, The Muppet Show, Bewitched, I Dream of Jeannie, and The Monkees.
A while back, my parents gave us some Andy Griffith DVDs. Oh how I love Mayberry. I've wanted my daughter to watch them for quite some time now. But no.
My daughter was never interested. "It's in black and white" she groaned. "And I don't think this is a kids show…there are no kids in it." Groan. "There's Opie," I'd say, "Opie's a kid." "Well, it's not about him. It's boring…" Groan. Truth is that it is a bit slower than many television shows. I guess that's one reason I've always liked it.
In fact, as a kid, I think I had a little crush on Andy. Just like I did Dick Van Dyke. And Davey Jones. And Glen Campbell.
And well, the big one. The one I've mentioned many, many times. My crush on David Cassidy. Huge.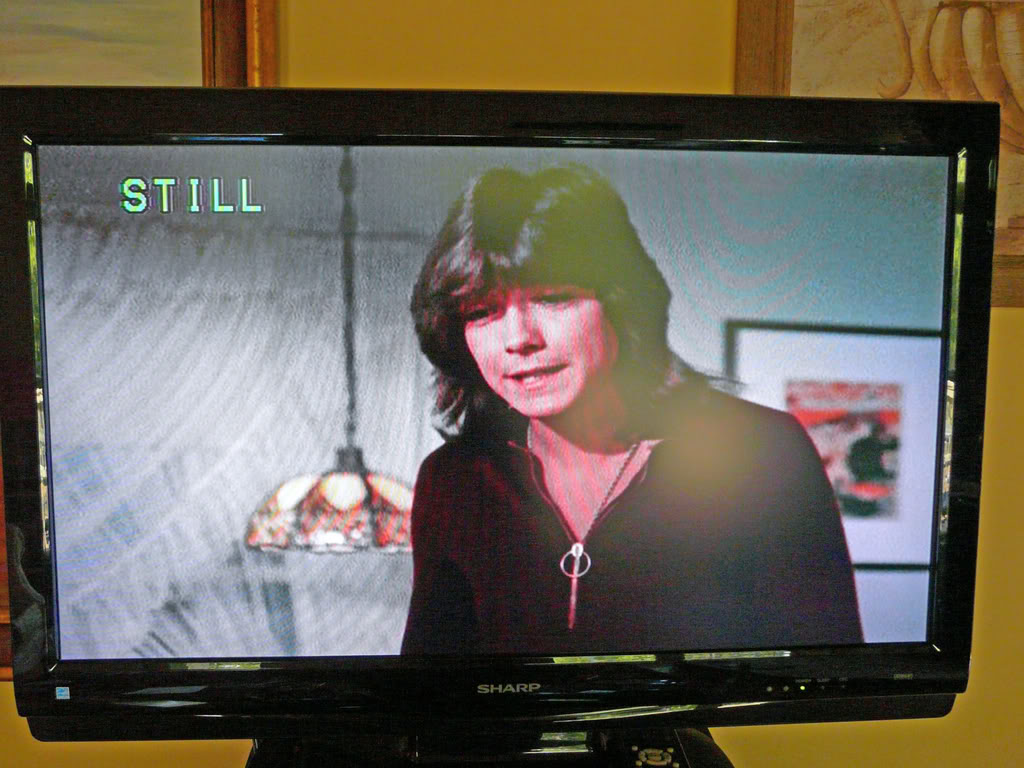 Anyway. This summer we're having Mornings In Mayberry at the breakfast table. Yes, in violation of my "no technology during meals" rule, my daughter and I are watching one Andy Griffith episode each weekday while we eat breakfast together.
Can I tell you how much I am enjoying this??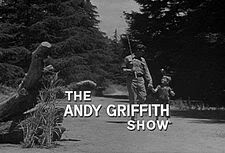 (photo from Wikipedia)
I think I told you this story before, back when it happened. Skip ahead if needbe. But a few years ago I was in the paint store. I was making conversation with the fella who was mixing my paint. He was young. We were talking about how the area had been over-developed and I told him I was looking for, "….a place like Mayberry."
"Where's that?" he asked me. And then I explained that Mayberry was a fictional city in the old television show Andy Griffith.  "Hmm. Never heard of it." he said. So I pulled out all the stops and I whistled the theme song.
Still nothing.
"When were you born?" I asked him. "1994," he said. "Well, my truck is older than you." I told him.
You mean we have a generation of people who don't know Mayberry?! And Barney Fife? And Opie? And Aunt Bee? And Goober and Gomer Pyle? Otis? Or the musical Darlin Family? Or Ernest T. Bass, that resident wild man? I always enjoyed the episodes with "It's me, it's me, it's Ernest T!"
Here's a tribute to Ernest T. Bass I found. Awesome-ness!
(Now if you take that link, you'll see that youtube video has one comment. And that one comment says something like, "I always thought Ernest T. was sexy." I just wanted to go on record here and say that I did NOT leave that comment. While my crush list was long indeed, Ernest T. Bass was never on it. Ever.)
ANYWAY. This summer I'm making sure my daughter knows about the Andy Griffith show and Mayberry. She still groans on the outside when I turn it on, but I think on the inside she's liking it. She is getting the charm and quaintness of the show.
I'm also really enjoying using some of the sayings from the show this summer:
"Ya reckon?"
"I'll tote it."
"Well, I'll be dogged."
"Just nip it in the bud."
"This is a fine how-dee-doo."
And there's always some bit of wisdom to be found in Mayberry. Like this morning. Andy says, "What's small potatoes to some folks can be mighty important to others." Love that. There is usually a moral to 
the plot in there somewhere. I mean, in thar somewhar. We've had more than a few conversations about what she interpreted the meaning of a particular show to be.
Mayberry is eutopia to me, a rural Eden. And the truth is that I've been searching for Mayberry for 20 years. I've always wanted to live there. I've always wanted to live LIKE that.
In my quest for Mayberry, I actually considered Mt. Airy, NC, the home town of Andy Griffith that claims to be the model for Mayberry. Mt. Airy appealed to me, not only because it WAS Mayberry, but also because my mom spent most of her childhood in Mt. Airy. I have family there.
A few years back, there was a historic house for sale on Main Street in Mt. Airy that I toured many times "virtually." It is beautiful. I pictured myself in a rocking porch, sweet tea at my side, guitar in my lap, singing "Amazing Grace" with my family. Here's the house, still for sale. (Course, what I've really wanted was a farm just on the outskirts of Mayberry. Not a house on Main Street.)
But Mt. Airy is no Mayberry. How could it be? Mayberry is fictional; Mayberry is TV. Mt. Airy is reality.
My husband finally figured out what I was looking for. He got it right when he said, "It is not really Mayberry, the place, you want" he told me, "It is Mayberry, the lifestyle. And life isn't like that anymore. You're looking for 1960s small town America, where kids could ride their bikes to the store, and the Sheriff didn't wear a gun, and people sat around on the front porch after Sunday dinner." Life was slower. Life was simpler.
And then I got it! And IT changed my way of thinking completely, "Mayberry is a state of mind." It's not a place I can move to.
And that realization made Mayberry easier to find, easier to attain. Those words freed me.
I can have it here, I can have it there, I can have it anywhere. I can have it up, I can have it down, I can have it all around. I can have it with a fox, I can have it in a box.…never mind, you get the idea, Sam I am.
Mayberry means a simpler time, a sweeter place. That's EXACTLY what I intend to create at our new farm.
But it's up to us. We must learn to sit on the front porch instead of in front of the computer. Visit with neighbors at the local store instead of working all the time. Fish in the creek. Plant those pumpkins. Slow down. Use and want less. Be more present. Be nicer. Be friendly and neighborly.
That's what Mayberry means to me.
And you know what else? When I get a mule (and I WILL get a mule!), I'm going to name him Ernest T. Bass. Just for fun. Can't you just hear me, "Ernest T. Bass! Come and get your supper!"
Until next time, Friends, savor the flavor of life!

Lots of love, The City Farmgirl, Rebekah