"Is she broke to plow?" I asked.
I can honestly tell you that those words have never exited my mouth before.
I can honestly say that those words have never before even formed inside my head.
I surprised myself. It sounded as if I knew what I was talking about when I said it the other day.
I don't know where those words came from. I don't even know how I knew to use those particular words to ask the question they posed.
I've been reading farm books and farm manuals and magazines and I guess something stuck to my brain cells. (Which, at this point, is a miracle in and of itself. I can't remember a thing anymore. I do believe I'm headed to the health food store for some Ginko to see if that will help.)
Anyway, when I said those words, I surprised even myself. It sounded like I knew a thing or two about a mule. And with my southern accent, it just sounded, I don't know, natural. But I'm still wondering if the term should be "broken to plow." "Broke" to plow sounds like bad English. But I do kinda like saying it. "Broke to plow. Broke to plow. Broke to plow."
Okay, now that I've said it three times real fast like that, the "broke" part doesn't sound very kind and loving and friendly, does it? When you break something, you mess it up, you ruin it, you destroy it. I wouldn't want to do that to another living being. Humpf. Surely that isn't where the term came from?
But I'm off the point again. Here is the REAL point, the very point I meant to make three paragraphs ago.
When I used that foreign-to-me phrase, I was asking about a mule who was/is living on the pasture at our NEW FARM!!!
Yes, My Sweeties, it happened! It is ours! Pop the cork! The dream came true! My heart is singing! The farm is ours! I hung our sign that says, "And they lived happily ever after" right up on a nail protruding from the wall above the 1970's paneling, which meets the burnt orange shag carpet in the den.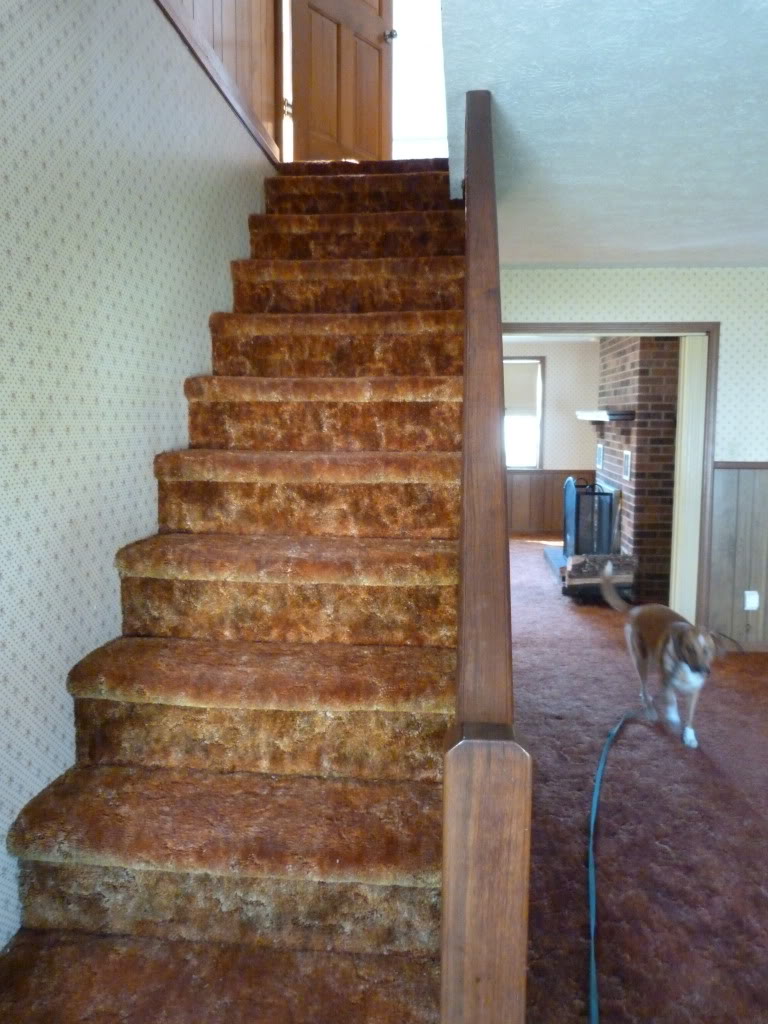 I love this place. For real. LOVE. When I was growing up in the '70's, the den in my parents' home had dark paneling just like that and orange shag carpet too. My parents' orange carpet was a brighter color, less burnt. I hung the "And they lived happily every after" sign to the right of the opening behind Blue, the Dog. Who kinda matches the carpet himself. Not that I won't be changing that. 'Cause one day I will.
For me, this place feels just like HOME. It's nothing but warm fuzzies and happiness.
Like this. The wallpaper in the dining room looks just like what was in my parents' house too. It's velvety to the touch. I used to like to pet the wallpaper in my childhood home. How many times did I hear, "Would you please get your hands off the wallpaper?" I guess I'll have my own soft and fuzzy wallpaper that I can pet as often as I want. Now that's living, isn't it? That's finally making it.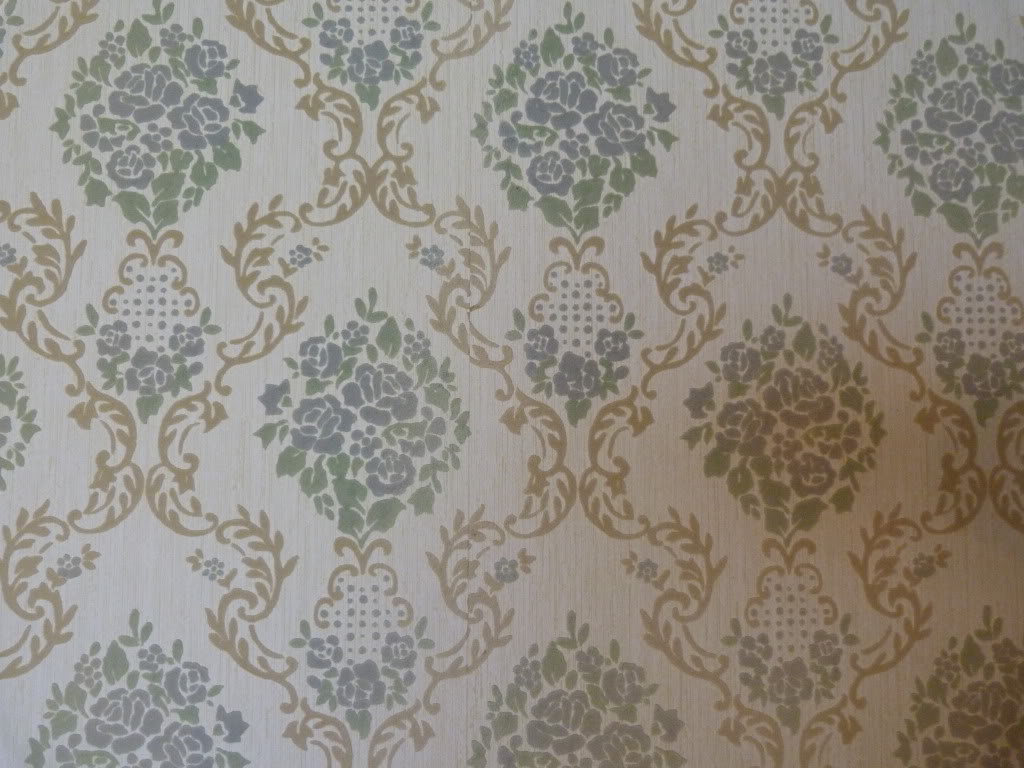 But back to that broke-or-not mule.
That danged ole mule touched me. The few days we were there, she seemed dejected and downtrodden. She seemed depressed. She also seemed sweet, though she wouldn't let me touch her. And check this out: she seemed to need me. Crazy, I know. A mule!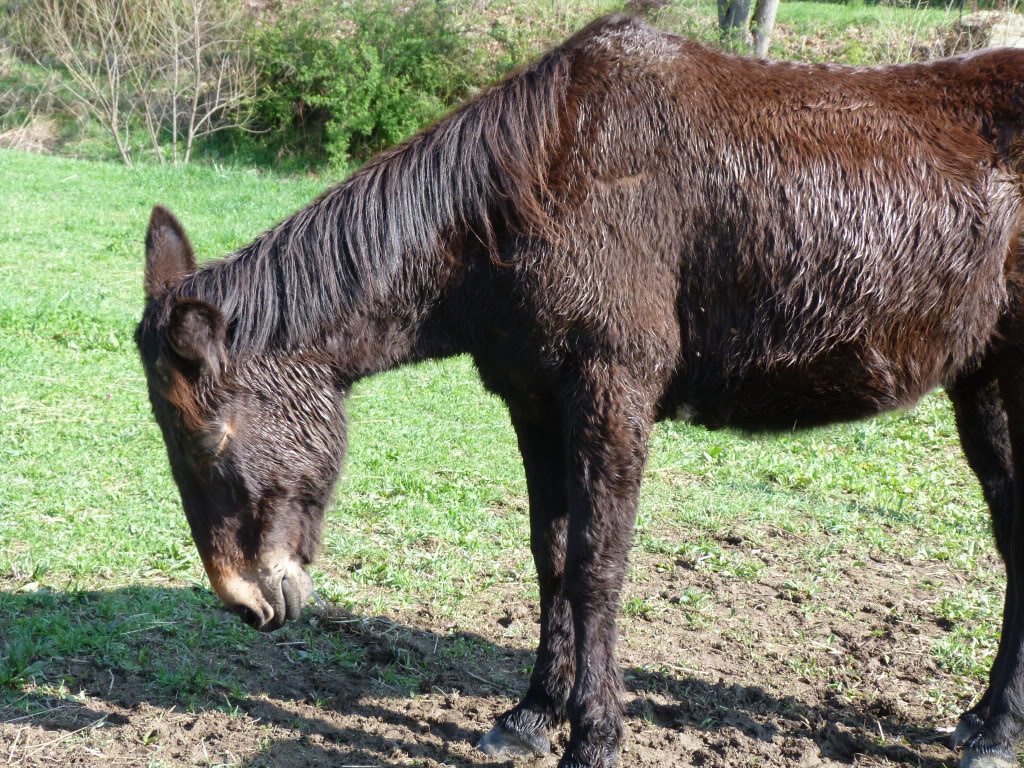 And the only thing I know to do with a mule was to plow like my grandfather plowed his fields with "Old Dan," his mule. (I used to think "Dan" was his horse, but I know now that Dan was a mule.)
And that is how the vision formed in my head: I'm out, in a wide-brimmed straw hat and maybe even overalls, plowing the "bottom" with that mule.
"Bottom."  That's another term I've never used before in quite this way.
I had no idea until a few short weeks ago that "bottom" refers to a certain kind of land. "Bottom" is useable, fertile beside a river or creek. Some people will say "bottomland" or "bottoms" or just plain "bottom."
 "Farmer Teal (thanks for the official title, MaryJane!) is over at the bottom with Blondie-the-Mule, who, since you asked, is indeed broke to plow."
Wow, I've got a huge learning curve ahead of me. I already told my new neighbors that I was sure we'd be providing plenty of comedy relief for the community as we learned to farm.
I mentioned to my Dad that I might be wanting a mule. His quiet lack of response let me know what he was thinking.
He told me some stories about my Granddaddy's mule. He explained to me that "gee" and "haw" are the directional voice commands for mules. "Cool," was my response, "Yep, a MULE sounds COOL." It rhymes, you know.
I showed him that picture of the mule and my father wasn't overly impressed with what he saw.
He couldn't see into her very soul, though, the way I could. I realized then that I'd be picking up animals left and right, or GEE and HAW. I bet within the year our farm will be populated with creatures needing some TLC, needing a place to recover or hang out for awhile. That's the way both my husband and I are. Softies.
Now, don't get me wrong, I'm still drooling over Belted Galloways and Gypsy Vanner horses. But I want to have some room for rescues too. Here's a couple of cuties we rescued a while back. Guess which one is Oreo.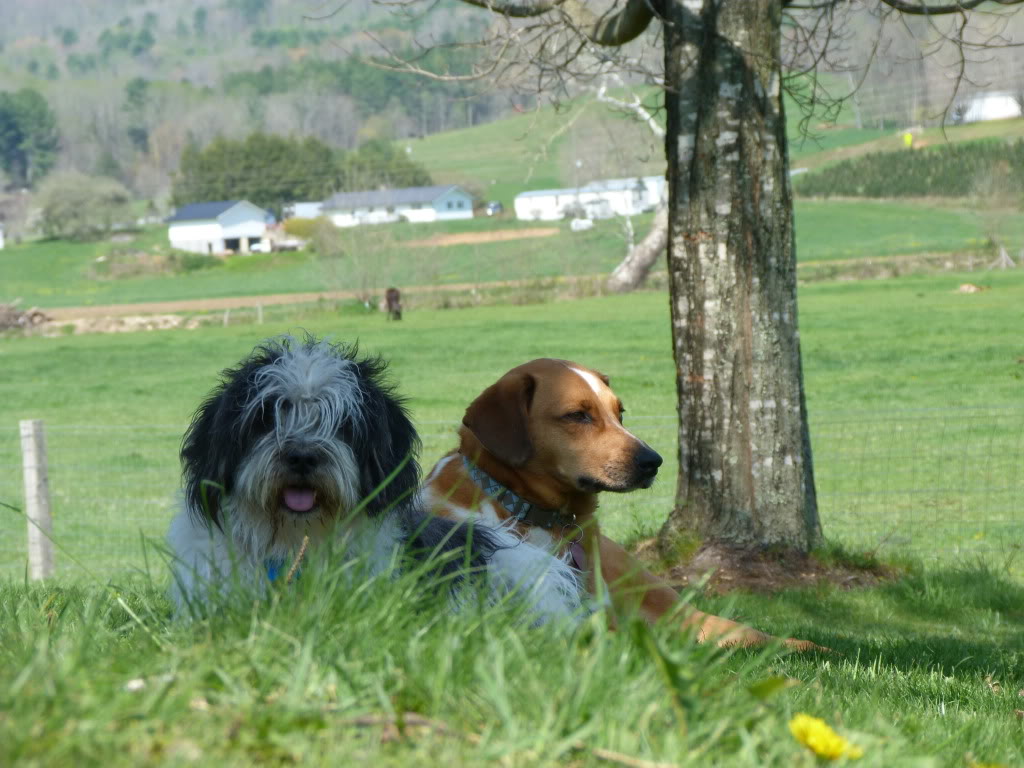 Yes, Oreo is on the left. Blue is on the right.
And after all, we've got lots of wonderful old ramshackle outbuildings now.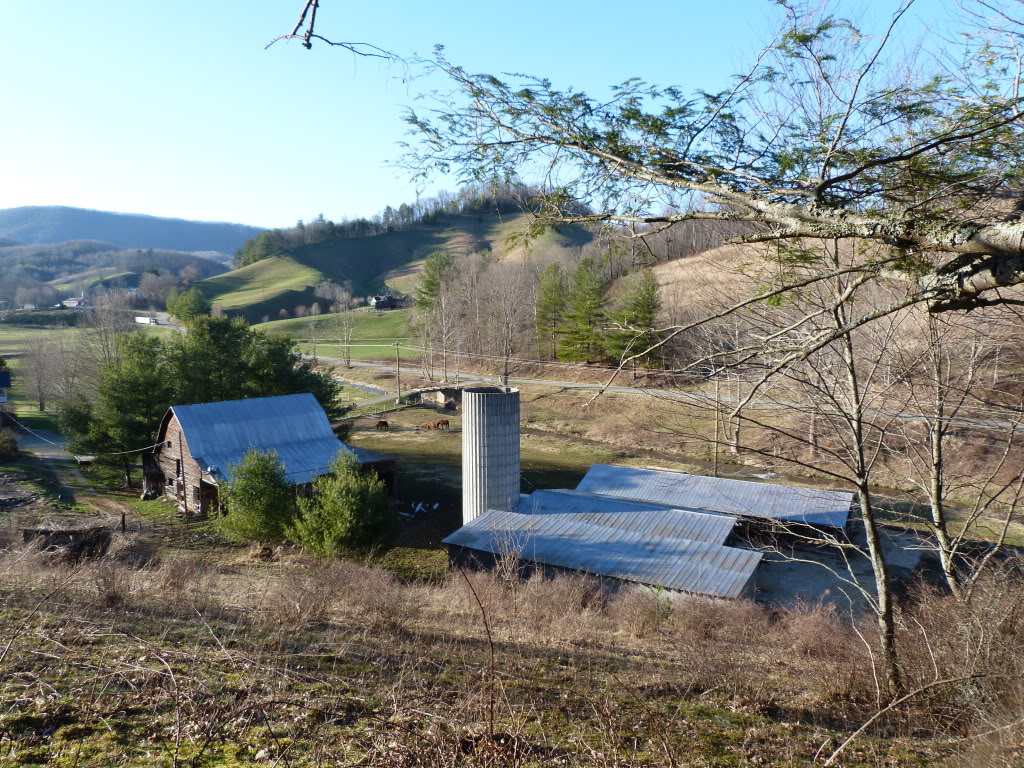 With a little TLC of their own, they could become almost anything we could dream about….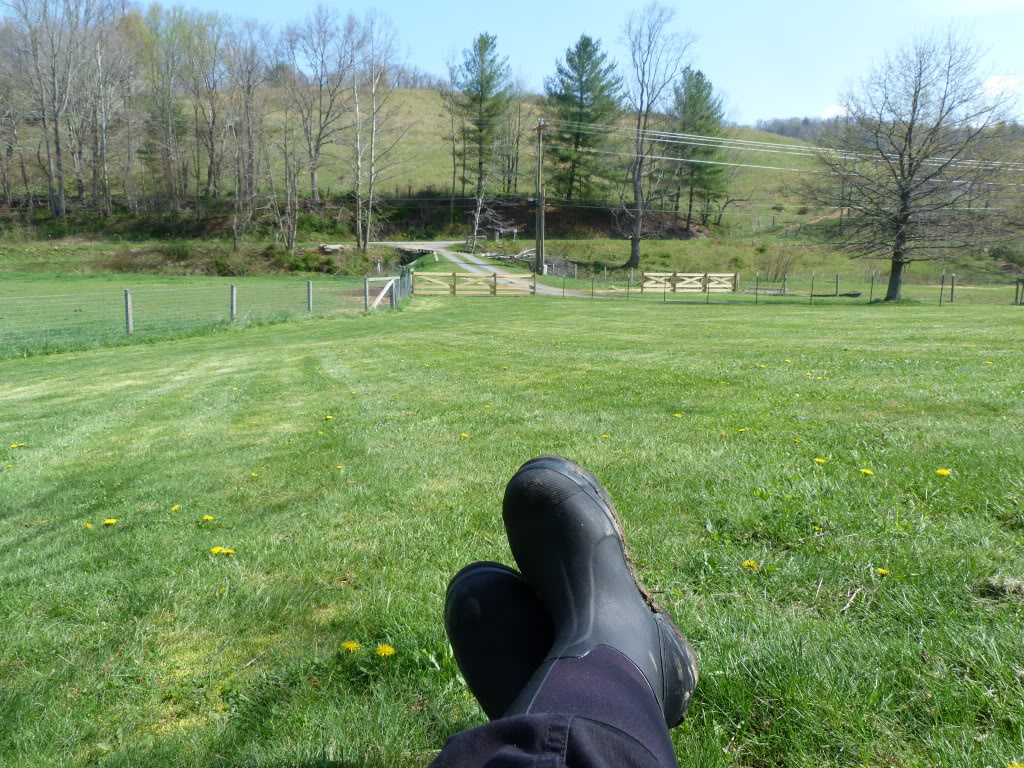 So here I am, in my new Muck Boots that the agent (who, by the way was awesome) gave me (which, by the way are to die for!). I'm dreaming about everything we'll do and accomplish while I'm leaning against some big tree that hadn't yet leafed out so I'm not sure what it is. A mystery tree for now.
 "Don't sit under the mystery tree with anyone else but me," my family moaned as I sang it.
I can't wait to share more of this wild adventure with you. My head is reeling with all the things I need to learn and do just to get ready to move to the farm, much less to actually FARM the FARM. I promise to savor every single second.
Until next time, Friends, savor the flavor of every second of your life!
Lots of love, The City Farmgirl, Rebekah