I've been feeling like we are swimming upstream with this farm deal, so I made Southern Salmon Patties to "embrace it." My husband is not a southern boy, he is Italian. So, well, he passed on that particular "embrace it feast." I remember at least  20 years ago when I told him that I had "a hankering for Salmon Patties."
He gave me a blank stare. He had never heard of Salmon Patties before. However, he had already learned the word "hankering."
Oh boy, I thought, he'll love these! I couldn't wait to introduce him to the wonderfulness of that southern dish.
The wonders of canned salmon—-do you know until I was an adult, the only salmon I had came in a can? (Same with tuna.) And Sweeties, I like canned salmon. Salmon Patties are just canned salmon, eggs, bread crumbs, parsley, and onion, mixed together and shaped into patties and then fried to crispy perfection.
My mom always made them with biscuits and white gravy. I called my mom and got directions on how to make "salmon patties."
It was quite alarming the first time I opened up a can of salmon.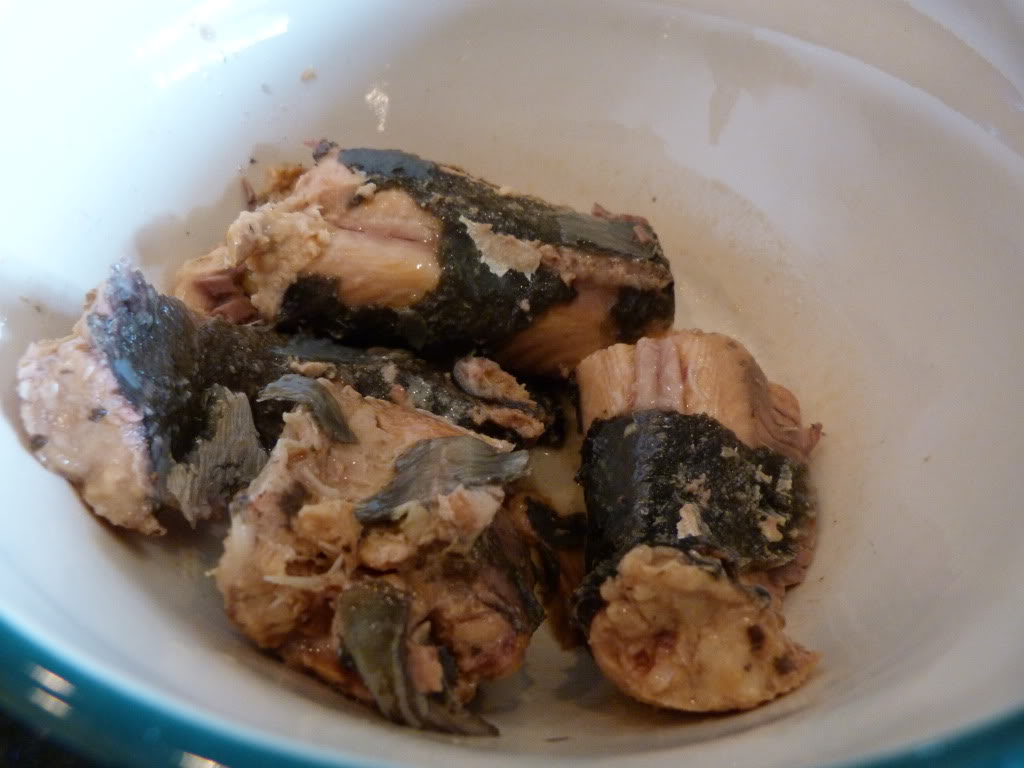 I called my mom back. "Um, what do I do with the grey stuff and the little white things? What is that any way?" "Oh, the skin and the bones," she explained, "pick out the skin and mash the bones with a fork. The bones are good for you."
So I hung up the phone and told my husband to come over to show him what had come out of the can of salmon.
That was a mistake on my part.
"Bleh-the smell! I'm out," he said. And then I showed him the skin and bones, "I'm definitely not putting that in my mouth!"
"Wait! No. I'm taking that stuff out. You have to try it! Salmon Patties are delicious! I grew up with them! It's like a—like a—tradition!" He mumbled something about spaghetti being a far superior tradition.
So I made it, using the basic recipe that is below. I didn't make biscuits because I thought they were too much trouble and I didn't make gravy because I didn't know how at the time. It was twenty years ago, remember? But I made those salmon patties. And I served them to my husband.
And my husband tasted it.
And he said no. Never again. Not him. Not Salmon Patties. He said that he fully understood why they were called "Salmon Patties" like well, you know the "cow patties" thing. So that was that. End of story. He has never eaten them again in the last 20 years.
But I still make them. And now I make the biscuits to go with them and sometimes the gravy (these days, I know how.) My daughter, who is 10, loves them. When my husband is headed out of town, she'll say, "Salmon Patties for dinner?" And I say, "YES!"
So back to embracing my current status of 'swimming upstream.' We've all got to do it at certain points in our lives, don't we? So I figure we might as well see it for what it is (tough! challenge!), hunker down, and fight our way upstream. There is surely a sweet reward at the end of all this upstream swimming!
And wait until you hear this. You talk about inspiration.
The Life of an Alaskan Salmon, by Rebekah (who happens to know a thing or two about swimming upstream and finding your way home.)
Alaskan salmons hatch out of little eggs that were laid in rivers and streams. They quickly grow and then start to make their way out to the Pacific Ocean. For some, this is hundreds and hundreds of miles.
On their voyage to the ocean, they grow and mature and adapt from fish that live in rivers and streams into fish that can live in saltwater. (!)
They then come together in schools and hit the big time, the Pacific Ocean. They stay there for several years.
And then they head back home. (!) Yes, back home to the waters of their childhood. Back to the place their eggs were laid. (Am I the only person who didn't know all this? The life cycle of a salmon?)
The salmon transform back into fish that can live in freshwater (!) so they can get back to the place same river or stream they had left.
They swim upstream in rugged rivers, through rapids and rocks. They leap up waterfalls to get back to their own home. (Oh my goodness, I'm about to cry. Middle-aged woman alert! About to cry about the salmon swimming 2000 miles and fighting against all odds to return home.)
I bet you know what they do at home, don't you? Yep, they either lay eggs or fertilize them, depending on whether the salmon is a boy fishy or a girl fishy. Only the fierce and survivor genes from the ones who made it back carry on.
Wow. What a tale. I couldn't have made it better if I had made up every single bit of it. Which I didn't. It's a true story. Nature gets me every time.
Now I know that you know what I'm talking about. How it feels to swim upstream? In fact, you've done it, haven't you? Sure, it was tough, you were going against the flow, it was harder than anything else you'd ever done, but you made it. Now won't you tell us how? How did you get 'er done and swim up that stream?
Until next time, Friends, savor the flavor of life!

Lots of love, The City Farmgirl, Rebekah
www.rebekahteal.com (I'll put up a picture of what I hope will be my sweet reward for all this swimming upstream!)
Southern Salmon Patties
(Delicious no matter what my husband says.)
1 can (16 ounces) salmon
1 small onion, finely chopped
1 tablespoons minced fresh parsley
Ground black pepper, to taste
2 large eggs, well beaten
½ to ¾ cups dry bread crumbs
Oil
Drain the canned salmon. Put in bowl and pick out the skin. You can leave the bones (they're good for you) or pick them out too. Flake fish with a fork. Mix in chopped onion, parsley and pepper. Mix in beaten eggs. Add bread crumbs, enough to make thick enough to shape into patties.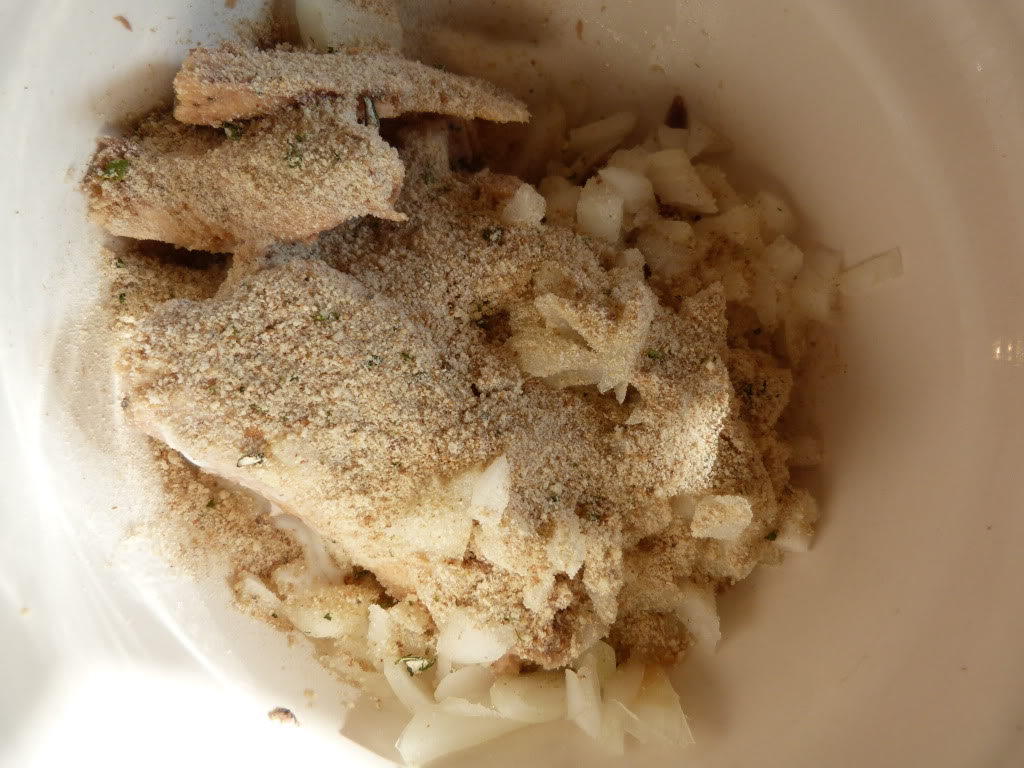 (some people like the onions chopped smaller, but I like chunks)
Heat oil in a large skillet over low heat. Add patties and fry slowly on one side, then turn once and fry until brown on the other side.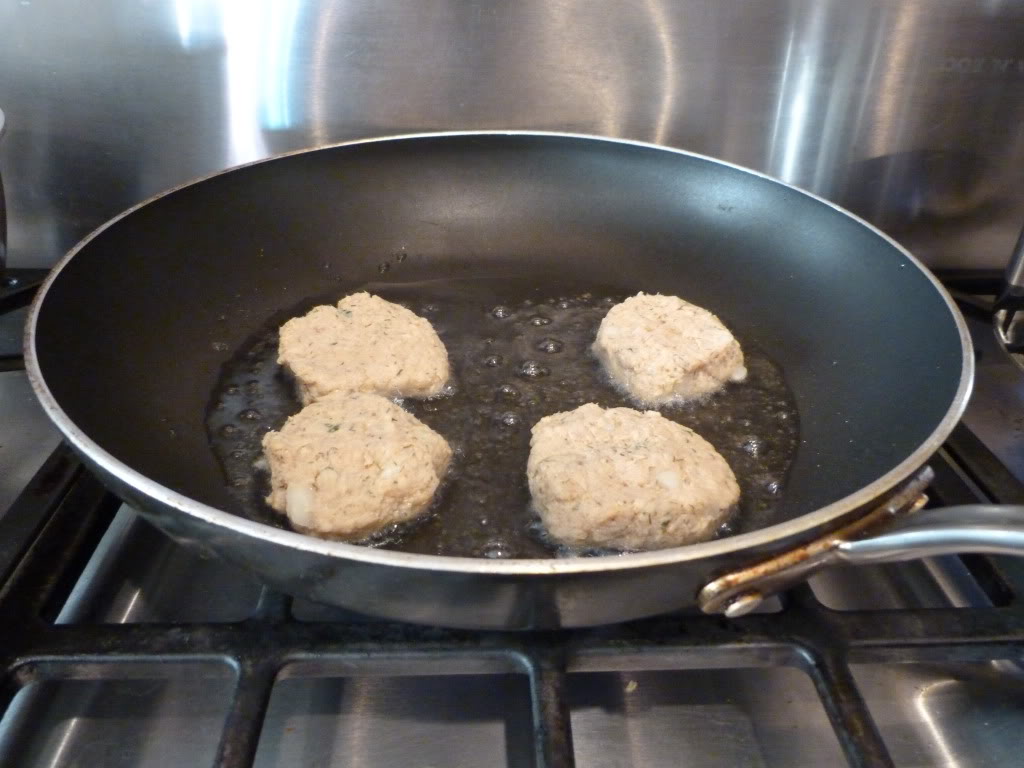 Drain on papertowels.
And, hey, try not to over-brown them the way I did on this batch. They're still good though!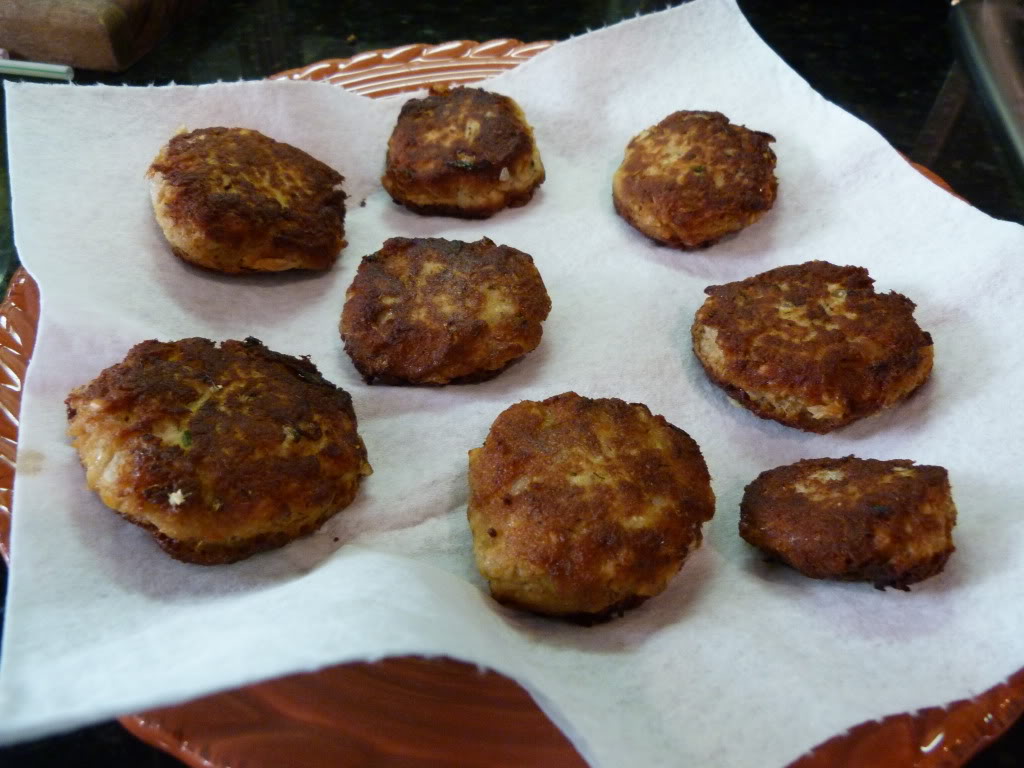 Great served with homemade biscuits and white gravy! You in or out on the Salmon Patties?