I've had so many questions about our New Old Wormy Chestnut Floors. So here goes!
By the way. NO, our kitchen is NOT finished. Didn't we begin the process like a million years ago?! Here's a photo that pretty much sums it up….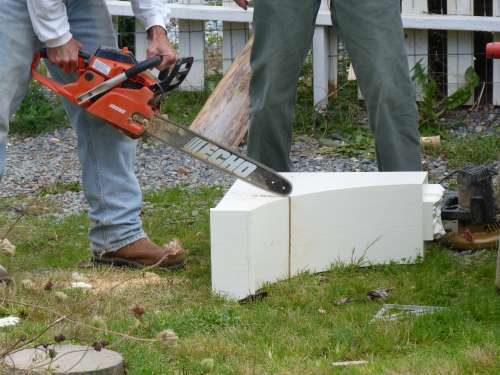 Uh-huh, that's right. We're chain-sawing part of the cabinets. Brutal. You've heard of Murphy's Law?
BUT. But. But!
Our floors are down and look simply GO-JUS!
Since I am honored to live in a farmhouse that was built in 1892, and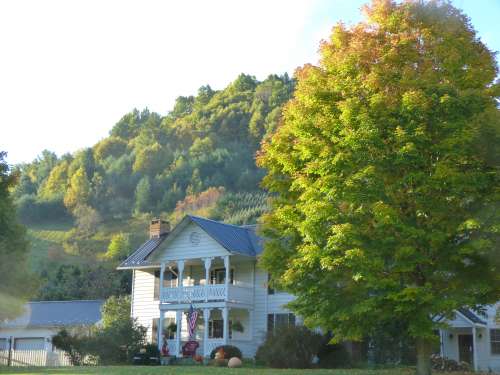 Since I am building a new kitchen in that old house (whew! as I previously mentioned), and
Since I am a lover of VINTAGE and PRECIOUS things,
I knew I wanted floors that not only LOOKED antique and banged up, but WERE antique and banged up.
I lucked into some very special wood for the floors. Wormy Chestnut.
Here is one of Bill's barns, stacked full of old wormy chestnut wood.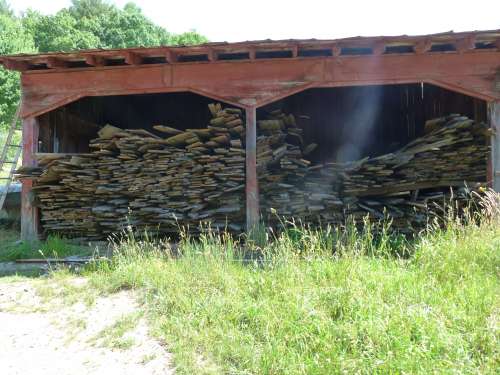 He spent years collecting this precious obsolete wood from torn-down barns, houses and other buildings. He has several barns full of wormy chestnut.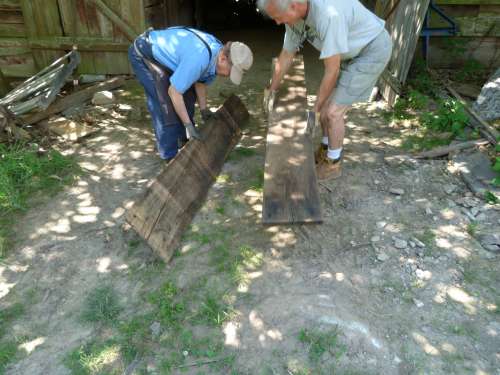 Bill and my husband are picking out "good" pieces of wood for the floor. I liked the ones best that had lots of holes and a variety of color. Aged! Marked! Full of character! That's what I was after.
Now, this is WORMY chestnut wood, created by nature when a blight took down most of the chestnut trees in the East and then bugs invaded them and made wormy marks in the wood. Because this wood was considered inferior way back when, most of it wound up being used for out buildings. Or if used inside a home, the wood was covered up. Who wanted to see a bunch of worm holes?
Bill also had some very beautiful antique chestnut wood, harvested BEFORE the blight and bugs. Not only was that wood WAY out of my budget, but it was not at all what I wanted. It was lovely and pristine. I wanted lovely and NOT pristine.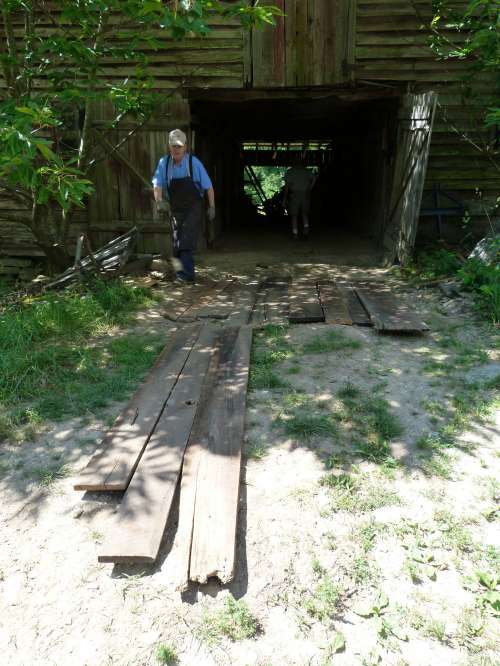 We laid the boards out on the ground outside the barn.
(By the way, the leaves you see to the left is of a chestnut tree that Bill planted beside his barn years ago.)
We loaded the wood into the back of my beautiful Teal truck, The Teal Mobile.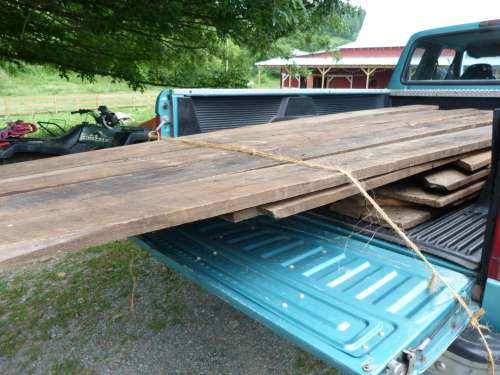 I tied it down with ONE rope (was probably pieced-together hay strings; I don't remember for sure, but that sounds about right!) and headed out to take the wood to be "dressed."
"Dressed" is the process where the wood is put through a planer and planed. Uneven edges are made even. The outside, weathered exterior of the wood is removed to reveal the beautiful inside. We also wanted the boards to be "tongue and grooved" so we could have a tight floor, with no or little space between the boards when installed.
And so, there I go. I head over and around and up and down the mountains to an area I've never been before.
Oh my.
I wound up on a mountain road that is so windy, so twisty, so curvy that it is known as "The Snake." Unbeknownst to me at the time.  "The Snake" is a crazy road that is so crazy and windy that motorcycle riders come from all over the country to ride "the snake." Huh! Did I say "unbeknownst to me" yet? Well, there I am. In that BIG LONG Teal truck, hauling wood tied with one hay string doing "The Snake." Yup.
The truth is that if some certain people, who shall remain forever nameless, were with me that day, I would have needed barf bags in The Teal Mobile.
Well, once I got on that road, my load of wormy chestnut wood repeatedly shifted and moved. I stopped many times right in the middle of the narrow two-lane curvy road to re-position my load. (There were very few places to pull off, so I just had to stop in the road. I'd hurry and wave and smile to anybody who came up behind me and had to wait until I got the wood pushed back up.) Funny thing is that I snapped this photo with my phone before I had any idea whatsoever what I was getting into. After this first curve, I didn't take my hands off the wheel for any reason whatsoever, much less to snap a photo!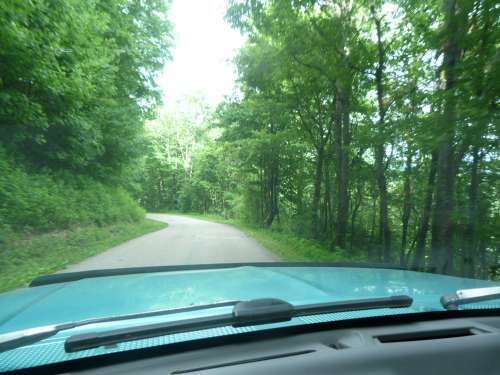 If I had known I'd be on "The Snake" I would have tied the wood down better and weighted it with something on top! I would have also asked my husband to come with me too. As it was, it was just me and Blue on "The Snake" with a truckload of shifting wormy chestnut wood. I thought about my Dad and a story he always told about some fellows losing a donated piano off the back of a truck in the town square.
But. An hour and a half later, I finally arrived at the saw-miller's workshop. Safe and sound.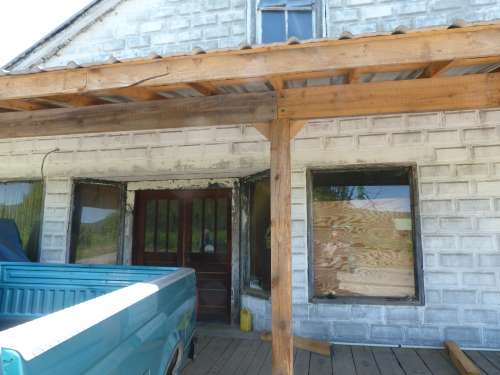 (love these doors!)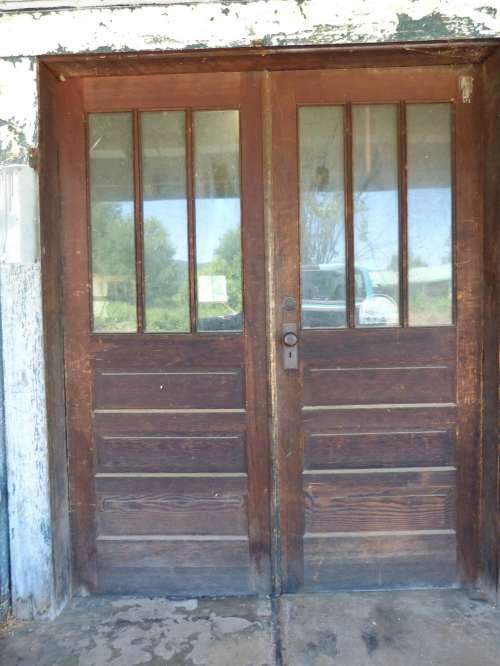 I left the precious wormy chestnut boards there and came back to pick it back up about a week later.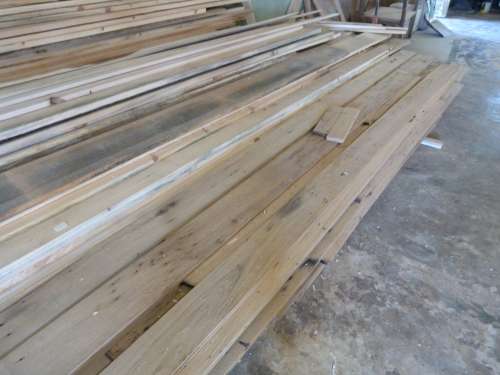 This time I DID take my husband and plenty of rope. Luckily, I had talked to my Dad about the situation, and he helped me figure out how to secure the now finished and much slicker wood so I wouldn't LOSE MY LOAD on "The Snake." He advised me so well that we didn't even have to stop to push the wood back in the truck like I did when I took it.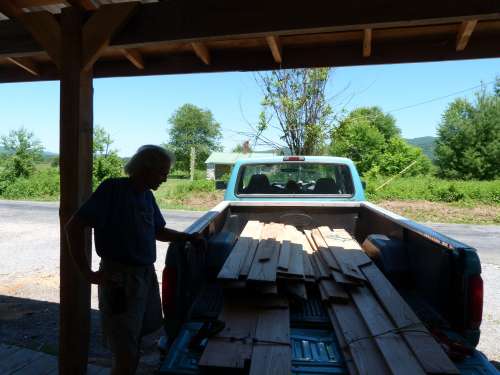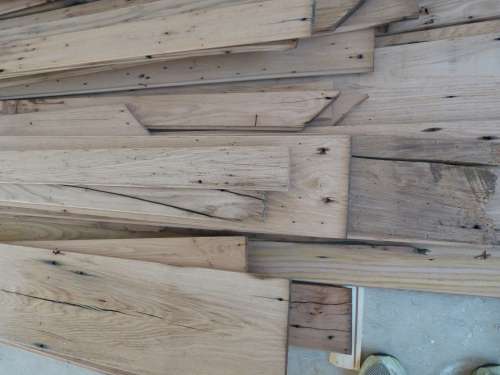 And one weekend when I had gone home to Georgia, my husband put the floors down.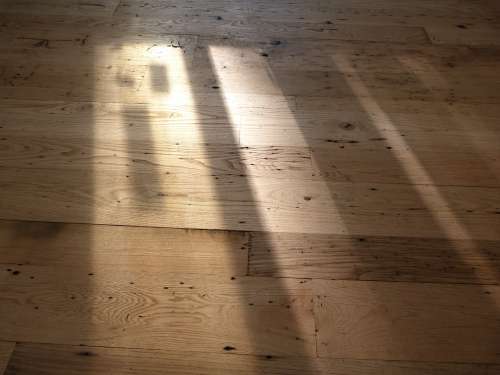 With a couple of coats of poly: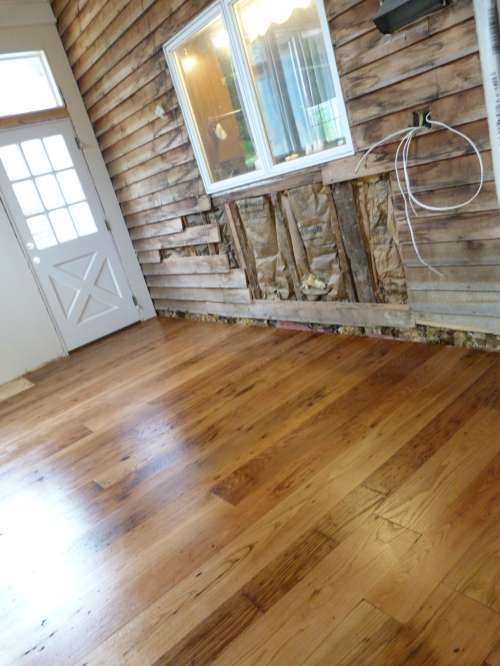 The character, the charm, the quaintness.
Oh, I just LOVE this wood.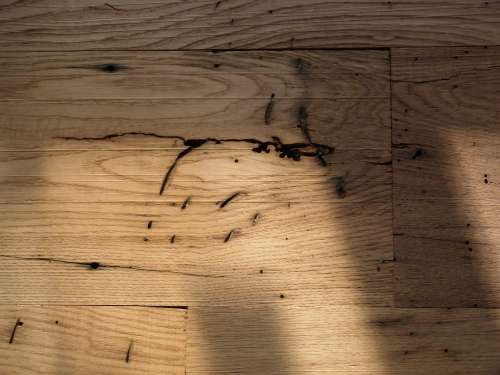 Until next time, Friends, savor the flavor of life~!
Lots of love, The City Farmgirl (moved to the country and fell in love with old floors), Rebekah