I love little old ladies. They make me smile.
(I wonder if I'll love being one as much as I love interacting with them.)
Eyes of wisdom. Hands of work. Voices altered by time. Wisdom galore.
When I drive up to the local Wal-Mart and see vans from local "homes" parked out front, I'm thrilled. Yep, I'll see plenty of white hair and red lipstick inside. All that wisdom and experience flying around the place, maybe some of it will wear off on me while I'm there.
I never ever miss a chance to chat with "my elders."
I've always liked them, "my elders." In fact, if you asked me in high school what career I was headed for, I would have said "speech therapist." I wanted to work with older people who were learning to speak again after they'd had a stroke. Mainly because my grandmother had a stroke and had to learn to speak again.
Soapbox warning. Skip the next paragraph if soapboxes get on your last nerves.
I wish we (America) took better care of our aging family members. I believe strongly that if our parents took care of us (the best they could) when we were young; then we should take care of them (the best we can) when they are old. If we don't do it, who will? Is it easy? Is it a party? Nope, no more so than it was for them when they parented us.
Anyway.
Earlier this year, Besse Brown Cooper (then "114 years and 158 days" old,) was declared the "World's Oldest Person" by Guinness World Records. There was a party; she got an award; our governor came to see her. Besse was born on August 26th, 1896, and she lives in Georgia, my home state.
Then in May, Guinness learned that there was actually someone in Brazil who was 48 days older than Besse. Besse's special title was taken away.
But soon thereafter in June, Besse was re-declared. The lady in Brazil died. Isn't that an interesting twist to the story? It must have felt weird, not knowing how to respond. Am I happy? Of course not. Am I happy? Of course.
As it turns out, Besse didn't really know about the twist. Her son said in an interview that they never mentioned to her that she had lost the official title. Doesn't really matter in the grand scheme of things, does it? 
So last week Besse turned 115 years old.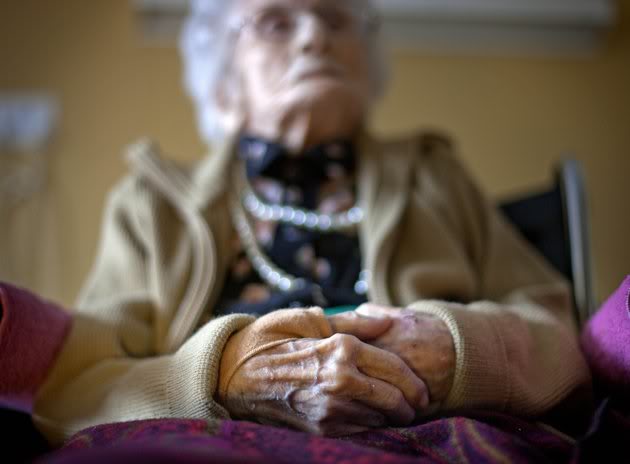 What a great image of Besse's hands captured by David Goldman.
(from: http://www.pbs.org/wnet/need-to-know/the-daily-need/photo-114-and-counting/6922/)
Now, thanks to the Internet, I've been able to look at various articles since Besse became news several years back.
In reading about her life, I've come up with "The Besse Ten." These are ten things that Besse or her family have mentioned about how Besse is living/has lived her life.
"The Besse Ten"
1.

     
Mind your own business.
2.      Don't eat junk food.
5.

     
Spend a lot of time outdoors.
8.

     
Eat food from the garden.
9.

     
Make dishes from simple ingredients.(Her daughter said, "What she couldn't do with an apple, it couldn't be done.")
Aren't those terrific? I'm going to do every single thing on that list this week. Truthfully, the hardest ones for me will either be number 1 or number 2. Well, and maybe number 4. I rock number 10. And number 7 too. Not bragging, just saying. Pretty good at number 3 too.
So back to my question: what is it like to be 115?
Besse's son, Sidney Cooper (76 years old himself) said, "She still remembers things and thinks clearly and talks. But she has her good days and her bad days. I'd say she sleeps about 80% of the time." For the last few years, Besse's hearing and vision has been going, and speaking requires some effort. But, her doctors say that she is surprisingly healthy and her vitals are normal. I read that she lived on her own until she was 105. Pretty cool.
Now, in honor of Besse, I've posted a very HEALTHY AND DELICIOUS recipe at www.rebekahteal.com. And I've renamed it "Besse Bulgur."
Why? Well, i
t's healthy and contains food from the garden. It's perfect for taking with you and your children on a picnic outside.
And hey, on your way out the door with your picnic basket full of Besse Bulgur (and no Doritos, by the way) grab a book. While you're outside on your picnic, reading your book and enjoying your kids, try your best not to worry about whether a storm is brewing on the horizon, the cat has an abscess tooth, or if you accidentally left the iron on. And, if you can, try to mind your own business. I know that's a hard one, especially since Judy's daugher is sitting right there on a nearby bench sporting a new nose ring and tatoo (is she old enough to do that?); and what in the world is Tim doing with Tom? (surely he's not? or is he?); and there goes John, walking by with a woman who is definitely not his wife (is she a business associate or what?) Well, do your best on number 1 anyway.
So tell us what you think–Would you want to live to be 115 years old? And how old do you think one is when they become a "Little Old Lady?" Is there a certain age when one really must cut her hair and wear sensible shoes?
Until next time, Friends, savor the flavor of life!
Lots of love, The City Farmgirl, Rebekah