The carefree summer's gone. School's back in session. Now the bus arrives so early, we're up before the chickens! What a fun-filled season it was… hitting the beach, gardening, county fairs; it's a great summer when you're sad to see it end. A memorable adventure was a road trip with friends to Loon Lake in the Adirondacks. Come along… see nature's beauty at its best, cook by campfire, and even go treasure hunting!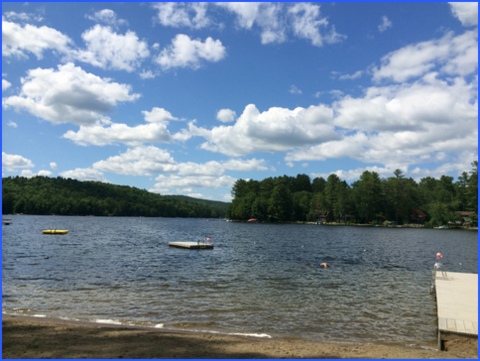 I'm blessed that I've visited some beautiful places, worldwide. My favorite destinations possess that perfect mix of friendly folks, picturesque surroundings, and a dash of history. The community and surrounding area of Loon Lake in Chestertown, New York has it all, in abundance!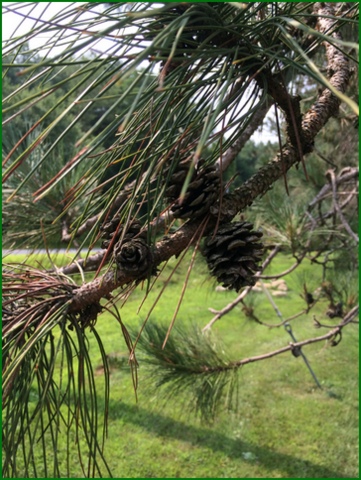 We drove four hours from New England to my friend Andrea's lake house. Upon arrival, the air smelled fresh with a clean, heavenly scent. Tall, evergreen pines blanket the area. After unpacking, the first thing we did was swim in the crisp, clear lake. There's a sandy "beach", with a dock to sit upon and take in scenery so beautiful, it takes your breath away.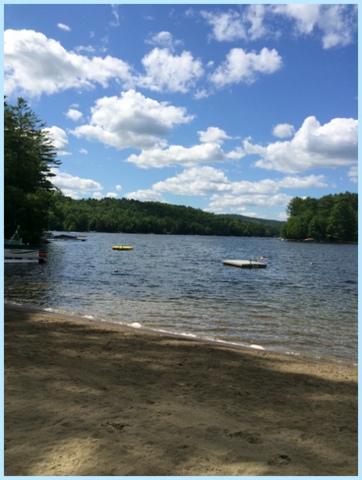 The first night, we drove into town for dinner at the Main Street Ice Cream Parlor (http://mainstreeticecreamparlor.com/), in a schoolhouse built in 1913.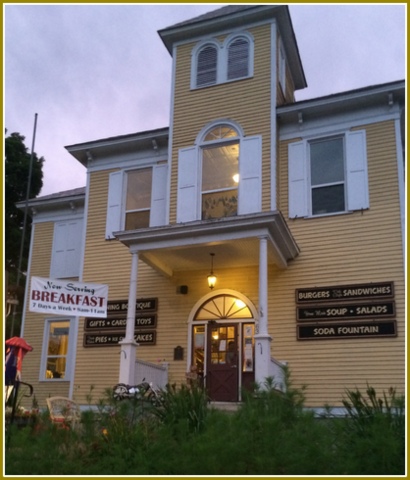 I was in heaven seeing the 1940's Americana-themed decor, classic soda fountain, old tin signs, and Coca-Cola memorabilia. My scrumptious half-pound burger came on a fluffy, homemade bun, with mouth-watering potato salad. Of course, we had to have ice cream for dessert! Upstairs, in the gift shop, antique chalk boards still grace the walls…if only those walls could talk!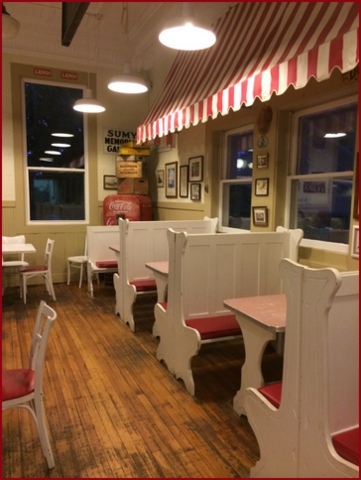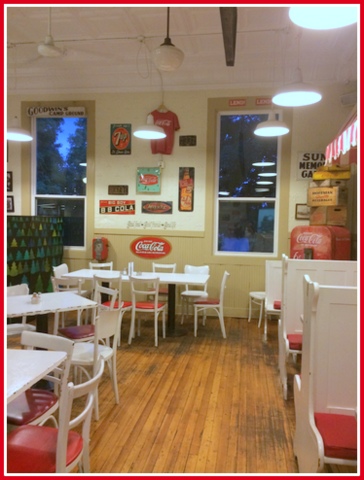 It was treasure hunting the next day! Andrea took us to North River, to mine for the state gemstone, red garnet, at the historic Barton Mines, established in 1878 (http://garnetminetours.com/). Near the tour starting point, the road sparkled like Dorothy's ruby slippers!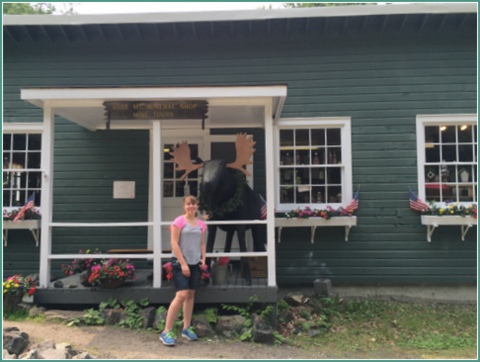 The fun started at the Gore Mountain Mineral Shop. There, we used an antique sluice to pan for gemstones from around the world, finding a beautiful amethyst!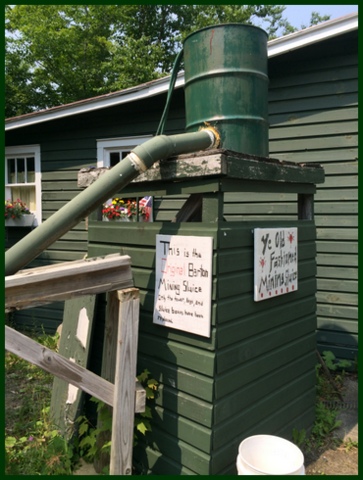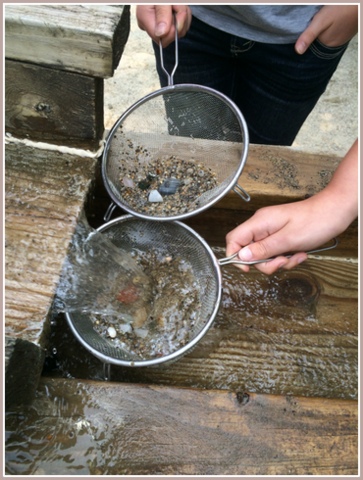 A guide took us to the mine, where we were provided a bucket for water and bags for our 'treasure", to be weighed at a $1.00 a pound. If you've got sandpaper, it's a strong bet the garnet used to make it came from the Barton mine!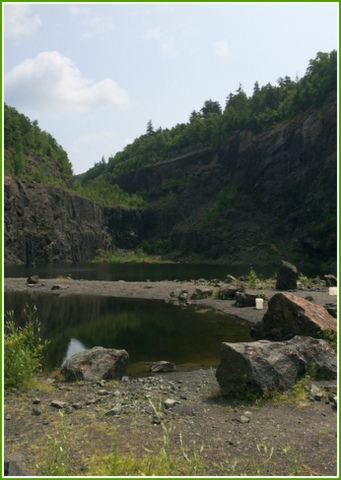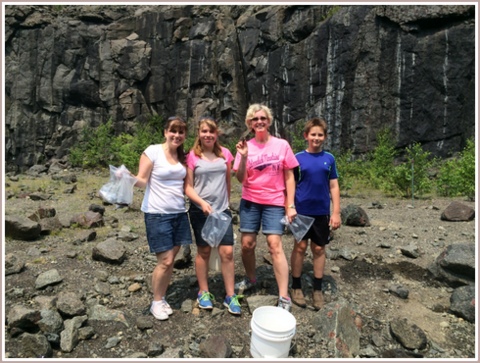 Time flew! The panoramic scenery, the glistening ground and rocks, and peaceful sounds of nature is something to behold. It was unforgettable!
Our next stop was Nettle Meadow Farm in Thurman, for cheese everyone raves so highly about!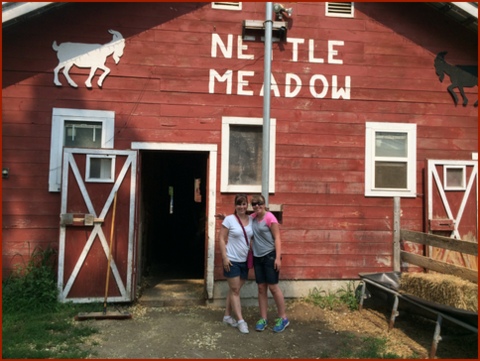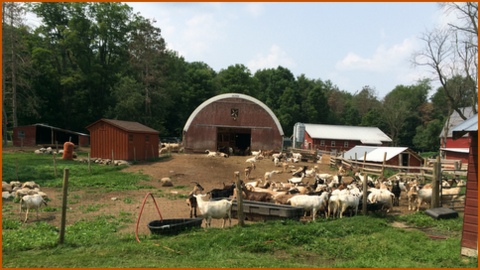 With several hundred goats, all ages, Nettle Meadow Farm's not only a stunning country farm producing amazing artisan goat cheese, but also an animal sanctuary; home to many rescued and retired animals of all sorts.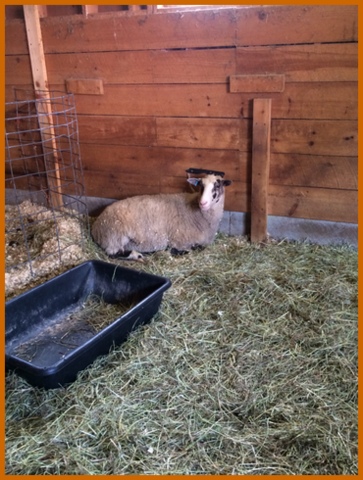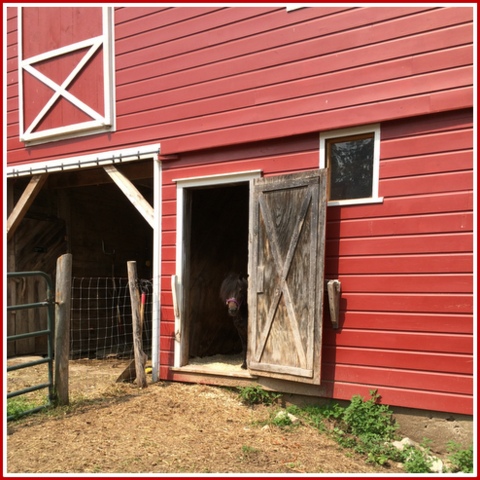 It was just lovely…and the cheese! Oh-my-goodness, the creamy, melt-in-your-mouth cheese! I purchased several, including "Honey Lavender Fromage Blanc", "Port Cherry Chevre", and their famous "Kunik", made from goat milk and jersey cow cream, which I serve topped with homemade jam. Next, I'll savor "Pumpkin Spice Chevre". Check their website at http://nettlemeadow.com/; you might be able to find their cheese near you!
Back at the house, time was spent relaxing, swimming, canoeing, and visiting with neighbors. I felt like a kid having a blast at camp, and no camp's complete without a cookout! One night, for dinner we had "Campfire Pies", using all sorts of sandwich fixins', tailgate-style, cooked in antique "Toas-Tite" sandwich grills from the 1940's, over hot coals in the fire pit.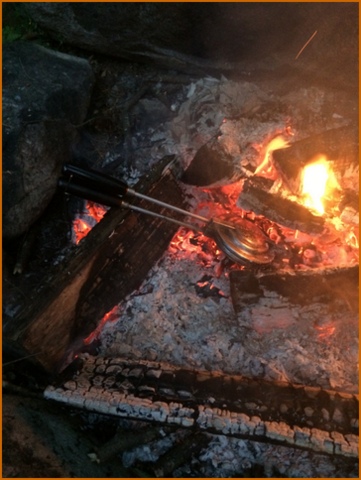 Each year, where Andrea's house is located, the neighborhood hosts an annual summer beach party. This year's theme was "Fiesta". Each family brought a potluck dish to the cookout, with crafts and activities for the kids. It was neat to see everyone from babies to grandparents enjoying the party.
Andrea was in charge of decorations, and she and friend Kristen crafted homemade pinatas using balloons. Both said it was a time-consuming labor of love. It was a little painful to watch them get destroyed, but what joy for the kids!
Andrea's house is in a private area of Loon Lake, but there's inns nearby and an RV park-  perfect for Glamping!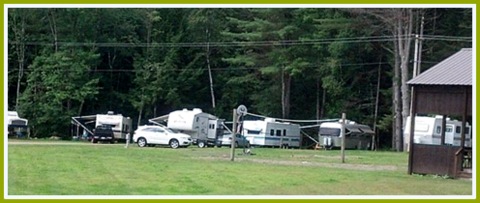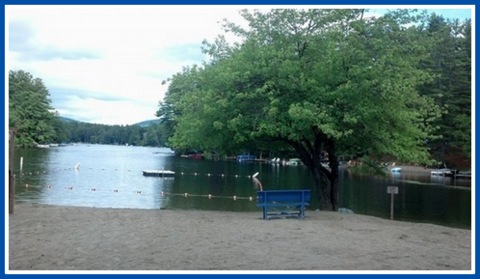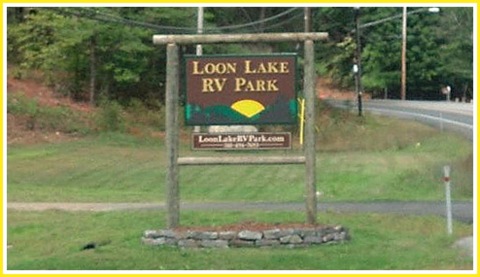 Everyone was so friendly! Our visit was a summer highlight. It's the simplest things in life that's best – "unplugged", quality time with family and friends makes life wonderful!
**Hope your summer was fantastic! Let me know you dropped by in comments.**
Until Next Time…Farmgirl Hugs, Nicole