Earth Day is this month. It is April 22nd, which is also Good Friday. So today, let's talk some earth talk. Let's talk about the small patch of the earth we are each personally taking care of. And for you apartment or high rise dwellers, let's talk about your outdoor space. Your deck or patio or rooftop or fire-escape.
So tell us about your patch of earth. Is it big or small? What do you grow? Do you have a lawn? Woods? Any water? Do you keep a vegetable garden? Herbs? Any fruit trees? Hey, how about critters? What kind of wildlife do you invite into your yard? And how? What kind of critters do you "keep"?
My yard? Well, mine has such….such….such….potential.
Remember in high school when your teachers told your parents, "I'm afraid your daughter is not working up to her potential." No? That didn't happen to you? Come on, surely I wasn't the only one who goofed off in high school. Well, "never-the-huh." It was me in high school; and it's my backyard now.
Unreached, unmet, unrealized potential.
I get emails from folks wanting me to post photos of my gardens and my yard. Believe me, you do not want to see it. It will never be on a garden tour, virtual or otherwise. If you've been with me for any length of time, you might remember the sad saga of my previous garden. It's since been ripped out and leveled. The fellow who installed it for me years ago charged me an arm and a leg to create four large gardens. He used old railroad ties. I didn't know any better at the time, but railroad ties are treated with dangerous chemicals that leach into the soil. Anyway, those areas were ultimately removed. I hired another fellow to bring his bobcat to come and tear it all out. The money I threw away on that. Unbelievable. Gosh, this is a long story. Hmm, let me cut to the chase. Let's see: we moved away after that. Lived in a wildlife sanctuary for a couple of years where I couldn't garden "legally" at all. And now we're back. And I'm just starting to work on a garden area again. Okay, you're all caught up if you're new and missed all that drama.
I do indeed have a great patch of the earth to care for. We are on 5 acres and about 1 acre was cleared for the house and yard. So there is space for me to do whatever we can dream up. No, space is not the problem. The problem is with the implementation of the dreams.
I don't have enough of these things:
3.
Energy. (to be clear, my energy, not the earth's.)
I have too many of these things:
I think the first list is self-explanatory. There's never enough of any of those, is there?
So let's talk about the "too many" list. Critters. You already know about Jake, the Snake, who resides under my steps that lead to the backyard. I am very distressed to report that Jake has brought home a girlfriend.
(Now, obviously, I don't know if this friend is a boy or girl, nor will I ever; I don't even know about Jake. This is just the way I think about them….)
Anyway, I am calling this new, additional snake that lives under my steps, "Cake." Cake is smaller, cuter, and faster than Jake. Yesterday, two of my three dogs had Cake cornered under the deck. This was the first I knew of her. The dogs were seriously after her. They wanted her. In a very big way.
I. ME! With no shoes on. Ran down to save the snake! Before I even thought about it, I was down there, protecting my dogs, protecting the snake. This is impossible to believe, I know. But truly, I don't want any harm to come to these snakes that share my patch of earth. I'd simply like them to move to a different part of the patch….one not so close to the house.
So I got the dogs away; Cake quickly headed back under the steps. I locked the dogs up in the house, and I went back out with my camera. At a "safe" distance, I waited; and I waited; and I waited.
My husband called and I told him I was on "Snake Watch." He found it impossible to believe. As my daughter's friend says, "I know….right?" But really, I thought for sure Cake would come back out. And I wanted to snap her picture for YOU. Because I wanted you to see Cake; she's a pretty little snake.
Whoa! Who said that? Who and What have I become? "Pretty" snake?!? Have I totally lost my mind?!?
(Hmmm…interesting….)
Anyway, snakes are NOT the only critters that hinder my gardening and landscaping efforts.
I have three dogs, all cute, but diggy and pee-y. Hard on plantings.
I have rabbits, also very cute, but hungry and eat-y of everything.
I have tons of squirrels, cute too, but they dig up flowers and bulbs for some reason I've yet to discover.
Then there's the deer. Oh the deer. The deer are adorable and I do love the deer, but they are as destructive as all get out. They eat shrubs, flowers, vegetables, herbs, bottom branches of trees, you name it. They even eat the plants that the books say they won't. Why? Because they have nowhere to be, nothing else to eat. There is development all around our neighborhood. We are on large tracts of land, with a highway on one side of us and dense development on the other. Poor deer. Could I really complain about the deer? They need food more than I need a rose bush. So, I just haven't planted very much.
Another problem we have is our grass. Last year, our back lawn was completely consumed by what turned out to be lawn destroying worms. It was a strange, strange thing. I'm out in the yard and see the blades of grass moving. Upon closer inspection, I see they are little cute caterpillars. Can you see them? The black things on the blades of grass? They were everywhere.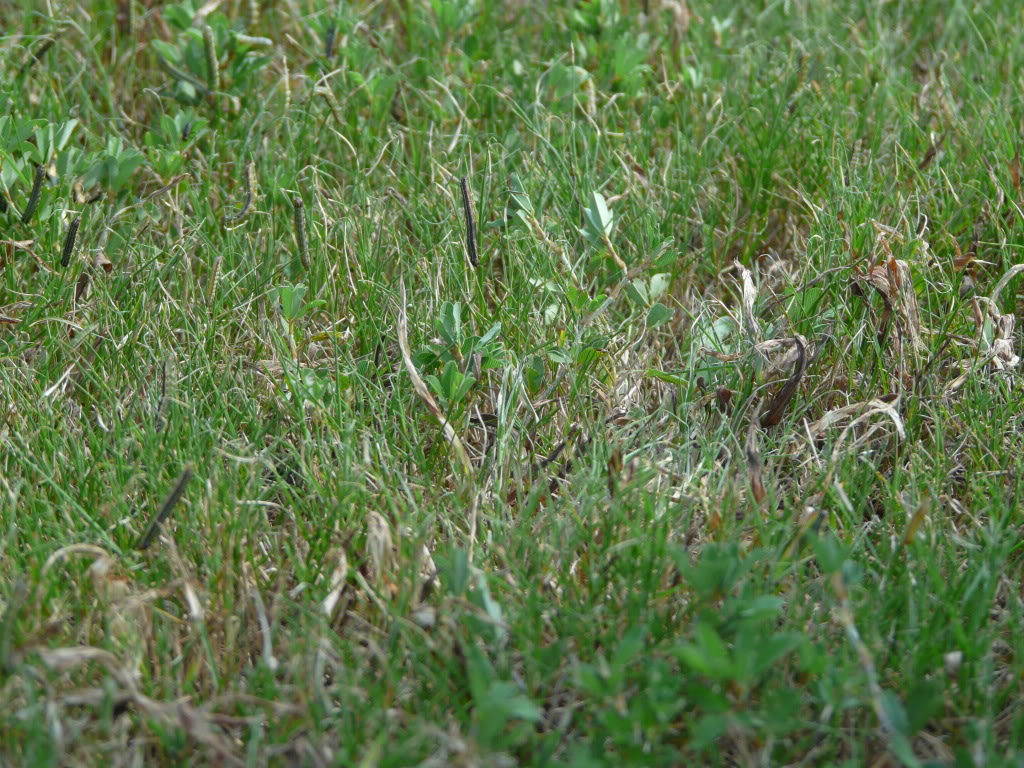 So I go and get my daughter and my camera. When my husband sees them, he wants to go for the pesticide. No, no, no, please no! He purchases some earth friendly, natural treatment for the worms.
Sadly, it didn't take care of the problem. Our lawn turned a very ugly brown. Our fingers are crossed that it will recover this year. So far all the green we have back there are green weeds. Which actually, looks okay. Better than the brown did, anyway. But are you beginning to see why I don't post pictures of my backyard now?
However.
I do have something wonderful. Something very wonderful.
I've got woods. I love my woods. They separate us from a very large development. I showed you lots of pictures of those woods during our wonderful and historic snow storm last past winter. When I was a little girl, we had a patch of woods behind our house. I spent so much of my childhood back there, imagining, playing, exploring, collecting. These are no different. They nourish the soul.
Shall we? I need to go in search of Carolina Sweet Shrubs. (Calycanthus Floridus). Sweet Betsy. Carolina Allspice.) It is native to this area and blooms in the early springtime. Carolina Sweet Shrub is one of those heralds of spring for me. Unless you spend time in the woods, though, you don't really see it. No one plants it in their yard much. But they grow wild in woods around here, as part of the understory. They can get rather large, up to 9 feet or so and spread to form a thicket. The flowers smell spicy and sweet. I always like to pick some long branches and put them in a vase on my table to announce "Spring is here!" Today, I'd like to locate a patch and flag some of the bushes. I don't recognize them without the flower, so I need to go while I think they'll be in bloom. I'll come back later to dig up a few to transplant in my backyard.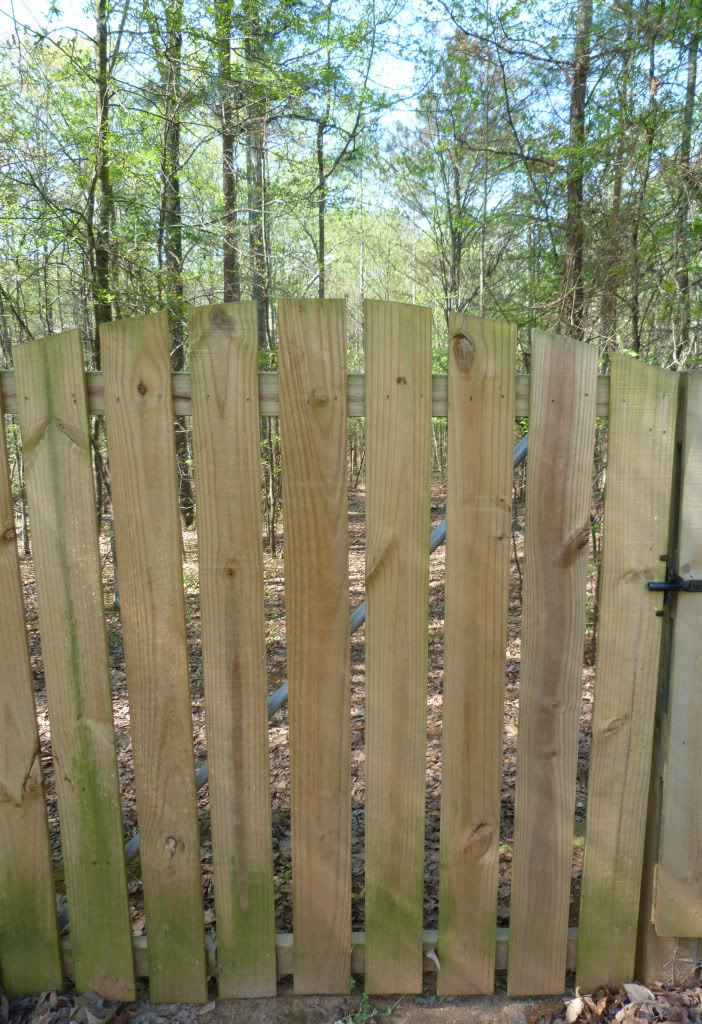 So here are my woods. Nothing spectacular, just plain, old, scrubby woods. But they are MY plain, old, scrubby woods.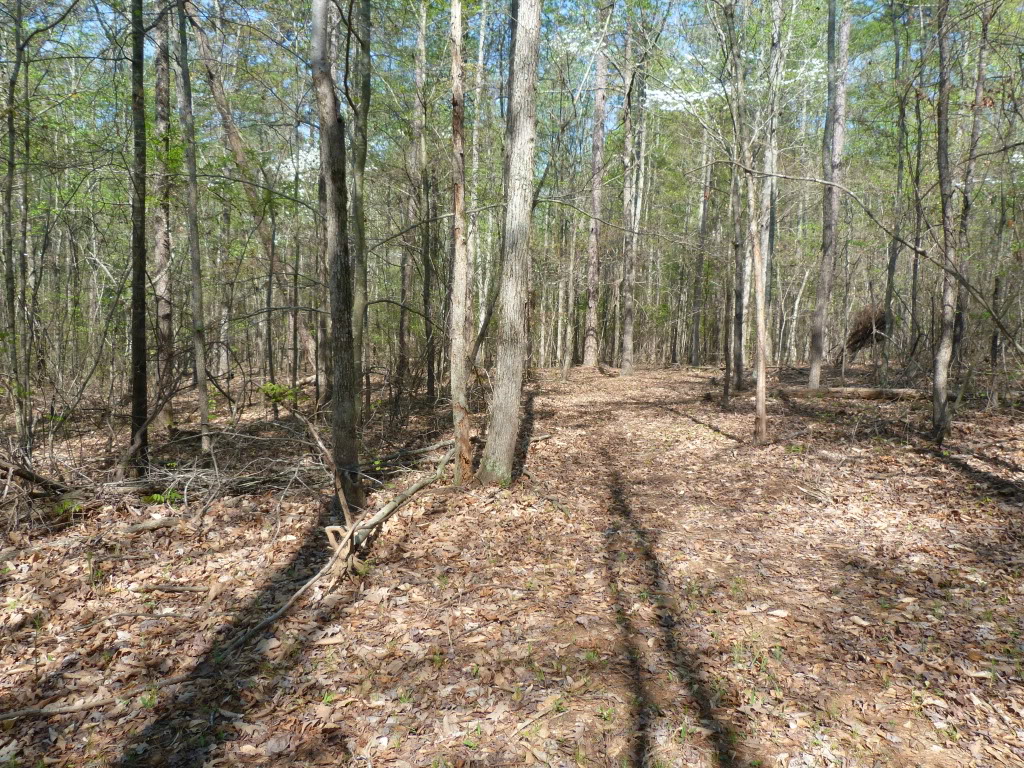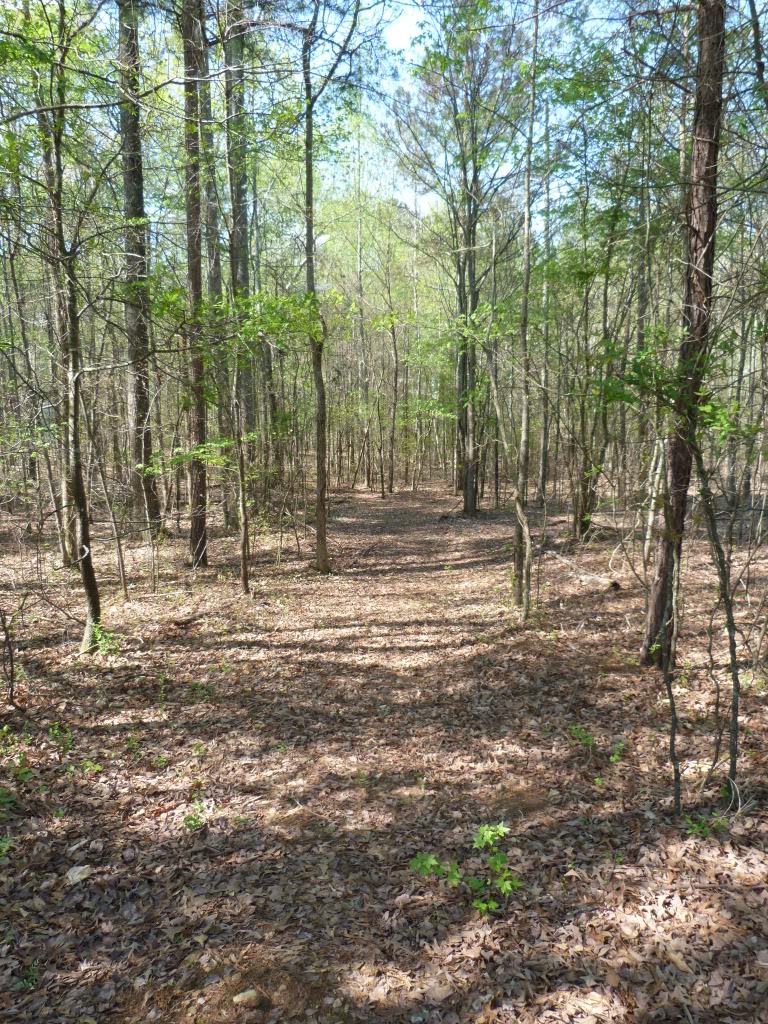 Watch where you step, I've seen a coppe
rhead snake back here.
No, I haven't named this snake; it is poisonous, you know. There's no way I would ever give that thing a name. What? Should I? I surely don't want to discriminate against it. Okay, okay, give me some suggestions for a name; we'll give it a name together.
Ah, here are the dogwoods. The beautiful, beautiful dogwoods. They are in full bloom now.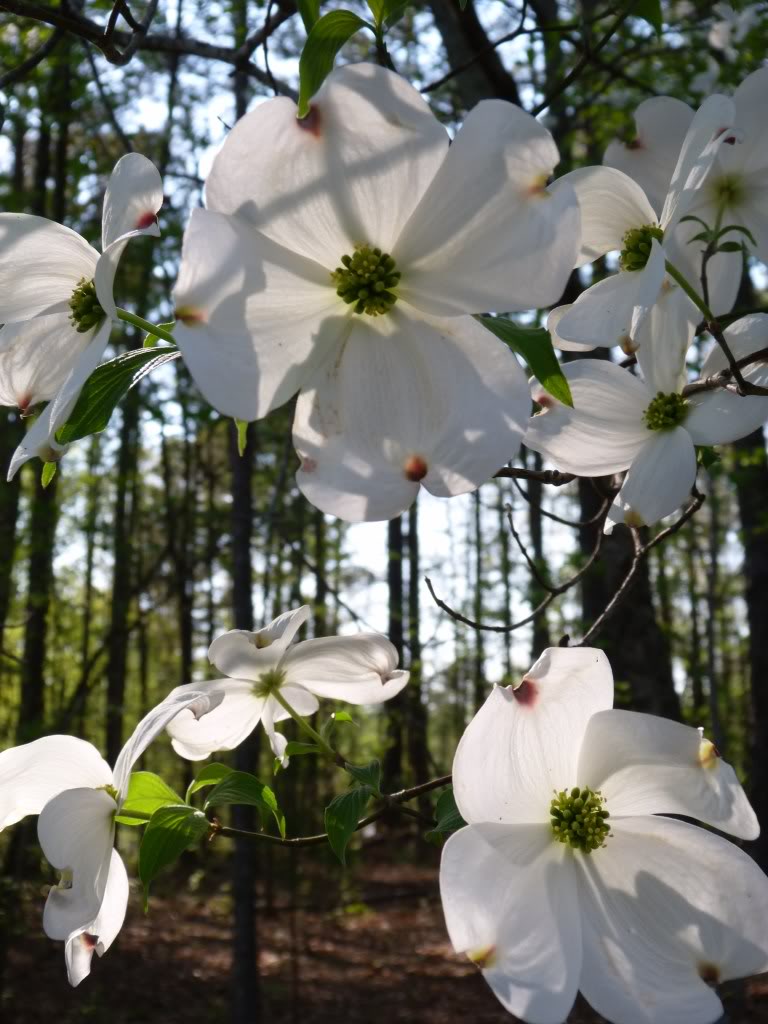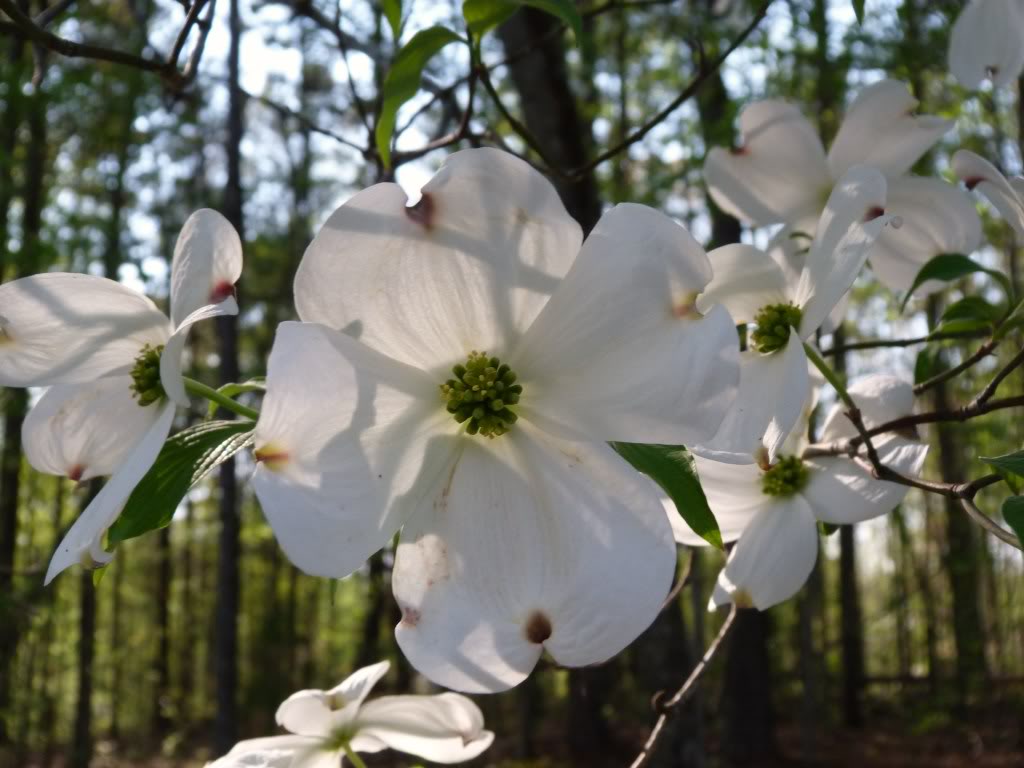 Oh, I really like the way the sun and shadows come through the pedals.
And what's this? Hello, little flower I do not know. How are you today?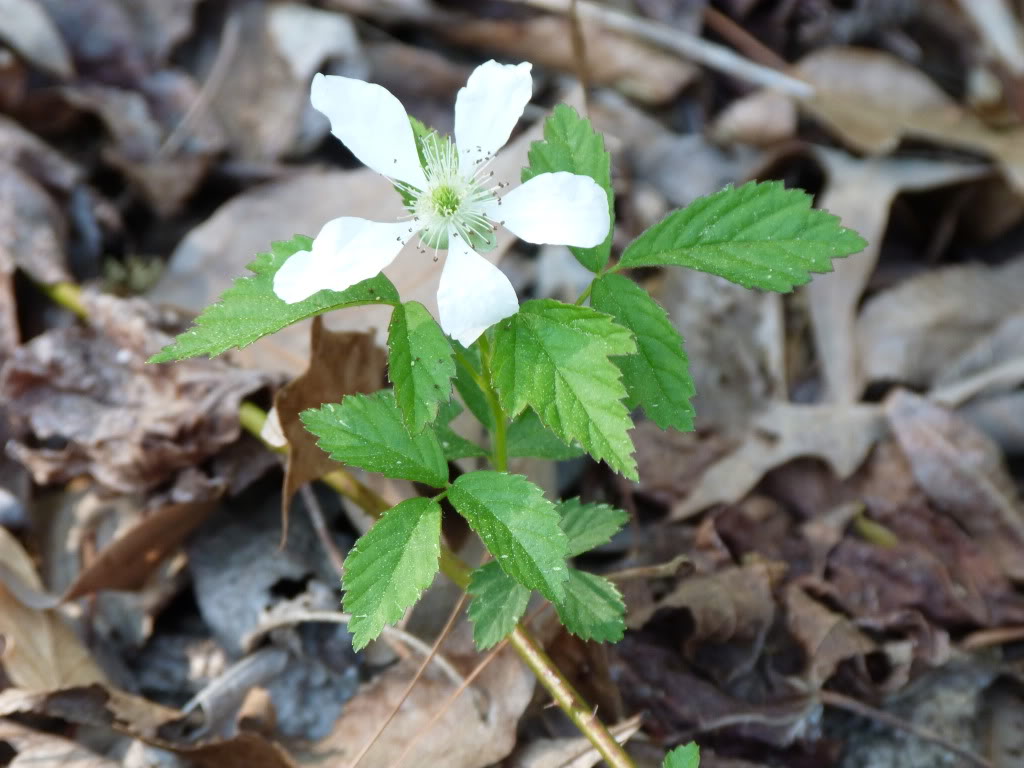 And this is called a "snag." Do you know about snags?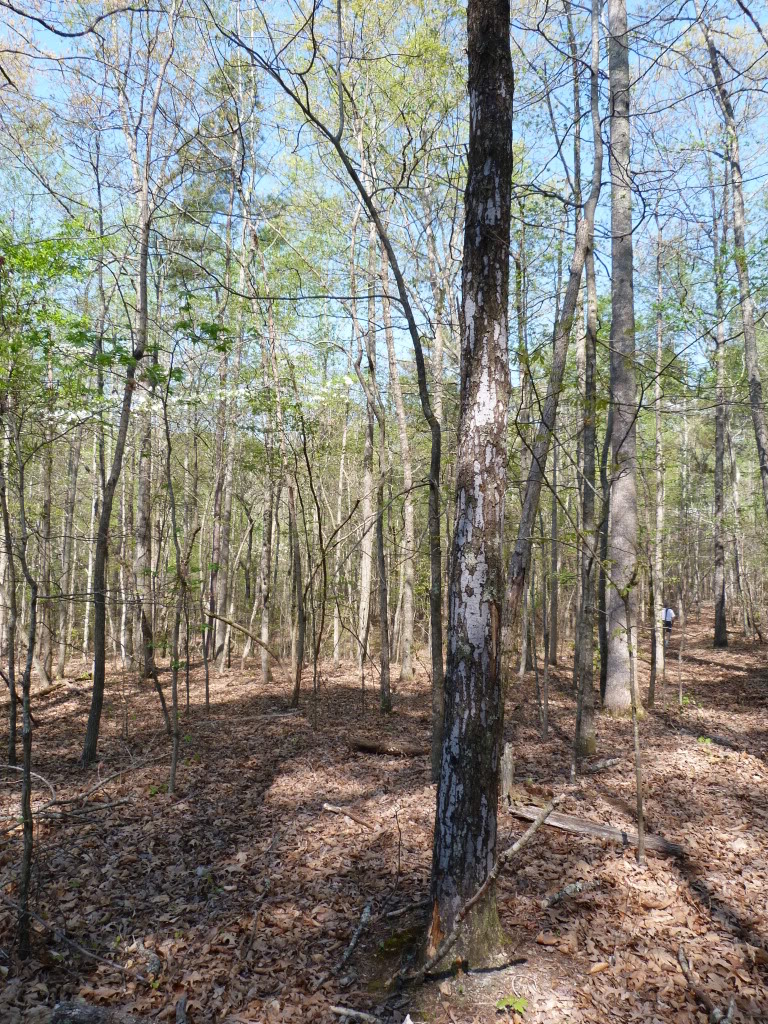 Snags are very important to our earth. A snag is a dead tree that is still standing. I'm very careful about keeping snags. They are like condos for so many different kinds of wildlife. I have one standing in my front yard, where some would consider it an eyesore. But not me. It is at the edge of our yard and wouldn't hit a thing if it were to come down. If you want to see pictures of my front yard snag, hop over to my blog at
www.rebekahteal.com
. I'll post pictures of it there. I even drew a picture.
Here's a heart of pine snag back in my woods.

The heart of the pine tree, which is all that is still standing, is the strongest part of the tree. It makes awesome fire starter. In the south we call it "lightard." It's also known as "fatwood."
Oh here they are, Carolina Sweet Shrubs.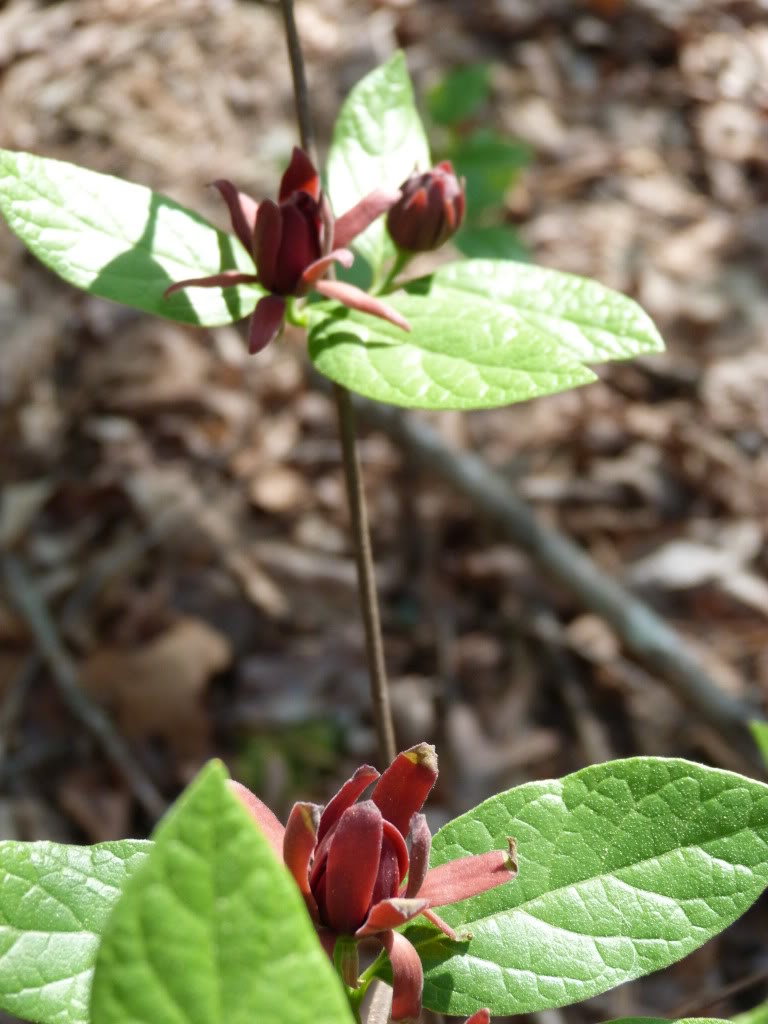 I wish you could smell these. So spicy and sweet. They smell homey.
Like cinnamon buns, or applesauce, or….oh, I don't know.
Unique and wonderful.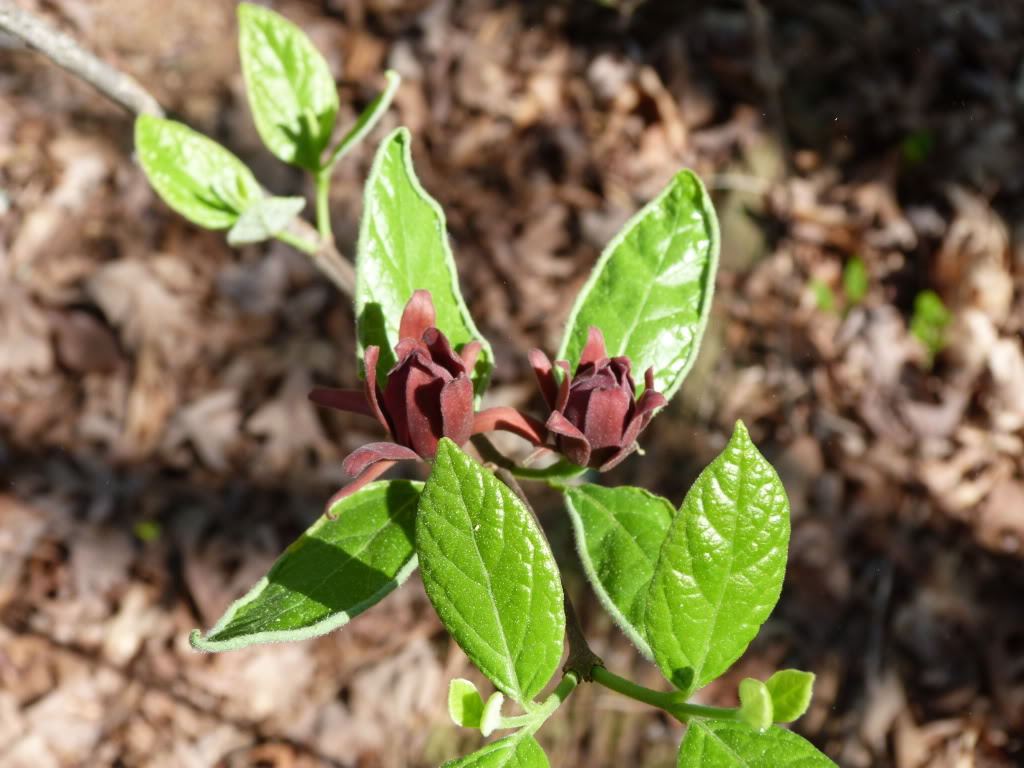 Okay, so that's the favorite place in my yard. Now it's your turn. Tell us about your patch of the earth! And if you have any ideas, give me a name for the snake in our woods.
Until next time, Friends, savor the flavor of life!

Lots of love, The City Farmgirl, Rebekah