"Only the pure of heart can make good soup." Beethoven once said.
"So Beethoven, You Want Cheese on Your Chili?" I once said.
I love soup. Love, Love, Love it.
I love Halloween.  Love, Love, Love it.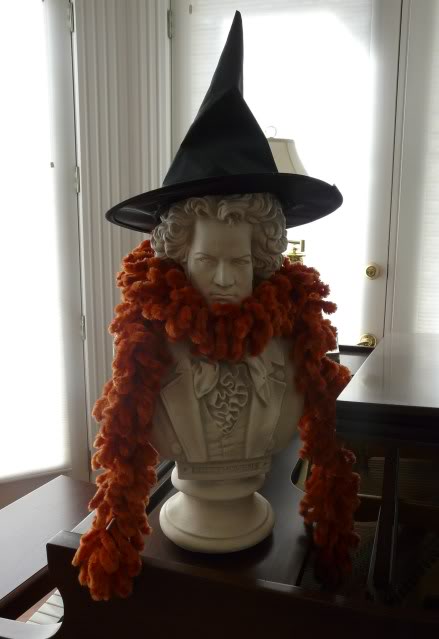 (Yes, still decorating my Beethoven bust.)
So I LOVE Halloween. But not in a Martha complicated, over-done way. In a simple, old fashioned way. Much like the Halloweens of my childhood.  That's what I do each year. I try to re-create that simple Halloween spirit I remember. For me, that gets harder and harder to do.
But that is how my annual Soup Party on Halloween started. As a simple, fun tradition that gave me the Halloween spirit.
It's interesting how traditions begin and why.
Many moons ago, when I moved out of the house (my parent's house, that is) I began a tradition that gave me the same warm fuzzies of being home on Halloween. In this case, it was automatic. I made a pot of chili and a pan of cornbread because it felt like home. It transported me to my childhood Halloweens. Why? Well, because my Mom always made a big pot of chili before we headed out for a night of trick-or-treating. My soup party tradition 
grew out of that simple pot of chili and cornbread.
Even before I had a child, I made chili and dressed up for Halloween. I passed out candy and sought out
events for young-uns who I could help with. I've never done the scary stuff, with guts and blood and monsters.
Which brings me to now. I'm hosting my annual Halloween Soup Party this weekend. And if what Beethoven suspects is true, that good soup only comes from one who is pure of heart, well, I might be trouble. Most likely. Probably.
Doesn't that Beethoven quote remind you a bit of the standard for the Great Pumpkin? It does me. Only the pure of heart can make good soup. And only the most sincere pumpkin patch will get a visit from the Great Pumpkin.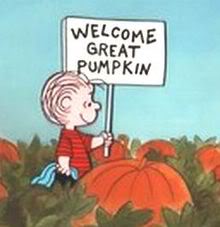 picture from Wikipedia
(One year I costumed my beloved truck as the Charlie Brown pumpkin patch and my beloved daughter dressed as a pumpkin. I was the scarecrow….So fun. What's NOT to love about Halloween?)
Anyway, this year I wonder—-since my heart is likely not pure enough to make good soup, must I somehow try to compensate? Must the soup be incredibly amazingly delicious so I have some room for some slack?
In any event, I'm hoping you'll help me with SOUP PARTY menu.
I know I'll make turkey chili, 'cause I always do. And, I'll make MaryJane's Harvest Stew that I renamed for Halloween (recipe below), 'cause I have for three years now. But what else?
Tell me what kind of soup to make and I'll make the two or three that get the most mention here. (My only request is that it be meatless or fish or poultry. No beef. No pork.)
I'm hoping you sweet Farmgirl friends will help me out here.
I'll put one of those soups right in here on Halloween. My favorite soup tureen.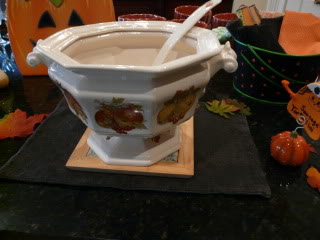 (And if you've got a great recipe, share that too. Or direct us to your blog or a website where it is posted. Hey! Why don't we have a SOUP PARTY on our blogs? Post your recipe and come back and post a link. Woohoo!)
Leave a comment if you have time. What is your favorite kind of soup? What soup should I make? (A
nd give us a link to your recipe if you post it.)
And 
if you've got some good, old fashioned ideas for Halloween activities, or memories from childhood Halloweens, we'd love to hear them!
You rock! You know you do!
Until next time, Friends, savor the flavor of life!
Lots of love, The City Farmgirl, Rebekah
MaryJane's Harvest Stew
a/k/a MaryJane's Vampire Stew
(The only change I make is not adding the meat. I can't remember exactly where this recipe came from. Perhaps from an article about her and her farm in Country Home. Was that it? Anyway, her recipe is perfect as it is. I make it exactly according to the recipe when I don't mind the chicken. You won't be disappointed. It's so delicious!)
4 skinless, boneless chicken breast halves, cut into ½ inch pieces
14 cups 1 inch pieces harvest vegetables and fruits, such as peeled sweet potatoes, Yukon Gold potatoes, peeled butternut squash, peeled beets, Granny Smith apples, and/or peeled parsnips
1 cup pitted green olives, chopped
2 TBSP finely chopped peeled fresh ginger
1 tsp ground black pepper
3 strips orange peel, white pith removed
½ cup snipped fresh Italian parsley
½ cup slivered almonds, toasted
½ cup chopped pistachio nuts, toasted
In a large kettle, cook chicken, onions, leeks and garlic in hot oil until brown. Stir in harvest vegetables and fruits, broth, olives, ginger, cumin, paprika, pepper, salt, cardamom, peel, and bay leaves. Bring stew to boiling. Boil, uncovered, 5 minutes. Reduce heat; cover and simmer 40-50 minutes or until vegetables are tender. Remove and discard bay leaves. Stir in parsley, mint, almonds, and pistachio nuts, just before serving.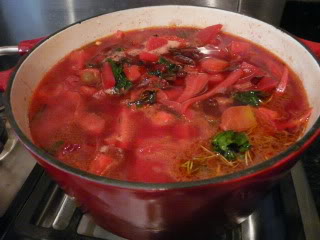 I always add lots of beets to get that beautiful red color.