The other day someone asked me a question that "flew all over me." It was this: "Why in the world do you bother with a garden?"
Bother? I did not like that choice of word. I just don't understand it. What kind of question is that? What in the world should we all be "bothering" with, if not a garden?
So the question put me on the defensive immediately. I bucked up. Yes, I became contary. And sassy. And I went into some discourse about fresh food and organics and cooking and stress relief and I don't know what else.
Sadly, I did NOT do a good job defending "edible gardening." It's a pity because I wish everyone would plant something to eat somewhere in their yard or kitchen window or deck. A blueberry bush. Or some herbs in a pot. Or lettuces. Or a tomato in the middle of the bushes.
I've wondered why I got so contrary with this particular person when she asked me about it. Am I just tired of the question? Am I putting more into it than what was meant?
Yes, both of those. But I also think I was overly sensitive because I developed a love for edible gardening and then couldn't do it. For the last few years, I lived in a place where my only garden was a small sliver of dirt beside my driveway. I also planted in pots on my too shady deck.
But not this year! This year I have actual dirt again. On the ground. I love and appreciate my garden this year. Now more than ever. I guess I am overly defensive about it. I guess that's my excuse for being "quite contrary."
So yesterday I'm out in the garden—in the heat and humidity, by the way. Not a bit of breeze. But I'm out there loving it.
I'm in what I call the "lower garden." It's a work in progress. I should really call it the "lower red clay clump" at this point. I thought it would be ready for planting this spring, but it wasn't. I'm still working on it. (I've got a BIG problem with deer and dogs and bunnies, so I need a fence of some sort.  My garlic is there though. I've not had any of the animals bother my garlic.)
Anyway. I'm in the "lower garden" doing a variety of things:
I've got to snap some garlic scapes for a pasta dish for dinner (
Last year's post
has the recipe for garlic scape pesto)
I've got to remove some pine straw mulch from the area where I want to plant pumpkins.  I need to do some weeding and general cleaning.
And I've got ONE thing on my mind:
So why do I "BOTHER" to garden?
Hmmm….What about you, why do you BOTHER to garden?
While I was working in the garden, breaking and dirtying fingernails, sweating up a storm, digging and raking and hoeing and enjoying life in a big way, I came up with a list.
Here it is. A list of the reasons why I garden, by Rebekah Teal. Here we go.
(I plan to memorize this list, by the way, and lovingly recite it for anyone and everyone who asks me in the future why I bother to garden—–)
1.

      

The way a big juicy warm just picked tomato tastes on a hot summer day.
2.

      

The joy of growing things I can't buy in the store—–like garlic scapes! And this year I grew Chinese Kale and Fava Beans.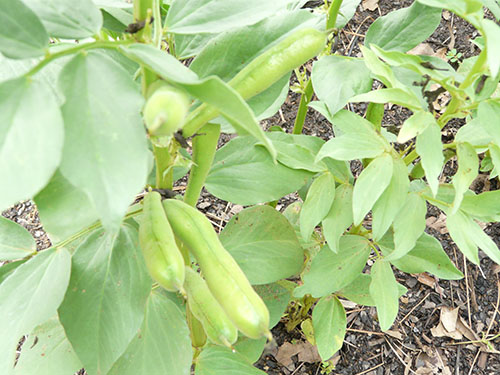 Fava Beans
3.

      

The difference between the deliciousness and crispness of a Sugar Snap Pea just off the vine and one that's from the store. No comparison.
4.

      

That tasty, varied, buttery and spicy lettuce from the garden first thing in springtime.
5.

      

The flavors that just-picked herbs add to dishes. Nothing like it.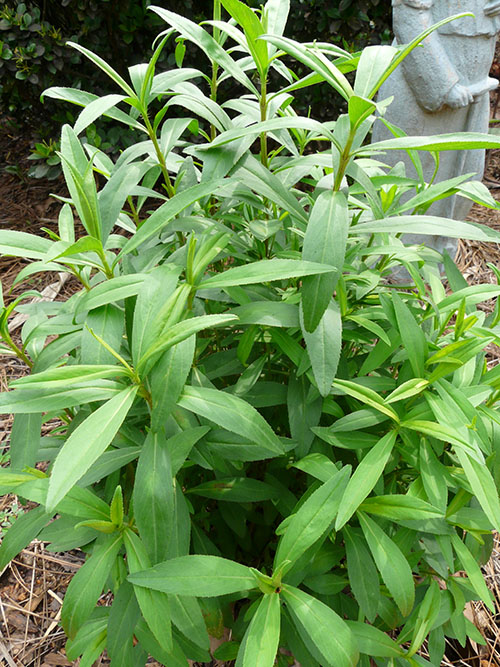 French Tarragon
6.

    

Because I like dirt. I've always liked the way dirt smells. I like to churn it and turn it and enrich it. I like the way it feels cool to the touch. I was one of those kids who liked to be outside and get dirty. I remember some awesome and messy mud fights. And in fact, am currently eyeing one of those races you run in the mud. Have you heard about those? Sounds like a blast to me. The muddier the better!
7.

    

And because I like to be outside. I would rather be outside all weekend then inside. I think, if I didn't have the "excuse" of gardening, I'd be doing house work or work-work right now.
8.

    

About this time while I was working and formulating my list, I notice how much my lower back hurts. I put down my hoe and I do the "Rag Doll" yoga pose. It feels wonderful to my back.
Here's what you do: Inhale a big breath. Then as you exhale, lean over, bending at the waist, keeping your knees as straight as possible, yet comfortable. Allow your arms to hang loosely down; relax everything, including your face. Just hang there. You'll feel an incredible stretch in your lower back. Yummy.
So then Number 8 came to my mind. It's good for my body. Gardening is exercise.
9.

    

Which brought me to gardening being good not only for my body, but also for my mental and emotional health. We all know how it feels to come in after some time in a garden.
10.

 

Hey, and not to mention that gardening is in my blood. I come from a long line of farmers and gardeners. My grandparents made their living on the land. Since that generation, we've been backyard gardeners.
11.

  

It gives me warm fuzzies. Gardening to me means reminiscing. Kind of the same thing as 10, just more specific. I remember helping my father plant his garden every year. Lettuce early. Corn and beans (in the same hole, so the beans could grow up the corn). Okra and eggplant, more because he likes the plants than the veggies. Turnip greens and kale in the fall. I remember my mom heading out to my father's garden, to find something to cook for dinner. She still does.
12.

  

More warm fuzzies. It makes me feel wonderful to grow and cook healthy food for my family. Isn't that an important part of growing your own food? You know the dirt; you know the seeds; you know the care they received while growing; you know what was used on the plants; you know when it was picked; you know the care it received after it was picked. I think that's huge.
13.

  

It's also an inspirational. Gardening is watching something wonderful and miraculous happen.
14.

  

So can I legitimately and honestly call it "fun"? Am I having fun right now this very minute? I ask myself. Yes, I decide that I am. The entire process has some element of fun in it. I think the thing that makes it the most "fun" though, it that it is so rewarding. I mean, come on, that's fun. Accomplishing something tangible and delicious. So Number 14 is that it is fun.
As I was finishing up my list, I had begun working on an area that was barren and covered in pine straw. This would become my pumpkin patch. A small one, of course, with maybe four plants. Yes, this is fun. Then! Well, then I raked some pine straw away from the area. Lo and behold, I uncovered a brown snake! Thank goodness it was siesta time in snake-land. I awakened him. (Have I mentioned that I have a snake phobia? Yes, many times. I thought so. It's pretty debilitating and I talk about it a lot.)
But the weirdest thing happened.
I did not do my snake dance. I did not do my snake scream. I did not run.
Definitely a first. I just stood there.
And then I said, rather calmly, "Get the hell out of my garden…"
(Sorry about the language, I don't usually use language like that, but I'm just being honest. That is exactly what I said to that snake. With passion too. And with an emphasis on the "hell." It was like this, "Get the HELL out of my garden!!"
He looked up at me. And he did not do as I asked. He did not move. I read his thoughts, "What?!" he thought, "You get out of MY garden!"
So I took the rake. And I…I…I….
I covered him back up with the pine straw. I did.
And I got out of his garden. Ha.
I decided now was not the time to work on that pumpkin patch. Now was a good time to snap garlic scapes and make some pesto. And celebrate the fact that my snake phobia has evolved. It's now just a regular normal run-of-the-mill snake fear. WooHoo! Never thought that would happen! I was not all petrified and crazy.
So now I've got number 15 on my list: Gardening evolves me. Wow, that's a good one.
So why are you bothering?
Until next time, Friends, savor the flavor of life!

Lots of love, The City Farmgirl, Rebekah