Oh yeah….You read it right. "Challenge." You, me. More on that in a minute.
But first. Thank you so much for your insightful comments on love and marriage. I'm working on that booklet and will include everyone's words. Yes, even you guys who thought you couldn't offer any advice…your words were filled with wisdom. I mean, just go back and read them. Full of wisdom. Thank you.
Now about this "mid-spring" challenge I've conjured up.
Well, not yet. Let's talk about "mid-spring" first, in all its glory, then we'll get to that "challenge" part. 
"Mid-spring" is what I've always called this particular time of the year, the time after May 1st. There is a huge difference in weather in the southeast between March 21 and June 21, so I can't call that whole time period "spring." It doesn't even feel like the same season, really. Cool and delightful in March. Hot and humid in June. So what I've always done is divide it up into three parts: early spring, mid-spring, and late spring.
Hmmm…what is it about the sounds and smells and sights of mid-spring that are so invigorating? They seem to be a call to action.
The sound of mid-spring is of birds singing. In my yard these days, the loudest bird is the mockingbird. He sings all day long. And even into the late evening. My local mocker is truly impressive. He has mastered the songs of a ton of birds. I've heard that some mockers learn to mimic house or car alarms, or whistles from people. But not his guy. Not yet anyway. I've only heard bird songs from this mocker. He is a real show-off too. I'm sure he has wooed the ladies with his impressive repertoire. I can tell you that I'm impressed. He is loud and clear and knows at least a dozen different calls. And he goes on and on and on and on…..(I couldn't get a good picture of him this morning, but I was able to record his song on my camera. It's over at www.rebekahteal.com if you want to hear it.)
The smell of mid-spring is sweet. The air in my yard smells of honeysuckles. Such a sweet, sweet aroma. Honeysuckle will bloom all summer long, but I notice it most in "mid-spring," when it first comes out. Every year I smell it before I see it. I catch a whiff and know there's a honeysuckle around somewhere. Then I go around and try to find it.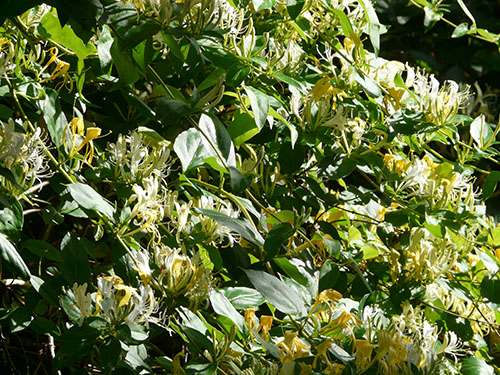 And of course, there is the familiar "honeysuckle rite." You know, the one you learned when you were five or so. You pick a flower, carefully pinch off the little green stem end and pull the drop of nectar out with the—the—the—-I'm afraid I don't know what that string thing in the middle of the flower is called—-I should have paid more attention in high school classes. I'm afraid I was a bit distracted. Boys, you know.
Anyway, I had to buy this candle because I love the smell so much.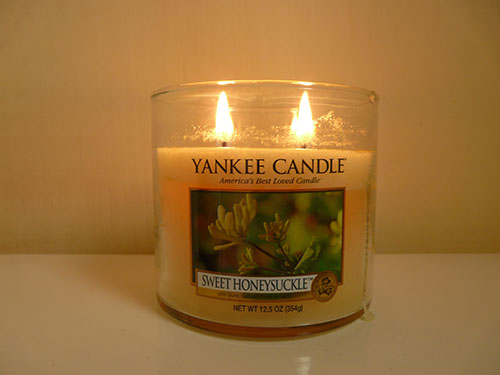 The sights of mid-spring?  It's flowers. They are a-bloomin'. Here's a Cherokee Rose.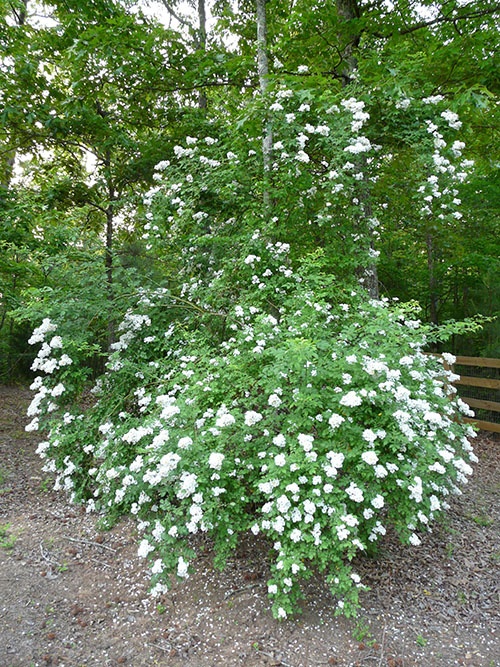 A close up: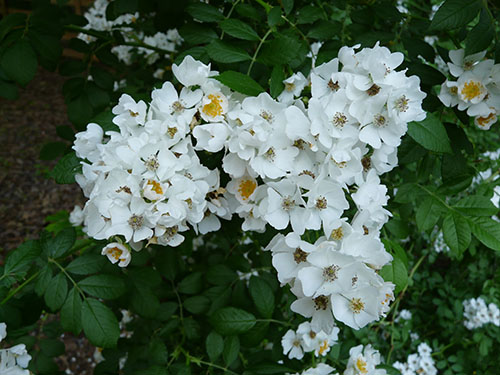 These flowers are native to our area. This one grows up a tree in our yard. I thought it was a weed (briars) the first year we lived here, and I almost cut it down. I'm glad I didn't. The Cherokee Rose is an old flower. Legend has it that it was originally formed from the tears of the Cherokee women as they wept. It is said to grow wild along the entire area of the Trail of Tears. And here's some trivia: it is the state flower of Georgia.
And one more thing. Mid-spring also begins poison ivy time.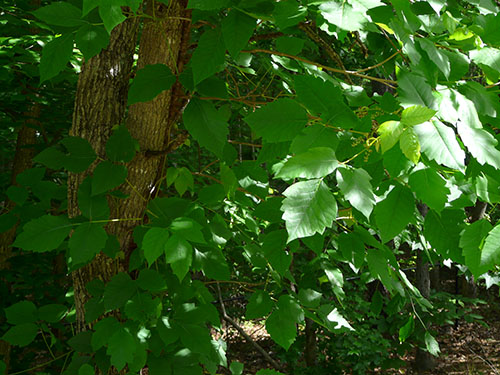 I found this guy climbing up a tree in the side yard. I'm not sure how to eradicate it since we gave up chemical weed killers. Hmmm. I guess some things are worse than chemicals? I have to think on that.
So spring around here is all about growth. 
This spring also became a time of growth for me.
Yes! I completed that 5k! And you know what? It turned out to be an experience that "grew" me. I can't explain exactly how that happened. It's just something random I picked to do and did it. And it was hard for me. But I stuck with it and completed it. I can cross that off my "bucket list."
And the strangest thing of all is that I think I'm going to stick with running. Now this is beee-zarr. I really can't believe it myself. I mean, I've never been a runner. Never been interested in the least in running. And running is kinda boring. And I'm about to be 47. And I have shin splints from training for that 5k. But on the other hand….it was truly a growth thing for me to do that training and run the 5k.
So that's where the challenge comes in.
I challenge you to——-GROW. To bloom. Find something that will "grow" you. Do something just for you. For your health, physical or mental. For your spirit. For you.
Yes, I'm challenging you to do something. Not a 5k, but something for you. A mid-spring challenge that gets you thinking or moving or heading in a direction you've thought about, but haven't quite gotten around to.
Can you name the last time you did something just for you? Something that was good for you? And something you benefited from?
If you're like me, and I bet you are, that was a long time ago. We tend to do for other people and put ourselves on the backburner. The problem is that the things on the backburner (us) never get put on a front-burner because the front-burner stays so crowded and busy. And hot! There is always a fire to deal with on the front-burner.
I remember the first Sunday afternoon that I told my daughter and my husband that I was going out on a walk for this 5k training. Here's what I heard: What?! What about our dinner party?! We've got so much to do! Don't go!  
And you know what? I didn't go.
But after that Sunday, I did better. They did better too. We had a talk and I explained that preparing for the 5k and running it was big for me. I told them that I knew it impacted my family because I had to take some of my time and use it for me. That was tough. Believe me.
I did it. I did it. I did it. I did it! I broadened my horizons by that experience. I felt empowered. Like I could do anything I set my mind to.
And that's my mid-spring challenge to you. I challenge you to do something for you. Something that is good for you. I've learned that for it to "work," it needs to be very specific. That is, instead of saying I'm going to start eating better, say, "I'm going to start eating 5 fruits and veggies a day." (I just read that only 9 percent of us do that). Or "I'm going to walk 10 minutes a day for 3 days a week." Or "I'm going to start buying organic apples and milk." Or "I'm going to take 10 minutes every morning and meditate or pray." Or "I'm going to take a pottery class." Or "I'm going to sell something I make." Or "I'm going to learn to make bread." Or "I'm going to grow tomatoes this summer." Whatever works for you.
Just think about it. And pick something that will grow you. And nurture you. The main thing is that you find something that, once it's done, you'll feel good about yourself.
You deserve it, you know. You do so much for everybody else…
What is it? Leave a comment and share it with us. We'll be inspired together.
Mine? Well, this running thing has been interesting. So my next challenge for myself is a 5k trail run. It's at the end of June. Now that actually sounds like fun to me. Running through the woods. The woods are my favorite place to be after all. And surely, with 600 people in front of me and few behind me, the snakes will have scattered?
And since I'm challenging you, it's only fair that you challenge me. I'm up for it.
I seem to operate better with the motivation of a challenge. So if you've got one for me, let's hear it.
I'm also working some more on my bucket list. I've scheduled that Hike Inn. Woot!
That's me. Laying low, loving life and living large.
Oh, my, I like that….I really like that. I think I have a new theme—–
Until next time, Friends, savor the flavor of life!
Lots of love, The City Farmgirl, Rebekah