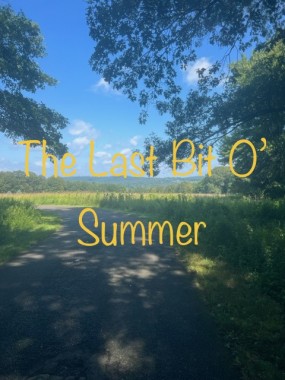 It's so hard to believe that summer is almost over, at least by the calendar, but it's not over yet. As I mentioned before, it's been a weird summer weatherwise. However, there's still some summer to be had! 
First off, thank you to all who commented on last month's blog post! I loved hearing how so many have warm memories of simpler times and special loved ones inspired by beautiful, handmade vintage potholders. Congratulations to my two readers, Dana and Nancy, winners of last month's giveaway! Please check your email and send me your addresses so I can mail out your goodies!
Even though Summer is winding down, there is still much to enjoy about the season.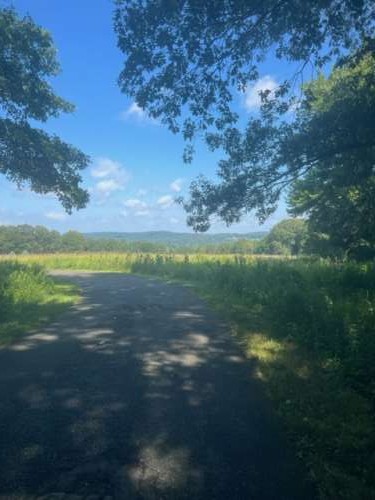 It has not been the greatest of summers, no doubt. In Texas, for example, the temperatures have been unbelievably hot. My brother sent me a photo of his outdoor thermometer, where it was recently reading 109 degrees fahrenheit.
Here in New England, our problem has been too much rain. This summer has been the rainiest and gloomiest summer I can remember. It's still so soupy-humid, hot and sticky. By the end of July, we received three months' worth of rain in just one month! I wish we could send some of those rainclouds to those who need it! 
The non-stop rain has made it hard to garden, and there's a lot of weeds everywhere, but we have tried to make the best of it, making a point to enjoy pretty days (or bits of sun) when we can. 
Summer here brings singing birds and sweet little hummingbirds, like this tiny winged hummer who soon will be making its long journey back to warmer climates.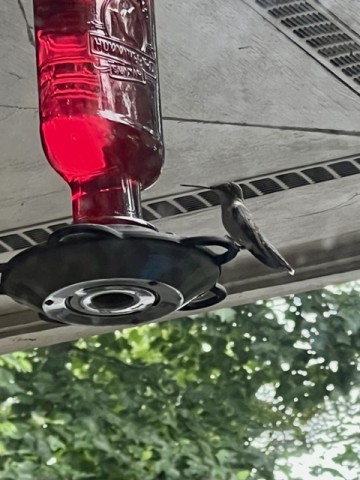 The mom with the two "twins" still visits my yard almost everyday. The babies are getting bigger, as are the turkeys who bring their babies. When it was storming, I was surprised to see both turkey moms and all ten of their chicks roosting in the trees near our driveway.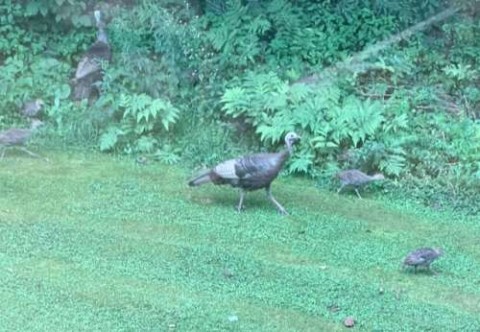 Something that is so nice about living in the suburbs in New England is how close we are to so many things. We took a family road trip to Newport, Rhode Island one beautiful day, though it was so hot and humid! We grabbed a nice lunch and walked up and down the main street, which is filled with cute little shops and quaint restaurants. Newport, a beautiful New England harbor town, is one of my favorite places on the East Coast.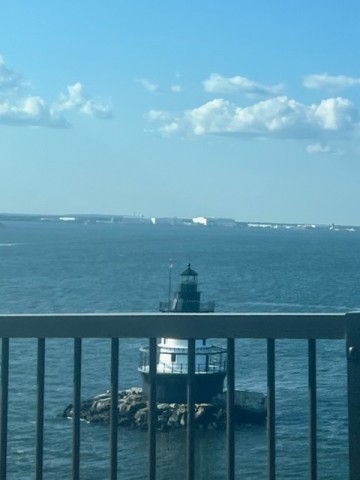 We finally have recently had some less humid afternoons, so on clear, non-stormy evenings, we take our little dog into the vintage camper (our big ones don't "fit" in Gidget), and wind down before turning in, listening to 40's jazz and having a cup of tea. Inside, with Gidget's mid-century modern decor and twinkling lights, the bustle of modern times disappears. Of course, until we hear large animals walking through the woods nearby…
On another pretty (but very hot) day, we drove up to Sturbridge, Massachusetts, to the Sturbridge Village Museum, to see the reenactors of the Revolutionary War, an event we have not been to in twelve years. It was just as exciting as the first time we went, so long ago!  I don't know how the "soldiers" and the ladies dressed in all the period clothing could stand the heat in all those layers!  The yearly event is something to see – with cannons in a "battle",  flags, and families all dressed in period clothing and camped for the weekend at the museum.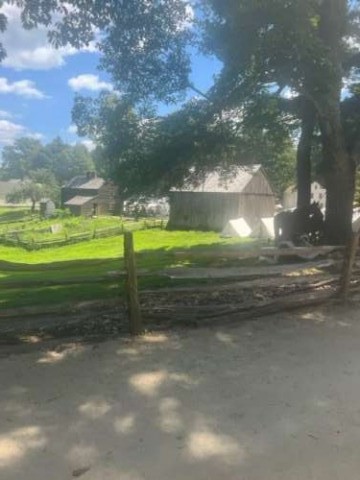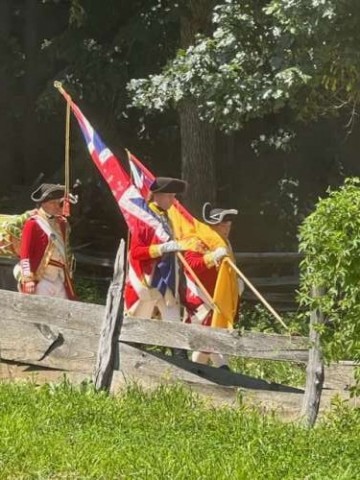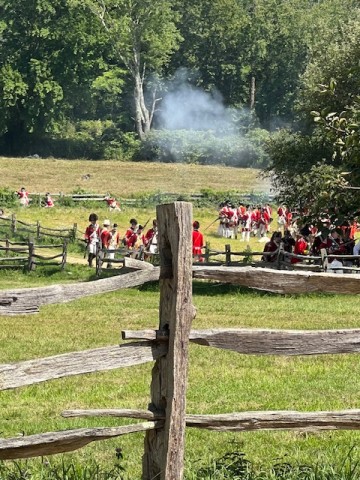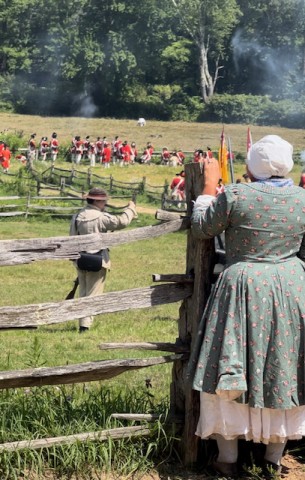 I love the ocean. There's been so few sunny days, so despite cloudy weather, we headed to the sound to our local public beach for a couple hours by the sea. A thunderstorm would be rolling in later that night, so it was overcast and cloudy.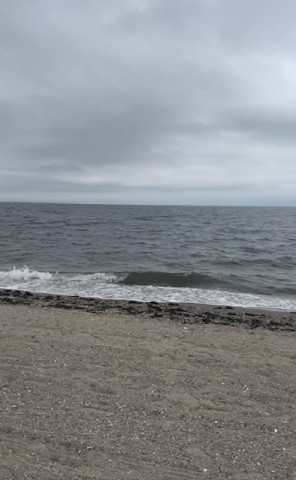 Open for swimming with lifeguards on duty, we did not swim, but ended up really enjoying watching the waves, walking along the water's edge, and watching the seagulls and their crazy antics.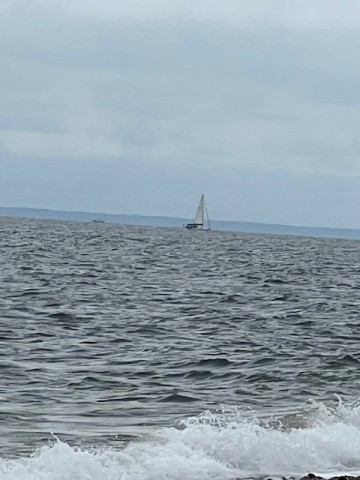 It wasn't picture perfect, ideal weather, but ended up being one of the most relaxing beach days ever!
On a sunnier day, we recently took a little day-trip to see my friend Robin and her husband in Pennsylvania. It had been too long since we all last saw each other, and meeting halfway for both of us is just about two hours, in the beautiful and quaint town of Milford, PA.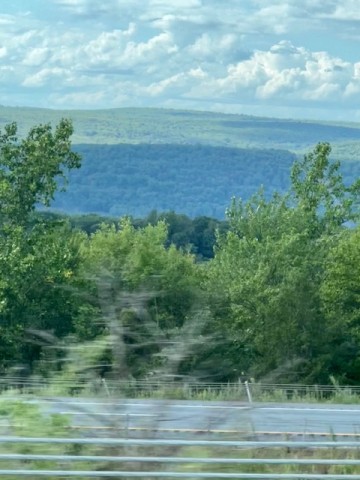 One of my favorite things about this time of year is all of the delicious fresh veggies and fruits! Robin brought us the most delicious, sweet peaches she picked from an orchard in her area.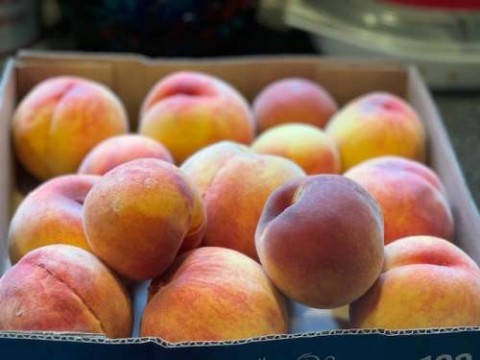 So juicy, they were the best peaches we have ever eaten, and one was as large as a grapefruit!
Cherries are my all-time favorite summer fruit. My mother credits her graceful aging and good health to eating cherries all year long.  I also love cherries – fresh, frozen, dried…though I have not often purchased fresh cherries in recent years because they have been sold at such high prices and in such large quantities (I remember when you could bag your own).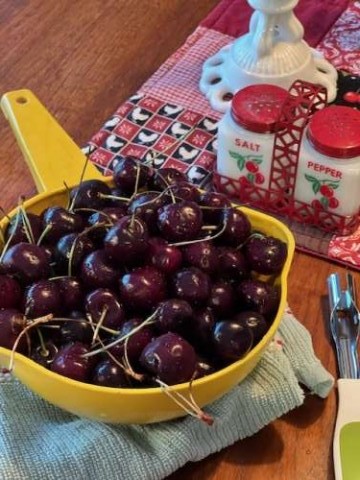 This year, one of our local grocery stores has had delicious fresh cherries, at reasonable prices. However, when the first bag I bought was going to go bad before we ate them all, I decided I needed to do something with them so they did not go to waste. 
I love quick breads, all year long. I'm "known" for my pumpkin bread, and Chocolate Chip Zucchini bread is a great way to use up overgrown squash. I like quick breads because they aren't too sweet, and can be a great summer dessert, snack or breakfast treat, as they go great with coffee! 
I decided a good cherry quick bread was in order, and came up with this recipe. My daughter is allergic to dairy, so I make it dairy free, but you can use real butter and milk in place of the dairy free options.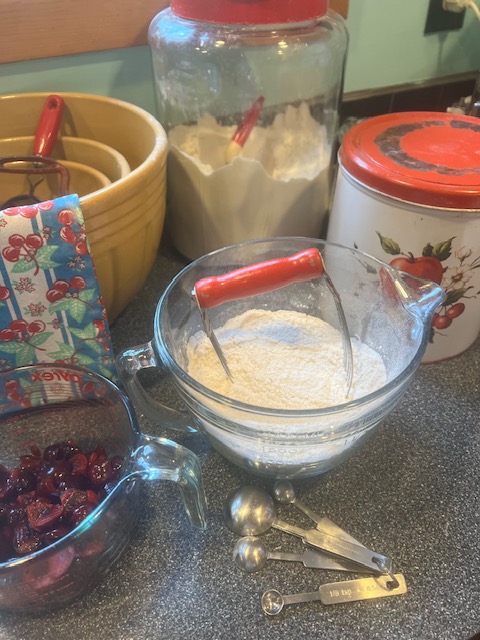 Nicole's Cherry Almond Quick Bread
2 ½ cups flour
1 cup sugar
1 ½ tsp baking powder
⅛ tsp salt
1 cup plant butter  (if using real butter, let it warm to room temp)
¾ cup almond milk 
2 large eggs, beaten
½ tsp vanilla extract
½ tsp almond extract
2 cups pitted, chopped cherries tossed with 1 tsp. Flour (I have a cherry pitter, but find a paring knife just as easy).
½ cup sliced almonds
1 TBSP brown sugar (for the topping)
¼ tsp nutmeg (for the topping)
Preheat oven to 375. 
Sift flour, sugar, baking powder and salt in a bowl. Using a pastry blender, cut butter OR plant butter into the mixture, until coarse crumbs form. Reserve ½ cup of mixture and set aside for later. 
In a seperate bowl, mix together almond milk, eggs, and extracts. Add wet mixture to the dry, mixing together until dry ingredients are moist. Fold in cherries and almonds.
Pour into a greased loaf pan. In a small bowl, mix the ½ cup flour/butter mixture with brown sugar and nutmeg, sprinkle on top of bread. Bake at 375 for 50 – 60 minutes or until a toothpick comes out clean.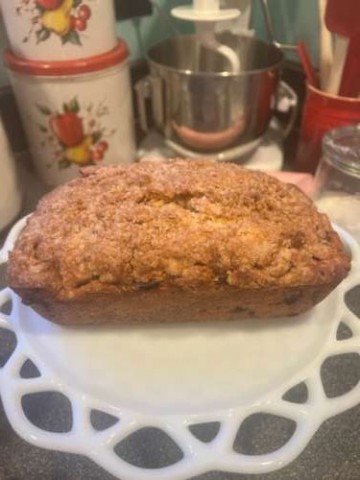 I have made this several times with fresh cherries, and my friends and family adore it. I think substituting frozen, thawed and drained cherries would work fine, too, as would dried cherries when summer's fresh fruit disappears into Autumn. Enjoy! 
Though summer is ending, August marks the start of all the wonderful county fairs in the tri-state area!
This past weekend, my husband and I went to the Bridgewater County Fair, the first fair near us. It was muddy from all the rain, but we were blessed with a sunny day and had so much fun walking around the fair!
Even just sitting on the porch, with a gentle breeze (or a fan) blowing, is one of summer's little pleasures.
There's a "buzz" in the air, as birds get ready to fly to their winter destinations, kids (and teachers) get ready to go back to school, and fall festivals get ready to start around our area. 
Wherever you are, dear readers, I hope you are finding the last bits of summer that you enjoy, too! 

Until Next Time…Farmgirl Hugs, Nicole