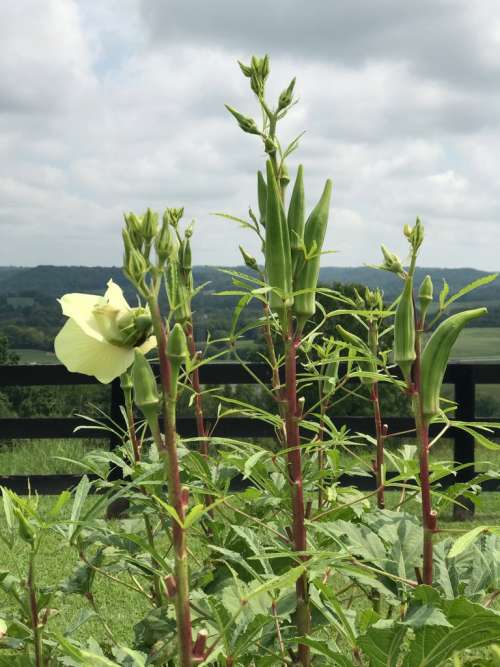 .
Hello Farmgirl Friends!
.
I got home from a month in New Mexico to okra just out of control.  (My daughter and her friend had been picking and using it at least… but it was in full production mode!)  I do love okra and honestly we can happily eat it every day all summer and clear into the Fall when it finally gives up.  But I've heard so many people say that they never know how to cook it except for fried or boiled.  So today… for all you okra lovers (and haters!) out there; I have a fabulous meal to share with you.  (Every okra hater that I know magically loves okra this way!)
.
This isn't one of those "recipes" that I have written down.  Do you have as many of those as I do???  I discovered the amazing combination of grilled shrimp, cherry tomatoes and okra a few years ago by accident and oh my word.  Game changer!
.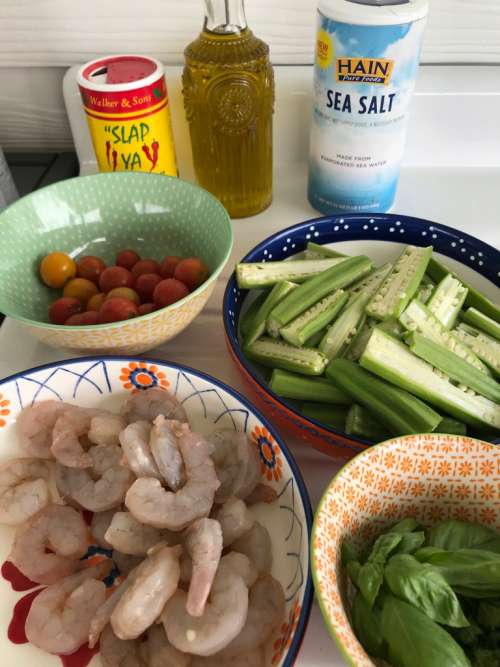 .
The ingredients are simple:  okra, shrimp, cherry tomatoes, basil, sea salt and olive oil.  I like to add a little "heat" to my shrimp so I use some cajun seasoning, but that is optional.
.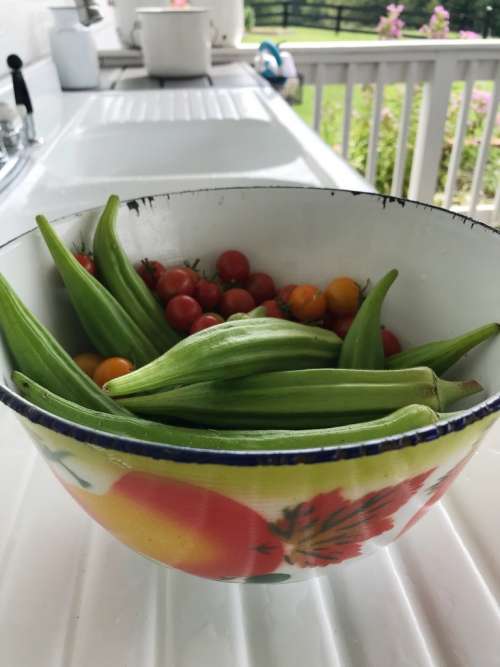 .
.
So lets get started by picking your cherry tomatoes and okra.  Pick all the okra.  Long, short, tiny… all of it!
Prep your shrimp by thawing it out, rinsing it well, and drying between two paper towels.  (I use about 6-8 shrimp per person.
Wash your handful of cherry tomatoes and remove the stems.  If they are tiny, leave them whole.  If they are grape-size, cut them in half lengthwise.
Chop some fresh basil.
.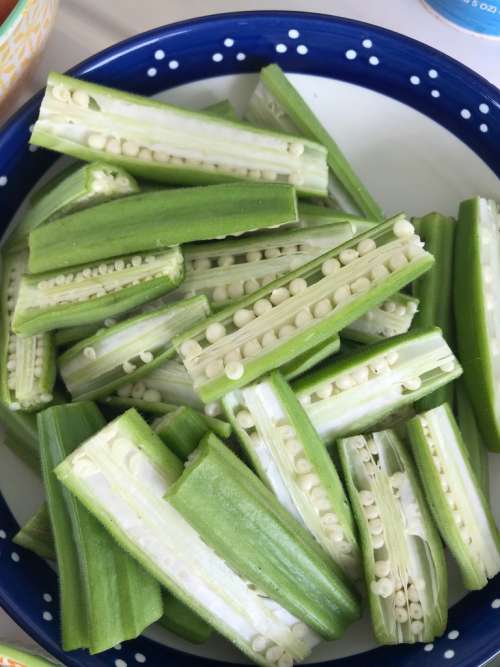 .
Cut the tops and bottoms off the okra and cut each one in half lengthwise.  If your okra is tough you'll know; it'll be hard to cut into and if it is just toss it to the chickens!
.
I use our outdoor Blackstone Griddle to cook this meal.  But if you don't have a griddle, use a large cast iron skillet.
.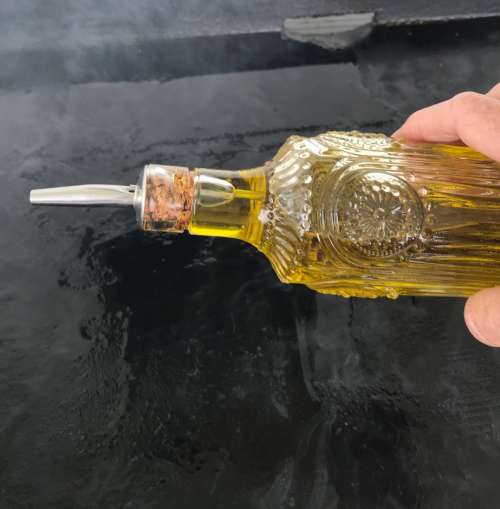 .
The key here is to have your griddle/skillet VERY hot.  You want it hot enough that when you drizzle your olive oil it will immediately be sizzling.
.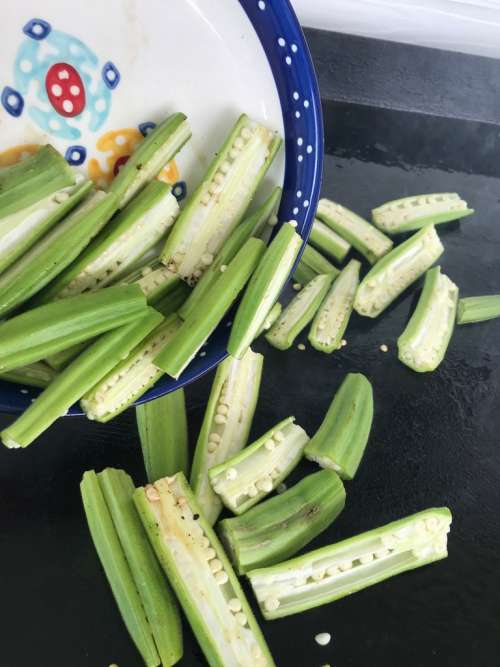 .
Pour your okra on to the hot griddle and use a spatula to move it around in the olive oil.  Okra will take the longest to cook so start with it first.
.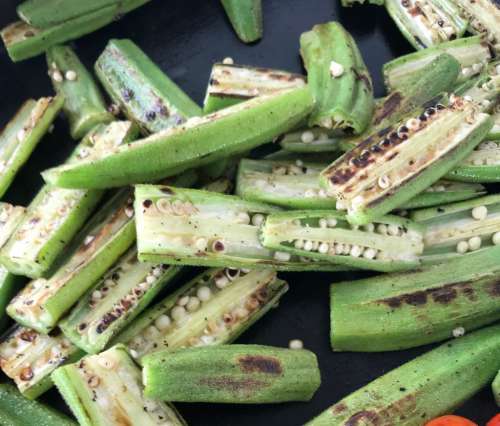 .
Ive never timed how long it takes to cook it thoroughly.  Maybe five minutes???  You'll know it's ready when both sides have great charred marks.  (You want the okra charred; it is what keeps it from being slimy.)  Flip it a few times to make sure it's charred on both sides.
.
Add your cherry tomatoes to the griddle about the time the okra is starting to charr.  Cook them side by side.
.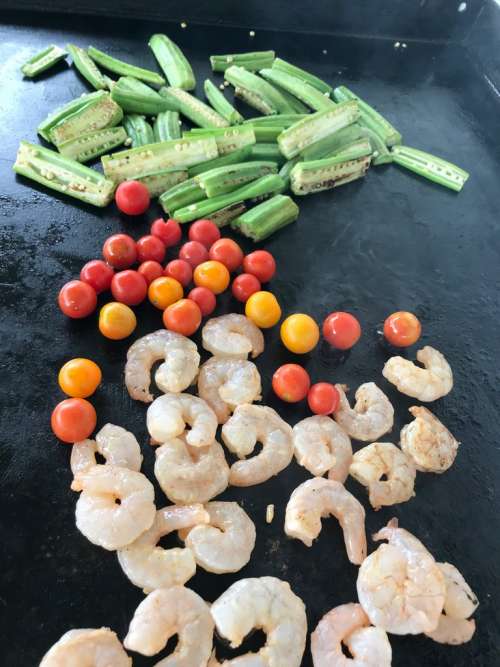 .
Add your shrimp to the griddle when the tomatoes are starting to split open just a tiny bit.  Your shrimp will cook really quickly.  All you need to do is just make sure it cooks to a nice grilled pink color.  Flip it and cook the other side.  (We are talking just 2-3 minutes here.)
.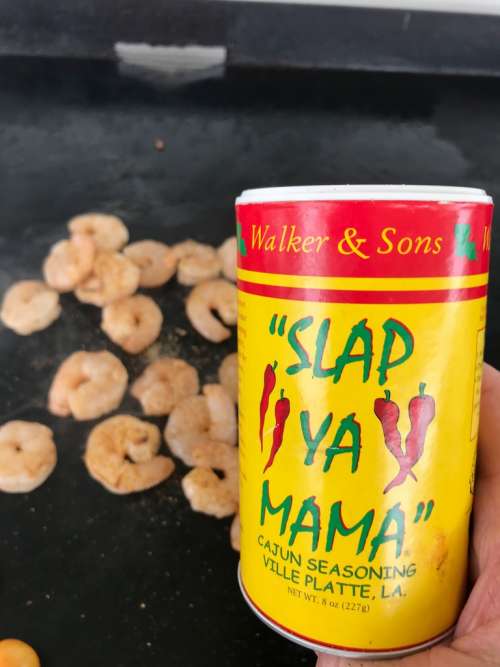 .
Sprinkle the shrimp with cajun seasoning if you choose to use it.   (Slap Ya Mama is my all-time favorite Cajun Seasoning.)
.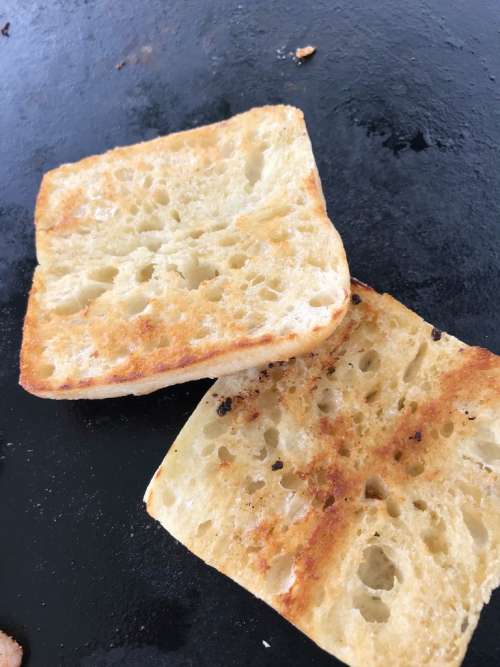 .
I almost forgot the bread!!!  I like to use a nice crunchy french bread and butter it on one side and toss it on the griddle to brown slightly.  (You could also do this under the broiler of an oven.)
.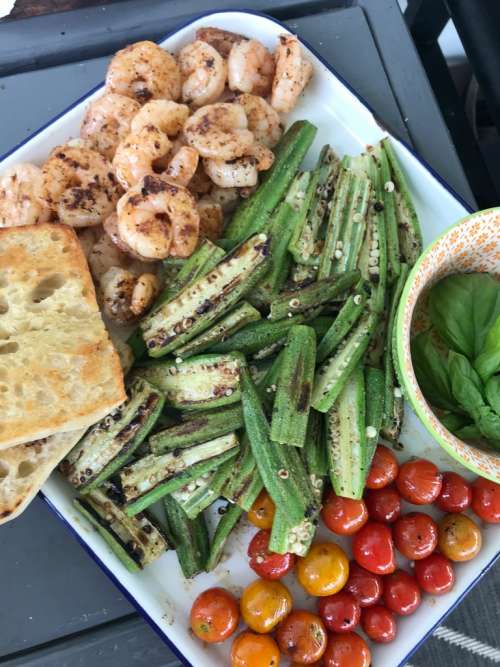 .
Now we dish up the okra, tomatoes and shrimp onto a plate; I don't mix anything together yet.  (Side note:  I found this awesome old enamelware platter at an antique store recently and I use it for all my grilled foods.  It handles the heat, keeps the food hot, and I just love that its old!)
.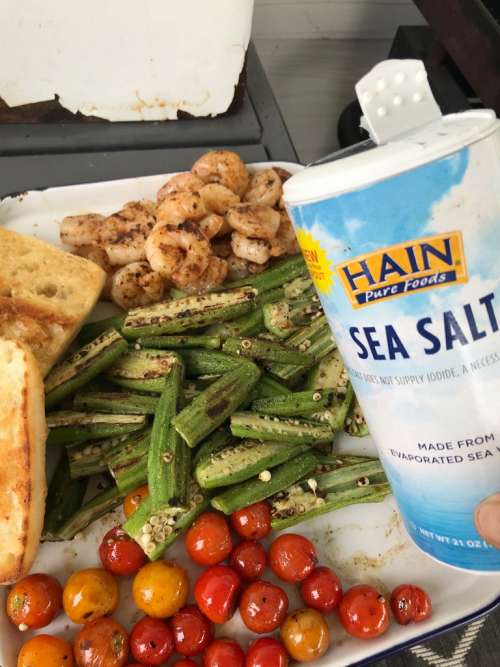 .
Generously sprinkle the okra with sea salt.
.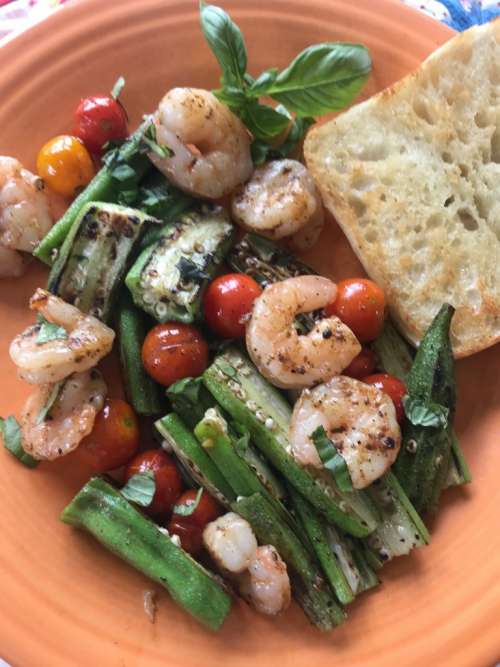 ..
Plate it however you would like, add some chopped basil and DEVOUR!!!  You will love this recipe!
.
Also… okra grilled this way all by itself is so amazing.  I will grill a big batch of it and literally snack on it all day!
.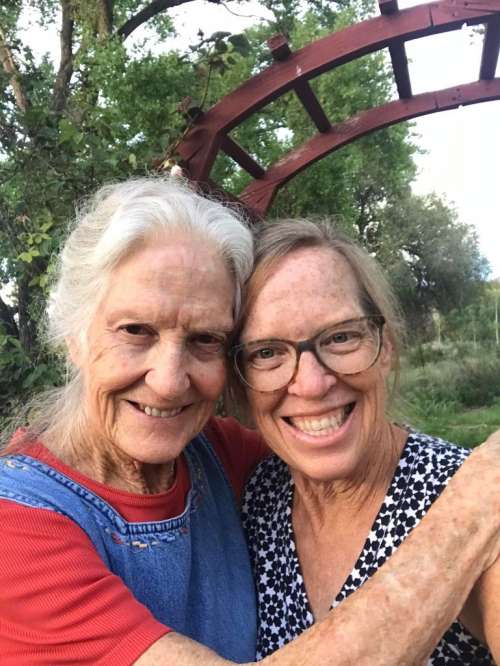 Mom and I… smiling through our tears the morning day I left New Mexico.  
Our month together was such a treasure.  
.
To finish off this post I feel I need to thank each and every one of you that commented, emailed and sent me cards when my Daddy passed away last month.  My mom is now struggling to navigate life without her precious husband of 65 years.  We are all taking baby steps forward in our healing.
.
Until our gravel roads cross again.. so long.
.
Dori 
.