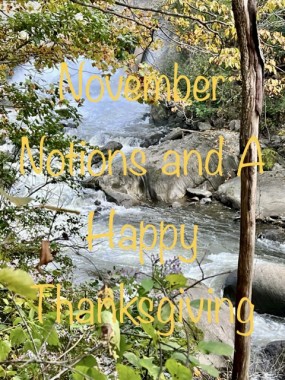 Hello, dear readers! Here we are at the holidays, again! Let me wish you a very HAPPY THANKSGIVING! The past two years have been difficult for us all. I had high hopes for 2021, but I can't wait to say goodbye to this stress-filled year! However, this Thanksgiving, I am trying to stay thankful! Despite stores and the internet pushing all things Christmas before Halloween, I am trying to slow down and enjoy the last bit of fall and November before the rush of the holidays! 
Last year, by this time of the calendar, I had decorated for Christmas indoors and out. Holiday baking had started, and even though we were all in "lock down", I was really looking forward to all things Christmas. However, even though Thanksgiving falls late and Christmas comes early (there's only three weekends between the two holidays this year), I just can't bring myself to decorate for Christmas until Thanksgiving has come and gone. It just doesn't seem right! I love Christmas as much as Santa's top elf, but Thanksgiving often seems like a "lost" holiday, especially when "Black Friday" morphs into Thanksgiving Day! (I never leave the house on Black Friday, choosing instead to decorate for the holidays).  But I digress, I want to "close out" fall by cooking a yummy holiday meal, spending a relaxing day with my family while watching the Macy's Thanksgiving Day parade on television. I wish with all my heart that I could have a "big" family Thanksgiving, with relatives surrounding us at the table. However, with the way the world is right now, with family so far away and getting older, I am still so thankful to have a special day with only the three of us and our pups at home, relaxing. I am thankful for my family.
When I was a child, I developed a dairy allergy, and was unable to eat any milk products for several years, just like one of my grandmothers. Eventually, I grew out of it, and have been able to eat dairy since a teen. Unfortunately, my daughter can not eat dairy now. I am thankful that there are alternative options to milk these days (that weren't around when I was a kid). Oat and almond milks, plant butter, and cheese alternatives mean she doesn't feel like she loses out. Sometimes I make a different meal for her than for my husband and me. However, we don't need two whole pies for three people, so last year, I experimented until I got it right. I make my favorite, classic pumpkin pie recipe, but substitute the canned evaporated milk for a can of coconut milk. The result is delicious – creamy, fluffy and perfect! Keep this idea on hand for those who can't eat dairy (or as an alternative in case you can't find the evaporated milk at the store due to supply issues).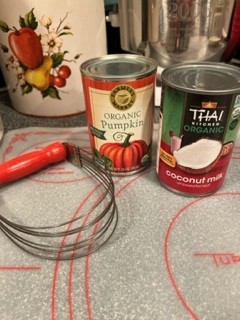 I am thankful for my friends. I used to not really decorate for Thanksgiving, but my best friend has given me some Thanksgiving goodies over the years, because Thanksgiving is one of her favorite holidays.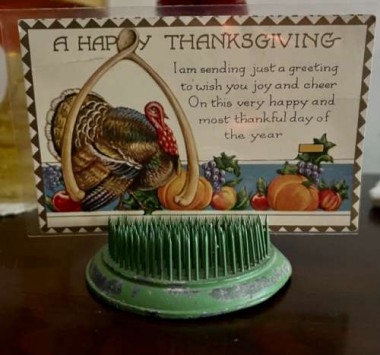 While I don't have a lot of "Thanksgiving" themed decor, (just a few odds and ends like a turkey platter, a few ceramic turkeys, and a vintage postcard), I love to see them between Halloween and Christmas. "Back in the day", people not only sent Christmas cards, but they sent cards for Thanksgiving! (I did receive one from a dear farmgirl friend this year; it meant so much to find a hug in the mailbox). I also leave my uncut pumpkins out until the day after Thanksgiving.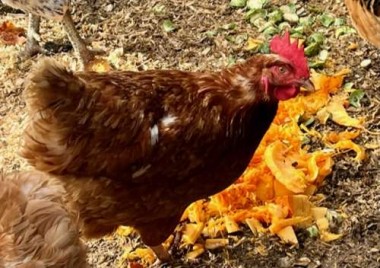 Speaking of pumpkins, I read it's estimated that 1.3 billion pounds of pumpkins are discarded in the trash, filling up landfills each year! They cause quite a bit of methane gas. Luckily, there are pumpkin collections in many towns (check your local areas). Pumpkins can go in the compost (scoop the seeds out first or you will have a patch growing), and chickens LOVE them! Mine are devoured as a special treat by my flock. I am thankful for my chickens. They make me smile with their antics, and the eggs they provide us are super delicious.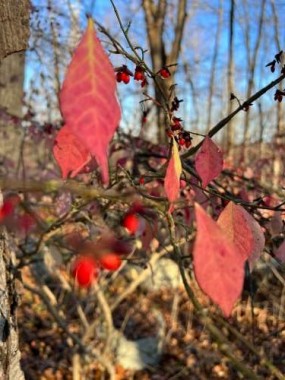 I'm thankful that in New England we have had such a beautiful fall. The weather has been beautiful much of the time. I'm thankful I've been able to grab a nice walk here and there, especially with my little dog, Pip, who has (thankfully) been feeling well!
I am thankful for my neighbors. Because of them, I've become more "Bear Aware". We all let each other know when we've seen a bear in the area through texts, an email list, and a neighborhood Facebook group. Though I've lived in Connecticut for almost thirty years, it was this year that I first saw a bear in the wild! It was magnificent – it ran in front of the car one hot summer day. It was so shiny with stunning black fur, and paws that were gigantic! I could not get over how fast it moved! I always thought they were slow and cumbersome, but learned that they can move very, very quickly.
I also recently took a webinar on bears, and learned that the months of August to November are when they are in a feeding frenzy! (Think Thanksgiving for bears)! Did you also know that bears in the Northeast don't hibernate completely and can be seen anytime of the year, including winter? I am thankful for modern technology so that we can stay connected, staying safe and respectful of these beautiful bears in the area.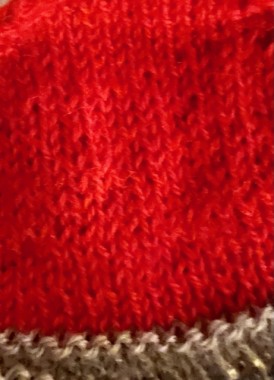 I am thankful for special days (like Thanksgiving), busy hands (knitting is my yoga), and for unexpected acts of kindness seen amongst the stress in the world today.
I am also thankful for MaryJanesFarm, and for YOU all, dear readers! This post marks my ELEVENTH year blogging as The Suburban Farmgirl for MaryJanesFarm. My first ever post was at Thanksgiving, more than a decade ago. You've watched my daughter grow up and my family grow older, and I am thankful to have my farmgirl friends here, making this great, big world a little cozier. Who knows where the road will lead in 2022, but I am thankful to know you are all here with me along the way!
Wishing you and yours a very Happy Thanksgiving! Leave me a comment so I know you dropped by! See you in December!
Until Next Time…Farmgirl Hugs, Nicole