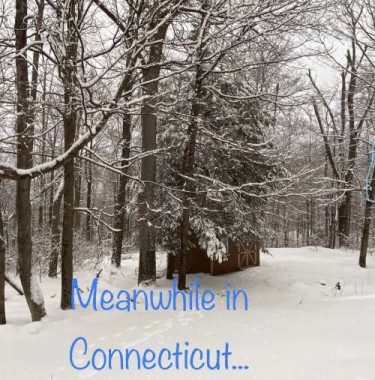 February is a strange month, isn't it? The holidays are past (there's Valentine's Day, of course, but it isn't really a "holiday"), and there's the latter part of winter to get through. We New Englanders are usually a little bit more "locked down" in February when winter gets its harshest, but with a pandemic still in effect, it makes the shortest month of the year truly feel like we are living in the movie "Groundhog Day". Still, since my last blog, there has been much going on in the Connecticut suburbs…
I've blogged here for MaryJanesFarm since 2010, and recently was going through the past years' February blogs. Several times, I've written about snow and ice in February, our most difficult winter month. But this winter, we have yet-again had some record-breaking snowstorms – recently, one right after the other. It seems we are forever shoveling, shoveling, shoveling! After the last storm, it was reported that we had 34" of the cold white fluff sitting on the ground! As I write this, my favorite weatherman is saying "Next week is going to be nasty." BRRRR!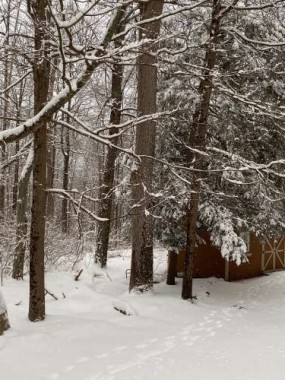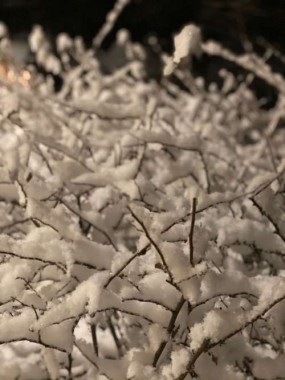 All that snow and ice piled up makes everything beautiful, but it isn't all fun. There's the yearly ritual game of "Hide/Seek/Shovel/Find", when the town snow plow accidentally takes out the mailbox. Also, it makes morning chores like taking the dogs out and taking care of the chickens rather difficult. My five-pound little chihuahua, Pip, especially does not like the snow. We have to bundle him up like a toddler before he goes out.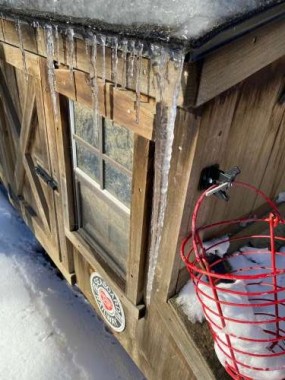 My chickens have a nice, insulated coop, but with all the frozen snow on the ground, it's difficult to get to the run and get the big, metal gate open and closed. In the middle of a blizzard, I tried to close the gate, only to have it forcefully pop back open from all the snow and hit me right in the face! I splatted, facedown, into a big snowbank! My husband ran over quickly, positive my nose was broken. My face hurt, and my eyes watered, but thankfully I was just sore a few days. It was one time I was glad to be short – if I was any taller, the gate would have shattered my teeth! My chickens are okay – some have even started laying again. On super cold days,  I like to show them extra love with fresh greens and other goodies for a treat.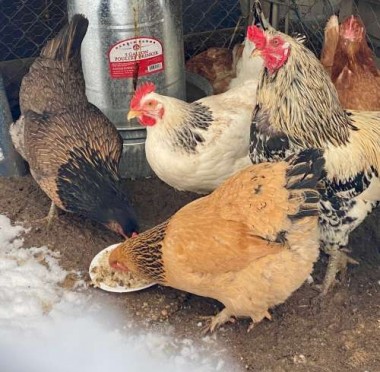 The snowy driveway makes me cringe every time we leave or come home, but the snow makes for a beautiful outdoors, especially when glistening in the sun. We also love to find tracks in the snow, evidence of wildlife critters that have passed through. 
I am a bit sad that in the past month, we have not seen our little friend, "Radio",  the opossum who visits here frequently. I am hoping he is hunkered down someplace warm and will visit us again when there isn't so much snow.
I was also sad this month to hear that in another Connecticut suburb, legendary actor Christopher Plummer passed away. What a great master at his craft – a career spanning decades! I loved many of his movies, but like a lot of people, his portrayal as Captain Von Trapp is my favorite. My husband and I had the chance to meet him once, on our anniversary in 2009. The Ridgefield Playhouse showcased a movie premiere, starring Mr. Plummer, with a question-and-answer session, and book signing. When he found out it was our anniversary, he had the playhouse make an announcement, and when it was our turn to get our book signed, he spent extra time with us, telling us a few stories about time he spent in Denmark. He seemed to really appreciate his fans, and was so kind to allow me to snap this photo as he signed my book. 
On a much happier note, Mama Bird is so proud! We have big news!
This month, my daughter received her Gold Award for Girl Scouts! Similar to an Eagle Scout, the Gold Award is the highest achievement a Girl Scout can earn, awarded to Senior and Ambassador level scouts. Less than six percent of all Girl Scouts achieve this award. Audrey had wanted to finish it during senior year, but unfortunately had numerous setbacks, many out of her control. The Pandemic situation only made it worse, but she was determined to earn the award! Over the last two years, she put countless hours into her project (a Pet Resource and Emergency Pet Information Network, with a downloadable brochure, a website and a Facebook group that she plans to continue to expand and grow). Once she started college, it made the extra work even more daunting, but she did it! I am so very proud of her! 
I decided that this was not the year to make "resolutions", but to make time for the things I want to keep up with. I think we should never stop challenging ourselves. (I was in my thirties when I started blogging here; now I'm on the tail end of my forties – life sure does fly by). One challenge for myself is to try working on my knowlege of other languages. Have you heard of the language teaching app, "Duolingo"?
Being married to a Dane for almost thirty years, I picked up a great deal of Danish, but feel I am losing it, since we have not seen our Danish family in a long time. I've been practicing Danish through the Duolingo app. (Funny, I get a 100% when practicing the Danish words for different foods…Ahem). I also decided to try French and Spanish. I took 12 years of French in school, and the app is helping that come back to memory. I haven't tried Spanish in decades (not since elementary school), and that's more of a challenge for me, but the app makes it fun, even though I only do a few minutes a day. I am surprised by how much I am retaining!
On snowy days with more time at home, I've really been enjoying baking bread. Of all the recipes I have ever tried, MaryJane's bread recipes are always my favorites. For ten years now, her soda bread recipe is my St. Patty's go-to, and recently,  I have loved baking "Bread Art" focaccia bread, using MaryJane's recipe from the October-November 2020 issue. Delicious, fun and beautiful!
This month, I also have finally perfected Sourdough. My friend Susan has been talking about doing sourdough for several months, and I love MaryJane's book, Wild Bread.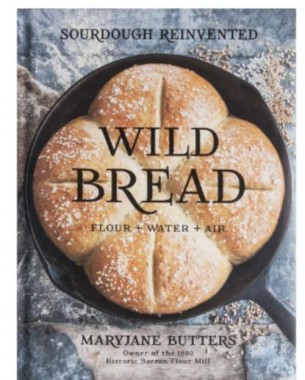 With their inspiration, I tried sourdough once more, and am now hooked! If you haven't tried it before, it isn't as daunting as you might think; it is actually pretty easy once you get into the rhythm of things.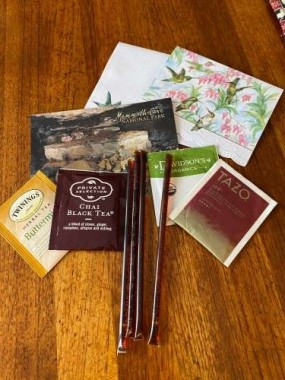 A good cup of tea on a cold day goes great with a slice of fresh bread. I recently participated in a "tea swap" through the Farmgirl Connection chatroom. I have really been enjoying the delicious teas and honey, sent by farmgirl Vanessa in Kentucky. She mentioned recently that it has been cold lately in Kentucky, too. My relatives in Texas are getting Connecticut-like weather as we speak, with snow and ice! Hang on, farmgirls, spring can't be too far off!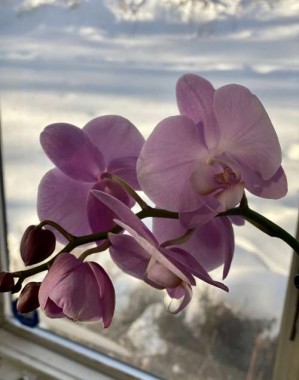 Speaking of farmgirls, a big CONGRATULATIONS to my five winners from last month's giveaway: Brenda, Marge, Jackie, Patty, and April! Enjoy the beautiful MaryJanesFarm calendars! All of the comments left were wonderful; it always really means so much. Thank you all for dropping by!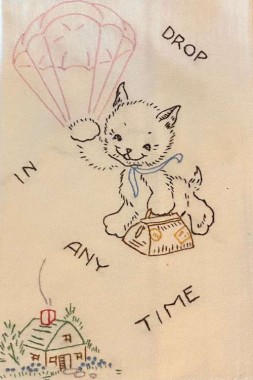 Until Next Time…Farmgirl Hugs, Nicole