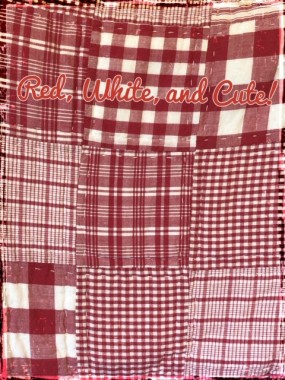 "Life moves pretty fast. It you don't stop and look around once in a while, you could miss it."
~Ferris Bueller
My summer goal? To slow down, relax, and do the things I love to do with the people I love. Summer's the perfect time to recharge. There's much to love about New England this time of year. With long, bleak winters, when summer comes, you appreciate it. (I love having four seasons!) The garden is planted, the camper is open, and the beach is calling.
School's out, and my family and I have been on the run. We've had a crazy busy schedule, with long hours, out-of-town family visiting, and odds and ends that come up this time of year. After a few particularly crazy-busy weeks, our summer break officially started. My daughter and I decided to unplug and unwind at the beach. The weatherman said "it's a perfect beach day!" It was perfect, with a warm breeze and cool, not-too-choppy waters. Without a cloud in the sky, we sat under our beach umbrella on an old quilt,  red cooler full of icy drinks. We read novels, watched waterfowl like seagulls, Canadian geese and loons fly and swim, and walked along shore. However, at 4:00 pm, Canadian Geese that were all gathered at the far end of the beach decided to come in like the tide. Suddenly there was an invasion! Hundreds of geese came out of the water, and walked through where most of the beach-goers were. There were families of geese with goslings in tow, large geese, smaller geese, and one out-of-place pigeon.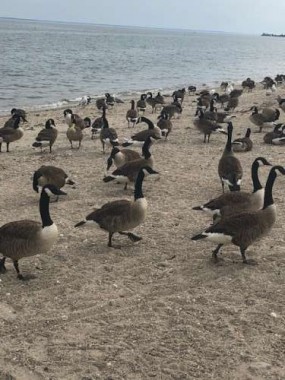 The sound of their honking rose above the waves hitting the shore. Groups of geese lined up, as in a promenade, exiting the beach to the grassier areas near the parking lot. One regular beach-goer told us it's an occurrence every day about the same time. While some people get annoyed by the mess, I loved every second, (though it was a bit intimidating with their sheer numbers and when they got so close).
At home, we've seen baby and adult deer, a large coyote, and lots of little baby turkeys in the last few weeks! (There's been bear sightings all around, but knock-on-wood, I haven't seen any)! We especially love to see the wildlife babies – so cute!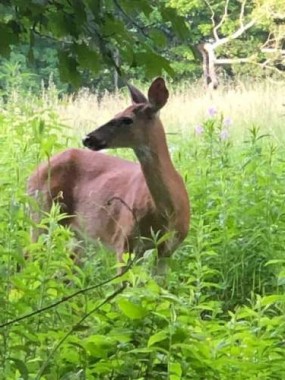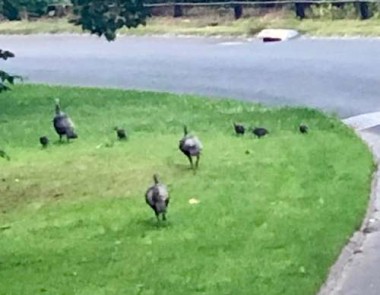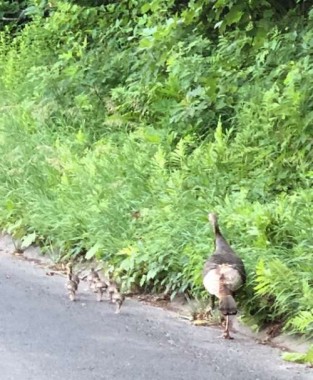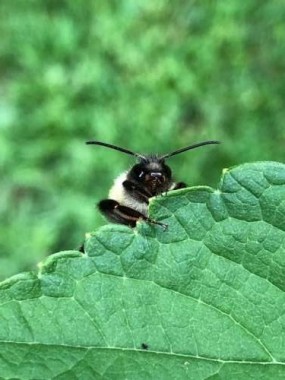 For the last two months, everyday a visitor comes calling – a squirrel that we affectionately refer to as "Smoke Puff". He's solid black and shiny, with a puffy tail. He sits beneath the bird feeder and munches the seed the birds drop.  He's pretty cute for a rodent!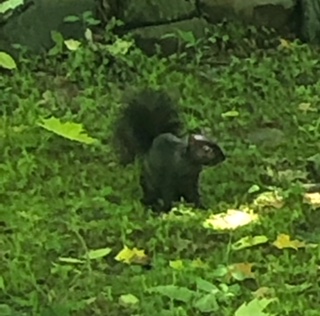 Yippee! Gidget is open! I've already had friends pop over for lunch in the camper.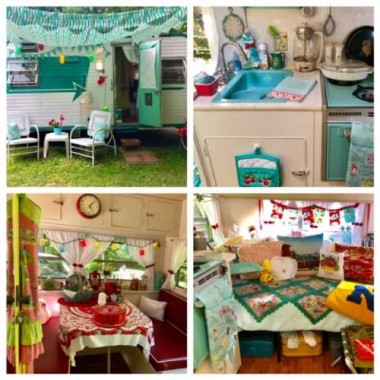 Check out her new red bunting sent from Farmgirl friend, Grace (Katmom), from Washington! It's so perfect, and warms my heart that it was handmade especially for my little, happy camper. Don't you just adore the red MaryJanesFarm fabric? Thank you again, Grace! I love it!
With a vintage camper, there will always be things that need tending, but the decor is officially done! There's summer red touches throughout. Next to the sink, I wanted to use an old Pyrex for a sponge holder – a faded red "Fridgie" that I found in a thrift store for next to nothing. It had very little original color left, looking more pale pink fading to white. I bought it for the lid, as I needed one. I ended up painting this extra bottom dish red. I figured I didn't have much to lose. I'm so happy with the result. It's hard to tell it's painted, unless you hold it up to the light. For the purpose of holding sponges, it works fine, though I wouldn't paint something I was going to cook, bake or serve in. To paint Pyrex, make certain you use a tape like Frog tape that won't bleed through, on the white edges and inside. Paint with thin coats and allow plenty of time to dry.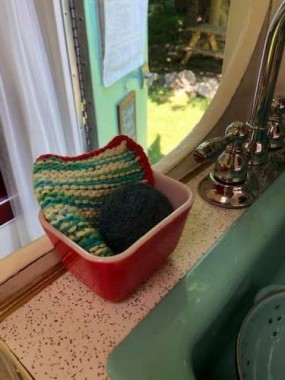 I think Gidget looks adorable, inside and out, don't you? It's our summer happy place!.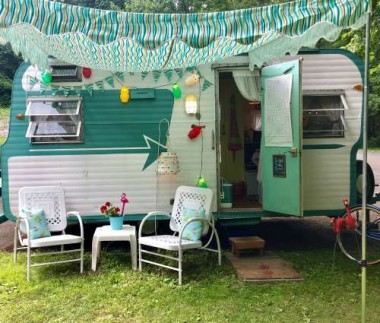 We finally put Gidget's awning out July 4th, when we entertained another family for a classic, fun fourth! The Fourth of July is such a fun time to entertain, as a classic cookout is so easy.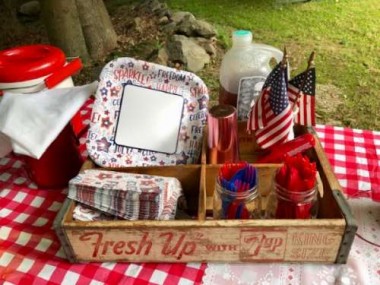 I love old soda crates, but especially ones with red graphics! You can do so much with them – from storage, to display, to plant or tool holders. I use one to display cards at Christmas and birthdays, and they're really cute with tableware for parties.
Red's my favorite color, especially in decor. A touch of red looks great anytime, but for summer, red is right at home! There's nothing like Americana red-white-and-blue touches for giving a summer vibe to any part of the house, indoors or out- it just shouts "SUMMER"!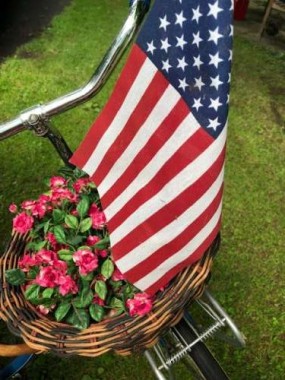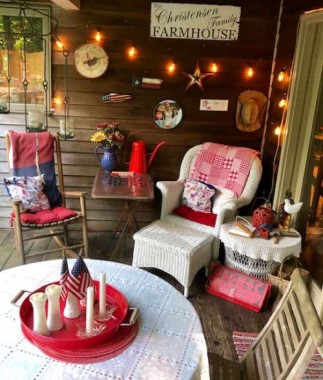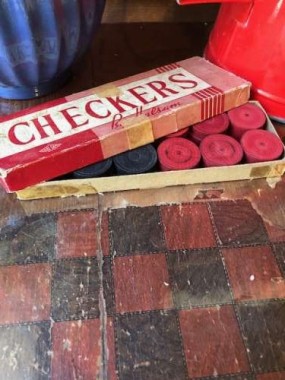 I display Americana decor at Memorial Day, and leave it out until Labor Day.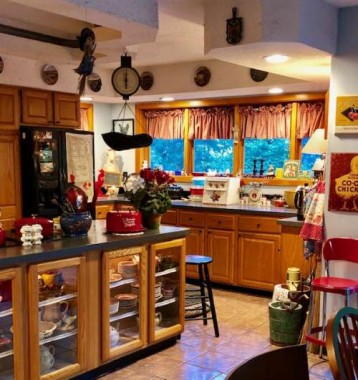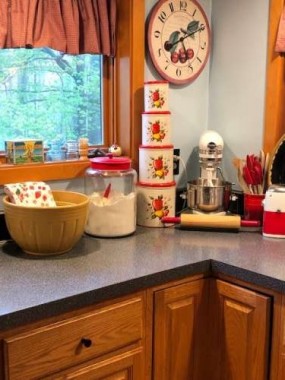 I have red touches everywhere, and in my kitchen as a main color. The kitchen decor changes with the seasons. Red blends with fall decor and keeps things from looking drab, is festive at the holidays, brightens long winter days, stays fresh for spring, and in summer it looks festive and happy. Red looks great all year.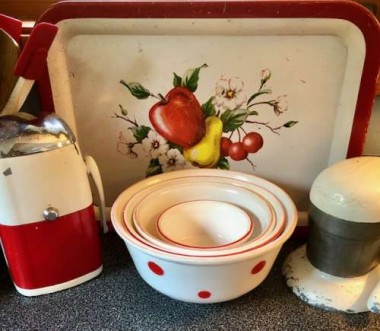 Summer in New England also means fairs and markets: county fairs, farmers' markets, flea markets and antique festivals. My best friend and I "tarted up" our market carts with homemade liners. Andrea repurposed a vintage tablecloth to line hers. Adorable!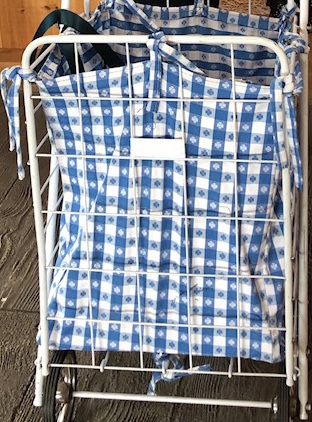 For mine, I repurposed a heavy beach bag that fit perfectly. I added grosgrain ribbon, and for the front I knitted a flower with a vintage button in the center, using hot glue to attach to the cart.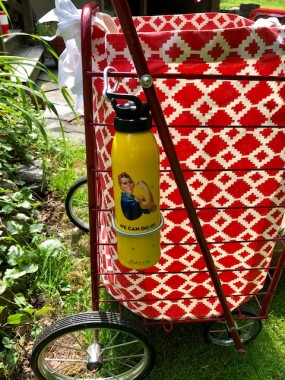 For a drink holder. I re-purposed the spring from a small critter water bottle holder.
Whether you sew a liner from scratch, or re-purpose, you want heavy material that won't rip when you put heavy items in the cart. Think bark cloth, oil cloth, or canvas. CHIC! These are not your granny's granny carts!
When I was in second grade, I had a pair of red patent-leather MaryJane shoes. I loved those shoes! I remember wearing them until they fell apart, literally, trying to staple the strap on without my mother knowing, as I knew she'd replace them. This summer, I fell in love with another pair of red, patent shoes, made by Helen's Heart. I think every woman should have a pair of red shoes in her wardrobe!
Finally, the garden is planted and producing! The flowers have been blooming and blueberries have been plentiful!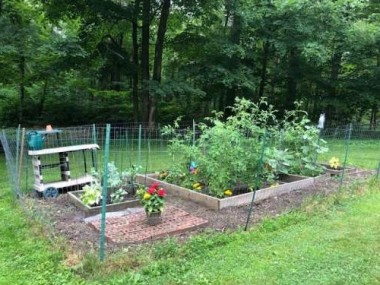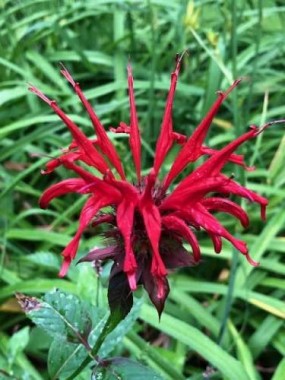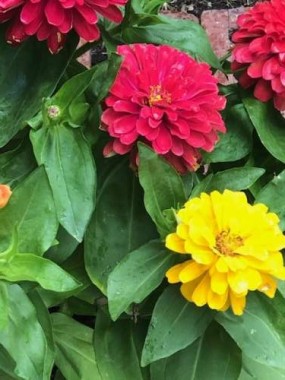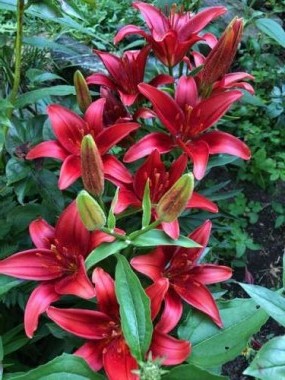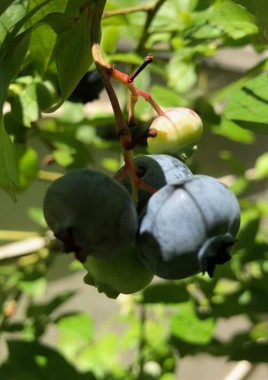 I've already picked lettuce, squash, peas, kale, garlic, herbs, and rainbow chard. I can't wait for the tomatoes to turn RED! I love to make my favorite summer meal, a recipe I created one day while hot, tired, hungry, and having forgotten to take anything out of the freezer. It's become one of my family's favorite meals: Toss 2 cups of al-dente cooked rigatoni pasta with chopped fresh tomatoes, a handful of fresh basil and mint leaves, and a ¼ cup feta cheese crumbles.Toss in a medium onion, a clove of chopped garlic, and ½ cup kale that has been sauteed in 2 TBSP olive oil until soft, and finally season the whole mix with a drizzle of whisked olive oil (about ¼ cup), ¼ cup of balsamic vinegar, and the juice of one lemon. Toss and serve. You can add any assortment of veggies, such as chopped cucumber, peas, or greens.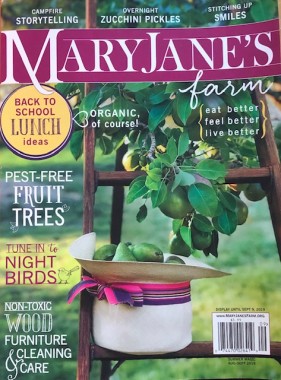 On the menu, as well, is the yummy Gluten-Free Zucchini and Tomato tart found in the current issue of MaryJanesFarm magazine!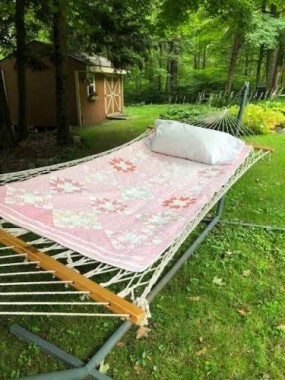 Whatever you're doing this summer, be it traveling, glamping, or "stay-cationing", take the time to unplug, recharge, and relax! I do so hope you'll visit me again, when the next Suburban Farmgirl blog comes out, August 20th! Remember to leave a comment below so I know that you dropped by!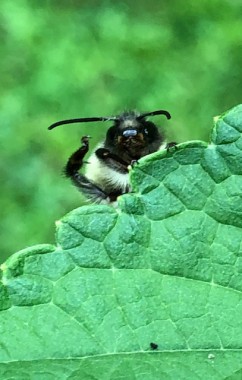 Until Next Time…Farmgirl Hugs, Nicole