.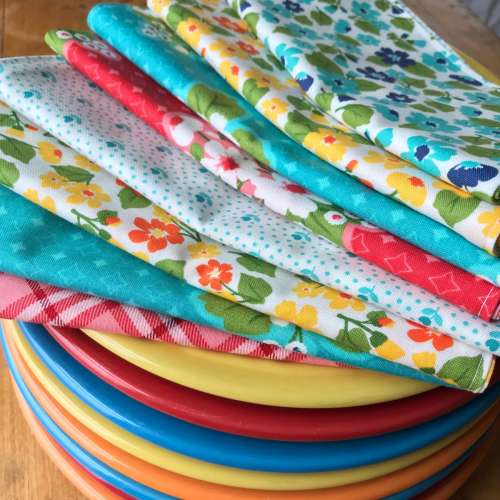 .
I don't know about you, but I love cloth napkins.  I even like to use them for our every day meals.
But I get so frustrated buying them.  Have you bought any recently?  They are either very expensive or they are made with such inferior fabric that they don't even feel comfortable on my lap!
.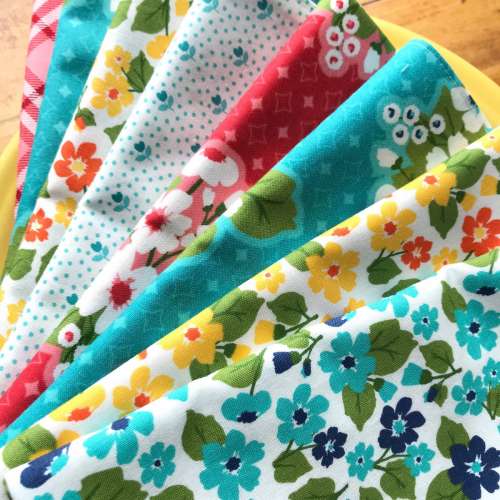 .
So I have taken to making my own cloth napkins.  I thought you might enjoy a simple tutorial so that you can make some for yourself!
.
I buy quality cotton fabric.  I know it is expensive; it can be as much as $10 a yard but I have found that napkins made from quality fabric last for years.  Also since the napkins will get very soiled, a good cotton fabric is even more important as stains can be removed so much easier.
.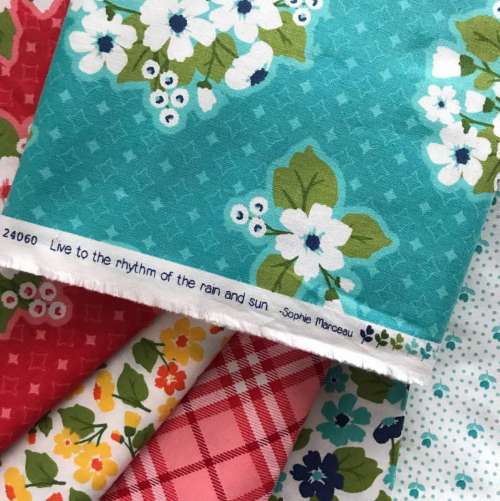 .
I've been on the hunt for some fabric that would match my bright colored Fiestaware dishes that I use for every meal.  Recently I saw a new fabric line called All Weather Friend by April Rosenthal for MODA fabrics.  I absolutely adore this fabric!  It is all the right colors to go with my dishes.  And who can ignore fabric that has a darling message in the selvedge? Smile!
.
So lets get started on how to make them!
.
You will need 1 yard of fabric for each napkin.   I know that is a lot of fabric.  The thing is this.  I line my napkins.  I absolutely love how they feel when they are lined.  And I like to use two different fabrics so they are reversible.  Everything is more fun if its reversible right?!   So… I purchased 1/2 yard each of two different fabrics for each napkin.
.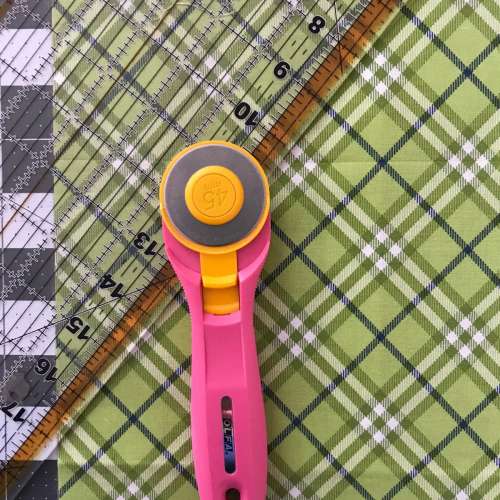 .
Iron your fabric and cut each piece into an 18 x 18 inch square.  I recommend using a rotary cutter, ruler and a cutting mat for this step.  You could certainly do it by using scissors and a measuring tape but it won't be as accurate.
.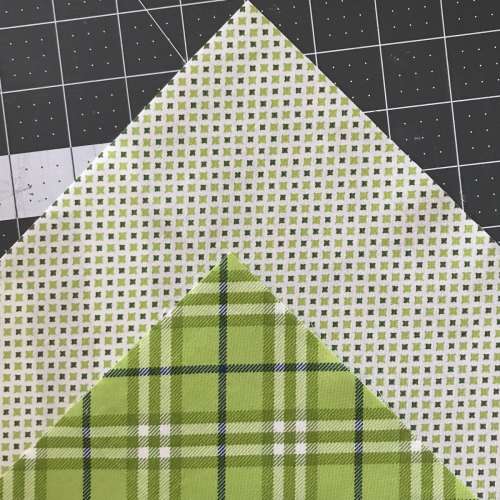 .
Choose which contrasting fabrics you want for each napkin.
.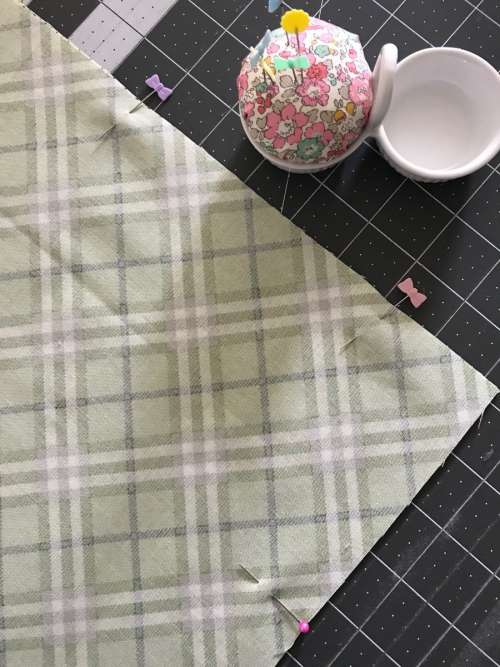 .
Take the two fabrics and place them right sides together.  Pin them together every few inches.  You might feel it isn't necessary to pin them, but it's easy to get slippage and it only take a few minutes to pin.
.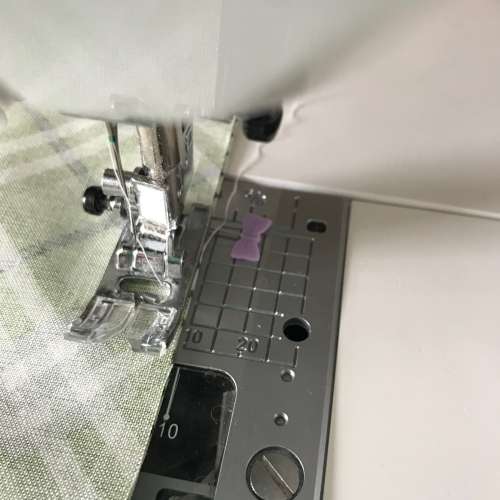 .
Place your presser foot down along the raw edge of your fabrics and begin sewing about mid-way down one side.
.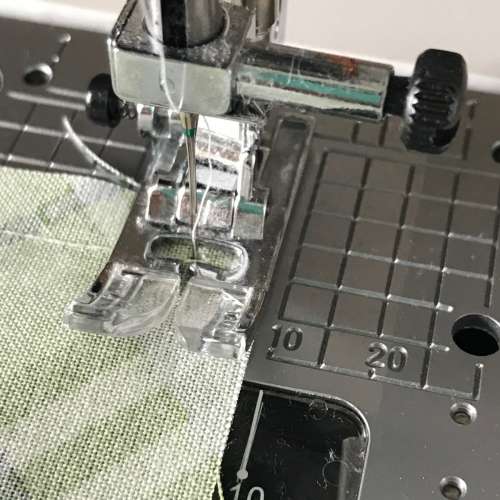 .
Carefully sew all the way to the corner.  When you get to the corner, stop with your needle down, raise your presser foot and pivot your pinned fabric so that the next side is ready to sew.
.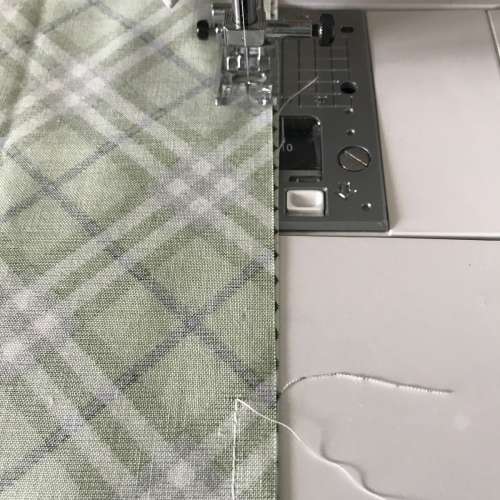 .
Lower your presser foot and sew the remaining sides the same way.  Continue all the way back to the side you started on and stop when you are about 4 inches from where you started.  Backstitch a few stitches.  Cut your thread and remove your fabric from the machine.
.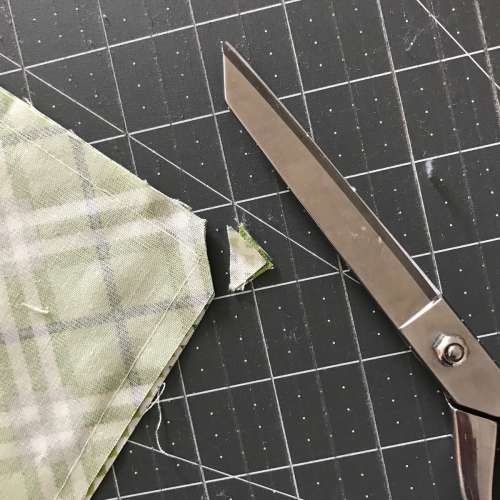 .
Cut all four corners off, being careful not to cut into the sewn seam.  The purpose of this step is so that when we turn the rights sides out we can get sharper corners.
.
.
Put your hand through the opening that you left on the one side and turn your fabrics right side out.
.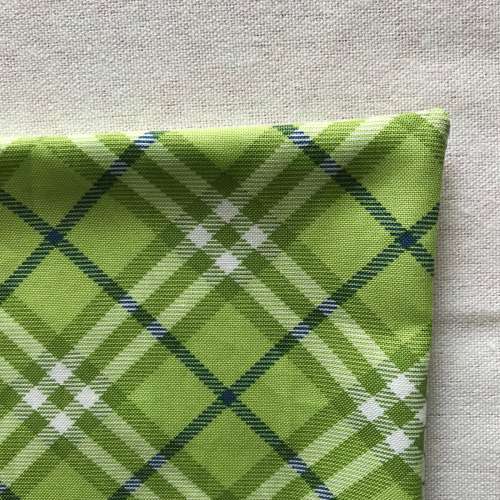 .
Use a sharp object to push the corners out.  But be careful because you don't want to use something that is so sharp it pokes a hole in the corners.  Push out all four corners.
.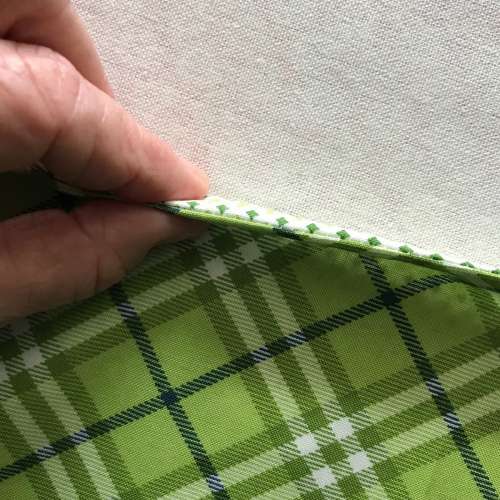 .
Take your napkin to the ironing board and carefully press all four sides.  I use my thumb and index finger to roll the edges flat.
.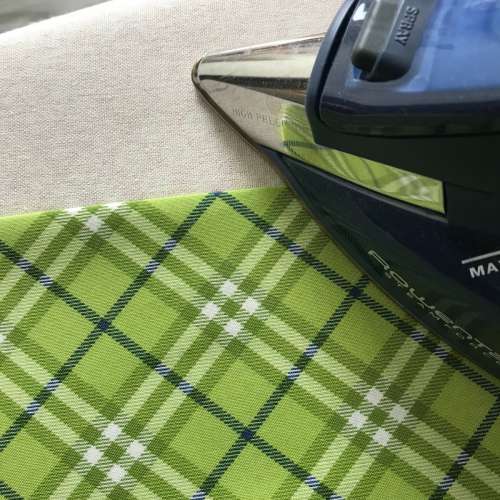 .
Iron as you go around all four sides.
.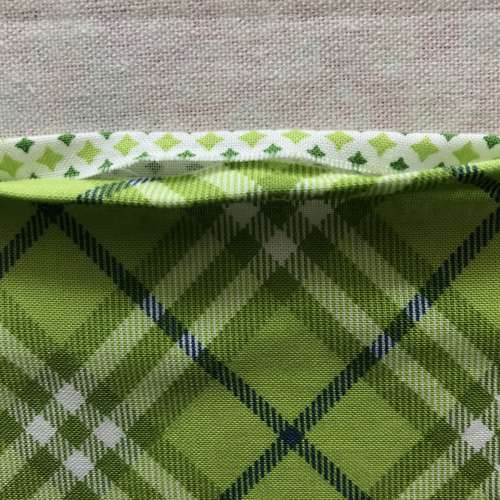 .
When you get to the opening that you left for turning, just roll in the raw edges.
.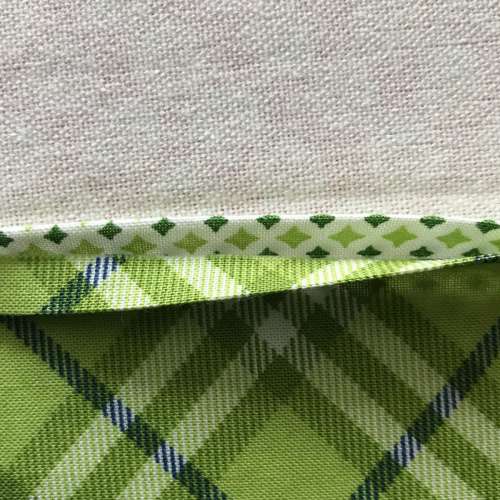 .
And then iron flat.
.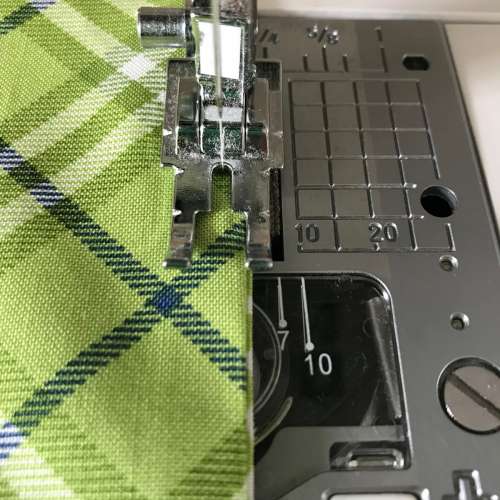 .
Once you have the napkin fully ironed go back to your sewing machine and sew a top stitch all the way around.   I sew mine about 1/8 inch from the edge.
.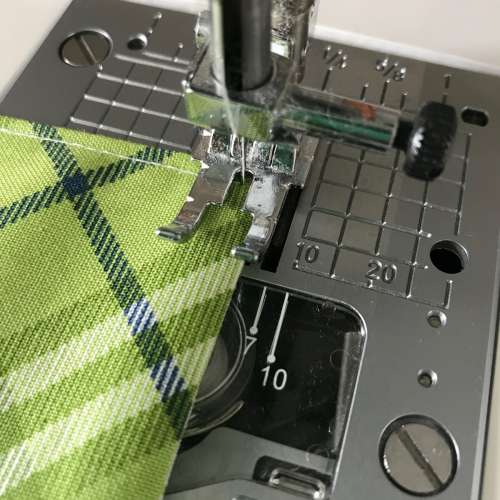 .
Go all the way around, pivoting at your corners.
.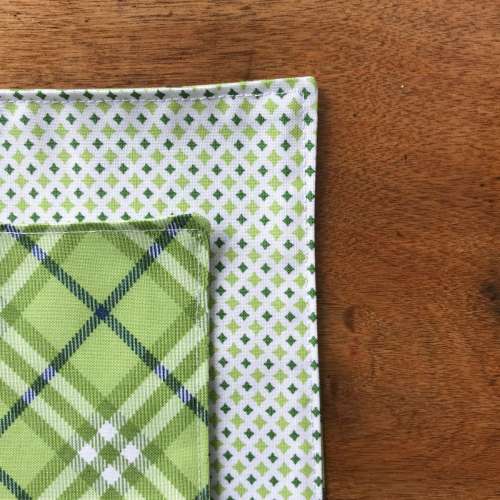 .
Your opening will be closed by the top stitching.
.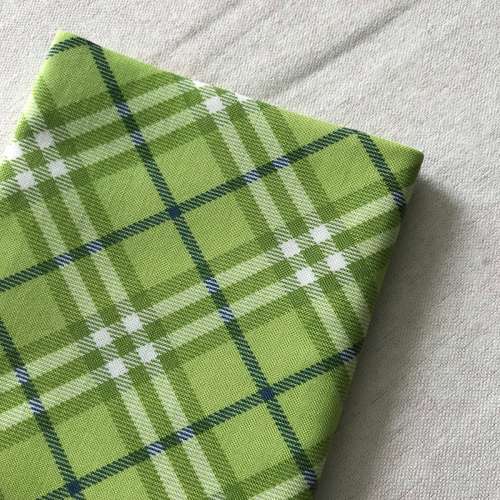 .
Iron your napkin flat, then fold and iron again until you get nice crisp edges!
.
And you now have one lined cloth napkin of superior quality!  I made eight napkins and then went back and made a couple more.  I have ten place settings of my Fiestaware and sometimes I have enough company that I use them all so I wanted to have the same number of napkins.  I love how quick and easy they are to make.  You may feel that it is  too expensive to buy the 100% quilting cotton fabric that I used, but I calculated that I spent $8-10 per napkin.  The only cloth napkins I've found that have fabric that absorbs moisture, feels good on my lap and will last through many washings are some from Anthropologie that cost $48 for four napkins!  So I'm feeling pretty good about my $10 napkins that I made!  
.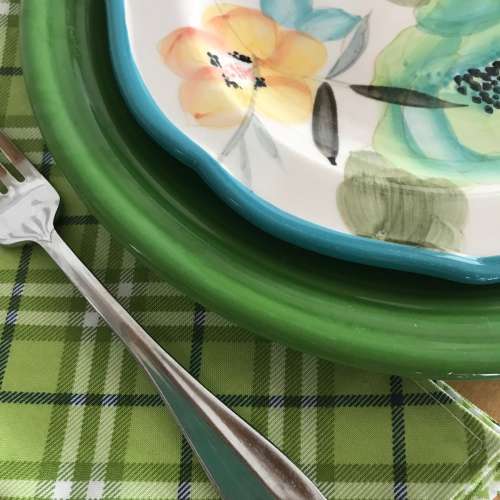 .
I think one of my favorite things is just how pretty they look with my dishes.  I like adding some of my other colorful dishes with them too; even if they don't exactly match they just work!  I also love that they are reversible.
.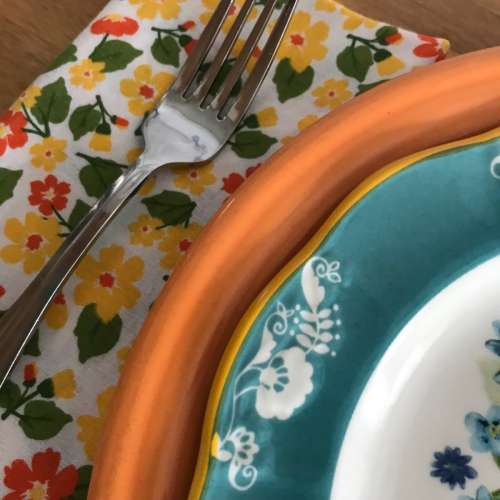 .
I don't know about you, friends, but I sure am looking forward to some spring weather and eating on the porch!  How about you?  Make some cloth napkins to go with your prettiest china and plan a spring garden party!
..
I think that's what I'm going to do!
.
Until our gravel roads cross again… so long,
.
Dori