[Previous Rural Farmgirl, June 2010 – January 2012]
Welcome, welcome to the new year — full of good times, challenging times, and wonderful things yet to be…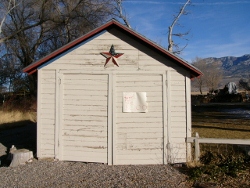 Each New Year's Eve, we host a party for friends and neighbors. We have finger foods, drinks, and a bonfire – and all ages are welcomed with open arms. This year we had old friends and new, and we spent quite a while getting ready for the party. William (my oldest) made a big sign for the front of the garage letting everyone know what we were up to. Although his idea was for free actual "tickets" to the bonfire that he was going to give out, his sign brought into very clear focus an idea that's becoming more and more important. So, what did people see as they approached our home? Good times — free. Wow – I'm proud to be able to help provide those!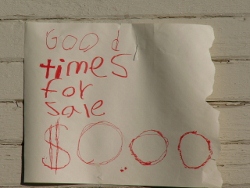 Really, what does it take for a 'good time?' Sometimes nothing other than oneself and a sturdy pair of walking shoes, sometimes a hug from a loved one, sometimes a snuggle on the sofa from a little one while reading a book…and sometimes a huge bonfire from spare wood collected around the farm. It's pretty easy to fall for the idea that we need the 'latest and greatest' in order to have a good time. Well, I think deep in our own hearts we know that true and real good times come from attention, care and really being IN a situation. For example – not just half-listening to a spouse, friend or child when they are talking about their day as opposed to sitting down, curling up and giving someone your full attention. Believe it or not, it's as fun for the "teller" as it is for the "listener" – and just think of what that type of conversation could do for little ones' confidence levels!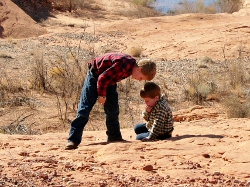 But that's just the beginning – good times can be as simple as throwing rocks to see who can throw the farthest to digging in the sand and dirt to baking cookies to reading books to drawing to, well, anything that you find to be fun and/or satisfying. Or, there's always visiting your local outdoor "playground" (either man-made or not) and playing around with the kids. No kids? Go for the natural playground of whatever variety is closest – water, trees, mountains, prairies – dress for the weather and feast your eyes on what mother nature has to offer. Who knows – it may even inspire some poetry, a little drawing or even a song (humming counts, too!). Don't want to head outdoors? What about that old recipe that you've been wanting to try, that friend who could come over for a hot drink and some wonderful conversation… Good times are everywhere, just waiting for us to stumble upon.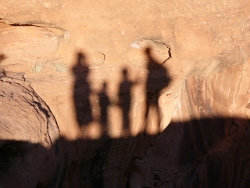 With the turning of another year, there's the ever-tricky realm of new year's resolutions to maneuver around. I've found that my tendency is to make a way-too-long-and-detailed list of resolutions, and then mentally make myself feel terrible when (not if, but when) I can't keep them up for more than a week. SO… i'd like to propose a little twist — a little addition to your resolution making. How about tacking the simple phrase "more often than not" on to the ends of the resolutions that include doing, making or being something new? "More often than not" can give you the freedom to make mistakes and not 'fail." Needless to say, I'm a big fan of it. Give it a try — you might just LOVE it!
So, this first week of 2012, I would like to acknowledge the past 365 days for teaching me the beauty of simplicity, humility, patience, the undying power of love, persistence, frugality, beauty… okay, so really, the year was full of big, beautiful, painful, wonderful experiences. I've learned so very much from each one of them.
My hopes and desires for 2012? Good health and happiness, progress on the farm, with a good dose of compassion, love and kindness mixed in. Followed up with enough spunk to get things done, and huge, HUGE loads of love for my little boys.
So, my farmgirl friends, tell me – what did 2011 have to teach you? What are your hopes for 2012?
Love, light and farmgirl hugs,
Libbie