Last we met, I was headed off on a journey.
I went to a gem of a place….and danced in the pastures. Guess where?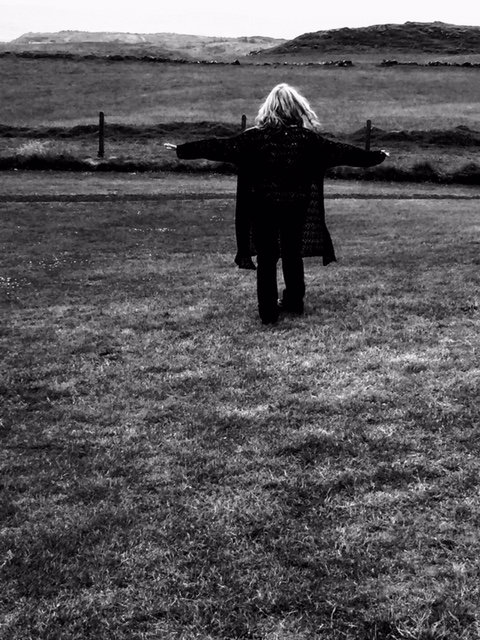 Where was this "gem" of a place?
The Emerald Isle, Ireland!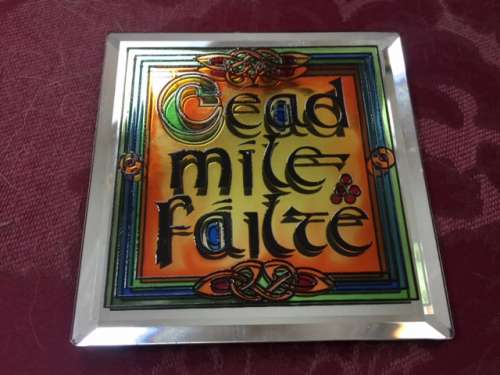 Translation: "a hundred thousand welcomes"
I have always been drawn to Ireland … in my mind. I mean, I never thought I'd ever have the chance to travel there.
Some of my family (generations ago) is from Ireland, so it has always had a special place in my heart. (Especially on St. Patrick's Day, lol.)
But when I realized that I was going? I couldn't wait to experience the magic that is said to be in the molecules in Ireland.
What a journey this was.
It was not only a physical journey, but also a spiritual one.
Ireland to me?
These.
Things.
Irish bread.
Baked early that morning and sold by a man out of the back of his car on a busy city street.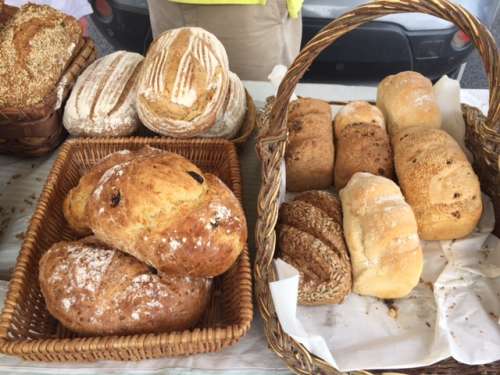 Castles.
Castles, castles everywhere.
For real, around every corner in the countryside.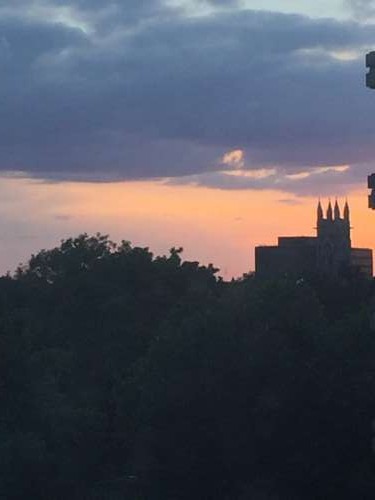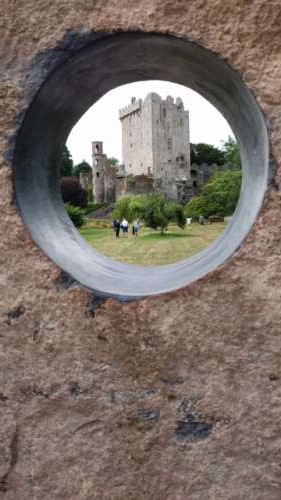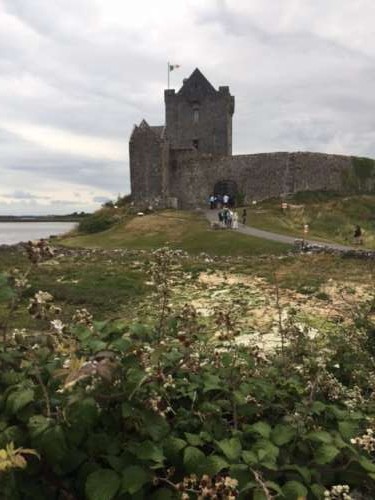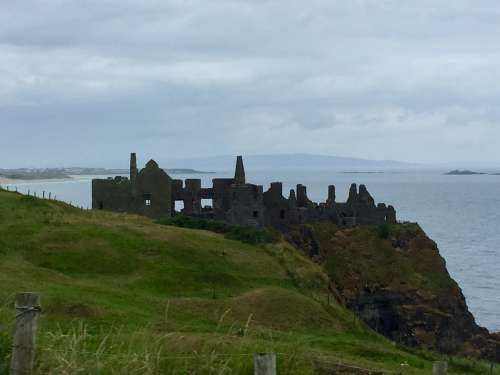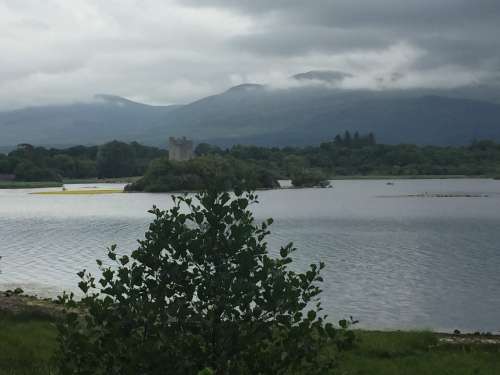 Gab.
Not that we needed more gab, but we kissed the Blarney Stone anyway. Just in case the GAB well ever runs dry.
Here is what one must do to kiss the Blarney Stone. A BIG OLE X for the stone. mwah!
"Don't drop her," I told the dude when he held my daughter. "Don't drop her," my daughter told the dude when it was my turn. He didn't drop either of us. Thank you, Sir. A big tip for you for holding on!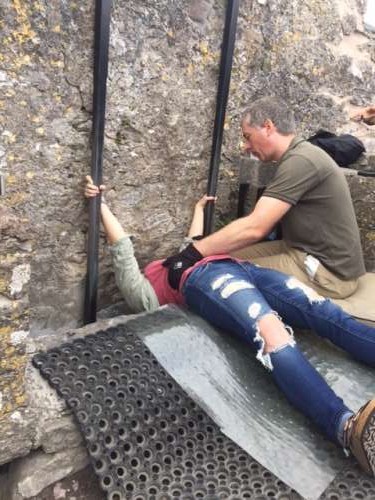 This is the upper level where you hang over the edge.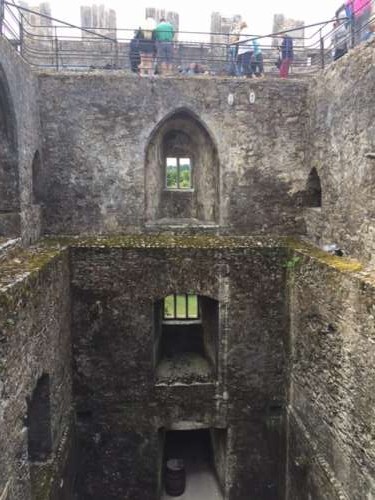 Porridge for Breakfast.
With Irish Whiskey, Folks!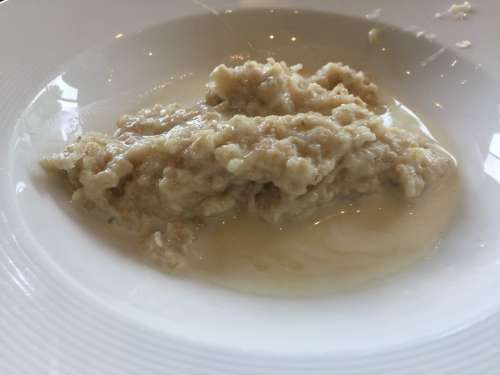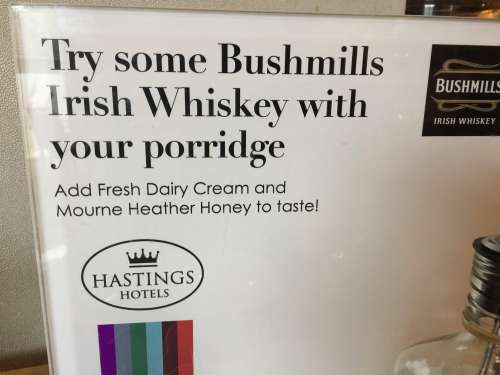 I'll say!
There's a definite 'alcohol' theme in Ireland.
Guinness.
I tried my best to like Guinness, but failed.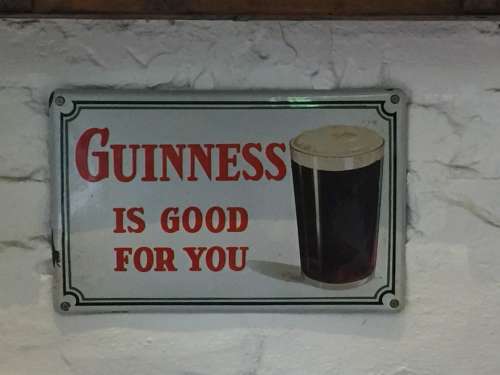 Instead, I went for the hard cider. And chips. Always salty, delicious chips.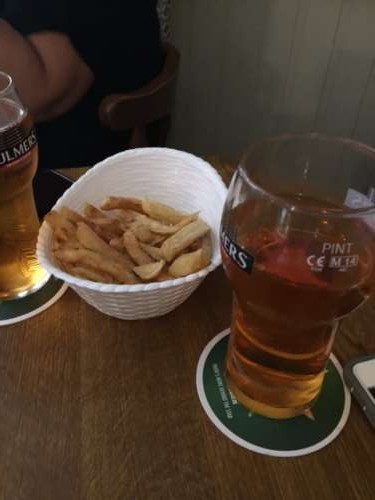 And Bailey's too, an old friend of mine. Bailey's and I go waaaay back.
Window into ancient times.
Because things were so very old, we got to take a glimpse into what life was like in a way we'd never be able to here in the U.S.
This is a "murder hole," found outside of the fortified door, in the foyer of great castles.
(Yes, those are my Teal converse beside the murder hole.)
You know what these are for? So the guards at your castle could look down and see who was at the door. Friend or foe? Then they could act accordingly. Either authorize the opening of the stone door or throw boiling liquids or daggers down on them.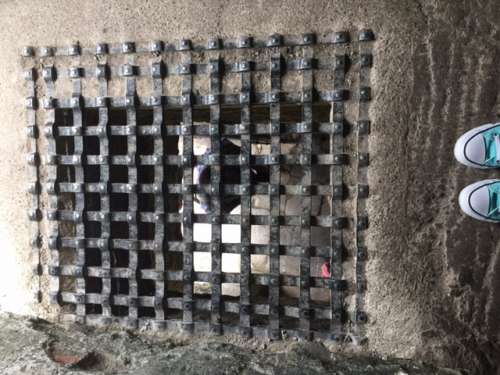 Humor.
Ireland has a grand sense of humor.
Everywhere you turned, there was something funny.
Of course, I had to move after I saw this sign on a window of a restaurant.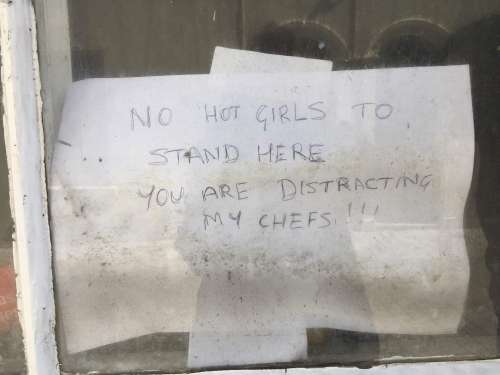 The Blend of Sacred and Secular.
Old and New.
A church spire and a cell tower, together. Old and new. Sacred and secular.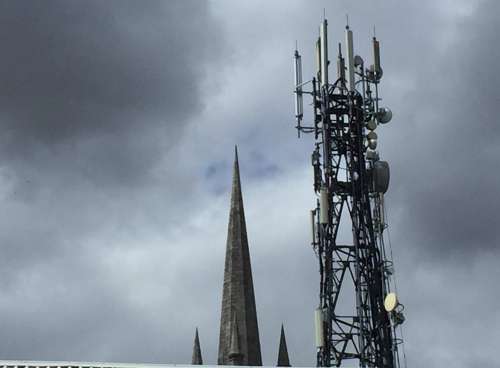 Farmlands.
Pastures were separated by rock walls or live hedgerows.
The pasture in the distance is full of sheep. A lot of sheep!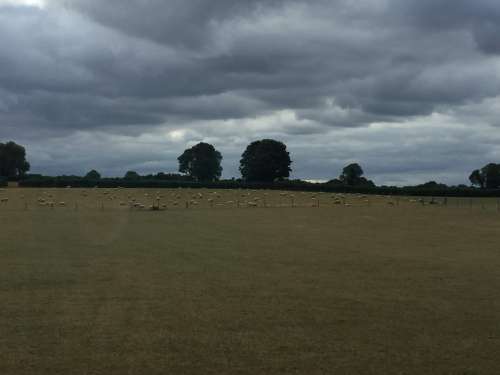 Which give us wool. Yay for sheep.
Wool Socks.
I bought them for Christmas presents, but ended up enjoying them myself.
My feet were cold in Ireland.
(Cold feet, warm heart. Right?)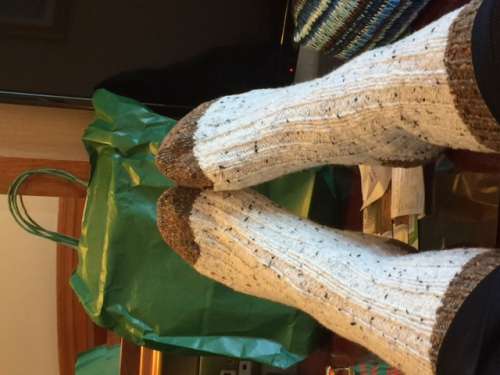 The language.
The Gaelic language was very hard to follow. Signs were in both English and Gaelic. I came to learn that the two aren't anything alike. It wasn't like France, where you could look at the word and have an idea.
And even the English was interesting.
In the U.S. this sign on the Ferry would have said, "Watch your head."
But I really liked that it said, "Mind your head." (I'm trying. Lord, I'm trying…)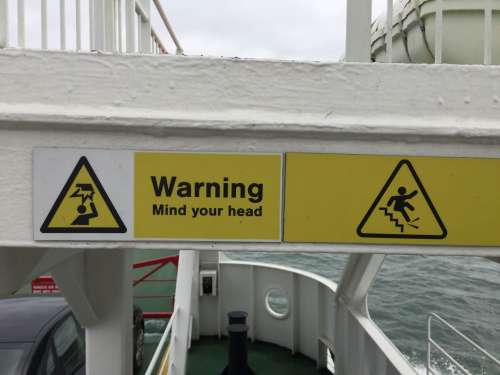 And I enjoyed how they used the term "wee" for small.
And "ye" for you.
And how "th" was missing — Mudder for Mother.
Here are two my of favorite sayings that I heard:
"I don't be telling ye lies."
and
"Any excuse for a party."
I experienced Traffic in a Different Way.
Van, Car, Car, Car, Horse-drawn cart.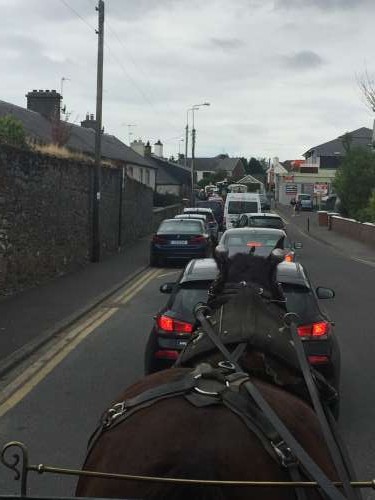 Egg Lesson.
I learned that fresh eggs don't need to be refrigerated. These were in a box in the aisle, next to the coffee.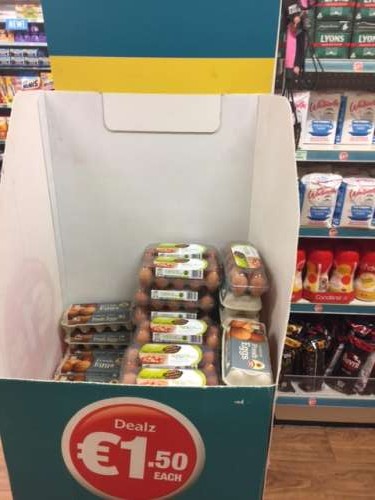 Giant's Causeway.
This spot is one of the enchanted corners of the world. They say that magic flies all around.
Over 40,000 large, six-sided interlocking basalt columns, the result of either Finn McCool's (a Giant) labor so he could reach Scotland or an ancient volcanic fissure eruption.
You decide.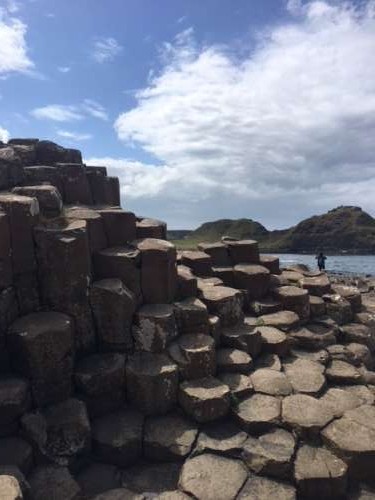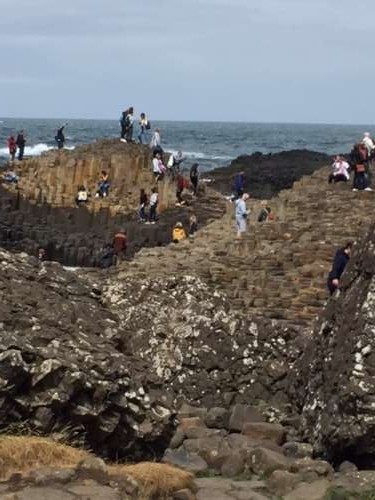 Old, Old, OLD Cemeteries.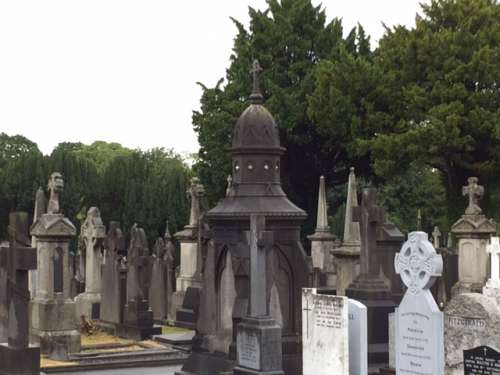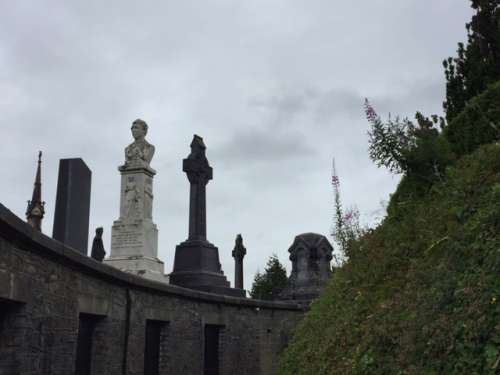 And just in time for Halloween.
Occupied Coffins stacked in the corner.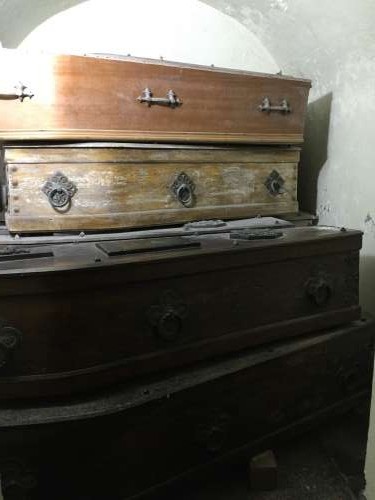 Cliffs of Moher.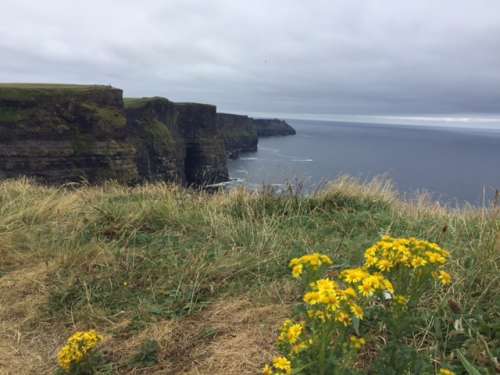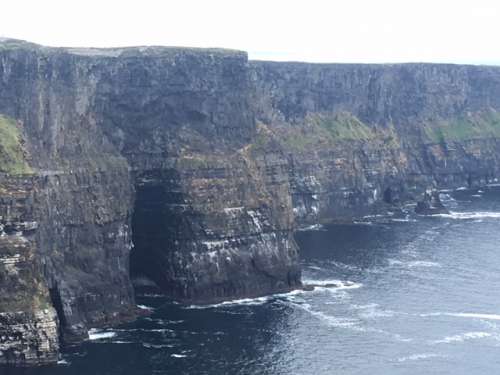 Seafood chowder.
Honestly, I had a bowl of seafood chowder almost every day. I enjoyed how different each one was from the other. Some were tomato based, others cream based. Some had huge pieces of lobster and fish, others you could barely find anything from the sea. Some had potatoes, others didn't.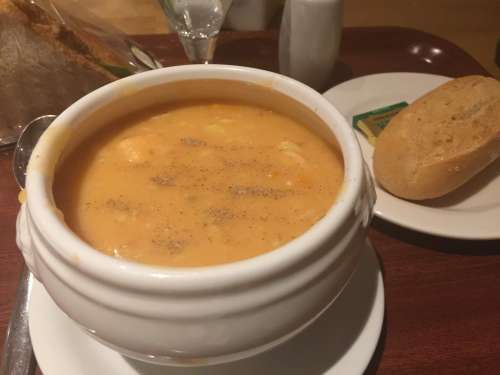 Peace. No Peace. The Wall.
The hardest experience I had on the trip in was in Northern Ireland while visiting the wall in Belfast.
I.Had.No.Idea.
They call it the "Peace Wall." It is seen by some as the only thing that assures "peace."
When we were in Northern Ireland, there was not peace. There were pipe bombs and small riots.
I thought peace had come to Belfast and that people now lived in harmony. Wrong. There is division and suspicion. Still.
Walls continue to divide nationalist Catholic areas from loyalist Protestant ones.
The wall we visited was 45 feet high and separated peoples. Loyalist Shankill and republican Falls Road. The gates are locked every evening. Still.
It was higher than the Berlin Wall was. Still.
Areas had barbed wire on top.
Me, on sidewalk, looking up.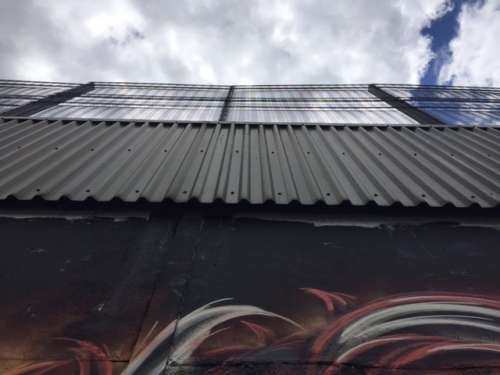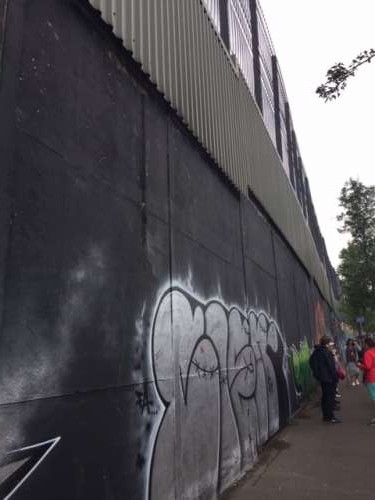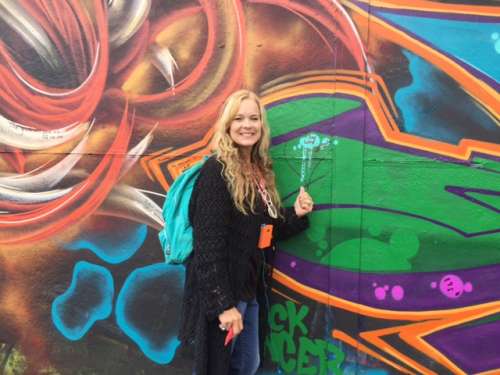 Artists paint murals on the bottom of the walls. The rest of us add to them.
Here I wrote, "Say Love" (An Avett Brothers quote) inside that drippy bubble on the wall.
I live in a bubble generally, filled with love, and peace….so this is wildly appropriate for me.
We visited another walled city, known as either Derry or Londonderry, depending on whether you are loyal to Britain or not. This city was the site of Bloody Sunday in 1972.
I was blessed to be led on a tour through this area by a Buddhist, a lover of Peace.
His perspective and insight gave me HOPE.
The stone walls have been here since the 17th century.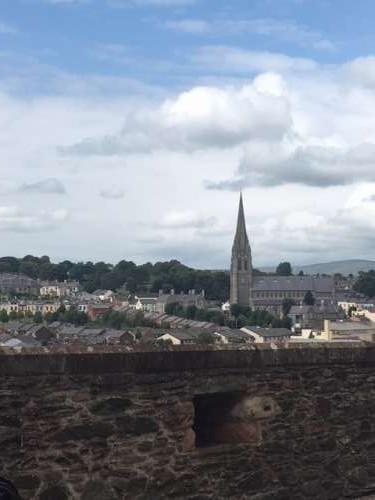 Signs of the British occupation were all over the area. They pulled out in 2002.
The monument "The Hands Across the Divide" shows that the hands don't quite touch.
Not yet.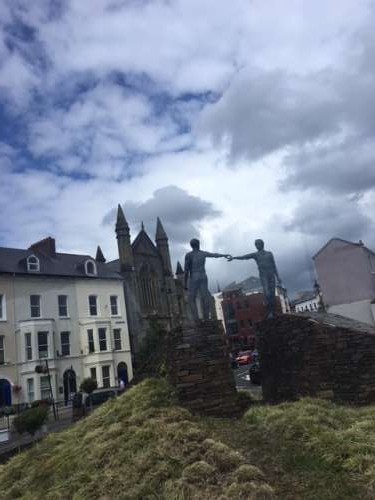 The REAL Pub.
Spending an evening in a family pub, making music (I played drums), and singing along.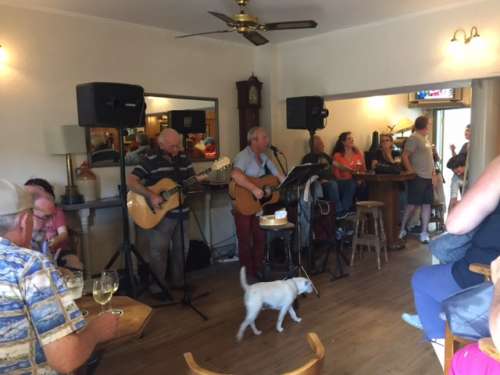 It might not look like much with plain walls and a dog.
But it was much.
Very much.
This was a highlight of the trip. Not touristy. We danced with the locals.
Holy Well.
Holy wells are springs of water that have become pilgrimage sites. They are believed to have supernatural powers, like healing. There are many through-out Ireland. We visited one.
Most of them originated prior to Christianity, but have been transformed into Christian holy grounds.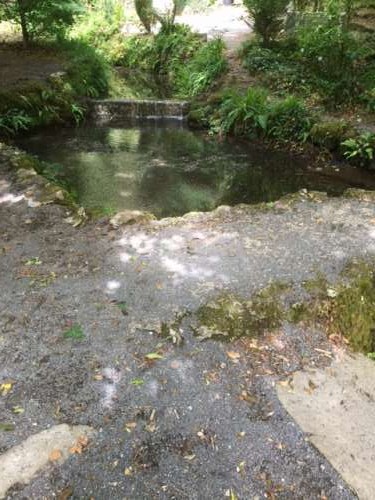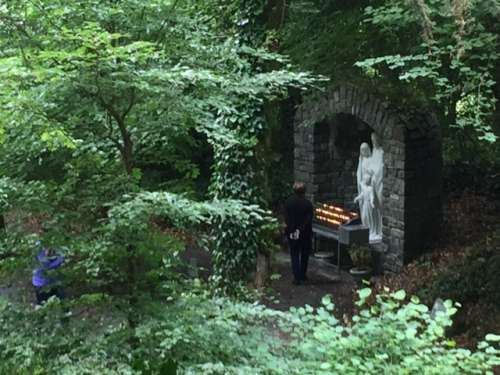 All around the Holy Well and other places in Ireland, ribbons were tied in trees. I learned a little bit about this ritual. This bits are cloth are tied to the trees to bring about a blessing. Some call these "fairy trees."
Later I participated myself.
And tied a ribbon to a tree outside of an ancient castle.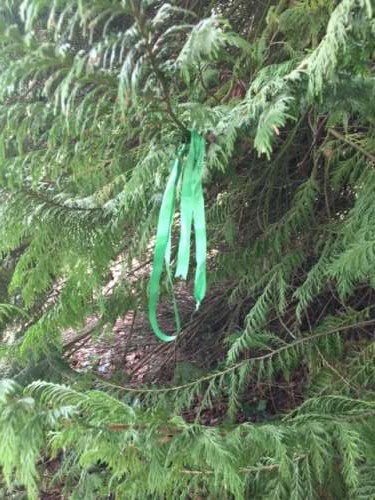 Typical Ireland landscapes.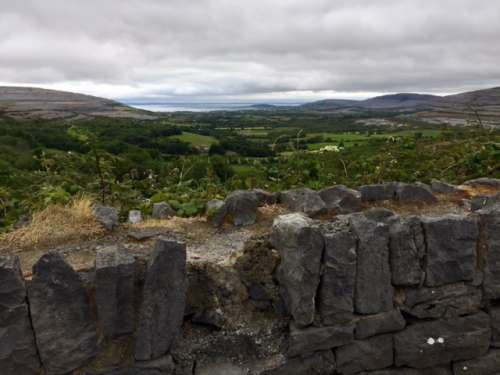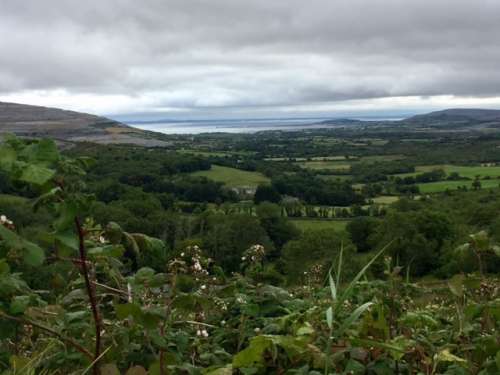 And final Irish words of wisdom to live by….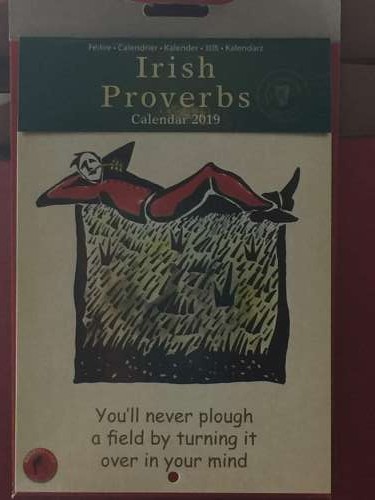 Until next time, Friends, savor the flavor of life!
Lots of love, The City Farmgirl