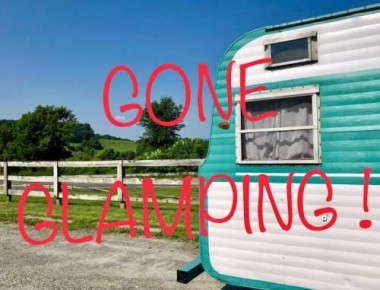 Summer's flown by! For us, it wasn't the best of summers (disgustingly humid, extremely rainy and boiling HOT), though we did have some great moments. The highlight this summer was last weekend: we (finally) got to go camping and participated in our second-ever vintage camper rally!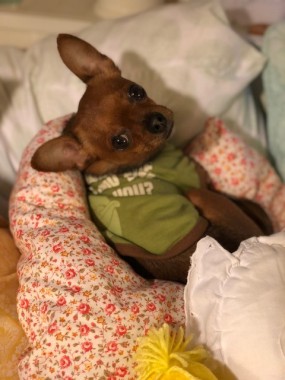 We almost didn't go. Pip, our chihuahua, had been ill again. For over a week before we were to camp, I'd been babying him day and night, with six runs to the vet! It's heart wrenching when you have a sick furbaby! The day before, the vet gave us the blessing to go. Pip loved every minute, and I'm happy to report he's feeling better.
The oppressive heat and humidity, not typical for Connecticut, gripped most of the summer. My yard and gardens aren't up to their usual par, and while I hate complaining, it was too much for me- and I grew up in humid Texas heat!
I definitely don't think sleeping in a canned ham without air conditioning would make me a "happy camper" in that weather! New England also suffered never-ending rain, more than usual. (I heard it rained twenty out of thirty days)! However, it was meant to be, as Mother Nature promised us a weekend with a high of no more than 80, and a short break from high humidity.
Earlier in the week, I packed up Gidget, and we took her for a spin around the neighborhood to check all was up to task…turn signals, lights, wheels- so we could make any needed adjustments before leaving on our journey. At the end of the week, we headed out to the campsite.
The drive was beautiful. Back roads of farmland and mountain views made for a picturesque ride. We stopped for lunch at an organic farm stand/deli that makes out-of-this-world sandwiches.
We arrived around five and set up. It was great to see familiar faces-campers we'd met last year, now friends, stopping by to greet us. By dusk, we were eating steak marinated earlier in the day, with "foil veggie-packs" of garden goodies picked that morning. Making dinners ahead of time means more time enjoying the weekend instead of prepping in the kitchenette. Packed in the cooler, I also had a chicken broccoli casserole (60's recipe) for the vintage campers potluck, and chili to warm in the slow cooker, just in case we got rain and couldn't use the grill.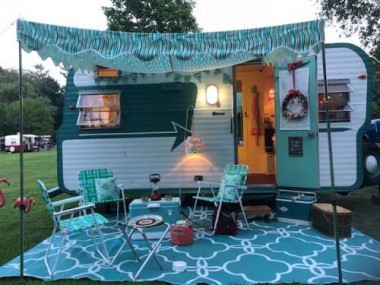 The evening was warm but comfortable. We closed the beautiful night sitting with 18 other vintage camper enthusiasts around a cozy campfire, happy to catch up with friends we knew while meeting new ones- all sharing the hobby of vintage trailer camping!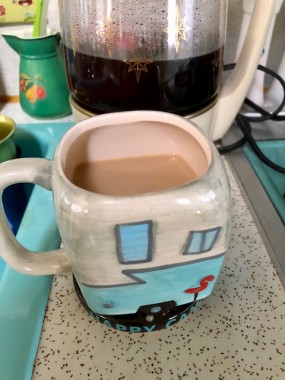 Saturday morning, we enjoyed coffee perked in our 60's percolator, and began setting up for camper tours that would happen later in the day. Gidget sparkled inside and out. Before the tours started, we spent the day with quality, unplugged family time while eating lunch outdoors, walking the campsite, reading and playing cards and Bingo.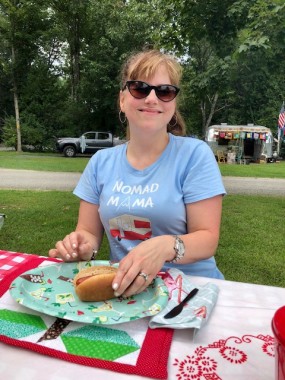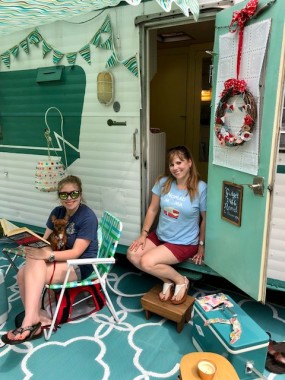 The vintage camper tours were tons of fun. We met many nice people, toured other campers, and gave tours of our little time capsule.
Most visitors are excited to see inside a vintage camper, and enter with care. Vintage camper owners share a passion for preserving these little gems of the past, that recall simpler times. We love to share our hard work and to see the joy on others' faces. While we all stay in our campers, visitors should remember peeking in a vintage caravan is a bit like entering a museum. (It's also someone else's home away from home). Enjoy, but be respectful. Some things aren't replaceable or are difficult to replace. I've heard stories from other classic camper rallies of overly-eager kiddos slamming doors (resulting in broken antique mirrors), and floors being damaged from too many visitors at once. Gidget was left unscathed, thankfully, but I did get a wee nervous when large groups entered at one time. (It reminded me of a clown car at a circus! Next time, I'll politely ask to limit the number of people at a time inside).
After the tours, my family took a quick, refreshing dip in the pool before heading over to the evening's potluck for the vintage camper tour participants. Fresh corn, casseroles, meatballs, salads and more was served, topping a great evening.
Afterwards, Pip and I walked the campsite with my friend Sherry and her adorable pup, Marlon, and then everyone headed over to the camp pavilion where a DJ played retro music.
Kim, Audrey and I made a few s'mores before retiring, a good exhaustion! The weekend was was short, but we returned home after two relaxing days of sun and old-fashioned family fun. It was nice to have the chili I'd made on hand, because after returning home I didn't want to cook!
After the weekend, Gidget was dirty inside from visitors, the three of us, and the dog. I was having a hard time getting her floors cleaned with just a broom. For less than $20, I found a "3 in 1" stick vacuum by Bissell in a "limited edition" camper color! It works like a charm, fits in my itty-bitty camper closet, and doesn't weigh a thing! Gidget sparkles again!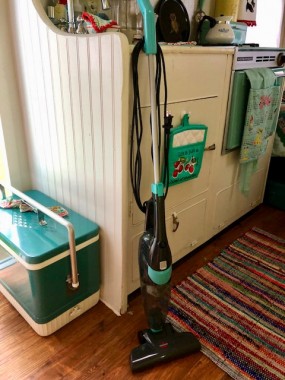 Inside the camper, it's 1966. Truly a perfect weekend, it was a much-needed break from the bustle of 2018! My daughter said it was just what she needed before starting back to high school the next day (as a JUNIOR, gulp! Can you believe it?)
Hope your summer was a good one! Leave me a comment here so I know you stopped by! XoXo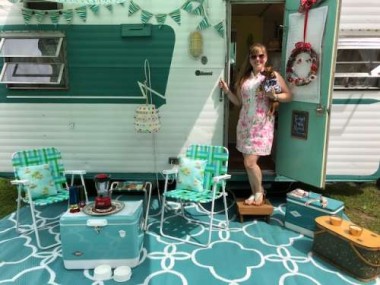 Until Next Time…Farmgirl Hugs, Nicole