[Previous Rural Farmgirl, June 2010 – January 2012]
Have you ever gotten to a point in life where all you want to do is to clean out the house with a firehose, spray the whole farm with weed killer, go on a lemon-water diet for a month and then start over??? Well, I think I've hit one of those times where I need to do a little cleaning out. Not in quite such a radical way, but it really feels like there is too much "stuff" in my life — not too many people, or too many things to do, but just plain too much STUFF that is taking time, energy and attention from things that I really, truly WANT and love to do.

It's autumn – or at least the beginning of it. I love September for the very reason that, to me, autumn is my "new year." I think that autumn should be declared the New Year for farmgirls everywhere, in fact. It's a time when you can reap what you've sown – and harvest the good (and bad) that you've put forth since late winter and early spring.It's also a time for planning the new year – a perfect time to figure out what has been working, and what hasn't.  As I've been harvesting from the garden and putting up things for winter, I've been making a life assessment, as well. Somehow as a little nip enters the air, I get a renewed energy and optimism for the future. In my thinking, I've come to some conclusions that are going to require some action on my part ("Aye, there's the rub!").
First of all, there's the farm – the "vegetable" part of it. I am going to do a master plan over the winter as far as perennial plants go. The most immediate decision I need to make is where to plant the garlic this/next month. After that, I can use the winter to make a good, solid plan. I also am going to ask for help from my spouse. (ASIDE: The reason I call him my "spouse" is that quite a few years ago I gave him some "Old Spice" aftershave (I can't help it. I know it's corny, but I really DO like the smell), and, as he opened the package, he smilingly declared, "Oh, great!!! Some "Old Spouse" cologne! It's stuck ever since.) Somehow I get all nervous about asking for help – like I should "at least" be able to do everything on my own. I have a good feeling about this – and I also think we will both work much better as a team then as two individuals doing our own "things" on the same farm. Good night! Has it taken me 12 years of marriage to figure this one out?!?!?!?!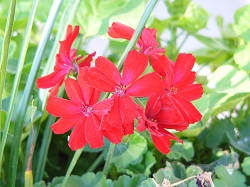 And as far as the annual/garden plants go, I am going to work on the premise of an "edible landscape," so I am going to use the winter to plan it out carefully so I can make it pretty AND tasty. One idea I saw that was pretty amazing – and a good dose of lovely and edible at the same time – was where a family had lined their entrance walkway with the rainbow colored chard. It was so pretty! as beautiful as flowers and, hey, if you're hungry on your way out, grab a leaf! We have my little ones' "mint farm" right around a water spigot, and almost every day in the summer, they come in at one time or another green-mouthed and minty-smelling. I love it when they can graze around the yard!
Second, there's the "animal" part of the farm. I really need to work on this one, as it is SOoooooo easy for me to somehow "acquire" animals and then, voila, I take a look around and I live in a zoo. Not a bad thing, really, but it's one of those things that needs to be addressed for me, anyway. So, I'm going to find a good home for the alpacas (Anybody want a couple of darling, intact male alpacas? Free if you come and get them? Their names are Machu – a brown and white loverly – and Picchu – an espresso-brown darling with those wonderful EYES…). I'm also going to pare down the dogs to two pups and make the kittens be "outside" barn cats. Evelynn, the "how now, brown cow," will, of course, stay, and so will the horses and sheep, but the chickens need to be pared down to layers. Right now, we have several "retiree" hens that, I think, will be slow-cooker meals throughout the winter. I think that will make things much easier to handle and to do in a way that I feeel good about.
Third, the farmhouse. Hmmmmmmm… this one's going to take some time, I think. My house is generally pretty tidy – pretty clean and "okay" for the most part. HOWEVER, it could be SO much easier and simpler if I could get things pared down to what is "meaningful and/or useful." I figure, if I can use those as guidelines while going throught the things in the house, I can end up with fewer "things" as well as ending up using things I love instead of keeping them hidden and protected for "fancy" or "good" times. Now, really, why would I want to save those things for later instead of using them to treat my family, friends and myself well right NOW? What this boils down to is finding things I love that make my life good and make me feel good about life, and using them – and going ahead and sending things that don't fit who I am and what I am doing on down the line to someone who needs them. An added bonus? Fewer things to take care of – clean, dust, find places for, etc. Oh, and this applies to clothing and…gulp…shoes, too.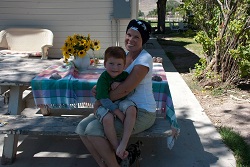 The fourth thing – my brain. I have discovered that I spend a significant amount of time living in some fantasy world called, "not right now." I find that I am thinking of the past, the future and anything that isn't right NOW when there are things that need to be done. Some may call this "procrastination," but I find that the more gentle term "daydreaming" is more my speed. I would like to be able to move from ideas to action more easily – I have these wonderful IDEAS, but when it comes to finding time to make them real? Well, there's where the first, second and third parts of my plan (above) come into play. I can ALWAYS find something that needs my attention instead of doing the work it takes to make an idea into reality.
My grandmother, "Nanny" always said "Out of emotion and into motion!" when she needed to get going, and that saying carried on through my mom and now, it pops into my head when I am stuck. "Out of emotion and into motion." I so love that saying, and it is really applicable right now to me. I want to do things in a simple, beautiful, sustainable way that is my own. I think, at the age of almost 40, I am growing up and into my life. Isn't it funny how, somehow we move through "places" in our lives – now that my beloved "Nanny" is gone, my mother is growing into her place, and I am growing into my mother's place. Her place is one of steadiness and beauty – I grew up in my mother's home – and it was what I want – beauty, stability, love – and I want that for myself and my boys.
So, that's my plan of action for the next little while. What's yours?