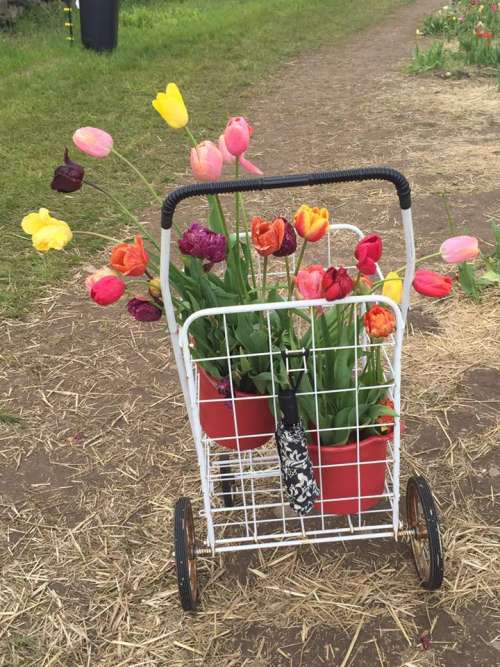 Happy Spring, sisters!
Well, it may be spring by the calendar but Old Man Winter is still hanging on here in New England. In fact, it's snowing right now. It's not as severe as the two nor'easter's we had earlier this month which caused lengthy power outages for many residents, coastal flooding and some pretty devastating beach erosion. This time around it's nothing but a few harmless flurries mixed with rain leaving just enough snow behind that it's necessary to shovel the drive and walkways ( what we hope will be ) one last time. Cabin fever set in here a few weeks ago and spring fever is on my snow-covered doorstep.  What's a farmgirl to do? After so many weeks cooped up inside, cook'n and clean'n, bake'n and boil'n, mix'n and mash'n and fluff'n and fold'n and preparing for storms I was starting to feel a little squirrel-y. I needed a change of scenery so my mom and I headed out for some good old-fashioned window shopping to a nearby Cost Plus World Market. I'm not one to shop just for shopping sake but, I do enjoy a good window shopping outing. There's no comparison to an in the flesh browsing session vs an online-scrolling session. Online shopping is fine for certain things, but I still love to visit a book store and find a quiet corner to sit down while I thumb through new releases. I like to get a proper fitting for my bra's ( can I say bra's here ?) every couple of years and I like to try on clothes at the store so I can change sizes if I need too.
I always have better luck finding something I love when I'm not really looking for anything in particular. Does that happen to you, too?
Turns out, a change of scenery was all I really needed to get me feeling more spring-ish and less sluggish. I found some great birthday cards and gifts which I wasn't planning on and some bloom'n new table linens I couldn't resist!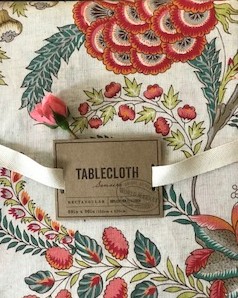 I fell in love with this pretty botanical print on lightweight cotton. It's just the perfect color combination for my dining room or I can use it for an outdoor garden brunch or picnic when the weather permits.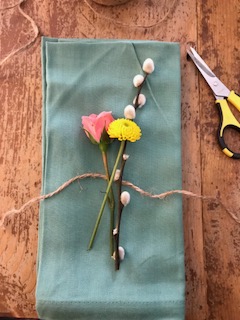 I played around with napkin accent ideas using fresh flowers and some seasonal pussy willow for a fun touch of spring. I picked up some flowers at the supermarket but you could also use faux flowers. They're making a come back! Tie together with a short length of twine and you're good to go!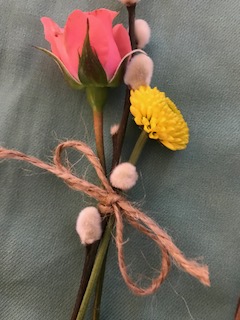 You could also try a cutting of herbs, a sprig of spring-flowering shrubs like forsythia, dogwood or cherry blossom's. Spring bulbs are a fun choice too. One single tulip, daffodil  or grape hyacinth at each place setting is the perfect touch to your springtime table decor.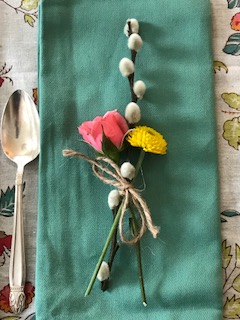 Ta DA!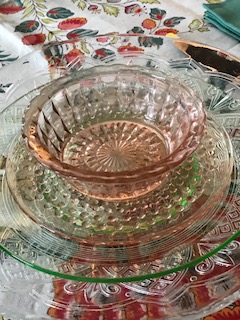 I have a small collection of depression glass that I love to use for brunch, and Sunday breakfasts in springtime. The pastel shades are perfect for this time of year. And if you happen to have a print table-cloth it shows through.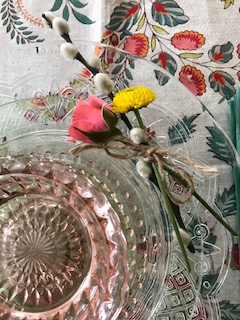 I  picked up some matching dinner napkins and found them a home in my red napkin holder. I think it works!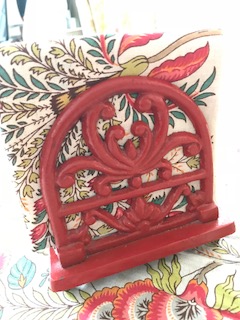 A couple of pretty dish towels sealed the deal.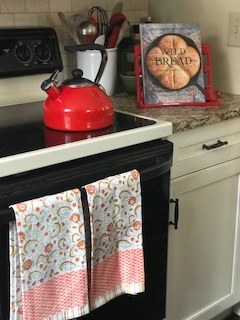 Who am I kidding? There's still 10 inches of snow on the ground and it's in the 30's outside.
What's a farmgirl to do?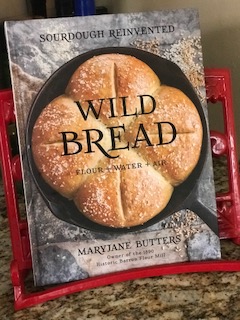 It's perfect weather for baking bread! MaryJane sent her newest book, Wild Bread out to me last month and I'm excited to try baking bread from scratch for the first time. Sourdough is my absolute favorite! Thank you, MJ!
This month marks my 7th year writing this blog! I can hardly believe it. I feel so humbled to have this space to share with all of you. Thank you for taking the time to read this blog. I look forward to connecting with all of you every month and I love reading your comments and shares.
Just for fun, here's the link to my introductory post, From Sagebrush to Shorelines, waaaay back in 2011.
To celebrate all of our years together on the shorelines,  I'm GIVING AWAY a copy of
WILD BREAD to one lucky reader!
Leave me a comment and tell me how long you've been reading the Beach Farmgirl blog and how you're ushering in spring!
Until our next shoreline visit~ Follow your heart… it will lead you to the most amazing places! I know, mine led me here.
Beach Blessings and Much Love,
Deb # 1199
PS. Seeds are in and baby chicks are ordered! Spring is happening!