Old Man Winter is getting ready to pack up his bags and head out. I realized that this morning when I saw two Canada Geese at my small pond. The 12-month resident, the Egret, was there as well.
My horses were keeping their distance. It takes my horses a while every year to get used to small, noisy, bossy geese when they return from their winter vacation elsewhere. The geese, with their aggressive charging and honking, run my horses away from the pond.
Three great, magnificent, powerful horses bullied by geese. There's a lesson in there somewhere.
I watch as the geese run and dance around the pond and then glide into the water. Oh, now I see that there's a duck swimming in the pond too. It was true what I heard about ponds, "build it and they will come."

I also have the usual visitors in the horse pasture this morning, a large flock of turkeys. They come almost every day, either in the morning or late in the day. Today the males are showing off their impressive spread of feathers. Dance, dance, dance.
The other dancing I often see out of my kitchen window is performed by young deer. The older deer munch and graze while the youth frolic, bounce, charge, and dance. It dawns on me that I must go out into the field later today to do my own dance, my snow dance. Now that I've seen the geese, I know nature is preparing for the arrival of spring.
Wait, not so fast. Don't go yet, Old Man Winter! Pull up a chair and stay a little longer. How about gifting me a fantastic snow in March? (Thanks in advance, Sir.)
I did another type of dancing recently, it's called "Contra Dancing." Until I moved here to the Appalachian Mountains, I had never heard of this type of dance. I heard that a Contra Dance was being held at an old school gym near me. I looked Contra Dancing on YouTube. The funny thing is that the first video I watched was of a Contra Dance in Atlanta. All the years I lived there, I had never ever heard of it.
https://www.youtube.com/watch?v=wzsKFz4U-Do
Oh, this looked like a blast! I thought it was like Square Dancing, but it is very different. I decided to get up the courage and go. Did I know what I was doing? Nope. Am I a good dancer? Nope. Could I talk anyone into going with me? Negatory. Am I spastic and self-conscious on the dance floor? Yep. Should be a crazy fun evening!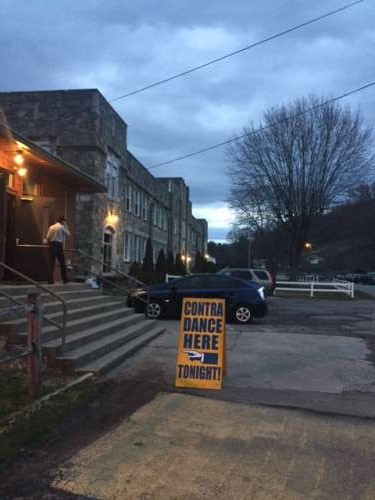 I arrived early at the old gym. This building is no longer a school. It was built in the 1940s as part of the Work Projects Administration (the WPA) created by the New Deal. It's a beautiful building, said to be made from stone gathered at nearby farms and the mortar made from sand from the creek closeby.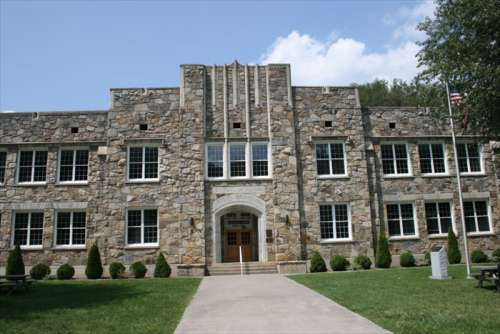 Seeing this old phone as I walked into the door of the gym made me feel nostalgic. I didn't have on my reading glasses, so I wound up including the shadow of my cell phone in the lower right hand corner of the photo. I like the CONTRA-st.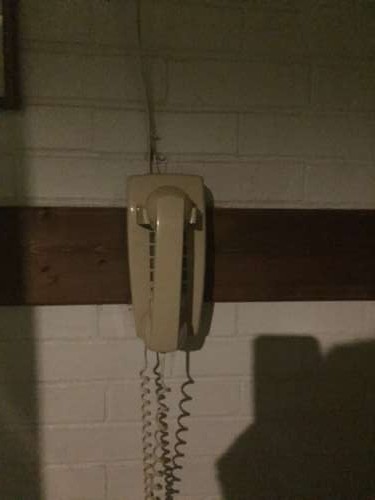 I took a seat on the creaky old wooden bleachers in this old gym to wait for the dancing "instructions" to begin. They always offer 30 minutes of instruction prior to the dances. A woman sat beside me and began changing her shoes, putting on some special dancing shoes. I had my usual Converse on. I was feeling intimidated already. "Um, do you need special shoes to do this?"
"Oh, no. It's just that soft soled shoes will keep you spinning and light on your feet." (I don't know what it would take for me to be light on my feet and spinning, but I doubted shoes would do it. Unless, of course, they were magical slippers.)
As we chatted some more, she assured me that there would be lots of beginners there, for me to not worry, to just have fun.
"You've come to the right place if you want to be smiling for the next 3 hours!" she said.
OH, I WANTED THAT. Like you can't imagine. I got a button to wear (to warn folks to watch their toes, I think.)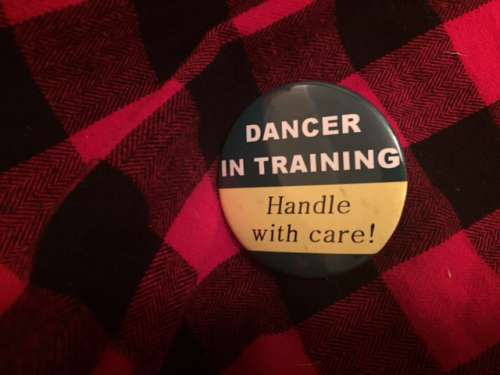 Soon the instruction began.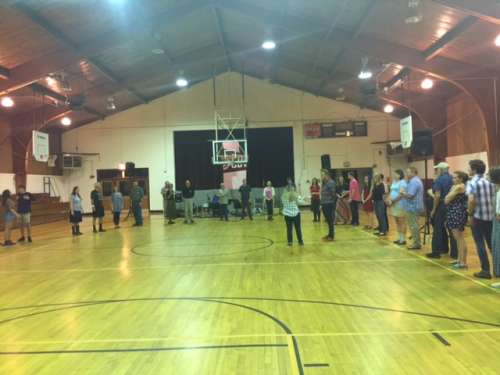 And so. The smiling began as I tried to learn a few steps. My face smiled, my feet smiled, my soul smiled. (Bahahaha, I just corrected a type-o on that last one. I had written "my soup smiled." That too, I guess. Face, feet, soul and soup.)
Those 30 minutes went by very quickly. Very. Ready or not (I was not), it was time for the real thing. The crowd had arrived, and the band had warmed up. The band, which was set up at one end of the gym, had a fiddle, a mandolin, and a keyboard. They also had boards under their feet that they tapped on with their shoes.
There was a caller with a microphone, who told dancers which dance steps to do and when to do them.
We lined up and Okey Dokey! Here! We! Go!
The music was live, very Celtic and folksy sounding to me. It was frilly and waltzy and jiggy and airy. Spinny! Light, not heavy. 
The first hour was incredible fun, fun, fun. You change partners after every dance, so I got the chance to be both the lady and the gent. As you dance, you move down your line and dance with everybody in it. I got the chance to dance with excellent dancers and new dancers like myself. It was indeed a blast!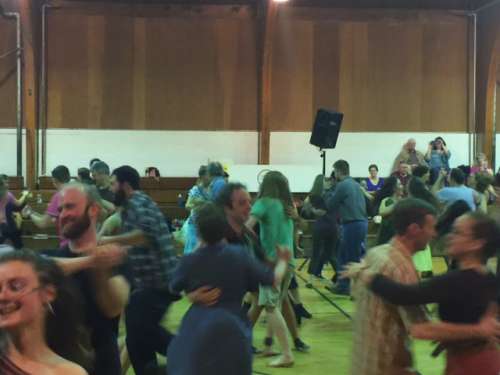 Things got hard after the first hour. The dance steps were more complicated; there were quicker changes. The caller didn't call as much. I couldn't keep up. So I took my seat in the bleachers and became a spectator.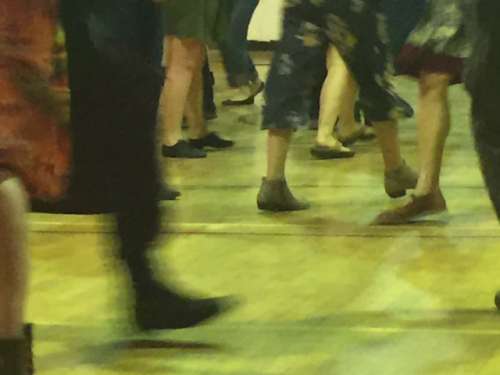 This is when I really noticed something about the event. I noticed a wide range of shoes, clothes, people, and vibes. Some people were bare-footed. Some had on hiking boots. Others wore fancy dance shoes. Some men wore skirts; some women wore special twirly dresses. And some folks had on jeans, like me. I saw a few guys with dreads and a few women too. Man buns. Some people looked conservative. I saw lots of gray hair and just one child. There were high school and university students.
Old, young. Hip, square. Fast, slow. Rich, poor. Dem or Repub. All dancing together. All smiling at each other.
I loved that this Contra Dance thing brought together everyone.
Think about it. Everyone everywhere is arguing about everything. But not here, not in this old school gym on a Saturday night.
All I can say is: go to one if you have the chance. Smiles all around.
Until next time, Friends, DANCE.
Lots of love and smiles, Rebekah, The City Farmgirl