[Previous Rural Farmgirl, April 2009 – May 2010]
Recently my friend Sarah Sumerlin and I were driving down the back roads between Washington and Oregon snapping pictures. Sarah's a brilliant photographer and I love to take pictures to remind myself of stories I want to share. It was a perfect time of the day, and we were finding all kinds of things that "spoke" to us. Then out of nowhere, there it was…a sign!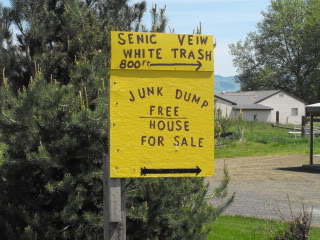 Someone had made a sign that to me read "Free house for sale." Now, I know that I am not the sharpest tool in the shed, and most days I don't even care. But before I could even stop myself, I had the car in reverse so that I could read the sign again. Convinced that my dyslexia was in full swing, I turned to Sarah and said, "Does that say what I think it says?" In sheer disbelief she shook her head and simply asked the question; WHAT?
Any passers-by on the road that day, after seeing the sign for themselves, would not have questioned why we were sitting in the middle of the road dissecting this sign. More curious than ever, I decided to go check out this "free house for sale." Driving down the lane we were met by one sign after another.
As we came to the end of the road we started to think that perhaps we were in some bad movie with the Hatfield's' and McCoy's, as there seemed to be no actual "county dump" just private acreage, so we decided to turn and leave as fast as we could.
As we headed for Sarah's home, we contemplated those signs and then just signs in general. We began to think that perhaps life would be so much easier if we as people had signs. I have met some people and wished they had a visual sign that said, "Your sign and my sign are not compatible; please step away from my sign." Sweet, right? Can you imagine the heartache and the headaches that having those signs would save us?
Of course we would have to have some kind of standardized test like we take at the DMV, to make sure that the signs we were carrying around were accurate descriptions and universal, but hey… details. I think that I am a pretty good judge of people, although my "sign detector" has been a bit off lately. Or maybe it's not off so much as I have just ignored it for whatever reason. So I would also like to have some kind of device that shocks me when I sense that my sign and another sign shouldn't be within 500 miles of one another, yet I choose to ignore the warnings. I don't want just a little "ouch!" but a knock-me-on-my-butt-to-make-sure-I-get-the-message kind of thing, with flashing lights and a big foghorn noise.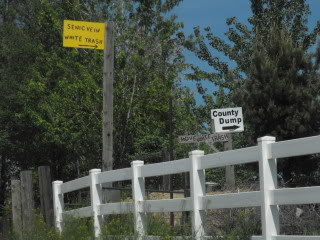 I can see it now, me strolling down the roads of life, passing people with their signs highly visible, them reading my sign and me reading theirs. "Oh look," I'll say to myself, "That one says she's the sweetest person I will ever meet, and that one loves to mother, and that one is the best of friends…" These are all signs that I would gravitate toward, or when I start to head towards one of those "other" signs, I'll feel a shock like no other that will stop me dead in my tracks and blast out "warning" run as fast as you can. Oh, the heart-ache it could save.
Well, no matter if they are road signs or people signs, signs intrigue me. I love them. I especially love when they provoke great conversations, laughter and insight.