[Previous Rural Farmgirl, April 2009 – May 2010]
I love that little mantra, although I wasted much of my life up to this point not living it. Some of my favorite people and personalities are those who seem to do just that: Dance like no one is watching. I find that I am drawn to those people the most, although oftentimes I don't jump into the dance, but sit on the sidelines and admire them dancing.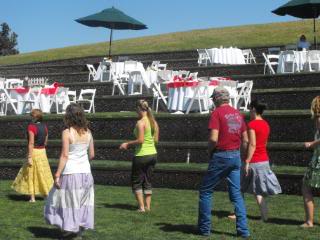 I remember watching an interview of Carol Channing once when she seemed authentically

stunned

that someone would question something she did or said. Leaning in and batting her eyelashes, she sweetly replied, "Why, darling, would you care?" I

love

that! She wasn't being haughty, just genuinely asking.
I think that I know why we care when we see people living their lives OUT LOUD. I think that secretly we want to know who gave them permission to be so unique. I mean… the gall of them really! It is like they didn't get the memo that they are supposed to look, talk and act like the rest of the pack. What nerve! Who do

they

think they are? Don't

they

know that if they separate themselves out, people will talk?
Can you tell I grew up in a small town? Actually small towns get a bad rap. I think they often have as many eclectic personalities as the bigger cities. I wasn't one of those kids who danced to my own beat. I was too scared of being judged. Shoot, most people in my hometown (population 500) don't even recall my parents having an "older daughter." I ran under the radar…

way

under the radar. Back then, I was much more of an observer, a student of people, wanting to please and trying to keep my inner rebel and uniqueness to myself. It was during that time in my life that I started formulating my opinions and discovering that I liked people who were quirky. They were, and are, more interesting to me. Their stories are more intriguing to my always-busy imagination. Back then, like today, my friends were very diverse—I believe they make life's music more beautiful.
Whether someone actually dances well or not so well isn't really what is at issue here. I am a good dancer, and I always have been. However, some of my friends aren't. I guess you are either born that way or you aren't. And while you can teach people moves, I don't think you can really teach them to dance. So, all the better that when they can't dance, they dance anyway. That is the whole point isn't it? That you are willing to just close your eyes and "bust a move" no matter "who" is in the room.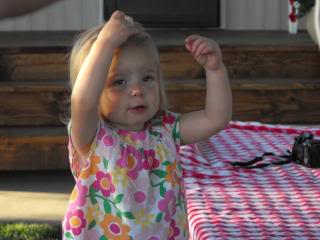 I have noticed that my "dancing friends" spend little time worrying about "arriving somewhere" and more time enjoying the journey. In a society where we can get wrapped up in titles and what kind of car we drive and the house we live in and the people we hang with, the dancers don't care about such things. Yet success follows them around, showing up like a welcomed, but not necessarily invited, guest.
I have made a personal vow to be more like my dancing friends, to stop allowing issues like weight, judgment, and the "pack" to determine whether I dance. So, here at the halfway part of my life, I plan on "dancing like no one is watching."