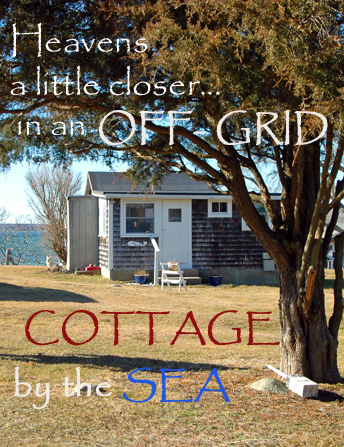 "Cottage Fever" is a powerful force! It never really goes away; it just goes dormant for the winter. ~ Deb Bosworth
In our neck of sandy Cape Cod Bay we get hit with a double- dose of spring fever this time of year! The gardening bug starts biting in early February ( even though we are usually still buried in snow ) and our tiny off-grid Cottage by the Sea begins to whisper our names ever so softly. Thoughts and images of past summers begin to swim in our heads and hearts, reminding us that
"The Cottage "
awaits. With each passing day those whispers grow louder beckoning us to return to the
BEACH!
Temps are in the mid 40's and there's a bit of an ocean breeze a blowin'. But, the sun is out and there's isn't a cloud in the sky! Buckle (and bundle) up! We are headed out to "The Cottage " to take a look around and a nice long walk. We packed a Lobster Roll to share, some favorite tunes and hot coffee for a quick rest on the porch before we head home.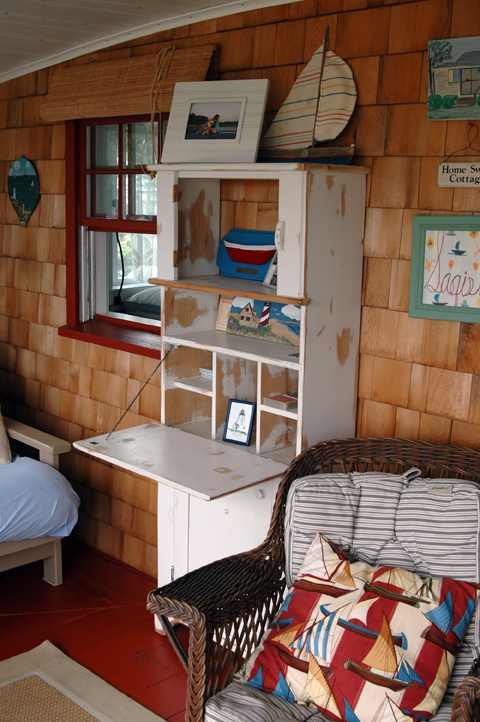 Our BEACH community is off-grid due to its location. Not quite an island we are connected to the mainland by Powder Point Bridge and a long, skinny stretch of fragile beach road. A protected bay on one side and the open ocean on the other.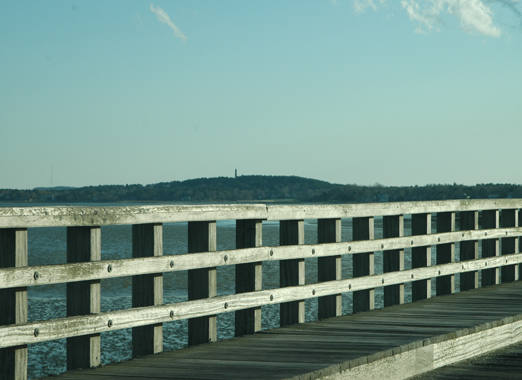 Before the 1/2 mile long wooden bridge was built in 1892 the only way to the " island" was by boat. At one time it made its way into the guinness book of world records for being the longest wooden bridge in the US but lost it's title when it was re-built in 1987. At 2,200 feet ( same size as the original bridge) it still holds the record for being the longest wooden bridge in America ( possibly the world ) that is drivable by car. The maximum speed limit is ten miles per hour. Slowing down to a dull roar in order to cross the bridge is like drawing in a nice big deep breath…When we get to the other side we blow it all out leaving the " real world " behind. We also remove our seat belts! FREE AT LAST!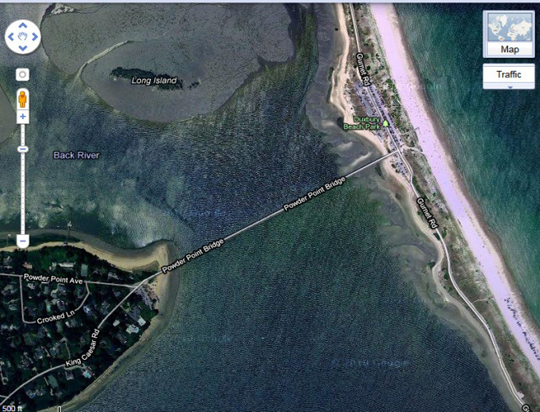 My Yankee has great tales of how his family used to drive down the sandy beach road ( loaded to the gills for the entire summer) in an old Volvo with over- inflated intertube tires in hopes of making the trip without getting stuck in the deep, soft sand. They almost always got stuck once and had to shovel out. Nowadays, the road is graded a few times a year making for a much easier passage. Unfortunately, it also makes it easier for less than conscientious non-residents to find their way to our " neighborhood"  as well. As residents of a private community we have to contend with people coming into our "backyard " un-invited who think it's great fun to park in the fragile dunes and tender marsh grass, party all night, hoot and holler, vandalize property, leave behind trash, and start fires. Currently, we, along with other concerned residents are working with local police to put a stop to this destructive and UN-wanted activity.
 Let's face it. Nowhere is pure utopia, but this is close and we aim to do everything in our power to preserve it for future generations.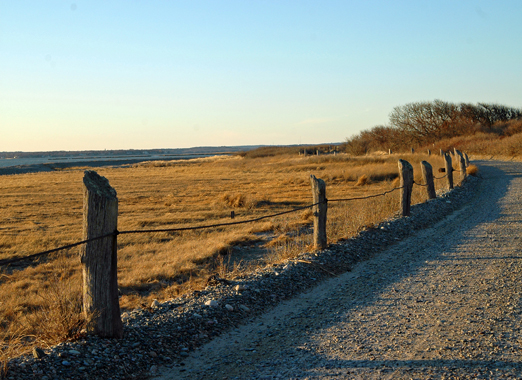 The grasses are still brown and it'll be a couple of months before we see any buds on the sea roses or greening of the marsh grass but the "Winter BEACH "has its own beauty.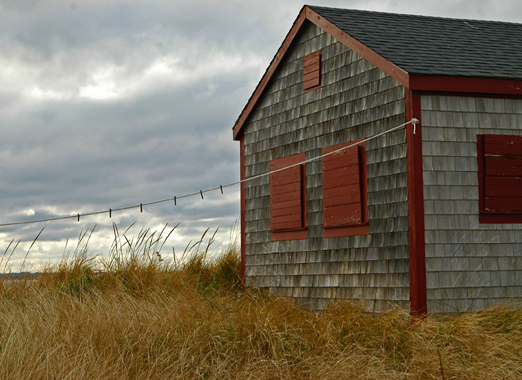 Clotheslines hang in the bitter breeze waiting for the first brightly colored bathing suits and beach towels to be hung to dry by the sun. Planters are still filled with the remains of last years blooms gone-by.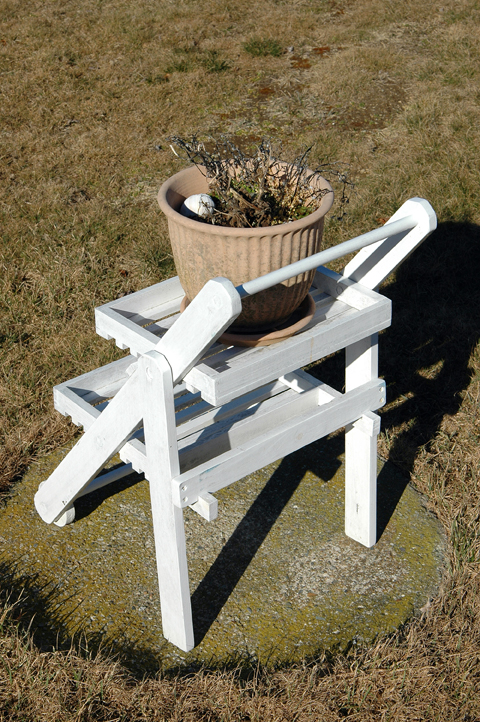 And window boxes sit empty waiting for a fresh planting scheme.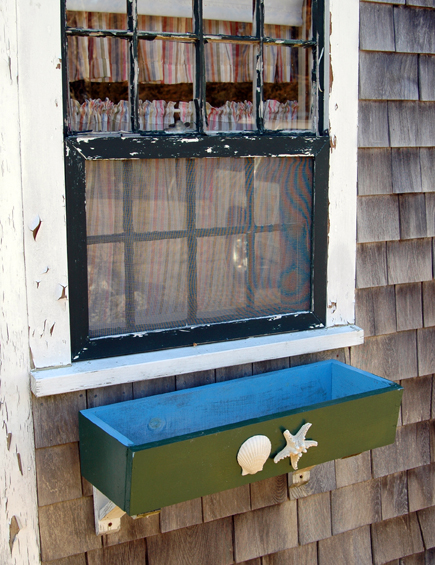 We plant our pots on Memorial Day weekend every year, rain or shine!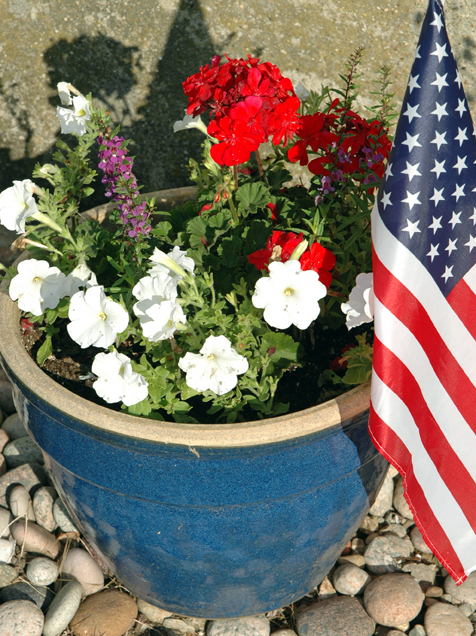 The best part about going to the beach in the off-season is the quiet. It's always fun to catch up with the hardy souls who live there year round but that doesn't interfere with the feeling of peace and solitude a day at the beach in late winter gives. No boat motors to compete with the sound of the waves. And only a few harmless trespassers who let their curiosity get the best of them.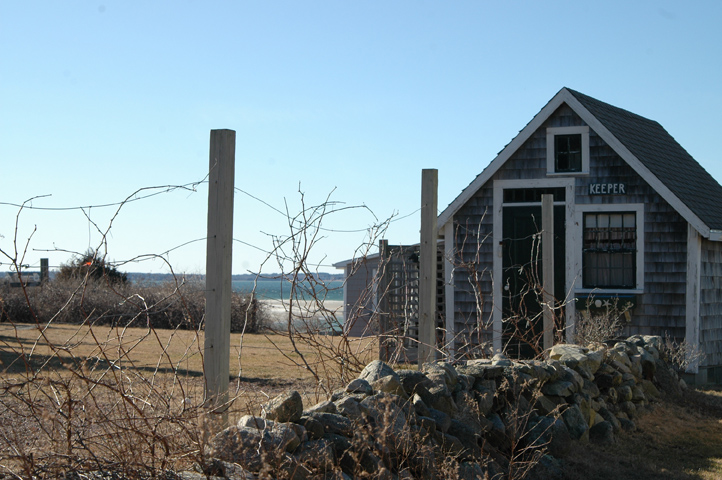 Our neighbors planted a row of grapes a few years ago. By the looks of them they have wintered over well and we can look forward to fresh grapes this summer!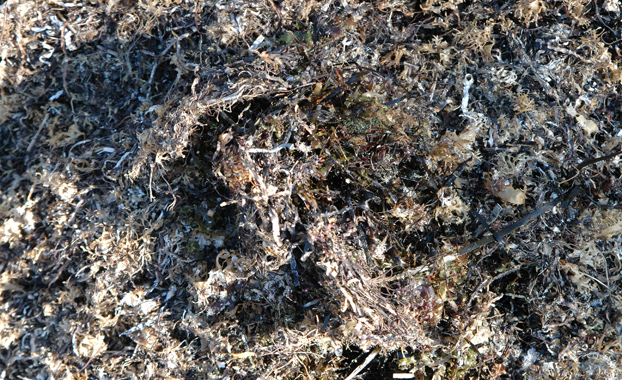 Perhaps it's this natural " food from the sea" that makes the difference? They've harvested a heap of Seaweed for the large veggie garden they plant every year.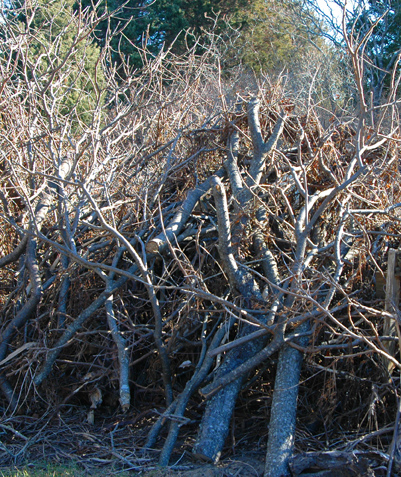 We've got a pile of branches, twigs and tree trunks ready for the chipper so we can begin practicing " the covering " method of gardening (we talked about in my previous post) at the cottage this year. We'll have to be sure to keep some out for a bonfire or two though!
As we poked around inside and out I was reminded of our revolving TO -DO list. We still need: new windows in the kitchen, a new floor in the kitchen, re-shingling, a new well pump and maybe even a solar hot water heater for hot water on demand. But enough of that! We'll get to it! Some of it anyway!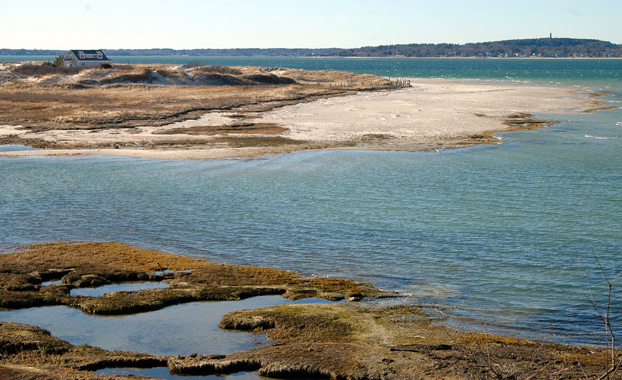 Today is for walking, listening, and letting the ocean do her magic on our weather beaten souls. We are headed down to the waters edge through the goat trail and into the dunes! Ya ready?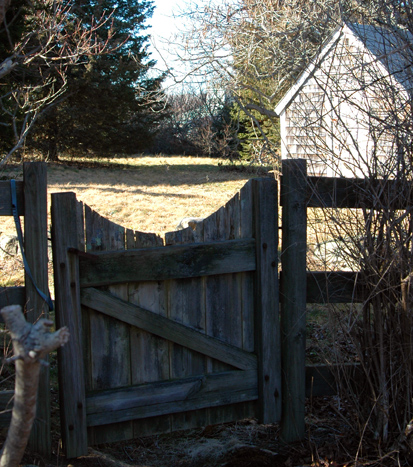 This old garden gate tugs at my farmgirl heart everytime I walk by it.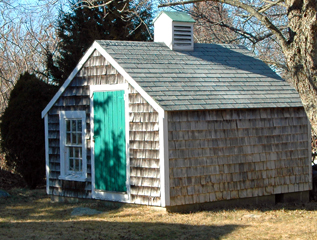 Garages aren't the norm in these parts. Sheds and smaller out-buildings fit the bill for storing necessities and supplies for cottage living.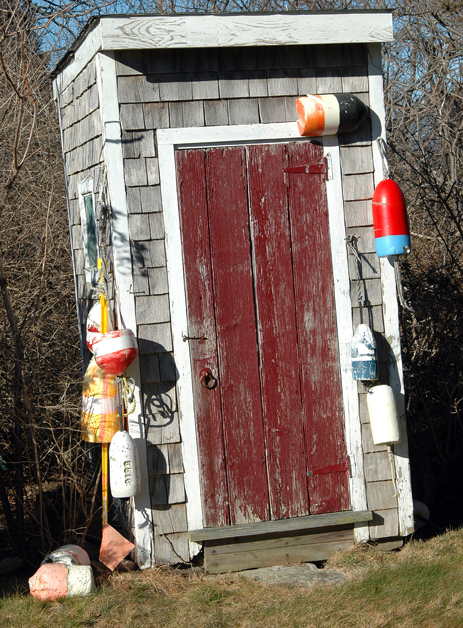 Many residents still use outhouses (or keepers). This one is about as "beach rustique"as they come!
Whoa…. time to stop for some photo- ops!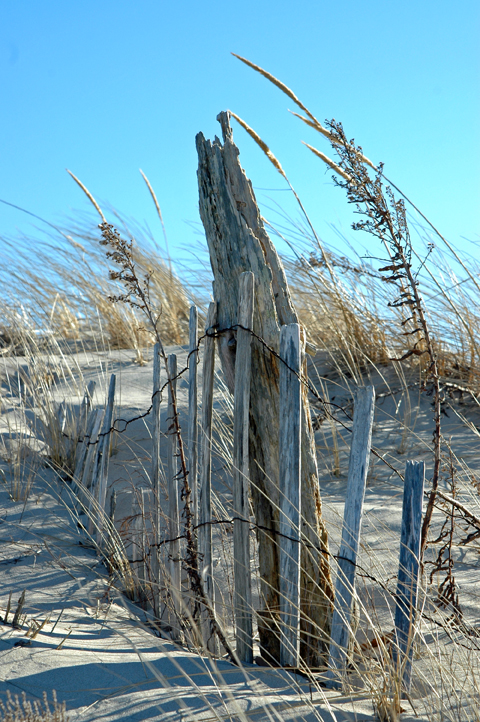 We've made our way into the dunes! The snow fence helps catch the sand. The dunes play an important role in protecting our small homesteads. If it wasn't for them the water would wash right in and take everything in it's path right out to sea.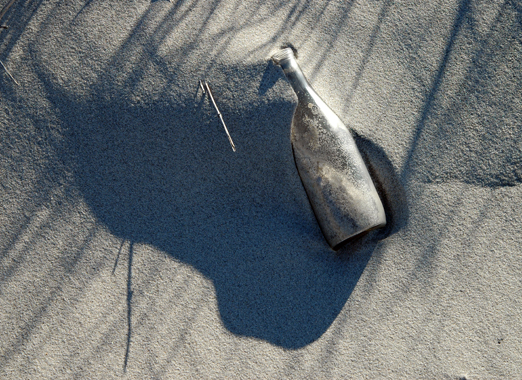 The Yankee and I love to get a little " artsy fartsy " with the camera on our walks.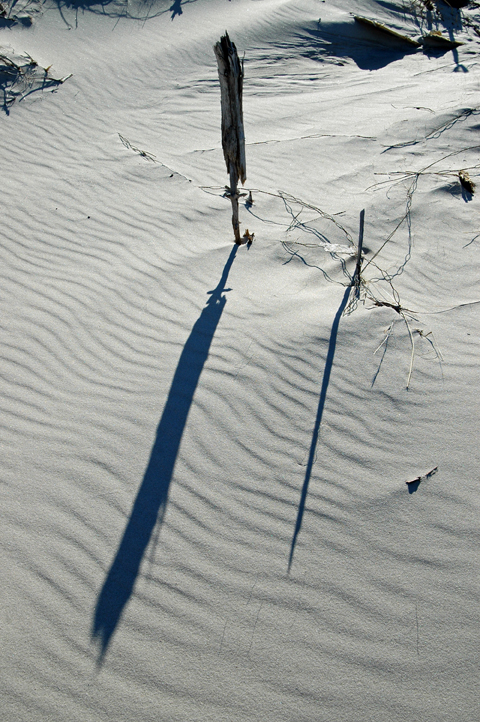 We slow down, stop and look for interesting objects, shapes, shadows, textures and light-play.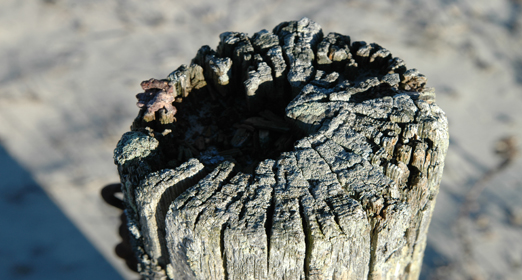 These Canadian Geese are having a late afternoon feast on minnows in the tide pools. Come to think of it, I'm getting hungry too! Time to head back to the cottage for that Lobster Roll and hot coffee. Then, it's " back to reality "!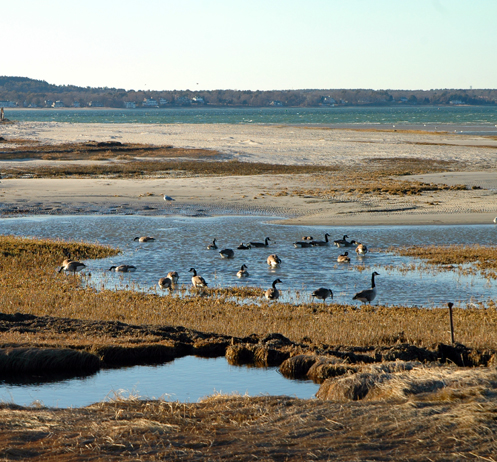 You didn't think we left Max home did you? Our teenagers aren't always " on board " for a trip to the beach. They've got social lives after all!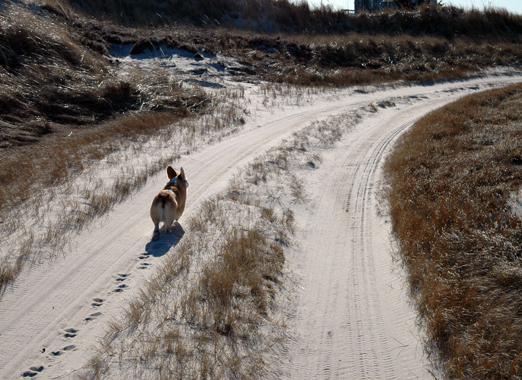 But, our best friend is always up for stroll on the beach! He's all smiles everytime we go! We hope you were too!