[Previous Rural Farmgirl, April 2009 – May 2010]
They can reveal so much about us—not only to others, but to ourselves. The first time that our eyes met, I knew I was a goner. His big brown eyes, blonde hair and bad boy behavior had me. He spoke to my inner wild child, and I knew that if I stepped into this relationship I would spend the rest of my life captive to it. Yet I also knew that there was no holding back, and it was a leap I was all too willing to take.
There isn't a farmgirl I have talked to who doesn't have a similar story.
I have come to believe that it is how we know we are truly farmgirls. No matter if we are born in the city or suburb or farm, it is that magic moment when we fall deeply in love with our first horse.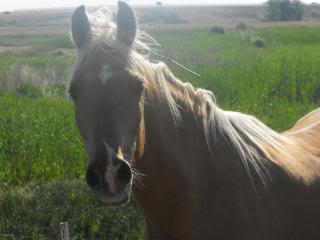 To this day horses still captivate me. Even when broke, they are never quite tamed. I like that, and I can relate to it. Oftentimes I feel "harnessed" by the world, or by life, or by social expectations. Yet there is that place in me that remains, untamed.
Songs have been sung and poems written about horses' beauty and their ability to sustain. They are cowboys' best friends and farmers' most dependable workers. They are cowgirls' confidants, holding onto every dream and secret. They are a mixture of freedom, strength, speed, and calmness, all while somehow bringing us into balance with the rest of nature. There is nothing better to a young girl then climbing onto the back of one and running…wind blowing through her hair and the sun allowing the cares of the world to melt away. For just a moment, we all dream of running with the wild horses.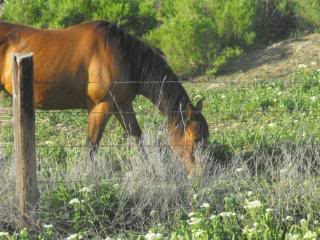 Around our community lie the Horse Heaven Hills and it has been said that wild mustangs used to run the land. I love to sit out on the vista and dream that they are still there. I love the drive over Satus Pass, hoping for a view of them. And on the rare occasion that I do see them, it is magical—even spiritual—to sit and watch them.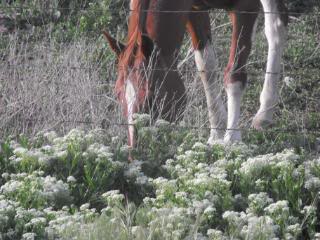 Yes, first loves tell a lot about us. One glance in his eyes, and I knew I was a farmgirl—one that wasn't likely to be tamed, longing to forever run with the wild horses.