[Previous Rural Farmgirl, April 2009 – May 2010]
I think that it is true that no matter what state—or for that matter country—you call home, the horizon has been changed to include that of wind turbines. As I recently drove down the highway en route to my grandparents' home some 100 miles away, I couldn't help but think of how far I have come in the debate.
In 2005, when I first noticed the turbines going up along this road, I found myself irritated by those "eyesores" disrupting my daydreams, and wondering why they couldn't find somewhere less visible to place them. I hated having my scenic views disrupted by "progress." I liked being able to look out the car window and envision the buffalo running wild, mustangs running free and Indians sitting up on the cliff line. I could see them there, in my mind's eye, and be lost in the stories they told. But it was a little harder with those turbines standing there shouting, "Hey, there is something new on the horizon."
I don't mind change. Actually, I embrace change. I see myself as a forward-thinking woman, firmly rooted in the past. I can see the need for change, and I know that it is a necessary part of things. Yet I fought this one. Surely they could find a way to make this change without disrupting my view and distracting my fellow travelers from the beauty of the past.
Like most things, there is a science behind what's being done, and I quickly learned that this was no different. Research had been done and wind and weather patterns documented. Land was acquired based on that information. During a meeting on the topic, I sat listening to both sides of the issue. I could see both sides, which is more exhausting for me than when I land firmly on one side of the topic.
So as I sat there struggling to understand, to find a side worthy of my support, the other side was presented and I again found myself all ears. On the side of the wind turbines: the prospect of being energy-free as a nation, the conversation of less impact to the environment, new jobs, and new technology being used. I was excited at the thought. On the side against: the disruption to bird and bat migration, the cost, the whirling noise for those in close range and the esthetics of our beloved horizons. These issues left me cold.
I was straddling the fence on such an important issue, my mind racing as the discussion began to heat up. Then my mind wandered back to the days cattlemen starting fencing cattle, and then to the railroad folks laying tracks. Each debate a valued one—progress to some, a loss of a way of life to others—with amazing people on both side of the issues. During this particular meeting I was glad that we had advanced over time and no one was called out to settle the issue with ten paces and pistols.
There are very passionate people on both sides of this very hot issue, including many that I love and care about. And while I wish I knew the perfect solution, I don't. But here I was driving down the road while having a conversation with myself and admiring how far I had come in such a short time. I have come to terms with those 150-foot towers whirling in rhythm all along our horizon. They have somehow become part of the landscape, adding to its story…a new chapter to a book that has been written over time. For me, the Indians, buffalo and wild horses have returned, standing right next to the turbines. In some odd way they were able to find a way to co-exist.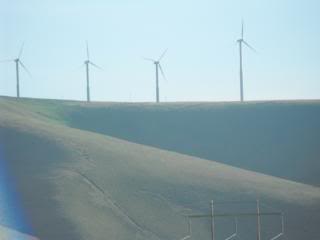 It all begs the question: In the name of progress, what else is on the horizon?