[Previous Rural Farmgirl, April 2009 – May 2010]
When we know better, we do better. Or do we? That statement is often true in my life, yet sometimes when I know better, I just know better. My knowing doesn't always lead to immediate action. Sometimes, everything in me applauds the newly adopted philosophy, but it's as if tie-downs keep me from jumping into action.
Weight loss is a great example. I'm not a total "slug" on the topic; I have a passion for holistic nutrition, and people are often shocked by how much I know about natural health and healing. Mentally I have been engaged in the idea for years. I have totally adopted the shift into organics (thanks in part to John Robbins' Diet for a New America and The Food Revolution: How Your Diet Can Help Save Your Life and Our World, as well as Michael Pollan's writings). That said, organics in the wrong hands can still be food that isn't exactly "diet-conscious." (Go ahead and ask…I have the recipes to prove it, and they are divine.)
I am self-aware enough to know that when I follow what is called an 80/20 diet regime, I feel my absolute best. (The 80/20 regime is a diet consisting of 80% raw veggies, fruit and fresh veggie juices with 20% cooked foods, such as rice, grains or bread, and even a little raw milk dairy, grass-fed beef and free-range eggs). When I follow this plan, my energy level is high, my hormones balanced and the world is my oyster. But then, for no apparent reason, I fall off the wagon, leaving me feeling like Lucy Ricardo, trying to "splain" to Ricky why she has fallen off yet again!
When I feel like this, I wish someone could drop me off at the far end of my goal and just leave me there, much like when I was a kid pulling rye out of the wheat fields. Back then, we would be driven out to a faraway point in the field armed with a compass and canteen and told to head south down the field. We would then be picked up eight hours later, having completed the task at hand. It was perfect, really. We had the goal, we had the tools, and we had none of life's distractions. We also had just enough motivation, since we didn't want to fall too far behind the rest of the crew and hold anyone up at the end of the day. If a few of us got done first, we could just lie in the sun until the rest caught up. (I loved this work, by the way; it was the daydreamer's perfect job. Eight hours of conversations in your own head…brilliant!)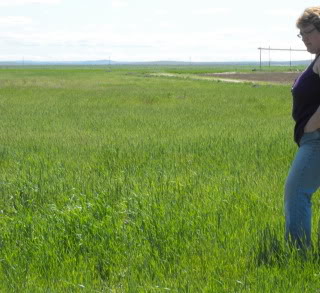 People just meeting me are often stunned by the amount of books I have on natural nutrition. They line the bookshelves in my office…and guest room…and dining room and…well, you get the picture. My poor hubby can become quite depressed when he thinks of all the money spent on my quest for information. So I certainly don't lack knowledge, but somehow I haven't yet gathered the gumption to "get 'er done." I am known in my little circle as the "go-to girl" on all things holistic nutrition, yet "physician heal thyself" often rings loudly in my head.