[Previous Suburban Farmgirl, October 2009 – October 2010]
Show me a handmade quilt and I'll show you a happy Paula. I've been known to covet friends' family heirlooms, swoon over intricate versions hanging in museums, and, yes, buy a treasure or two that called to me in an antique shop. I love many mass-market quilts too — in fact I sleep under one every night — but I hold a special place in my heart for those hand-stitched works of art.
So why am I having twinges of quilt guilt?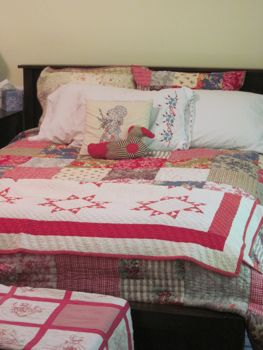 Because I also sleep under a Depression-era red-and-white quilt. My very favorite, it's usually folded at the end of my bed, an extra layer of warmth on cold nights. But is a vintage quilt too fragile to use this way? Might it tear? What if one of the pens I'm forever bringing into bed should leak? It seems too special to use and yet, isn't that its purpose — to keep me warm, to be admired (and to cheer me up)? Besides, I like how it complements the basket of cute teddy bears made of old quilts that I bought near Nashville in the mid-1980s: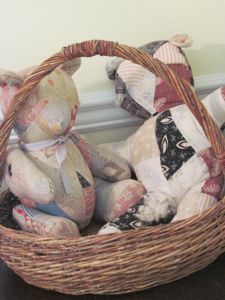 Oops! Quilts made into teddy bears?! Is that sacrilegious? Cause for more guilt? Should old quilts be kept pristine as a monument to the skilled hands that made them, or is it okay to use them — or even to drastically re-imagine them as recycled new things?
Seems like there are several camps of antique-quilt aficianados:
Quilt Camp #1: Those who cheerfully collect old quilts and just as cheerfully use them in everyday life. This family-made wreath quilt from '30s used to top a guest bed, back when I had a guest bed: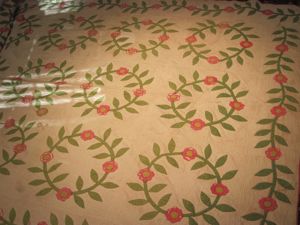 Or this a redwork baby quilt I just adore, which I usually drape over a chair or trunk in my room. My mom mended the worn spots by transforming them into gingham squares: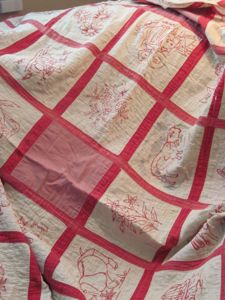 Here's my firstborn's baby quilt (a.k.a. Yellow Blankie), which I bought in an antique mall and then washed carefully before turning over to him: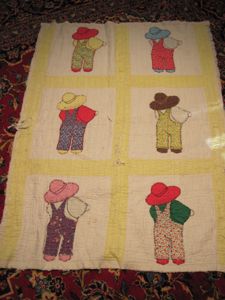 And — oops — here's child #3's vintage baby quilt, being used as a scarf, already in late-stage decay: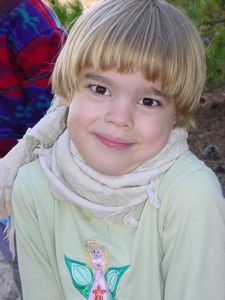 You'd never know her "Kiki" (that's short for Blankie) was once a lovely pale blue and white quilt with blue and red floral embroidery. It was the very first thing I bought when I found out I was pregnant for the first time, although I'd only meant it for a room decoration, which is what it remained through two babies, until Margaret finally glommed onto it. Kiki was, to her, bedspread, teddy bear, picnic blanket, knapsack, superhero cape, fashion accessory, you name it. Once it was clear how attached she was growing to it, I had to make a choice: Put it up or let it go.
Obviously, I let it go. (Yes, that's it above, as seen last week; the nice red in the upper part of the photo is my Depression quilt.) Quilt Guilt? Or satisfaction of seeing an object more loved and used than nearly anything else in my house?
Quilt Camp #2: Those who not only use old quilts as quilts, but creatively re-use them. Once quilts begin to out-wear their intended purpose as coverings (thanks to moths or stains or heavy use like Kiki's), those in this camp think it's okay to recycle them into other objects. Like, say, placemats: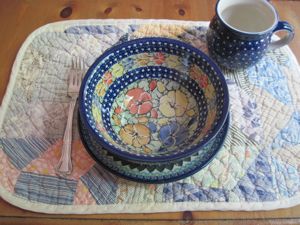 …decorative pillows: (I love this vivid old duck!)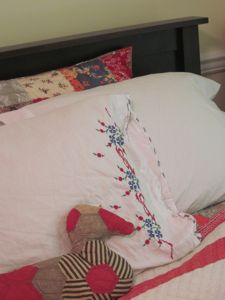 …Christmas ornaments: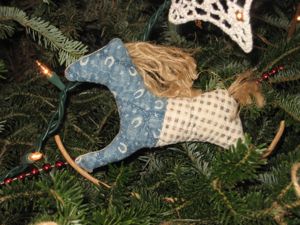 And teddy bears. Not that I have the nerve (or, ahem, talent) to cut and re-sew quilts myself. But I obviously love a well-deconstructed/reconstructed specimen.
Quilt camp #3: And then there are those who collect and preserve old quilts, period. Don't touch, hands off. Be careful! They're stacked in display cupboards or tucked with tissue in trunks. I admire those in this category (whose prized specimens are often nicer than anything in my "collection" to begin with). They can be credited with helping to save the art, after all. I can relate, too: I admit I'm leery myself about over-using this lovely quilt my mom cross-stitched — although I also hate that it therefore seldom sees the light of day:
Fortunately, there's room for all three kinds of old-quilt appreciators in this world. (Right? If you disagree, please share why!)
I love to look at mine — in whatever shape or form they may be in — and imagine the hands that painstakingly created their textures and designs. The miniscule, even stitches represent a kind of patience (and amount of time) I just don't have in my present life. Each quilt requires an unsung kind of genius, someone bending over a tiny fragment while simultaneously envisioning the elaborate whole.  Whether you consider them household goods or works of art or comforting presences, old quilts are never mere objects (or reimagined new objects). They're tangible love.
Can't feel guilty about that.
That's why I use 'em, why I champion the recycled bits, and why I aim (Kiki notwithstanding) to preserve what I have — so my daughters and their daughters can touch the love, too.