[Previous Suburban Farmgirl, October 2009 – October 2010]
What's your decorating style (besides, I bet for most of us here, country chic)? Mine, historically, has been lackadaisical. Or as my mom liked to say, "lived in." Having lived for 23 years with someone who had stronger stylistic preferences, these tended to influence the overall look. Now I've moved into my own rental house — just this past week and yes, I can still hear the rrrrrripping of packing tape on cardboard box in my sleep — I've had to figure out what goes where "all by self."
It's been fun. (Excepting the complete exhaustion…funny aside here about the effects of my sleep deprivation!)
As I've positioned furniture and filled shelves and drawers, it strikes me that that there are two camps of housemakers: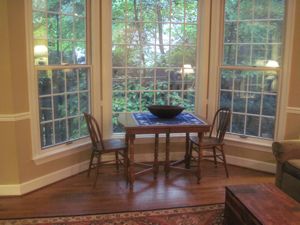 Those fond of a cozy clutter and those who believe there's a place for everything and everything should be in its place.
The CCs find comfort in piles of favorite quilts and books, shelves festooned with accumulated curiosities. They can't have too many shelves. Draped this, decorated that. Their bliss: If you can stencil it, stack it, or display a whole collection of it, so much the better., Motto: "Too much of everything is just enough," as Bob Weir sings.
The PEs use the same materials but in more precise ways. Theirs is a look of clearer surfaces. They're fond of baskets and boxes with which to organize. They can tell at a glance around the room when something's askew or missing (or, more likely with kids, been left lying on a table or at the floor where they were last sitting).
I always thought I was a CC, but it turns out I'm a PE. (Not to be confused with being PC, which is a whole other story, and I'm not that either.)
Where I once took refuge in surround-sound stuff, I now find myself calmed by fussing through the house at night, returning errant cups to their cupboards and junk to the junk drawer. I smooth bumps out of the quilt on the bed. I drive my CC kids nuts!
Maybe this is just the function of a new house, but I don't think so. I've changed. That said, I draw the line at a tidy desk. My office is a cocoon woven of clutter bits. In fact, I haven't even unpacked it yet — almost hate to spoil the tidy vibe of the rest of the house!
Two other quick observations of my decorating style this move has made clear:
1. I love love love love bargains. Good ones, anyway. I scored a lovely Henry Link wicker sofa for $129 at a local used furniture shop. I'd gone to the shop searching for a dresser, when I heard it pleading please-please-put-me-in-your-lovely-new-screened-back-porch from its woeful spot out of place in the big barn full of 1940s maple and mahogany. Silly me, I still hesitated, and went back twice more before I realized it was right.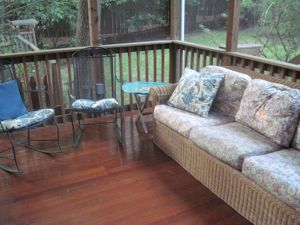 Then I found a quilt at a close-outs shop called Tuesday Morning that my sister-in-law tipped me off to, which cost $110 less than the very same quilt I'd been coveting in the Pottery Barn catalog. No, it's not an heirloom or even handmade. I own several of those, but this one, too, called to me. So I bought the bargain version — which has turned out to be exactly the very same thing as the famous brand! (Although alas, there was only one sham.)  I do keep my favorite red-and-white antique quilt folded at the foot of the bed in case I get cold.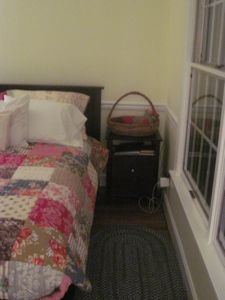 2. I also love re-using things for other than what they were made for. My former printer stand is now my bedside table in that image above. Wood matches perfectly and it perfectly fills the space.
And that's an old tool chest in front of the sofa, below — I bought it in Knoxville, Tennessee, when I was still single in the mid-1980s. A table you can kick up your feet onto.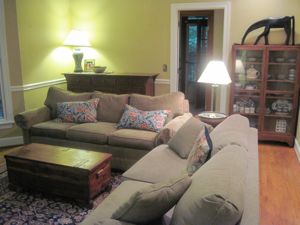 A utensil holder has become a napkin holder…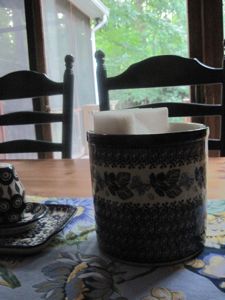 because I'm using some pottery pitchers for utensil holders!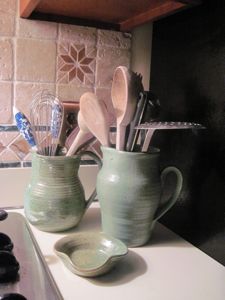 Whether you're a Cozy Clutter gal or a Place for Everything-er  — and I'd love to know what group is in the majority, and whether I'm destined to clutterify as time goes by — I'm wide open to your favorite decorating hints!