[Previous Suburban Farmgirl, October 2009 – October 2010]
What makes you calllllllllllllllllllm? Do you have to sit very still and chant "ommmmmmmmm" to chill — or can you hustle about your busy day carrying a place of peace and serenity within you all the while?
Two recent discussions have reminded me how much our attitude influences our quality of life. Unlike circumstance and hard knocks – things you can't always change — attitude is something we get to pick. It's the place on the self-tuner where we choose to set our emotional dial. (Hmmm, will I pick wallow-on-the-floor-in-a-pity-party-for-one today? Or will I put my energy toward counting blessings and getting the laundry done?)
One of my recent attitude-bending conversations was with my sister-in-law, a woman who should know something about stress. Her six kids fall between ages 4 and 13 (all hers by birth, btw, and every single darn one of them entering this world between 10 and 11 pounds!). Her 80-something parents live in a wing my brother built onto their house for them.
Until shortly before he died last year, Laura (that's her below) had my dad living in her house, too, in her former reading nook, a room she gave up so my brother could convert it into a main-floor bedroom for Dad. (Even more generously, she gave up her pantry so he could turn the space into a shower in the adjacent bathroom.) And did I mention the two dogs? Two cats? The garden? The part-time job as the church pianist? The nightly cooking for 10? Like I said, she knows from stress.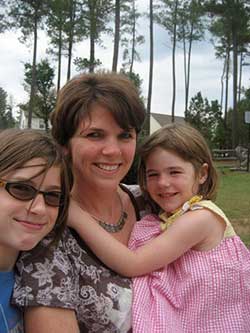 Anyway, Laura (who is as cheerful and calm as they come) told me her new motto is…
"More zen in '10!" She's hardly the meditate-your-way-to-spiritual-enlightenment type – no time for that! She's your basic practical, hardworking suburban mom living in a planned community, and a Methodist, not a Buddhist.
But the word "zen" appeals to her in its modern connotation: relaxed contentment, feeling whole (mind-body-spirit), having peace and gratitude for the good things, letting go of the fretting over the things you can't control.
Works for me! The zen-in-'10 approach echoes what a stress expert I recently interviewed for work had to say about the power of attitude. "Stress occurs when the mind perceives you are not enough or do not have enough," says Eva Selhub, who's the author of The Love Response – highly recommended! – and senior physician for the Benson-Henry Institute for Mind-Body Medicine at Massachusetts General Hospital. (The "Benson" is as in Herbert Benson, the physician who gave us the phrase "the stress response.")
Note Dr. Selhub's word perceives. If you feel negatively, you're in the stress response. You're running on empty and need to "fill up." The best part is that you can fill up – find your zen — without ommming at a spiritual retreat (though that works, too, if it works for you). You can find it in your kitchen or your garden, on your farm or your ranch or your suburban rancher.
What will remind me to stay "zen" in the coming year? Here are 10 ways I came up with right away:
Stopping to smell the flowers. (Which means buying them til they start to grow and then picking them and plunking them in a teapot!) My favorites, here, recently bought in a pot at my Harris-Teeter grocery store:
Seeking emotional reinforcement when I need it — instead of putting it off lest I seem "weak" or "weenie!" (Note to self: Pick up the phone! Tap out an email or a chat group message! Re-read all the way cool Suburban Farmgirl sister comments!)
Hanging with my kids. World's best stressbuster (except when they raise my stress level with their messes and backsass, lol!)
Always making time for my walk. This is my ultimate all-me time; everybody needs something.
Pausing to look up at the sky. Day and night. How many months do you utterly miss the full moon?
Sleeping enough at night, and preferably in flannel sheets in winter. I'm a notorious burn-the-candle-at-both-ends type. Unfortunately I'm not the type who can sustain it for very long without melting!
Not responding immediately to every email or call, especially when doing so will only upset me. You control the horizontal! You control the vertical! (A little "Outer Limits" referencing there, in case you younger farmgirls are wondering!)
Sitting down and eating off a plate. Doesn't take that much more time than bolting on the go and is way, way better!
Taking a deep breath as needed — sometimes that's often, and that's okay!
Spending time with sweet, wise sisters…here, there, and everywhere. (That's me & Laura on the right below at a sisters' retreat, with our other two sisters, the ones I grew up with, which you can tell because our names start with P!)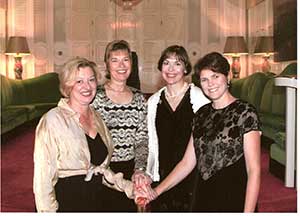 So what are your "be-more-zen-in-'10" reminders?