[Previous Suburban Farmgirl, October 2009 – October 2010]
You know the expression, "You can take the boy out of the small town, but you can't take the small town out of the boy"? That was my dad. He died last week, just 20 days shy of his 88th birthday.
Sylvester Patyk may have raised a tract-house-full of suburbanites (five of us) and lived in three different 'burbs himself, but for my whole life he seemed like a fish out of water. He was a small town fellow through and through, born in tiny Wakefield, Michigan, among the lakes, forests, farms, and mines of the beautiful Upper Peninsula. (Picture Bedford Falls from that old movie, "It's a Wonderful Life.")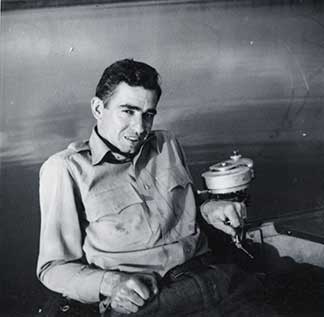 I'm still processing his being gone – it was amazingly sudden, even though he'd been in decline – but his passing has me thinking a lot about a person's legacy. And how that legacy is tied to place…
My dad never met a stranger. He chatted up *everybody.* He'd jump start your car, help dig you out of the snow, fix your broken anything, share tomato growing tips (or tomatoes), tell a tall tale, or just shoot the breeze. Jimmy Stewart would have played him in a movie version of his life. (Same lanky build, with a genuine aw-shucks manner. And yep, Frank Capra would have directed.) Dad was honest, modest, hardworking, optimistic, quietly devout, apolitical, provincial – classic small-town adjectives and all meant in a good way. He possessed a blind faith in the goodness of man that seemed almost naive. He was a meat-and-potatoes, have-a-beer kind of guy.
As a girl, I loved our once-or twice-a-year trips to Wakefield. I marveled at how we'd pick up Grandma's groceries by just giving our names so they'd go on her "tab." The whole town was ours to roam: the lake, the fishing dock, the raspberry patch, "uptown" with its soda fountain, stately bank (where Dad never needed to show ID to cash a check) and wonderful old library (thick with 1920s Nancy Drew books that we were allowed to check out without a card because we were "Sally" Patyk's kids). No cell phones, no adult escorts – my sister and I just had to be home at the 12 o'clock whistle for lunch. Then we'd split again!
Partly that's the sensibility of another era, partly the comfort of being in a place where half the people are related to you and the other half have known your daddy since he was this high.
Here's my parents there, back in 1949 (long before I arrived on the planet), and me there in 2002: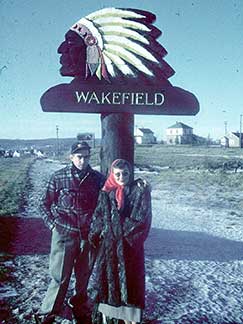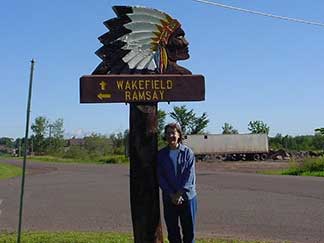 Dad left this bucolic hometown straightaway. He headed to Michigan Tech to study engineering, enlisted in the Army Air Corps (World War II) and then took a job in the big city, Detroit. Always drawn to cars, he crested the whole Automobile Capital of America era. (When GM went bankrupt he refused to believe it: "Nobody needed a new car anymore because they were so good, I guess!") He married a city girl, too.
Yet nobody would ever mistake him for a city slicker.
His enduring small-town psyche reminds me of our farmgirl-is-a-state-of-mind notion. Your essence –how you think and act, what you're drawn to – isn't about where you are. It's *who* you are. So you can be an engineer in a white shirt with a pocket protector — but still walk and talk like a guy loping up Sunday Lake Street with your dog. You can be a suburban mom typing in the bluish glow of her iMac – but still pretend your morning sidewalks are dirt paths along the falls, still plan to plant raspberries like the ones you picked by a lake as a girl.
Thanks for passing on that piece of yourself, Dad.
Miss you.