[Previous Suburban Farmgirl, October 2009 – October 2010]
I know it's a bad week to admit I hate Halloween. But I do: I'm too shy for dressing up, too easily spooked by ghouls and goblins. Even the candy part I can do without. All that said, I *love* this time of year…it's the season of Orange!
Pumpkins! Sweet potatoes! Chrysanthemums! Persimmons! (I just ate my first one, yum!) Falling orange leaves! And did I mention pumpkins?!
Orange has been "my" color as long as anyone who knows me can remember. Family photos going back to my third birthday feature an annual cake finished in orange icing. My bedroom walls were bright orange; I even had an orange-haired doll. I still gravitate to the color as a grown-up, whether in my favorite Patagonia fleece or the aforementioned mums. And nothing cheers me like seeing pumpkins on front porches, especially when they're left uncarved.
Because I've seen so many, I've been a little slow to discover the black truth about this orange season…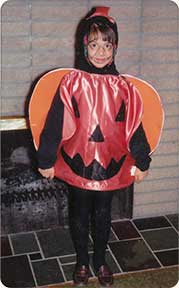 We're in a pumpkin shortage, Ladies!
It's the canned variety that's in grievously low supply. As much as I like looking at pumpkins, I like to eat them. But canned pumpkin has been AWOL from grocery store shelves all around me for weeks now — since the air first felt fallish and it occurred to me to start looking for it.
I've since read that last year's crop of canning pumpkins was small and has been used up, and this year's crop is late to mature and get to market. (Any pumpkin farmgirls who can verify, please do!)

I'm losing patience and know I ought to take matters – er, pumpkins – into my own hands. Why not cook and puree my own? After all, I routinely roast sweet potatoes (if I'm not mashing them, I'll top a baked half with cottage cheese and sunflower seeds — accompanied by a salad, it's my all-time favorite fall lunch). And I had so much fun a week ago serving roasted spaghetti squash with spaghetti sauce to three daughters who happily gobbled it and didn't say "Euuwww!" until *after* I confessed that the "new kind of noodle" was not technically a new kind of pasta.

But roasting pumpkin, for some reason, has me flummoxed. Maybe it's the visions of stringy innards from past jack-o-lanterns that's holding me back. Or the time-intensiveness of the roasting, cooling, mashing, et. al. And then there's plum ignorance: What does a "canning pumpkin" look like and where do I buy one? Does make-your-own mash substitute equally in a recipe for the canned stuff? Is there a particular variety that's best for pies and muffins and scones?

See, it's the pumpkin scones I'm really missing. Three or four autumns ago on a day as crisp as a bite of McIntosh apple, the idea of pumpkin scones popped into my head. Never mind that I had never actually eaten (or seen!) a pumpkin scone. They just sounded so right. I Googled a promising recipe. Like any good scone, it was labor intensive, all that cutting butter into flour, on top of a zillion spices. But the finished products were as perfect as a warm breakfast bread with hot tea on a chilly day can be. My daughters and I are now known to wake up, sniff the air, and declare it's "pumpkin scone weather."

Twelve-year-old Margaret is so fond of the scones that we have a deal: Any time she wants to bother measuring and mixing all those ingredients, I'm game to finish cutting in the butter for her and knead and shape the whole barely-held-together mix. (Because you don't want to handle scones any more than you do a good piecrust.)

Except this year, of course, we're still waiting on the pumpkin. I tried to talk her into experimenting with sweet potato scones, having found canned yam puree and also knowing how to make it myself, but she wasn't  having it. Nor could I tempt her with almond scones (my former favorite) or chocolate chip scones (what's not to like?!).

But I do know one thing: I'm gonna have to figure out a solution before we get to Thanksgiving and pumpkin pie. Anybody have a good completely-from-scratch pumpkin pie recipe? Meanwhile I'll share my (canned) pumpkin scone recipe, the one I pulled off the web and improvised over time:

Paula's and Margaret's Worth-the-Effort Pumpkin Scones

Mix together and set aside:
Cut up 1 cup cold butter in small pieces and use pastry cutter or fingers to cut into flour mixture until mix resembles coarse crumbs.

In a separate bowl, mix together 1 1/4 cups plain canned pumpkin, 2/3 cup buttermilk, 1 Tbsp. vanilla. Add liquid mix to flour-butter mixture until moistened dough barely comes together; don't overmix. Optional: Fold 1 cup chocolate chips or 1 cup chopped pecans.

Empty dough from bowl onto lightly floured surface (it will be messy and barely blended) and knead gently 3-4 times to bring together. Divide dough in half and pat each half into a round about 1 ½ inches thick. Cut each round in half, and each half into three wedges (so you have 12 scones). Place two inches apart on baking sheet.

In small cup, beat together one egg and a little milk. Brush atop each scone and dust liberally with large-crystal "sparkling" sugar. (Regular sugar melts and doesn't produce the same satisfying crunch. Margaret doesn't agree, but finely chopped pecans could make a happy substitute.) Bake 20 minutes at 375 degrees or until golden brown.

It's funny that loving orange is supposed to be the sign of an outgoing personality, because I'm naturally an introvert. (I'm a reserved Halloweenie, remember?) But orange is also associated with happiness, which makes more sense. Take that happy girl in the orange pumpkin get-up, above: She's me. It's my favorite among the legions of costumes my mom made. Notice my grandmother's babushka peeking out under the stem cap – all the better to keep me warm during the freezing Michigan trick-or-treating – and the genuine lucky penny loafers on my feet!

Maybe I'll get lucky with this pumpkin problem soon. At least I scored plenty to look at for my porch.