There are strange things done in the midnight sun...
~Robert W. Service
Happy Solstice Farmgirl friends!! You can tell it's solstice time in Alaska (and I bet about everywhere else, too)–there is so much going on from visitors to festivals to backyard parties.  Of course, the farming season is gearing up and the fields at Sun Circle Farm are almost at maximum capacity (one of these years a fallow field will remain fallow!)  Looking through my photos over the last month, I found that there were beautiful gems everywhere…
(While I have included the following photos, if you keep scrolling there IS one cohesive story to follow!)
Like these of the girls helping with farming and home gardening projects:
Or spending as much free time outside as possible:
Unsurprisingly, I have about three million photos of the farm progressing.  The difference a month makes is astonishing!
S
Even with all of these exciting, beautiful, adorable things going on, there is one story of true farmgirl grit that I MUST share with you all!  Okay, "true farm girl grit" is probably going a bit far. Perhaps it is more a tale of stubborn farm girl gumption, or slightly moronic sunlight mania filled delusion, or just a normal Friday night for the uber-adventurous.  You can choose your own descriptor!
I haven't shared here, yet, that Evan and I are FINALLY getting married!  If you've been around here long enough you will remember that we were engaged a long time ago… five years ago, shortly after I became the newest Rural Farmgirl.  Anyway, two kids and half a decade later, we are gonna make it official in the eyes of the legal system next month! woohoo!
In light of already being slightly non traditional, I chose to forgo a bachelorette party (because, really…am I a bachelorette?! haha).  My girlfriends seem to think that I still need a more social one, but we'll see.  Instead of the modern go-to of phalluses and booze, I opted to go for a solo one night backpacking trip with my dog. I figured this is something I would like to do if I was a true bachelorette.  I love traveling solo and it is something I won't have much chance to do for a long time.  So, I decided on Kesugi Ridge–a through hike within Denali State Park.  Since it is in the State Park dogs are allowed, and it provides magnificent views of Denali as you traverse a high alpine ridge through the tundra (sounds serene, right?).  There are options for hiking anywhere between 17 and 30 miles, and I opted for the 17 mile option.  My time was constrained a bit by work and kids, so it seemed like a good distance for a less than 24 hr. single overnight if I packed pretty light.
After picking up Evan from the airport, driving home, packing and doing other menial things, Moki and I headed out…at 5:30 p.m.! We ended up getting to the trailhead at 9 p.m., but I was determined to hike in at least five miles.  Luckily, the land of the midnight sun is no lie, so I knew i would have plenty of daylight to burn (it actually won't get truly dark up there for a few weeks…).
We embarked on our hike, the first few miles are a lovely 2,000 foot climb through forests of spruce, birch and ferns that give way to alder thickets, dwarf birch and high bush blueberry before eventually spitting you out into a rolling tundra ridge covered with crowberry, lowbush blueberry, mosses and lichens.  The lower parts of the trail, while beautiful and lush, seemed far too bear friendly for my liking.  So, I listened to podcasts super loudly and probably looked like a paranoid freak with bear spray in one hand a hunting knife at the ready in the other (like a knife would help at all, lol).  I was probably overly cautious, but it seems like bear activity has been at an all time high lately (two attacks last week and numerous sightings in unexpected places).
Plant sightings along the way: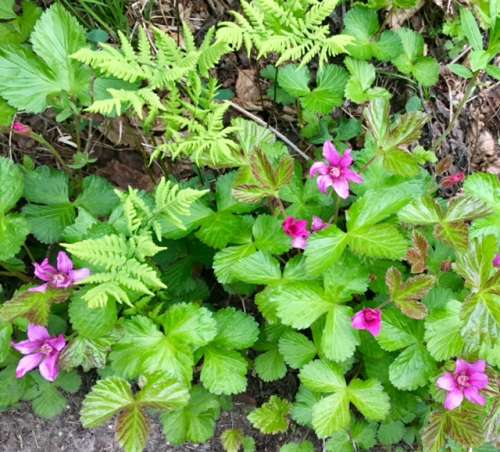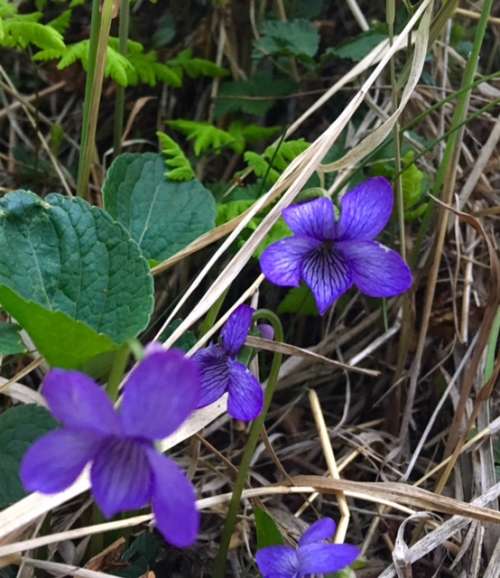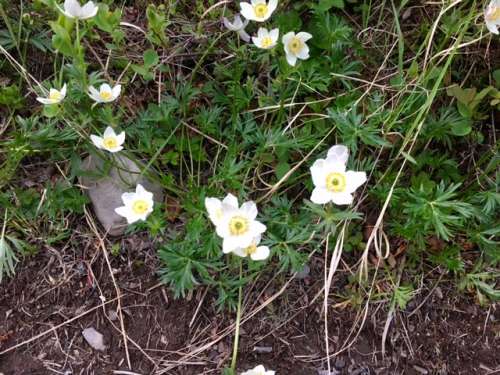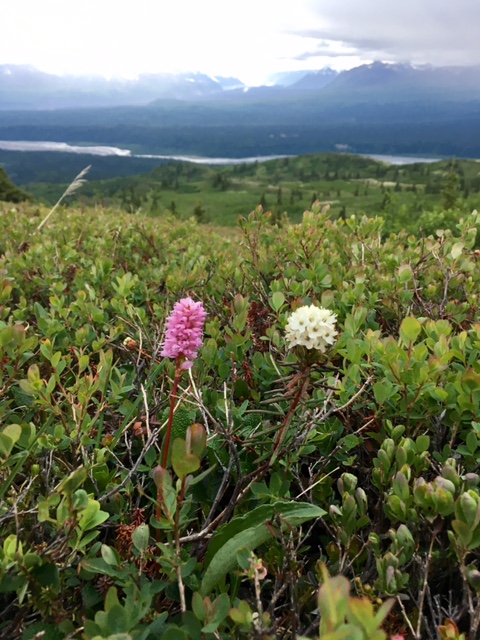 The ridge was breathtaking.  Beautiful, soft, welcoming tundra rolled on and on; large boulders, mountain streams, alpine lakes, patches of snow and huge scree fields beckoned me to keep moving on.  Eventually (at about 11 p.m.) it started to drizzle, which I expected and was prepared for. The smell of the rain in the midnight mountains was refreshing, clean and rejuvinating!  As we hit the five mile mark we came upon a perfect little protected lake, and I thought this would be the perfect spot to camp for the night!  Then two tents popped into view, so we decided to move on.  At about mile 6, we came to another pretty protected little stream and I decided to set up camp.  It was about midnight at this point but still plenty light out.  The wind was also starting to pick up.
The tent was set up, I was cozy and dry in my sleeping bag, and Moki was not enjoying the tent.  The wind was picking up, but I figured we could at least sleep a few hours before heading out.  The next thing I knew, the rain fly of the tent was being blown off and all of the stakes were being ripped out of the loose tundra "soil" as the wind got stronger and stronger.  The tent wasn't very tented anymore and it appeared like the poles were going to snap at any moment.  Moki was about to rip through one of the doors so I let her out, and I gave myself a few minutes to think about what to do…
Of course, at this point I was super tired.  I'm already an exhausted, sleep-deprived mom, but I was working off of the adrenaline and exhiliration of being in the mountains–alone with comparatively no worries!  I knew that camping was out of the question, but should I turn around or continue on?  I could back track six miles through known territory or go ahead 11 miles through the unknown (to me), perhaps finding a more sheltered camping spot along the way…
I ultimately decided to turn around, partially convinced by the direction of the hurricane force winds which would have been at my face if I had moved on.  The wind was so intense!  It made my cheeks flap like a dog leaning out of a car window, it ripped snot from my nose and forced mountain air into my sinuses.  I had to actively lean into the wind in some areas to avoid being knocked over (don't worry, a fall wouldn't have been disastrous).  Every time I stopped, Moki came and buried her head into me to get out of the gale. At times, the wind pelted rain at us (luckily mostly at our backs!).
You know what?! It was fun and exhilirating.  We hiked in this wind from approximately one to four in the morning and it never truly got dark.  I was well prepared with food, water and appropriate gear.  We weren't cold or hungry and we didn't see another soul on the trail.  We did see those tents, and they looked like they were getting flattened when we passed them on our way home.  While I felt bad for the inhabitants, it was good to see that we hadn't missed out on the perfect camping spot.  While my overtired brain thought many things–I flip-flopped between "This is amazing!" and "Why does nothing ever go according to plan?"
I stopped for a 3 a.m. meal of Mary Jane's Outpost freeze dried lentils and rice.  It's a perfect companion for lightweight hiking–just boil a cup of water, pour it in the bag and wait 10 minutes. After hastily packing my bag I couldn't find my spork, but the tent stakes that didn't stay in the tundra worked alright as chopsticks! YUM!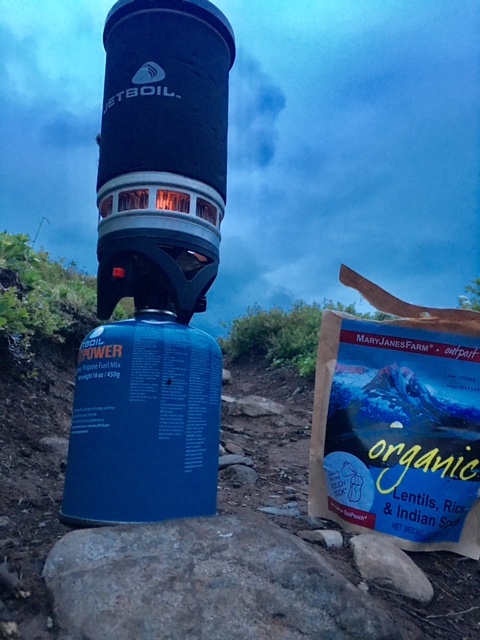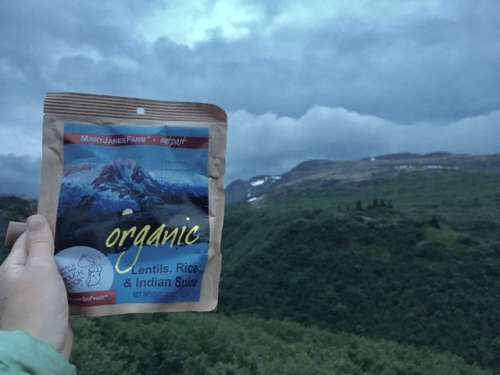 We finally got to the car around four and snuggled in for a snooze.  I ended up sleeping until 7:30! unheard of in my normal day-to-day! That felt like a treat in and of itself.  On the way home I stopped for breakfast where I ate enough for two teenagers before heading home to my happy family, who I had missed more than expected…even though I was only gone for something like twenty hours :).
Oofda. That was a long one!
What a bachelorette.  The next time I write it will be right before our big day!  Hope this finds you all well, and again, Happy Solstice from the land of the midnight sun…
Until next time, sending peace and love from Alaska,
Alex, the Rural Farmgirl