Living in the suburbs, I love our summers.  We've got four seasons in New England, each with it's charm, but my favorite month of the year is July. School ends the last week of June, and July's the time when we have the least on our schedule.  It's back to school at the end of August, so this month is when life is simplest, and American small town livin' is at its best.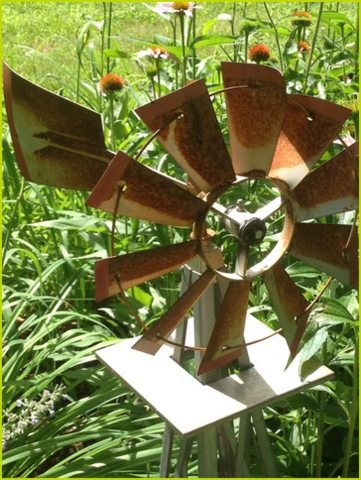 July is when the yard and garden is at its fullest, simply bursting with color! I love seeing what blooms each week.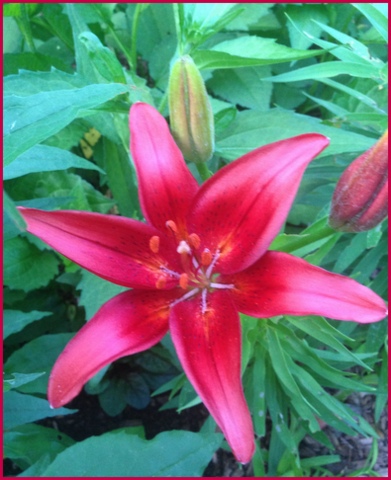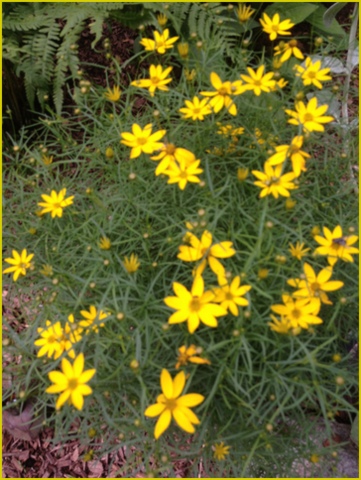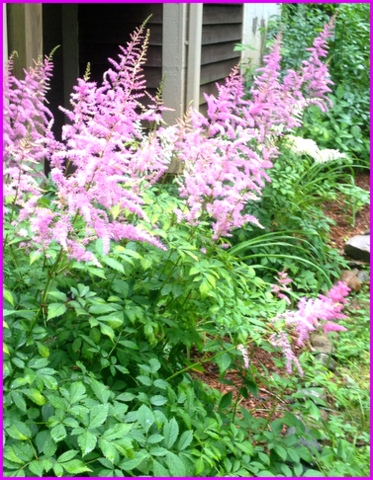 The Astilbe plant on the left is huge…twice the size of the one on the right.  The secret? Cooled ashes from summer barbeques. We found all-natural, compostable coals atTrader Joe's.
Summer flowers from the cutting garden grace the table.  I add fragrant sprigs of rosemary and basil, as well. Aren't the chicken salt and pepper shakers a hoot?  Salt and pepper shakers are yet another item I collect, that I change out seasonally. To fill my shakers easily, I invert a decorative, clean tip from an icing bag, using it as a mini funnel.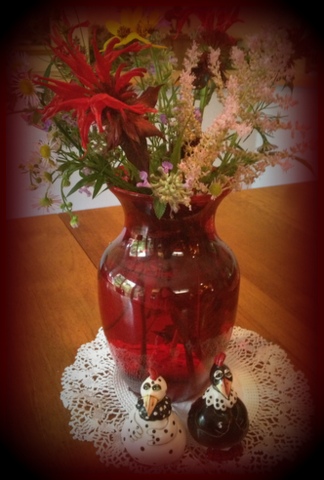 July means jam simmering on the stove, and that starts with sweet berries! The last month, our part of the country has had more than our fair share of rain! (Wish we could send some of it to the Southwest)! While the raspberries aren't quite ready, all this rain has brought on a great crop of blackberries, much better than we have seen in several seasons.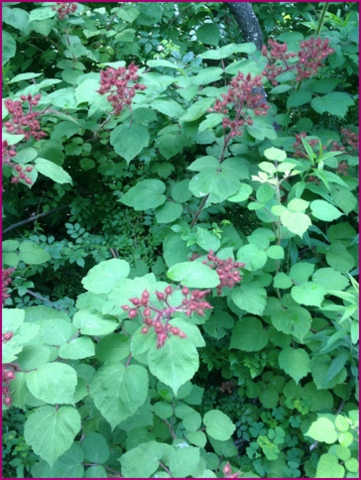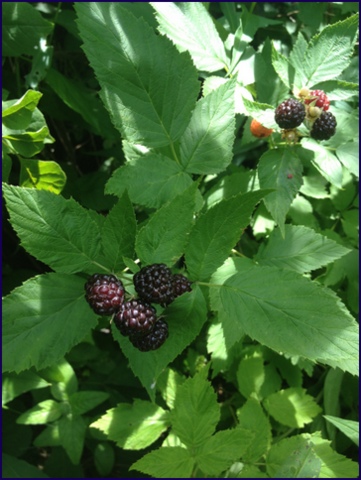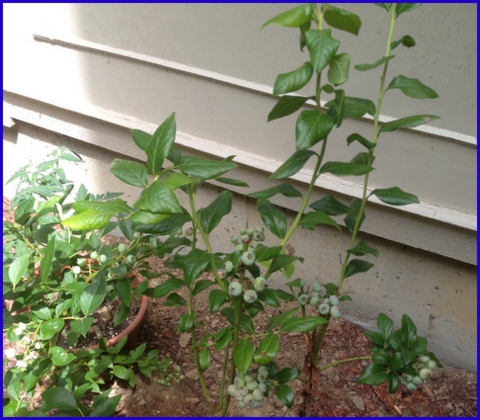 We've  added some blueberry bushes this year.
July means relishing in one of life's simplest little pleasures – a glass of something icy cold on a shady porch.  Our family loves homemade lemonade, (made with less sugar, organic lemons and none of the preservatives found in store bought), fresh-brewed iced tea, and lime-cucumber water…so refreshing!  Simply add slices of cucumber and lime to a pitcher of water and chill in the fridge for a few hours.
I don't have a "Glamper" (yet!), but I imagine when I do, it will be decorated in much the same style as the back deck. Patriotic and vintage!

July is not waking up to an alarm, but to the sound of birds singing.  The last little nest of birds we watched flew away on the last day of school, just as we were coming in from the bus.  We had such a stressful school year, seeing them leave the nest felt symbolic!  We were surprised that the nest we thought housed three baby birds, actually housed five baby birds!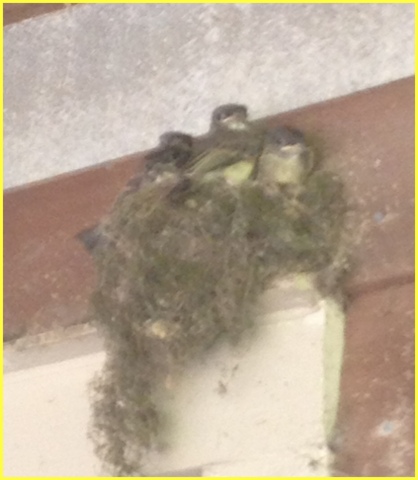 July means the return of little "critters" of all sorts. (I'm a little disappointed that we didn't get the invasion of cicadas that were promised.  Did you get them in your area? Was it as loud as the experts predicted?)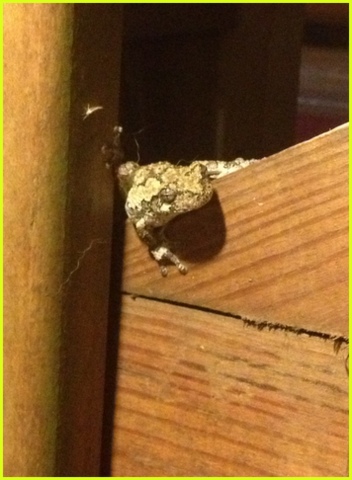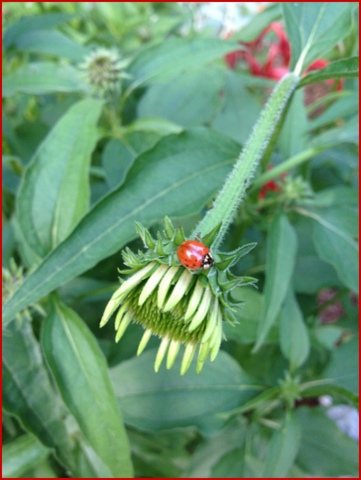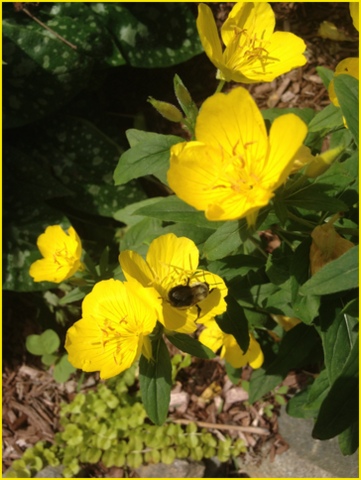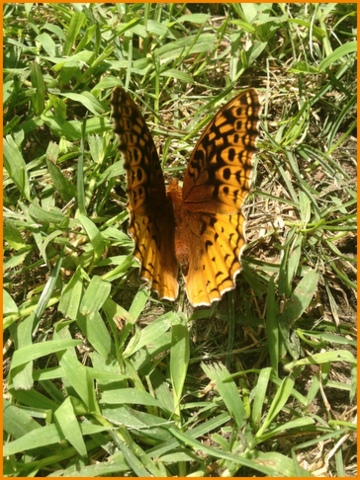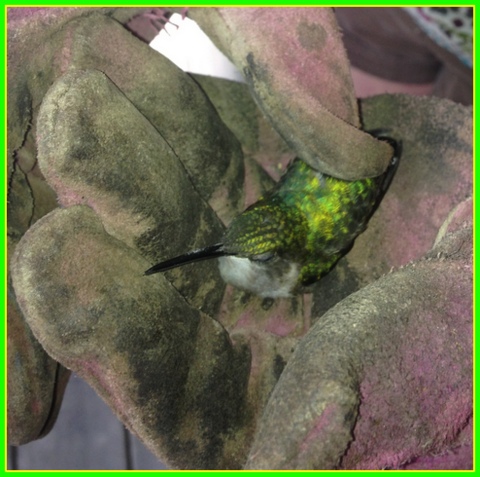 This sweet little hummingbird crashed into the glass right in front of me –  I almost stepped on it!  It sat in my hand in the rocker for a few minutes, even letting me stroke its head.  When I stopped, it would open its eyes and look up at me as if to say, "Don't stop!"  After a bit, it flew over to the feeder  and was a happy hummer the rest of the day.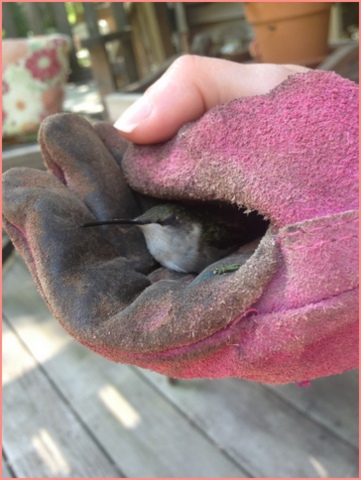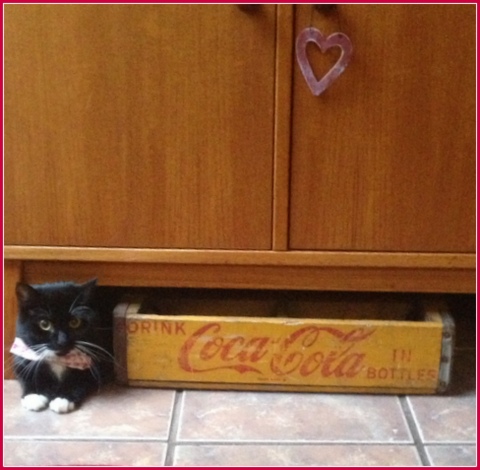 "Mittens" has a favorite spot in the kitchen – right below the window in the kitchen so she can watch the hummingbirds!
July is the joy of carnivals, farmer's markets and county fairs…Americana at its best.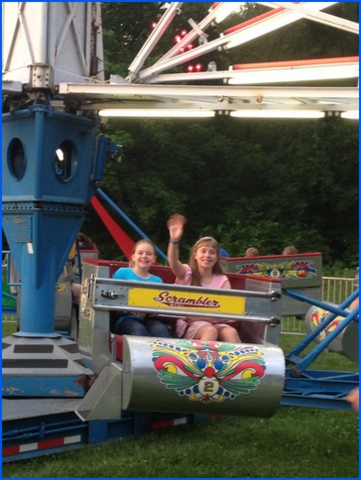 My daughter and her BFF at this year's town carnival – a family tradition
July
is laughter,
Friends
,
swimming, and slumber parties fill the house with the sound of kids getting a chance to just be kids.  It's easy family time – time to just relax together
.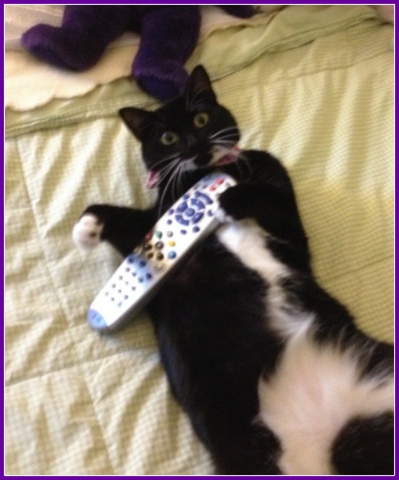 "Wanna watch a family movie?"
July is red-white-and blue!  My heartbursts with pride at the sight of the flag blowing in the wind. How lucky we are to have the freedom to enjoy simple pleasures  that many others do not. What joy it is to embrace the unique beauty each state offers. How blessed we are that so many brave men and women have fought so fiercely for us all!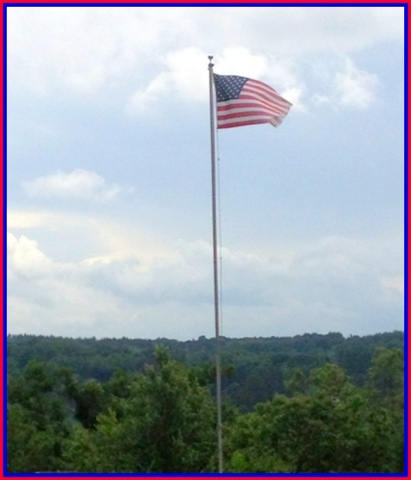 The sight of a flag blowing in the wind fills me with patriotic pride.  A special thanks to the Santella  family  for letting me take this photo in their beautiful yard of this breathtaking view of town.
Wherever you may be, I hope you are enjoying July!  What simple farmgirl pleasures make you happy this time of year?  Share with me in the comments below.
Until next time…Farmgirl Hugs, Nicole