I love birthdays!  I think life's meant to celebrate the special days, and birthdays are one of those days.  I'm not into giant celebrations – I don't have a big party or go out until the wee hours.  I do like to have lunch with a friend, or bake a birthday cake and have a nice dinner with my husband and daughter.  But some birthdays are milestones, and the one I'm hitting this month is a big one, so to speak.  Have a piece of cake with me as I share what I've learned so far…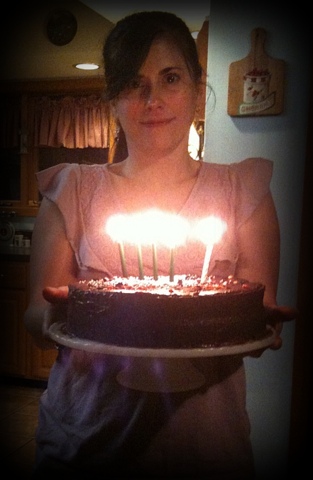 Turning forty isn't the dreaded number I thought it'd be.  I've known those who started worrying about it eleven months before their actual fortieth birthday!  Honestly, I don't feel much different than the last couple of years.  Physically, I feel better than ever! Much of that has to do with lifestyle changes I made after finding MaryJanes Farm.  Yes, I'll say it again; organic food makes a huge difference!  In my twenties and early thirties, every time I turned around I had a sinus infection, cold, or virus.  Run down, I didn't have the proper nutrition to stay healthy.  I'm also not killing myself at a gym for hours on end, six days a week.  I exercise and am very active, but not in the same way as in my twenties, when it just about consumed everything.  I love a little "glam";  I'm not letting myself "go", but the outside isn't as important as it seemed twenty years ago… a freeing feeling, and something I've instilled in my daughter.  I'm not trying "fad" diets, not eating chemicals and preservatives, but eating "real" food.  Consequentially, the result is better skin, thicker hair, and boundless energy to keep up with what I want to do.  Eating healthy is the best present you can give yourself and your family.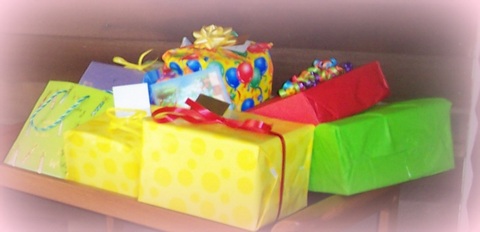 I have an older brother.  There's a large gap between us, so as a kid I sometimes felt like an only child, and often  "observer" to my parents' antics.  When they turned forty, it was depressing!  Dad hit forty first, and Mom played a practical joke by stuffing  Dad's clothes with newspaper, creating a "dummy" to lay beneath a sign in the front yard announcing he'd hit the big "4-0".   My grandmother gave Mom a wig to use with a stand for the dummy's head.  Before they could get it all set up, the police were called because a well-meaning neighbor thought someone had collapsed in the yard!  Then there was the party.  Everyone showed up wearing black like they were attending a funeral and brought gag gifts.  The cake looked like a tombstone.  When Mom turned forty, Dad put a sign on the back of the car proclaiming, "Honk! I'm forty today".  The ride home from school that day was a scary one, I tell you!  Dad threw Mom a party, too, with the theme "Over the Hill".  I'm not "Over the Hill"…I'm still climbing!
I think we can get in a rut no matter what our age.  Someone suggested I do something crazy this year for my birthday, like get a dramatic new 'do.  Honestly, I don't feel the need for such drama.  It's always great to try new things, be it a new recipe, a hobby (I teach knitting classes and my students are all ages), or trying something we never thought we could do.  I'm the "Klutz Queen", but recently started taking a Zumba class after seeing how much fun my daughter has in her dance class.  I'm not "J-Lo", but for that hour I'm having a blast!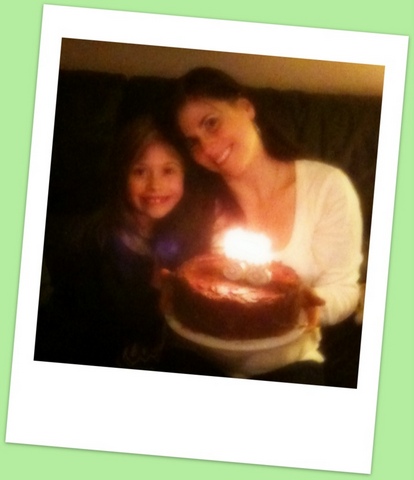 The best birthdays are with my girl and my hubby!
Forty brings a better sense of self. I know who I am. Ten years ago, turning thirty, I was expecting my daughter, nervous about being a mom, and feeling pressure that I was turning into a "grown-up", (never mind the fact that my husband and I had already been married ten years,  moved across the country, and by then had owned our own business for several years).  I was more nervous back then, didn't always ask a lot of questions, and wasn't sure of the future. I've learned we can NEVER be sure of the future.  But, when a door closes, there's always an open window somewhere.
30th birthday spent with family
I've faced things I never dreamed I'd have to, but also found strength I didn't know was there.  Life's not perfect, but you can choose how you react to it.   The other day a friend called after she'd had a bad day and needed to vent.  She commented that she didn't know how I could be so "happy" all the time; is it real?  What's my secret?  There's no secret.  When things get stressful, you can only do what you can, and only control so much.  Don't get bogged down in worry.  One day at a time. Count your blessings. Choose to be happy.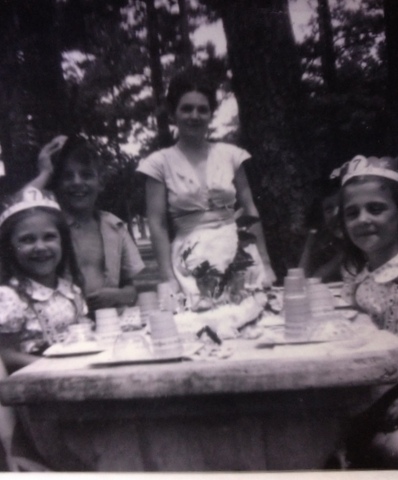 1949, my mom (left) and her twin celebrate their 7th birthday.  Look at my grandma…wasn't she chic?  A true farmgirl, she grew up on a farm.  Very creative, she made all of her and her daughters' clothes, and designed most of them herself.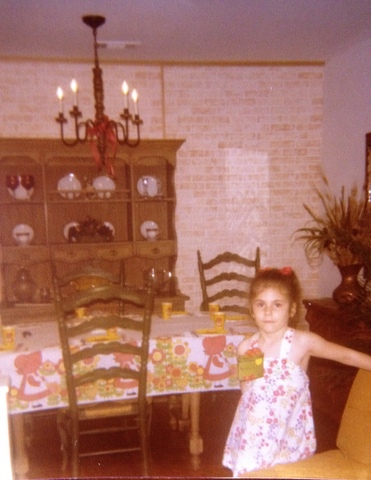 My fifth birthday, waiting for my friends to arrive.  Don't you just LOVE the Holly Hobby tablecloth? So "Farmgirl"!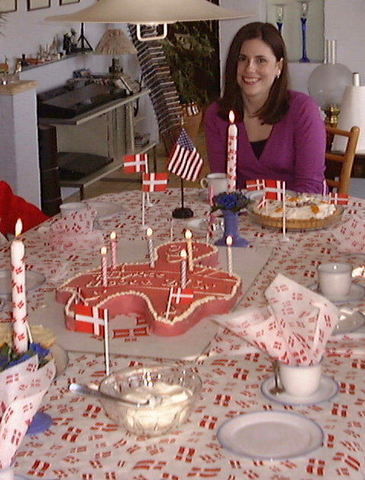 My 29th birthday was spent with my hubby's family in Denmark.  See the cake?  It's a traditional Skagen, Denmark birthday cake.  Males get a more masculine version.
Life's short.  A longtime family friend recently passed away.  I'd spoken to her by phone in December, and despite a long illness, she was upbeat, happy, and staying busy.  I have the last letter she wrote me six weeks before she passed.  She wanted to meet for lunch when I got in town.  Attitude makes such a difference. She never slowed down, and never stopped planning.  I thought, "How young she was"!  Then I read her obituary.  She was young – only 84.
My dad recently told me, "Life begins at forty."  Look out world..I'm just getting started!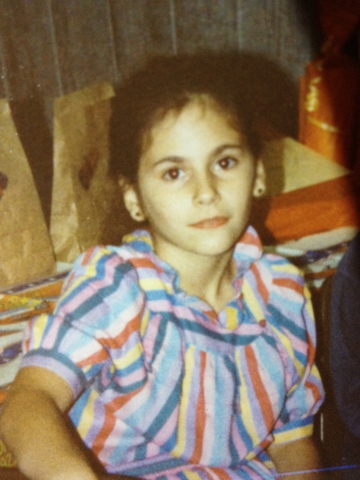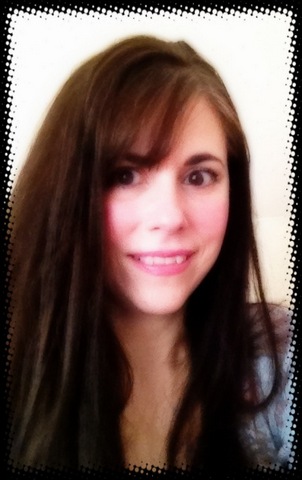 Birthday milestones…fourth grade and forty years!
For me, I find forty brings a broader, more mellow perspective on life than before.
Other life lessons I've learned:  Being a nice person doesn't mean allowing yourself to be trampled on, you can stand up for yourself and still be polite….Family's the most important aspect of life…Once you have kids your heart beats with theirs… True-blue friends are blessings; nurture those friendships … A day in the garden can do wonders for the soul… Bloom where you are planted…Dreams do come true, (but be patient, sometimes, not always as quickly as we'd like them to)- NEVER, EVER stop dreaming!