Close to New York City, our suburban town is sandwiched between two other big cities, yet also surrounded by very rural areas. Driving on our highways, you might not think "farms", nor on our Main Street with the bustle of traffic. Yet, nestled on a little back road IS a farm, with some of the friendliest and most interesting livestock imaginable. Come visit with me, the "Suburban Farmgirl" and meet my friend, A.J., a "Suburban Farmer".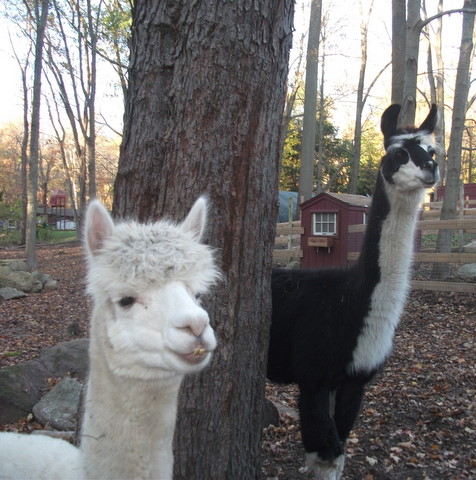 I first met A.J. fifteen years ago, at my vet's office, getting to know her through a mutual close friend. A.J.'s done some interesting things, such as be a curator at a historical museum, and serve as a certified wildlife rehabilitator. She was a vet-tech for twenty years, but wasn't fulfilled, feeling like she was dealing more with disease and death than making the difference she longed to make. Wanting to be a farmer, she knew she'd have to be self-employed and self-sufficient.  A.J.'s a true example of a modern-day homesteader.  She reuses and re-purposes, eats yogurt made from goat milk every day, gathers fresh eggs, spins her own yarn with her antique spinning wheel, and makes her own brand of goat milk soap.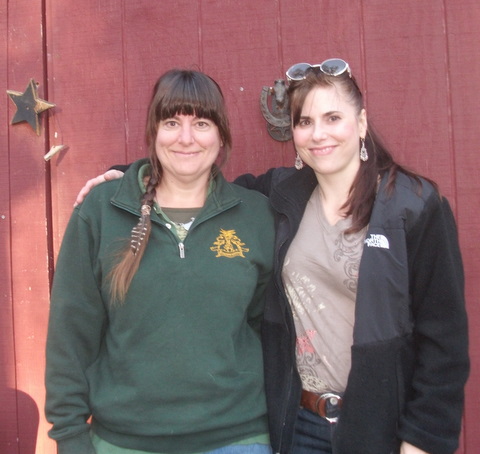 My friend A.J. and I on a recent visit to her farm.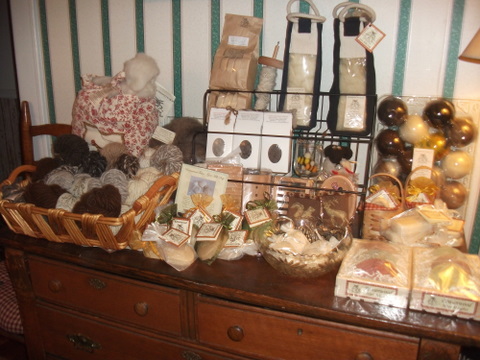 Some of the homespun items that A.J. creates.
It took eight years to build her farm, Rowanwood, the way it stands today, with the goal of aiding farm animals that could become extinct. Her livestock includes Alpacas, Olde English Baby doll sheep, and rare Nigerian Dwarf Dairy goats – the cutest things! Her farm's cruelty-free, and the rare breed animals there are her pets. The little goats are no bigger than medium-sized dogs. Upon visiting recently, I was surprised at how sweet and affectionate the goats are. Greeted by the entire herd of curious on-lookers, I became especially smitten with Rosie, who gave me 'kisses', and would playfully rub my leg with her head as soon as I stopped petting her. Rowanwood Farm just got its USDA license to be a petting zoo, and A.J.'s training her animals to visit nursing homes, schools, and to attend birthday parties. She's also the only licensed llama-trekking company in the state, taking people in the forest hiking with llamas. A.J. wishes to instill a respect and love of nature.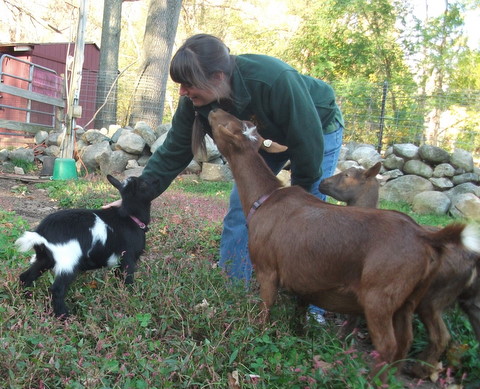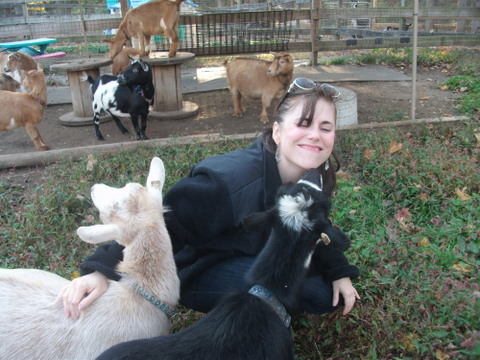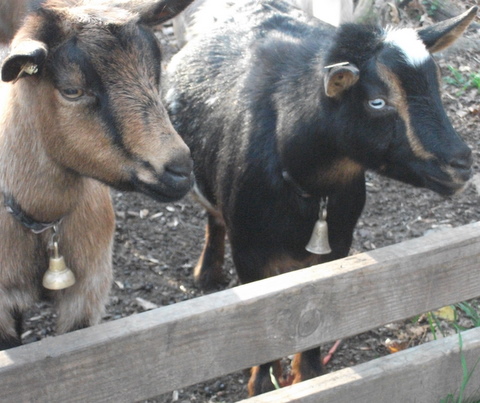 At the farm, the inside of the barn is so cozy. I also noticed that it's "cleaner" than most typical barns housing livestock. This is due to the smart Norwegian design of the floor, which is raised from the ground and slotted. This allows the animals' liquid waste to fall through to the ground, and the solid waste to easily be swept where it will be used as compost. Inside, she re-purposed an old wooden crib to hold hay, and old slides and playground equipment sit outside for the goats' entertainment.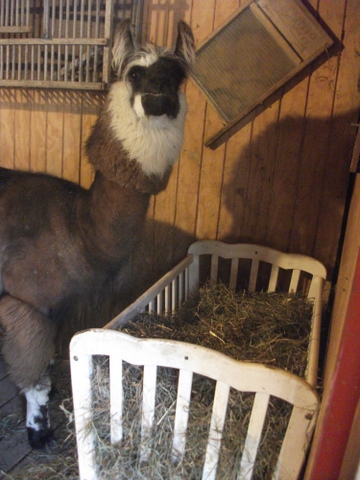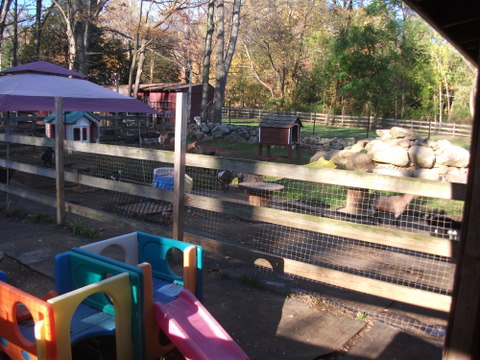 A.J. keeps plenty busy, and her work changes with the seasons. In autumn, she can be found at craft shows and events, dyeing yarn in her cauldron, bringing in hay, breeding animals, and doing construction. In the winter, she keeps busy shoveling and spinning wool by her fireplace. When spring comes, she's birthing baby goats. Summer finds her selling her wares at various farmers markets, and working long hours making her amazing soap. She must do the soap making when the windows can be open due to working with lye. A.J. learned the art of making soap from a retired master soap-maker. A.J.'s rare breed goats produce super-fatted milk, making for the best quality soap. Her soap comes as a 2.5 ounce bar, selling for $3.00 a bar at local shops, farmers markets, and grocers.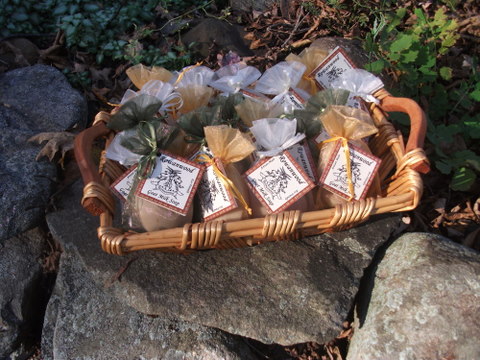 A.J. 's goat milk soaps all come wrapped up so pretty in beautiful metallic chiffon drawstring bags.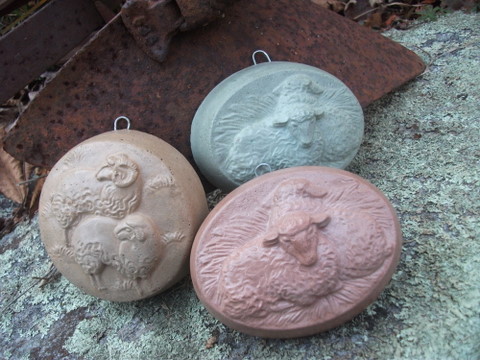 She also makes and sells "wool weights" of her own design. Pretty and functional,  I have a set hanging in my laundry room as decoration.
Soap-making is a labor of love for A.J. It's a great deal of work, taking six weeks to make one batch. A.J. says most commercial bar soaps can no longer be called soap. Due to their synthetic ingredients, they are referred to as "beauty bars". My household loves A.J.'s soap. My husband has suffered for years with dry skin and psoriasis, and by using a more natural soap, his skin has improved. Winter's not so uncomfortable anymore. A.J.'s soap contains essential oils, botanicals, and soap-maker scents in over forty varieties. My favorites are the lavender and the oatmeal. Goat milk's known for its healing properties, and like a fine chocolate, her soap uses the milk as its main ingredient. Its creaminess is a luxury, and lasts a long time. With the holidays approaching, A.J.'s soap is one of my favorite hostess gifts to give. (Each one is wrapped beautifully in a pretty fabric bag). Sometimes I'll add a jar of my homemade jam and a dishcloth to go with it, for a nice "homespun" gift. (To inquire about her soap, reach A.J. through her website at www.rowanwoodfarm.com) . Do you have some favorite little gift ideas for this time of year you'd like to share? Drop me a comment below.
While so many of us farmgirls can only dream of real farming, I admire A.J. for pursuing and living her dream, and for her deep respect and love for animals, nature, and the outdoors. She's an inspiration and a true farmgirl!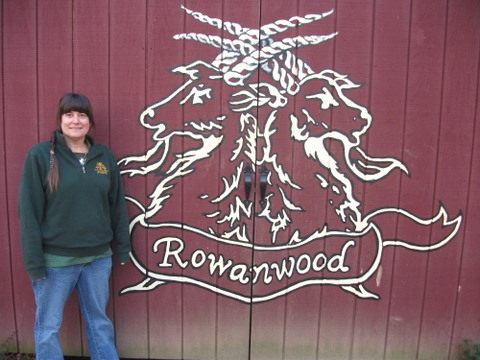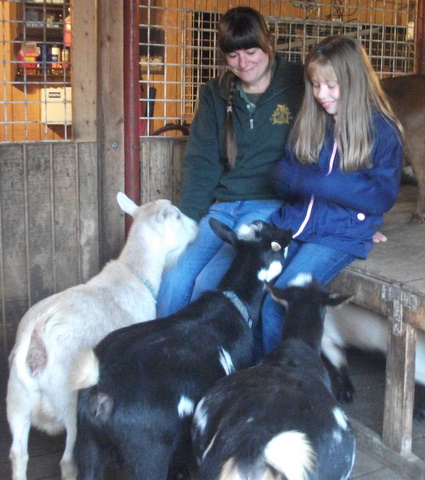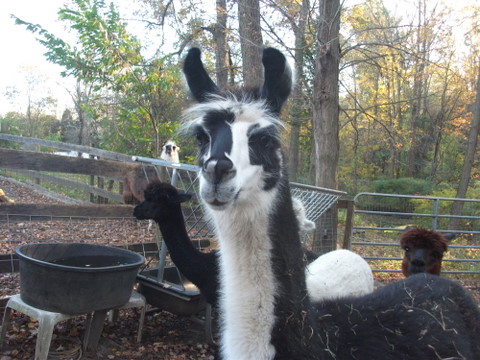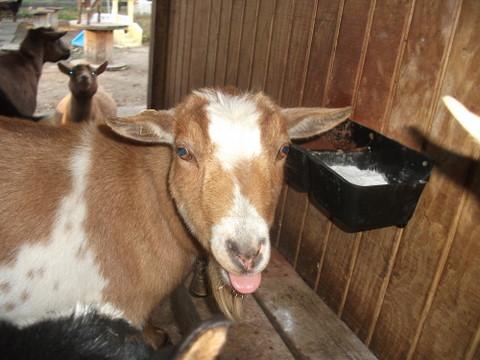 Happy Holidays!