Winter Storm Alfred reared its ugly head on October 29th, hitting Connecticut with one of the earliest snow storms anyone's ever seen. Nobody believed the forecast, and were we sorry! No one was prepared for what happened next. Have you ever been caught off guard by extreme weather?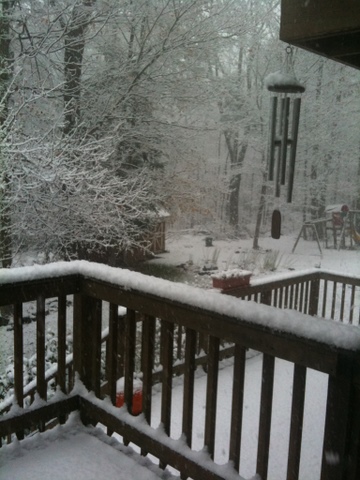 Winter Storm Alfred dropped a blanket of snow within minutes of starting…
That Saturday was going to be a fun day. I was supposed to host my Farmgirl Sisterhood Chapter Fall Get-together that day, but by mid-morning after watching the weather, we agreed to reschedule.
I wasn't worried about the storm. My husband was home, not feeling well. We'd make the best of a cozy, snowy evening. It snows here a lot, and even blizzards aren't too bad if you aren't out driving. I had a vision of homemade soup, pumpkin bread, and knitting. My plans were never to be.
We lost power at two in the afternoon. Since I have a well, it meant no running water or flushing toilets, either. My husband hadn't gotten around to cutting firewood yet, so we all decided to go to bed early, it being such a cold evening.
At three AM, I woke up to a very ill family. Both my husband and daughter were spiking high fevers, 103.5 and 104.7, respectively. I'd usually put my daughter in the tub to bring such a fever down, but couldn't do so without water. It was a scary night. In one second, we went from a life of modern conveniences to feeling like helpless cavemen!
To make a long story short, we ended up with no electricity for a week, both my husband and daughter came down with pneumonia, three trees fell in the driveway (one blocking my car),  no way to charge a cell phone, no way to heat food, no water, and no home phone. Trees and power lines made roads unusable, and our entire town was without power, an eerie feeling. On Sunday, my husband got the energy to move the generator out of the garage and plug it in. It worked for six hours… then blew up. By Monday, the house was so cold and dark, we couldn't stand it. Outside was icy. We ended up eating melted ice cream one night for dinner. I puzzled at how it could be so cold, yet I still ended up losing the entire contents of my fridge and freezer! When the temperature outside did warm up some, the inside was still freezing. I wanted to stay in bed all day! The town banned Halloween, and all its festivities. We became a ghost town, pardon the pun. Hotels were booked within a 100-mile radius.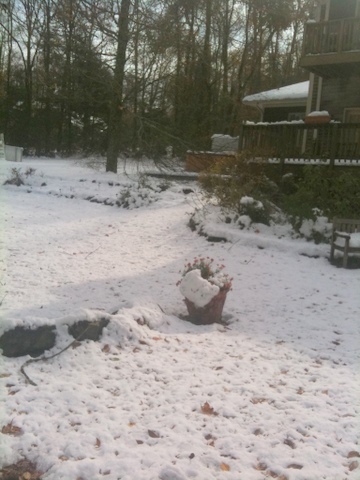 Fall mums took a beating, and large branches fell everywhere.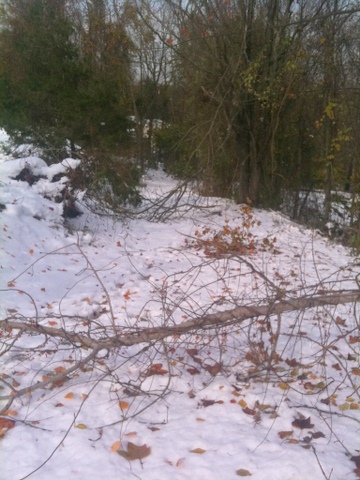 A view of the top of the driveway.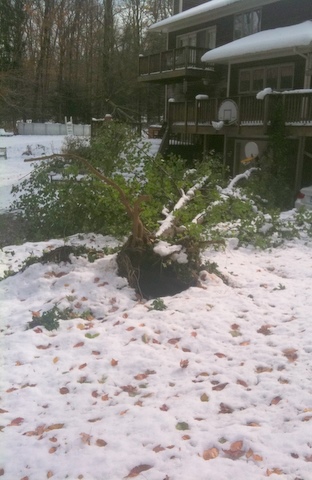 My beloved pear tree split in half and tumbled behind our garage. I planted it when I moved in seventeen years ago. My daughter loved to climb it, and it served as home to birds and squirrels. Luckily, no trees hit the house.
Thankfully, my dear friend Betty (who's a Farmgirl sister) let us come to stay at her house. We trudged up our long snow-covered driveway, over one tree, under another, and drove my husband's car (which we had parked at the top, thank goodness) two towns over to stay at her house. I'm so blessed to have a friend like that. She and her husband showed us such hospitality. I'll never forget their kindness and generosity. She's a true, blue friend! One of my husband's coworkers came over to our house on his day off to help cut and remove the trees. Another dear friend, Valerie, made us a hot breakfast and dinner, and had us wash clothes in her washer and dryer, even though her family had just gotten power themselves. My friend Camille let us "thaw out" our pet fish at her house. He was on his side on the bottom, looking a funny ashen color. (I'm happy to report he's so happy we have heat again, he's made us a nice big bubble nest)!
Then there were the firemen and volunteers handing out ready-to-eat meals and bottled water at the firehouse. Here they were in the cold, helping others, while their homes had no power, either. During Hurricane Irene, we had someone anonymously pay our bill at a restaurant, with a note of blessing written on it. I'll never forget it, and plan to "pay it forward". Kindness from strangers can make a world of difference.
This week, when the power was restored, the fridge stocked, and the hustle and bustle of "normal" returned, I was greeted by a neighbor, who upon hearing about my ordeal, stopped by with a loaf of warm pumpkin bread. It warmed more than my stomach, I tell you.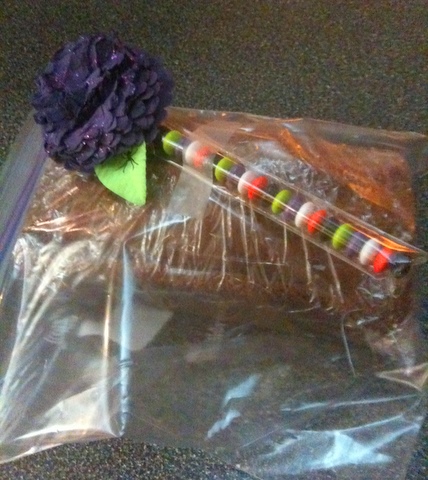 Looking back, I don't know what we would have done without the help of others. It's really made me reflect on the word "FRIEND", and what kind of person I want to be. In this age of Social Media, how many real friends do you have…those you could call on in an emergency? What about those who may be far, but love and worry about you, just the same? The prayers and thoughts of far-away friends on Facebook gave me a boost. Times like these really show you who cares, and I feel blessed.
Has Mother Nature ever surprised you? Have you had times when you had to rely on others for help? Post me a comment, and tell me.
HAPPY THANKSGIVING!!!