I had planned on writing on a different topic today, but life took a turn that inspired me elsewhere.  Are you a plan-ahead type of person?  I would say I'm notorious at planning-ahead.  Maybe it's just my personality, or the fact  I was a young Girl Scout, and the motto "Be Prepared" stuck. In any case, when we heard unwanted guest Hurricane Irene was heading our way, I got busy. But no matter how much preparation or weather reports you keep updated on, when it comes to Mother Nature, sometimes you don't know what's in store for you, and she reminds you of the most important life lesson.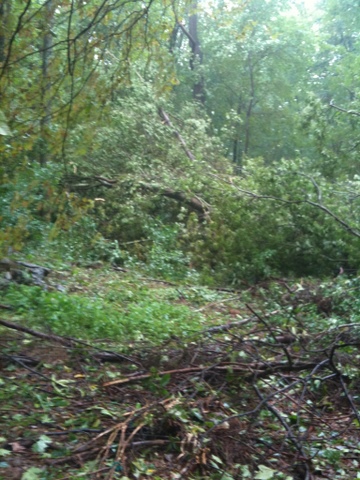 Having grown up in Houston, Texas, I've "been to the rodeo before" living through extreme weather.  In fact, one of the scariest moments of my life was surviving a major hurricane at age ten. No matter how protective my parents were, I still knew we were  vulnerable.  My brother, a policeman, had to work the storm. Downtown, glass was flying out of high rise buildings, and streets were flooding everywhere.  He stopped by the house to make sure we were okay.  I remember wondering if it was the last time I'd see him as he bravely went back to his patrol car, the wind fighting to topple him. He made it through unscathed, seeking shelter in a driveway until the owners went out and invited him into their home. A tree fell in our backyard, but we made it through, with memories seared into my brain forever.  As an adult,  there was Hurricane Katrina, an event we watched on the news with horror, followed by Hurricane Ike that my family in Texas had to endure.  They told me stories of no power for three weeks, of damage, destruction, and people turning on each other when stores or restaurants opened.  A year later I visited, and was saddened at the missing landmarks, and the moldy and abandoned buildings.  Then when you think of the loss of life, it's overwhelming.
Living in New England for almost twenty years, I felt like we were "safe", that we would not have to face Mother Nature's extremes, save for the occasional blizzard.   This past week could've sent me over the edge, having had an earthquake and a hurricane all in the same week!
To prepare, I shopped for groceries, finished back-to-school shopping, filled tubs and bottles with water, took in patio furniture, and harvested what I could from my gardens. I packed an emergency bag in case we were evacuated. I washed all our laundry, and made a "bunker" in our basement, carrying down a mattress and linens from the guest room. I found my first aid kit was lacking, and stocked it. I filled my car with gas, baked a casserole, homemade cookies, and  made a favorite chickpea and veggie salad. Then I cleaned my house top to bottom. My husband teased me about this, asking if water coming in the house would then be "clean" water, but it made me feel better nonetheless. "Who knows if the power goes out, when I can vaccuum again?" My husband went to the meat market for organic chicken, hamburgers and fresh sausage, which we grilled the night before Irene hit.  While a coworker teased my hubby about this, in the middle of the storm we thought,  "They might be eating Spam and canned beans, but we're eating a great meal!"
All kidding aside, when it finally hit, that feeling of being vulnerable and helpless hit, too. We were all upstairs  in the master bedroom, when the power went out. We could hear the screaming wind.  Then we heard what sounded like a steam engine, and at that point, we fled to the basement: Mom, Dad, daughter, dog, two cats, and betta fish in a bowl. Down there, we didn't hear too much except for some very loud pops. Family got through, calling us with Weather Channel reports, saying how we were hit head on and hard, with tornadoes popping up all over. Surrounded by woods, our biggest fear was a tree crashing onto the house, as we heard reports of folks in other states losing their lives when that very thing happened.
During the storm, we read, ate, prayed, and played games.  Despite the predicament, it was actually some fun, overdue family time. Every cloud brings a silver lining, I suppose.
When it was over, we went out and surveyed the shocking damage.  The loud popping noise we heard were trees coming down in our woods… several BIG trees, one over five feet in diameter!  All were snapped at the base, twisted around like shredded toothpicks. The trees piled, one on top of the other, are several stories high.  Guardian angels were definitely looking out for us! It seems a twister came through our property, starting in the woods and winding up toward the driveway. One tree was blocking the driveway, but not so big that we couldn't move it.  The "wall" in the woods is made of big trees, and had one of them fallen the other direction, our whole house would have been flattened- or worse.  Small sticks are shooting up from the ground, driven down with force like stray arrows.  Trees are down everywhere, and five days later there's 78 percent of our town still without power. Cars are flattened, schools are closed, and roads are blocked. Homes are flooded, businesses are damaged. Firefighters and police, away from their families, worked that storm, as well as newscasters and now those trying to restore power.  Remember to say thank you when you see them, as they risk their lives everyday to make sure ours are safe and comfortable.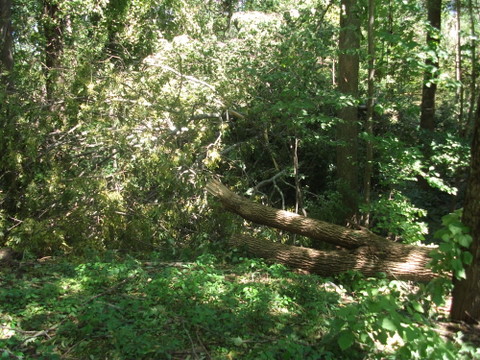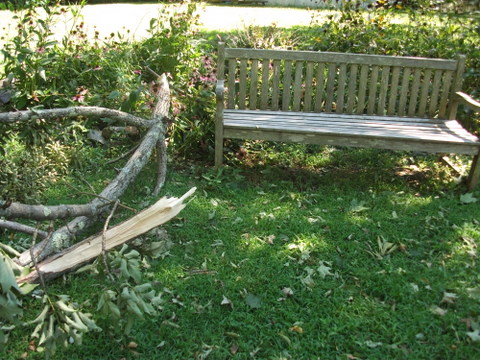 This large tree branch just missed my favorite bench. Flower petals are still on the flowers, but giant trees are toppled.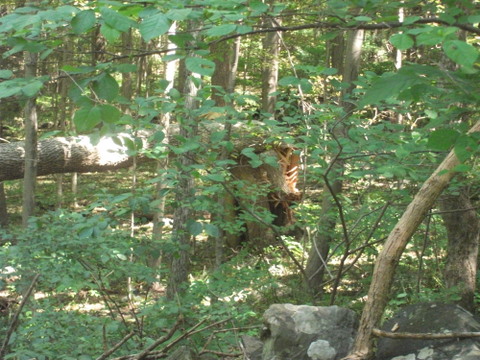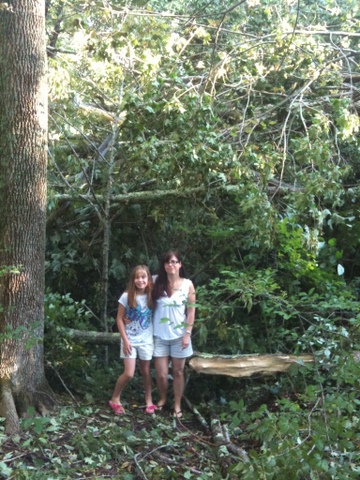 Here we are in front of the "wall of trees".  The stacked trees, one on top of the other, are as tall as the house.  Fortunately, they are in the wooded area of the yard, and missed the propane tank and garden shed!
I'm writing this at a friend's house, because my home has no electricity, except for what is partially powered by a generator. The yard's a disaster, and we've started the cleanup. In farmgirl spirit, I washed clothes by hand using a vintage washboard, hanging them to dry on a clothesline I fashioned from phone wire and my daughter's swingset. We're grilling every night on our barbeque. There's water damage upstairs, but no flooding. We aren't displaced.  I've got much to be thankful for.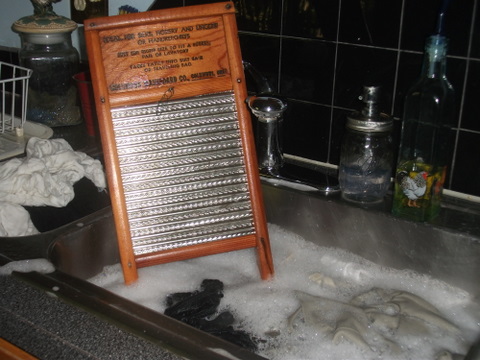 My washboard was purchased at the flea market to use as a decoration for my laundry room. It came in handy, and got my daughter's white socks cleaner than I've ever seen!  Below, my "clothesline".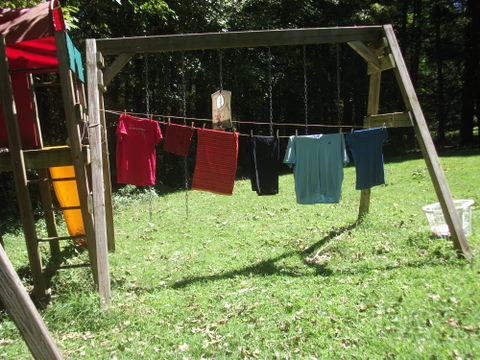 Sadly, people in several states lost their lives due to Irene. My heart goes out to their families. Stuff can be replaced, loved ones lost are gone forever.  I am blessed and thankful no one I love was hurt. I wonder how long and difficult it'll be removing the downed trees, and how long we'll be without electricity. But, as I hang my wet clothes on the swingset, Louis Armstrong comes to mind. "I think to myself…what a wonderful world".