I love imagining farm life and livin' on a farm, (however, I'm in the Suburbs).  I dream of having chickens.  Backyard chickens are gaining in popularity, but I've gotten no further than ordering hatchery catalogs and having a chicken motif in the kitchen.  Having read up on the subject, raising poultry is one of those things I need first-hand experience on, to be shown what is involved.  Come with me as I visit my friend Susan and her family, and meet a real "Chicken Whisperer".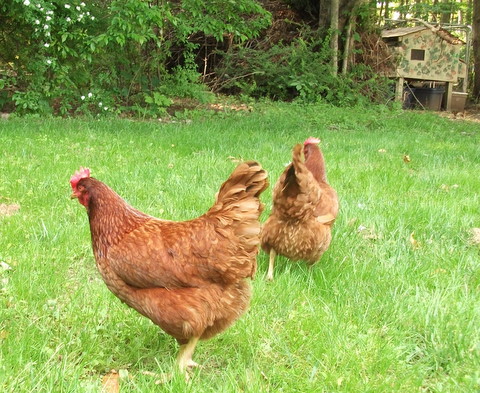 I met Susan almost two years ago when our kids were both in the same class.  She's a 'farmgirl' for sure, with a beautiful warm smile and a big garden.  The Burbanks live down the street from me, and just a block down is one of the busy, main roads in town.  Imagine my surprise when driving in my car, and a flock of Rhode Island Reds crossed my path…not something you see everyday.  Susan had chickens!  My name is Nicole, and I suffer from "Chicken Envy".  Susan graciously agreed to give me the "411" on raisin' birds in the 'burbs.
Susan's had chickens for two years. She put her first chicks in a barrel with sawdust while her hen house was constructed. Her newest babies are Black Australorps, now two months old, who will lay eggs at seventeen weeks.  Right now, the babies are kept in a re-purposed rabbit cage in the garage. Because they love to perch, they can be quite messy.  Sweet, docile birds,  their black feathers have a beautiful green sheen in the sun. The Burbanks say this type of chicken reminds them of penguins, with their white patches of feathers.  They don't like to be alone, and one even started to go to sleep in my arms!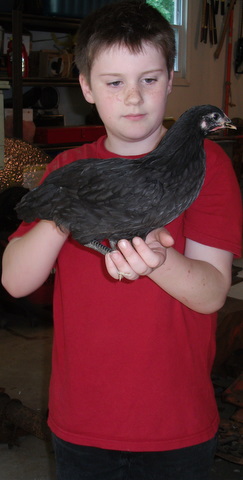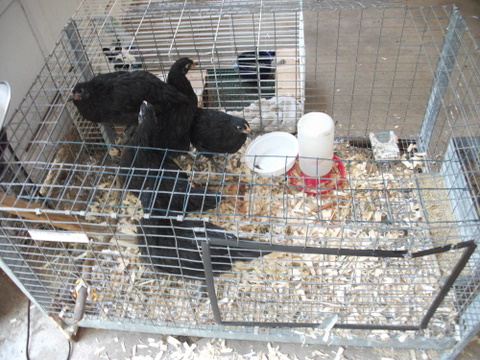 Top pic:  James introduces me to a  "Black Australorp".
Bottom pic: "The Nursery"
Susan's "girls" in the hen house, now two years old, are my favorites:  Rhode Island Reds and Red Cross.  Susan hasn't tried mail-order chickens, feeling you have to order too many.  Instead she purchases chicks and feed at TheTractor Supply.  She started with six chicks, and later added the four Cross Hens.  She ended up butchering her roosters, which she said in the end was not the drama one would expect.  Plucking the feathers was rather easy, and the whole process took about a minute and a half.  The only issue she ran into came at cooking time, when the bird's legs wouldn't fit in the pot and stuck straight up!
The Burtons built their hen house from recycled wood, with a flap that raises for gathering eggs. Attached is a re-purposed dog run.  Susan used to have netting over the top, thinking it would protect the hens. However, a hawk ended up trapped inside the pen.  Upon discovering it, Susan freed it, but it did not leave the yard until seeing the chance to take off with its dead prey.  Susan now leaves the top of the pen open, and only lost one other chicken to the hawks.   The hens lay five eggs a day in summer, three in winter.  The type she raises are cold hardy, but don't like lack of light, so if you want more eggs, install a heat lamp.  Susan doesn't have a heated water dish, but instead goes out a couple times of day to chip the ice.  She waters them twice a day. "Other than that, they're pretty easy to have", she says.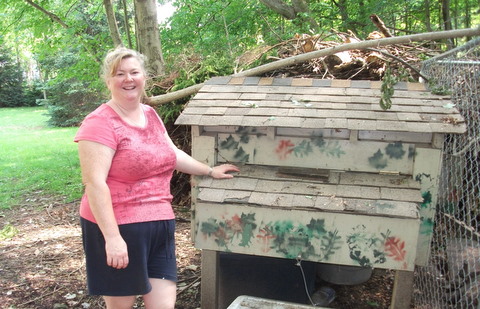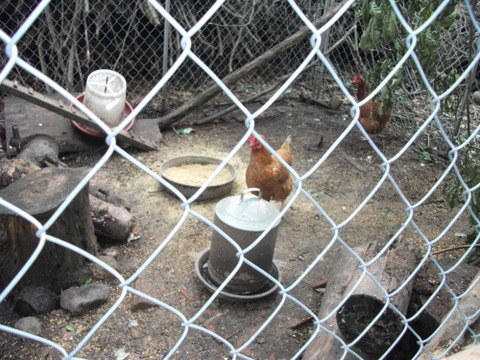 Now, not often am I rendered speechless.  When Susan told me her son could "hypnotize" chickens, I had to see it to believe it.  I've heard this could be done, but when James gently picks the birds up, in seconds, they're on their backs in the grass, calm as cucumbers!  Chicken after chicken, none were immune to James, the grade-school "Chicken Whisperer"!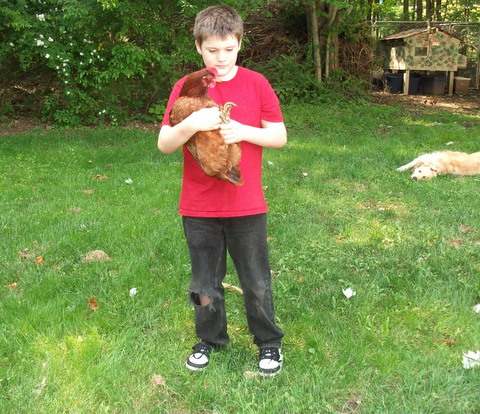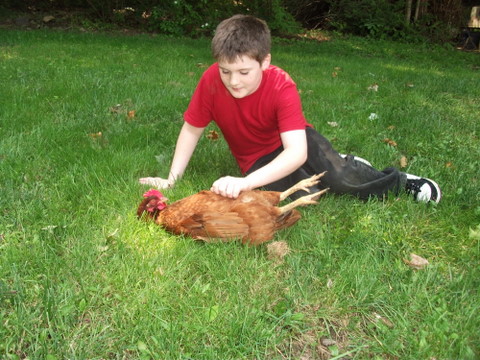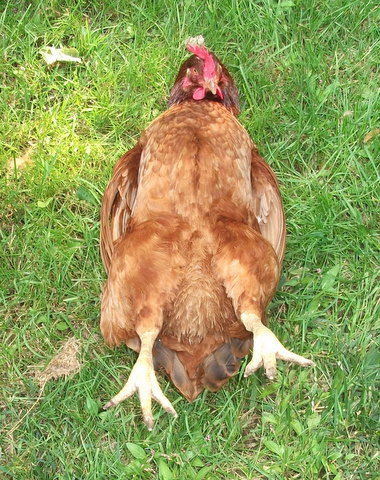 "I'm so relaxed…"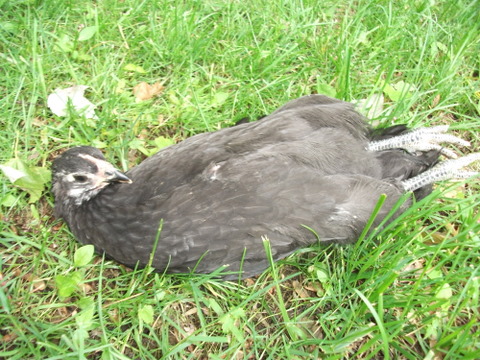 Susan says there are advantages to backyard chickens.  They eat grubs, bad bugs, and ticks.  Buying organic eggs can be costly, and eggs you gather are much fresher than any store-bought ones!  Susan loves baking, and says you'll never see a meringue as high as one made with fresh eggs!  The yolks are more orange in color, and the shells have a natural invisible film that grocery store eggs don't. They stay fresh longer.  Susan advises not washing them until just before use.  Make sure you have a compost heap, as chicken waste is a great compost!  However, it's  a "hot" compost, so it must sit a year before use.  Disadvantages have been neighbors' plants being mistaken by the chickens for food, and the occasional hole in the backyard (chickens dig holes to take dirt baths).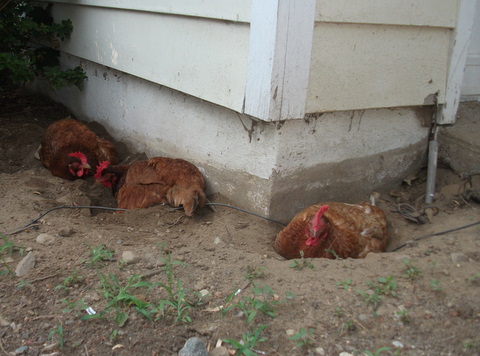 The hens decide to take a dirt bath near the house.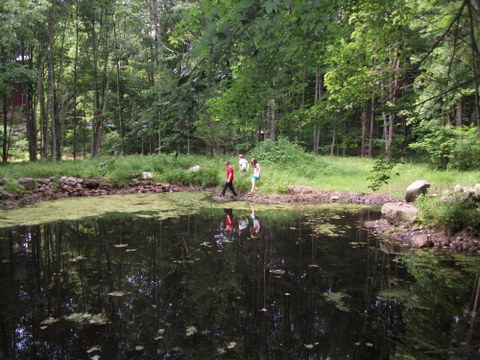 The kids decided to catch some frogs in Susan's lovely backyard pond.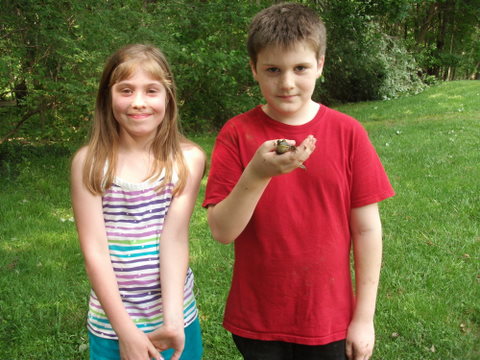 Two school chums, Audrey and James and one of the bullfrogs
What's more fun than a barrel of monkeys?  How 'bout a barrel of bullfrogs!
I had a wonderful visit with my friend.  While we talked poultry, the kids had good, old-fashioned, summer fun catching bullfrogs in the Burbanks' backyard pond.  I gave Susan some jam; she sent me home with lettuce to plant and fresh eggs! Now… how to convince my hubby that we need to build a hen house…..