AND THE WINNER IS…
UPDATE: Still waiting to hear from the winner. MELISSA ROBBINS, please email me by October 14, 2016, or I'll need to chose a different winner. THANKS!
MELISSA ROBBINS! Email me at rebekah@maryjanesfarm.com ASAP with the name and address to send the subscription to! WOOHOO! Congratulations!
It's that time of year again….yes, autumn, but also when I renew my subscription to MaryJanesFarm magazine! You know what that means? I'm giving away a subscription to one of you!
"Delicious autumn! My very soul is wedded to it, and if I were a bird I would fly about the earth seeking the successive autumns."  George Eliot
If you'd like to enter, simply comment below saying WHAT YOU LOVE ABOUT AUTUMN. And don't fret when you don't see your comment pop up. I'm out of pocket until the end of the week, so won't be able to approve any comments until I'm back in the pocket. Here's the important part, make sure to check back in one week. I'll do a random drawing and post the winner's name on Tuesday, October 4th, 2016. The winner will need to email me (rebekah@maryjanesfarm.com) to give me the name and address of the person to send the subscription to within a few days so I can get our subscriptions off in the mail.
What's NOT to love about autumn? Can anyone tell me ONE thing that's not to love about this season? The crisp mornings. The colors in the trees and flowers that take your breath away. Bon fires. Hay rides. Apple cider. Plaid flannel. Jumping in leaf piles.
I grew up in small town America, in a little college town outside of Atlanta. Summers were long and hot and humid. In that part of the country, the seasons do not dictate the weather. Summer is hot, sure, that's true. But autumn is hot too. And spring is hot. And winter is not a wonderland.
As a kid, I don't remember being aware of the equinox, AT ALL. The actual date and time when autumn arrived was relatively unimportant. Autumn came later in the year, usually by Halloween but always by Thanksgiving. The thing I remember most about autumn was the leaves. Colorful and vibrant and then covering the ground. Crunch, crunch, crunch, not THAT means autumn has arrived. There was a large maple in the playground at the elementary school. I knew it was fall when I needed a jacket at recess and could kick around all those crunchy leaves.
Where I live now, in the Appalachian Mountains, autumn is far more cooperative. It comes when the alignment of the Sun and Earth tells it to. This year, it came on September 22 at 10:21 am, just as it was supposed to. And I'm happy to report that here, where I live now: autumn is perfection.
The morning and evening temperatures are suddenly cool and lovely. Windows open, curtains flapping around in the breeze. Ah…
This morning I sat out on the deck with a cup of coffee, admiring my view.
My view? Merlin grazing contentedly in the green pasture.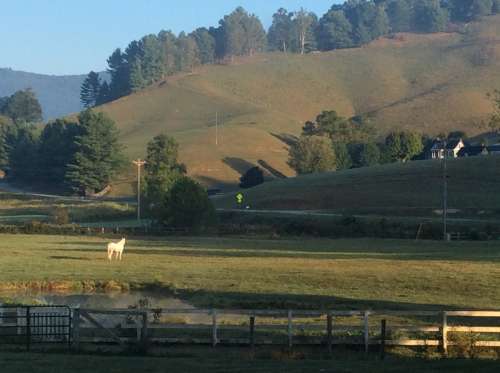 I notice that he flicks his tail less frequently this morning than in the previous months of mornings. The flies are letting up. Something about watching Merlin warms my heart, grows my heart.  Whenever I see him in the pasture, I call out to him, "Merlin! My Angel!" If I'm close by, he'll come over to the fence to see me. If I'm further away, he'll turn around. "Merlin! My Angel!"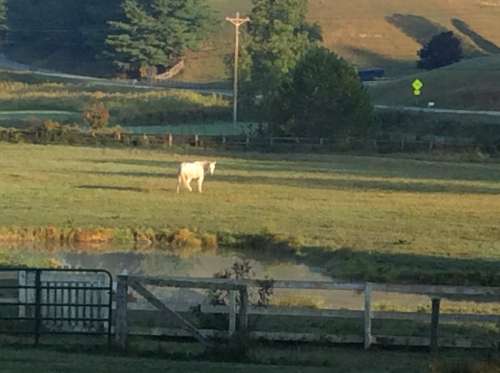 Love him.
Merlin does not ascribe to the common philosophy that the grass is greener on the other side. I admire that about him. The cows across the street do indeed live by that philosophy. They are forever sticking their heads through barbed wire fences, getting zapped by electric fences, getting too close to the road, just to get a taste of that sweeter grass on the other side. Not my Merlin. He is wise. And content.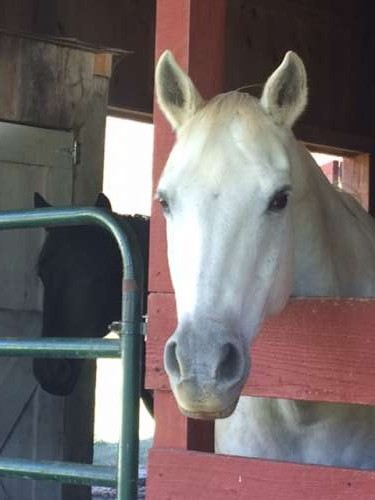 The black horse is young Jessi. He drives Merlin crazy with his nonsense. Always climbing mountains in search of better eats.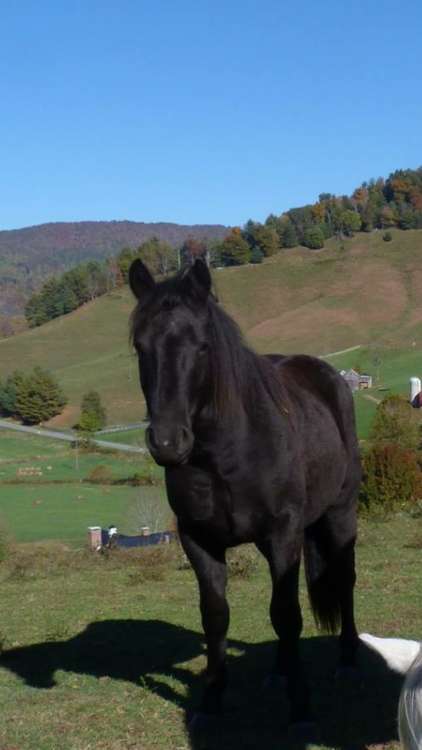 OH MY! Suddenly several bluebirds swoop down and do nose-dives right in front of me. I freeze. They are after the same bug or worm. Goal congruence. But only one victor. Their eyes on the prize, they didn't notice the gigantic human sitting in the chair drinking a cup of coffee. There, one of them got the bug and flies up, up, up. The others follow as they light on branches of a Black Walnut tree. I have a cluster of Black Walnut trees that shelter my office in the Old Wash House.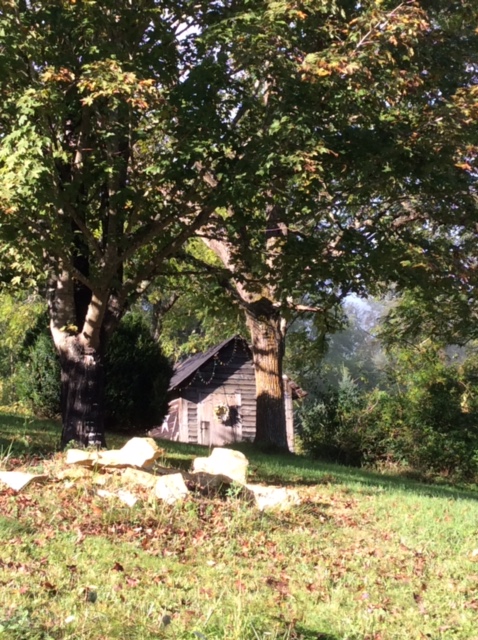 If you've lived with Black Walnut trees in your yard, then you know all about the big, green, hard balls that fall from the trees this time of year. Those hard balls protect the walnut inside. Walking to my office is like walking through a yard full of golf balls.
As I look up at the Black Walnut trees, I notice lots of blue birds, not just those few that dropped down to the yard. There must be over two dozen spread on the branches. When I lived in Atlanta, I kept blue bird houses and studied their behaviors in depth. I learned that this time of year, the birds join flocks. Many were born in the spring or summer. Strength in numbers. The old winter song, "Walking in a Winter Wonderland" has a line, "Gone away is the bluebird, Here to stay is the new bird." That is not the case here. We have bluebirds here all winter long. I would feed them, except for these 3 reasons:
Reason Number One: Jude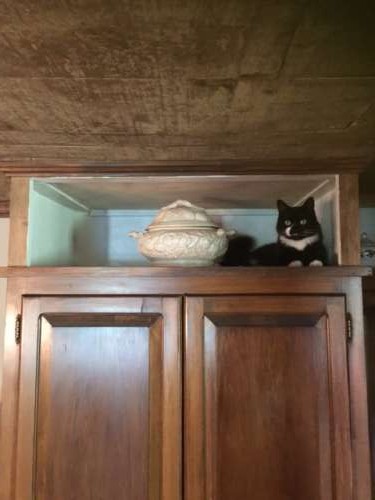 (on top of my pantry!)
Reason Number Two: Sgt. Pepper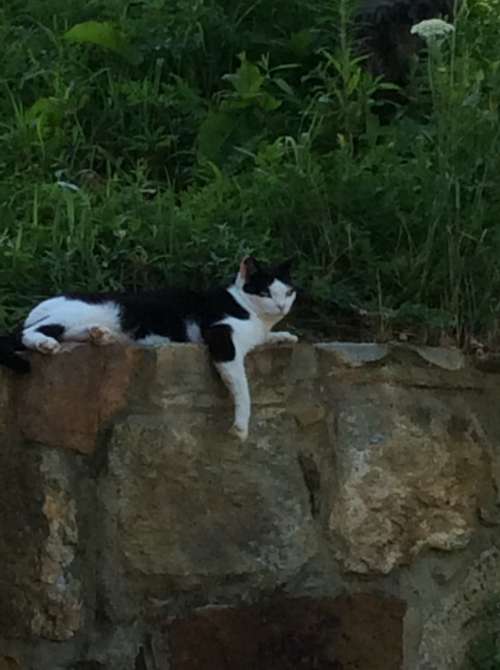 Reason Number Three: Mr. Mustache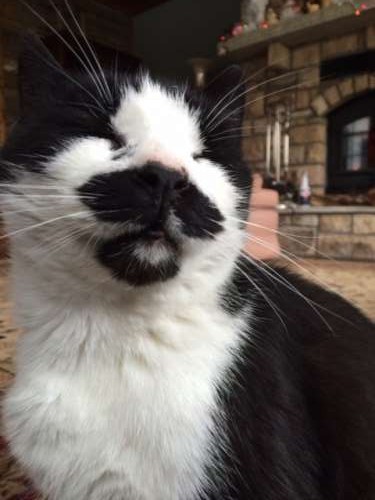 The coming of autumn ALSO means that I put on a pot of my famous Autumn's Black Bean Soup.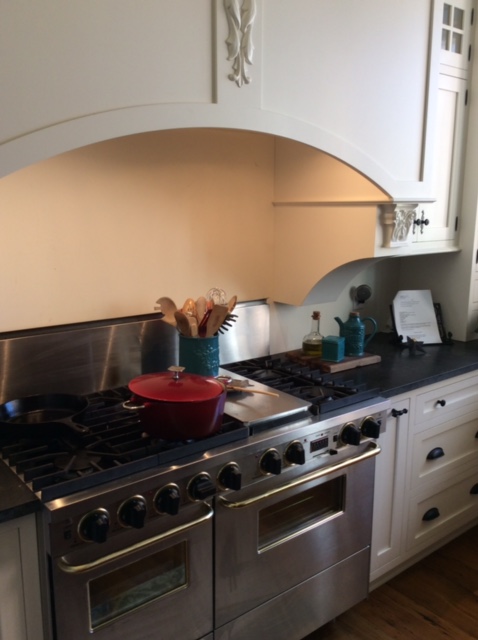 Here's the recipe. It makes all the difference in the world to use dried black beans rather than canned black beans. Worth the effort!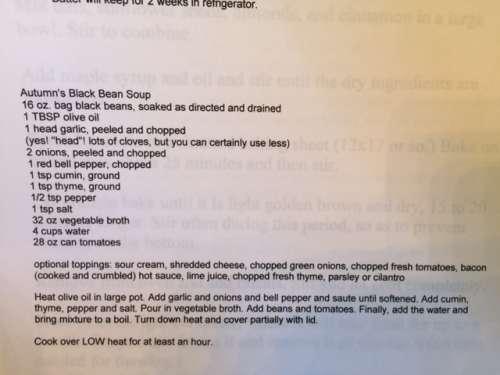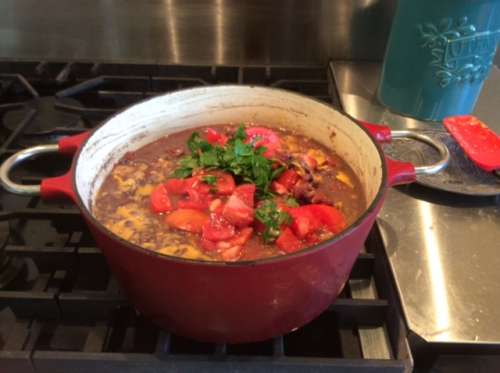 It also means all things PUMPKIN.
Pumpkin spice coffee. Pumpkin hot tea. Pumpkin ravioli. Pumpkin cookies. Pumpkin pie. Pumpkin Bread.
I made a batch and baked them in small Bundt cake pans and small loaf pans to share. I added large chocolate chips to the batter this time. Yum.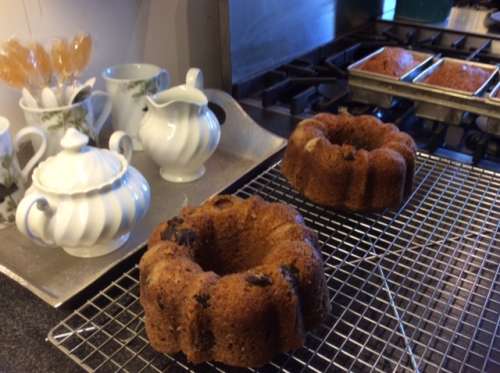 Autumn also means something else on the farm. The corn is as high as an elephant's eye so it's time to cut it. This will be cattle food.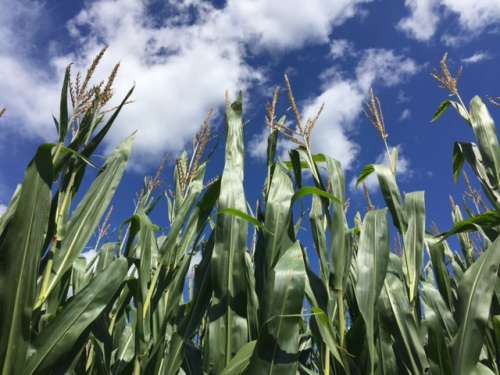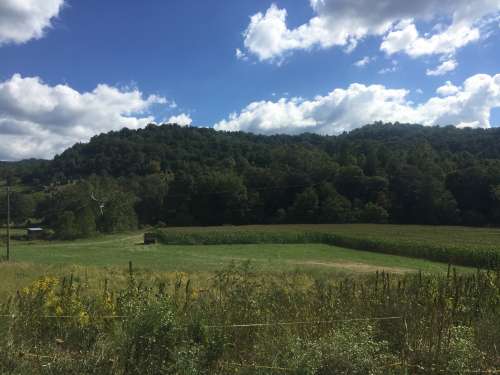 Here's the field as the corn is being cut and shredded. Next stop, a silo.
And this. SOON! Have you had any of this yet on your grass in the morning?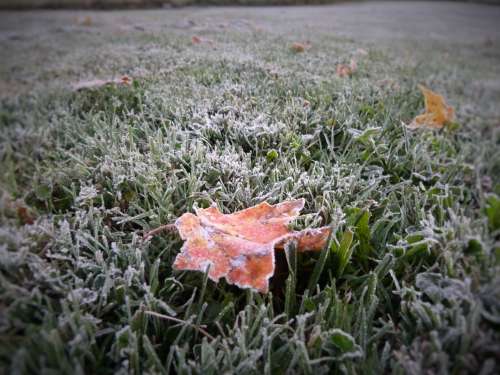 Also in autumn, something happens to my chickens. Poor things. When I finally was able to visit my chickens again after my surgery, it looked like they had hosted a big pillow fight in their house. Feathers were scattered all over the floor and all in their nest boxes and on the window seals. What a sight to see. Yes, it is that time of year again, molting season! This is the season when they go through a period of looking raggedy and homeless. They lose their old feathers and grow new ones.
Part of molting is a huge reduction in egg production. We are lucky to get one egg a day. You might recall that I have 13 hens and 1 rooster. One egg a day, IF we are lucky! That's a very low number, isn't it. So I just buy eggs from a farmer down the street for $3.00. I'm okay with that. If the truth be known, I don't have chickens for their eggs. So, it works out fine for all of us. I've had my flock 3 years now. How can that be? Time flies.
Don't forget to leave a comment to enter the contest and then check back!
Until next time, Friends, Savor the Flavor of Life!
Lots of Love, Rebekah, The City Farmgirl in the Country