I guess you can call me sentimental, keeping cards and letters, remembering gifts I've received and who sent them, and remembering special dates. This week, I am celebrating an anniversary. However, it's not what you may think….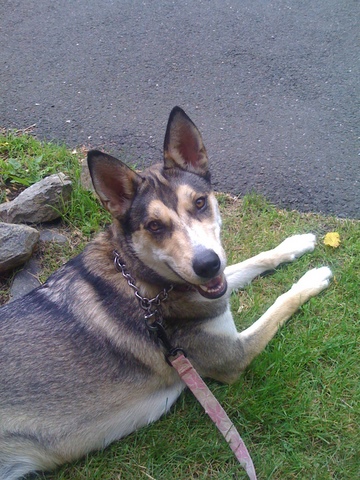 This week, our family celebrates our second "anniversary" with the newest member of the household, our beloved dog, Bonnie. We adopted her from a shelter two years ago, although it feels like she has been here forever.
Always animal lovers, my husband and I come from animal enthusiasts on both sides of our respective families, raising a menagerie of pets together since the day we got married.  At one point, we had four dogs, three cats, and a turtle, all at once! Each had their own personality.  They were our "practice" kids, before our amazing daughter was born.  Now, I realize that experts advise against humanizing pets, but anyone who has ever loved a dog knows that is nearly impossible!  Our terrier, Phoebe, was the "little mother", fussing over our daughter as a baby as if she were her own pup.  When my daughter would cry in the middle of the night, Phoebe would pace back and forth, making sure I was wide awake to comfort her.  Our Dobermans were both sweet, gentle giants, and our Cocker Spaniel… well… he was my "trouble" child.  Cute as he could be with big, soft ears that smelled of peaches after being washed, that dog could also channel the devil!  I also think he was part goat.  He ate everything, food or nonfood.  Nothing was safe.  We once had friends over for dinner and one left a jacket on the back of a chair. When we came back, the jacket had been made into a vest.
Smart and loving as all of our previous dogs have been, Bonnie's different.  It's like she was meant to be with us, as if we "custom ordered" her. She just "fits".  When she came to us we had recently lost our doberman, Dino, to cancer.  Our hearts had been broken, our house seemed empty, and our elderly Phoebe was depressed, as were all of us.  My husband came across Bonnie's picture on the web and emailed it home.  It was love at first sight.  Here was this beautiful husky-shepherd mix, who was smiling in the photo, with these big, silly, PINK ears on top of her head.
After contacting the shelter, and following all the procedures, the big day came to pick up our baby. Told she would be ready at eleven on that sunny morning, I was so excited and nervous, I vacuumed the whole house.  Twice.  Finally, the time came to pick Bonnie up.  We arrived a few minutes before our appointment time, and a shelter volunteer was walking her. Bonnie looked like Tigger from Winnie the Pooh. She was BOUNCING. I got a bit nervous, but I knew that she had recently spent eight weeks in a crate, and was still a pup.  After introductions, within minutes Bonnie seemed to know we were there to take her to her forever home.  Sitting in the backseat, she was ready.  When we stopped at the pet store to get a new collar and leash, she would cry if one of us went out of sight.  At home, she settled in quickly, and before long she and Phoebe were buddies, too.
As long as I live, I will never forget the school bus pulling up that day. The bus slowed to a stop, and there were tons of little faces pressed to the windows, to see if the new puppy arrived.  There was my daughter, her face beaming with pride and happiness.  She and Bonnie were best friends from the start.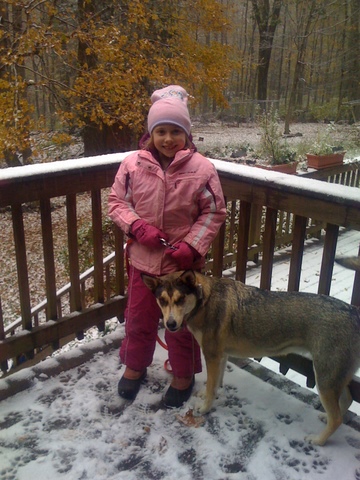 Not too long after, Phoebe passed away from old age, and Bonnie stepped up to be the only dog.  My daughter refers to her as her "sister".  For a time, they were both seven (Bonnie being one human year, or seven dog years).  I would say I had "twins"!  Bonnie's very smart.  She knows when it is time for the school bus, which shoes I wear to walk her, and rings a bell when she wants to go out.  She understands many words, follows commands, and does a bevy of tricks.  She knows when one of us is sad or sick, loves to snuggle, but also loves a long walk or playing outside.  She makes me laugh, and melts my heart with her childlike eyes.  She loves us all, but she and I have a special bond, even sharing a birthday!  We just "get" each other.  My husband teases that she may be my soul mate.
Our vet agrees there's a possibility Bonnie may have had some sort of trauma before coming to us, but she's blossomed into the best pet anyone could have, trusting us wholeheartedly.  We delight in spoiling her.  She's our "furbaby", for sure. Cats, dogs…I have truly loved all of my animals, but it seems like the rescued ones know they were rescued.  Bonnie is certainly no exception.  She has earned her special day and will celebrate with a dog treat sundae.  In this season of counting blessings, she's near the top of this Suburban Farmgirl's list.