.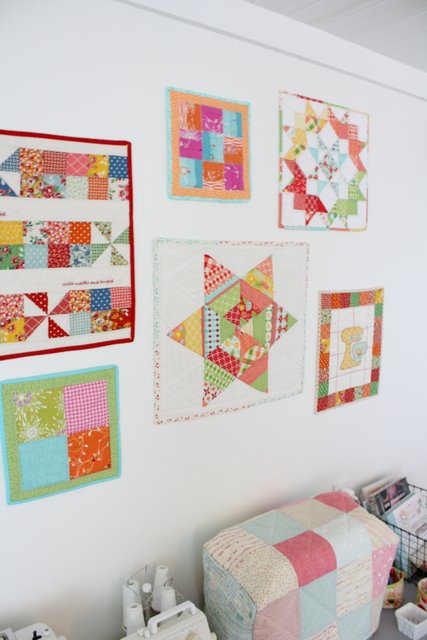 .
Have you heard the acronym DIH instead of DIY?  I just recently found out that it means "do it herself"!  And I love that!  I'm very much a DIH kind of Farmgirl and that is probably because I was raised by a mother, who was also raised by a mother,  that wasn't afraid to tackle anything.
.
My husband and I built our Farmhouse from the ground up all by ourselves and when I look back on it, I'm kind of amazed at all that I learned and tackled in working right next to him.
.
This post today is dedicated to my latest DIH project that was very unplanned and came out better than anything I could've ever purchased.
.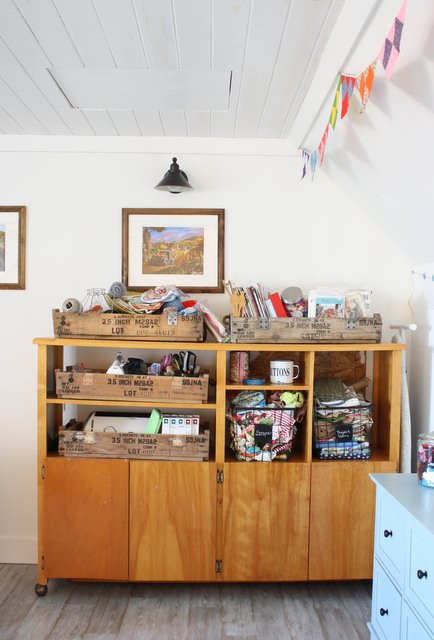 .
In my upstairs sewing room I had an old rolling shelf thing (in the above picture) that my father in law built when my husband was just a little boy… probably 60 years ago or so.  I hated to part with it so I had my husband and son in law haul it up to my sewing room and I have used it for several years for storing all my sewing things in.  But it was ugly and it drove me crazy.  It was also getting a bow on the top half (you can see that in the picture above) and that was driving my husband crazy.  I also didn't like that the wall is a very large wall that could be fun and lively if only I didn't have this ugly rolling shelf unit there.  I talked about painting it, putting new hardware on it, etc.  But every time I thought about it I vetoed it.  The thing was so ugly I just couldn't stand the thought of putting time and money into it.
.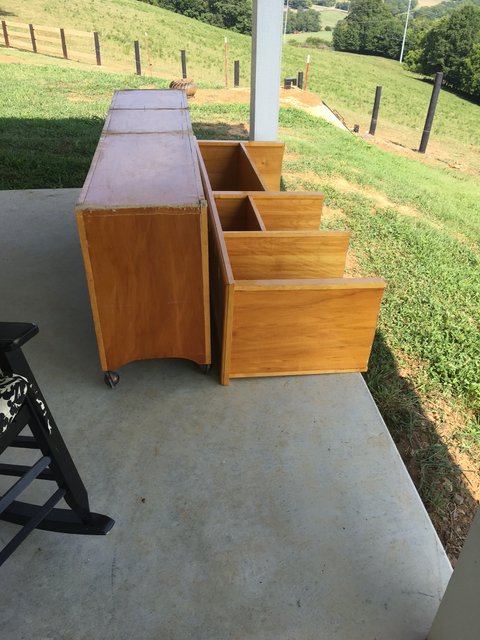 .
Finally I asked my husband if he would haul it out to his garage and I would shop around until I found something to replace it.  What I had in mind was something about table height with a nice work surface on the top.  My daughter and I were gone one day and I got the above picture in a text from my husband that said, "Well, in order to get the shelf down the stairs, this had to happen"!  He and my son in law had to cut the thing in half horizontally to get it over the stair rails.  (We remembered that we had actually brought it upstairs before the rails were finished!) He put it in his garage and said he was going to cut it up for firewood or something.  I looked at it sitting there on the porch and I was kind of sad about it.  But just kind of.
.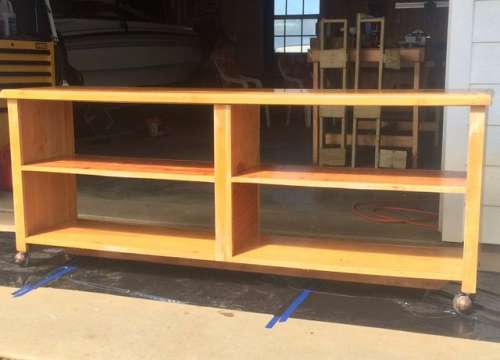 .
So I began the hunt for a piece of furniture that was long, narrow and just the right height.  No doors, just a couple shelves, and made from quality wood.  Everyone suggested IKEA and I looked online at what they had and I just didn't see anything appealing.  I looked at used furniture stores.  I looked at Target and Walmart.  And nothing appealed to me.
 .
I stood in the garage talking to my husband about it and I said, "What I really want is a piece of furniture that is quality wood, long and narrow, about table height, no doors and nice shelves inside.  I don't care if it is in poor condition, I can refurbish it"… as my hand was resting on the lower half of the piece of junk shelf that his Dad had built all those years ago.  (You see where this is going right?!)
.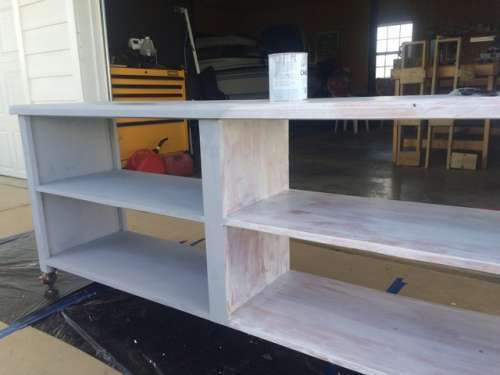 .
All of sudden I looked down, looked at him, and meekly said "Would you haul this thing back up to my sewing room?  I think it is exactly what I'm looking for!"  So he sweetly agreed.   I removed the doors and did a few other little repairs, filled the holes left from the hardware, sanded the old junky varnish off, and then I painted it a very nice Annie Sloan Paris Grey color.  I finished it with a coat of Annie Sloan clear wax and buffed it to a perfectly slick beautiful surface.  At first I wanted the rolling coasters removed and then I realized that  they ARE vintage after all! Smile!  And useful too.  So we left them.
.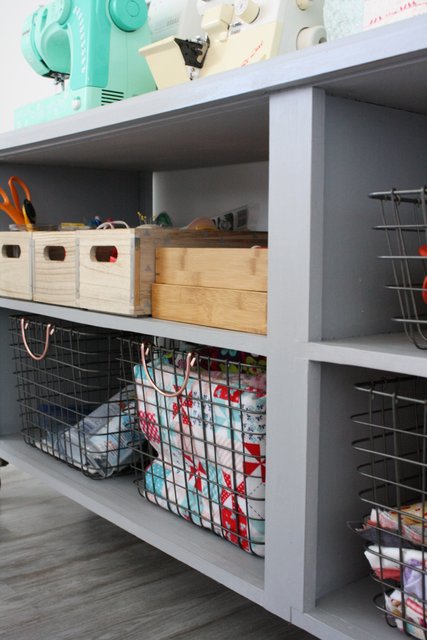 .
My son-in-law helped us lift the shelf back over the stair rails and up to my sewing room.  I placed my metal crates and wooden boxes on the shelves and promptly filled them up with my sewing fabrics and supplies.
.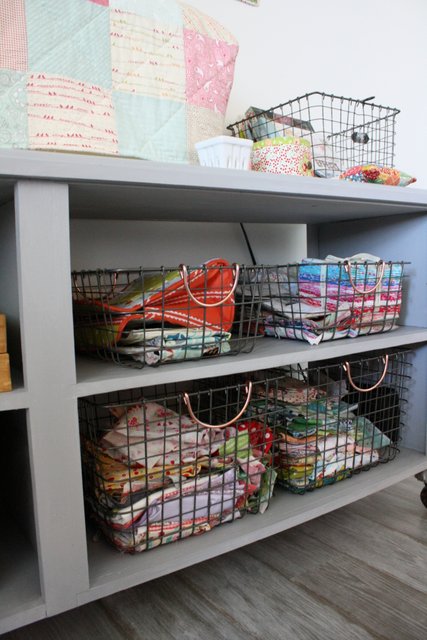 .
Everything fits perfectly and it is just exactly what I was looking for!
.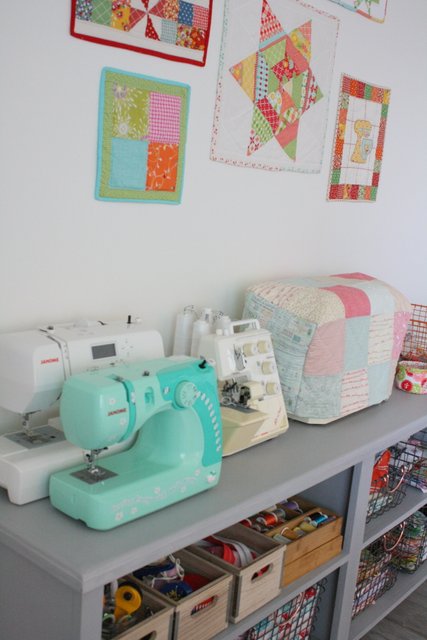 .
The top of it is just the right height for keeping my daughter and grand-daughters sewing machines (and a few spare ones!) handy for when we have "sew days".
.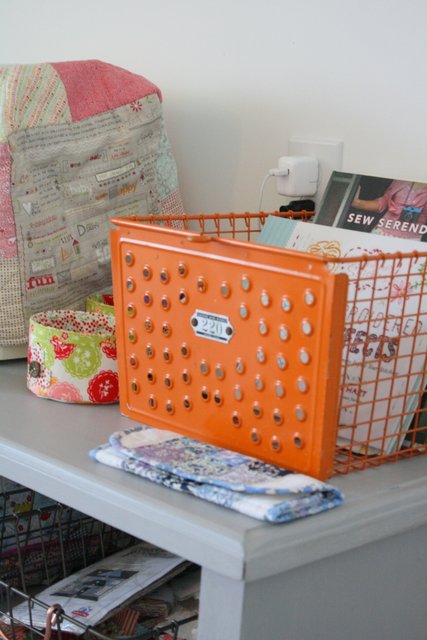 .
And a perfect spot for my favorite vintage locker basket.  (Have you ever seen an orange one like this one?  I am so in love with it!)
.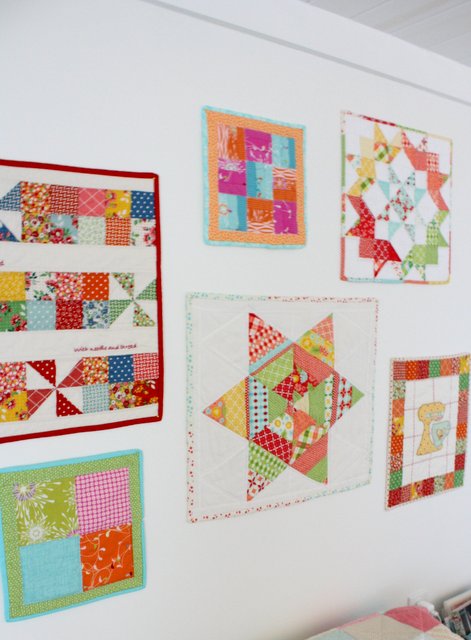 .
Then I pinned up my collection of mini quilts that I've made and a few that have been gifted to me.  I intend to grow this collection and I can change them out as I desire!
.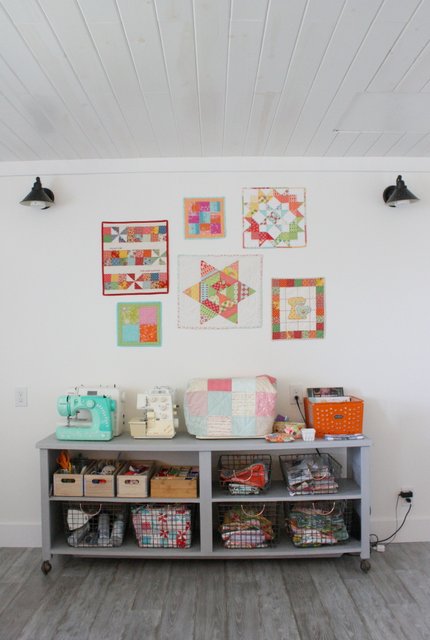 .
I cannot even explain how happy I am with the way the shelf came out.  It fits perfectly against the back wall.  It is the right height, the right length, and I couldn't have found anything better brand new!
.
I really learned a lesson from the old, ugly rolling shelf that my father in law built all those years ago.  I know the man he was and how he would've built something to last and would've taken his time to put his heart into a project.  What a shame if I had not been able to see and appreciate what that was.  The top part of the shelf had warped and bowed through the years and really was beyond repair, but to be able to salvage the rest of it by doing some very simple work to it taught me so much.  I think we live in a world where "buy new" is the easy way out.  But honestly, putting a little time and energy into giving life to something old is so much more rewarding.
.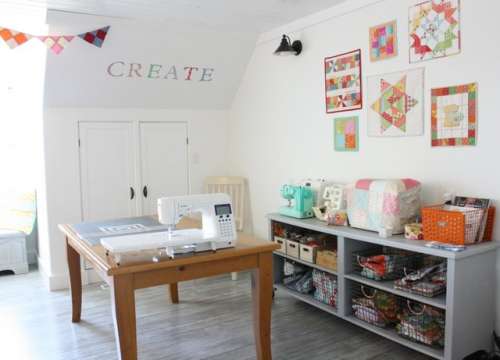 .
And I feel like that little piece of furniture brought new life to my sewing and creating corner and I'm so happy with it.
.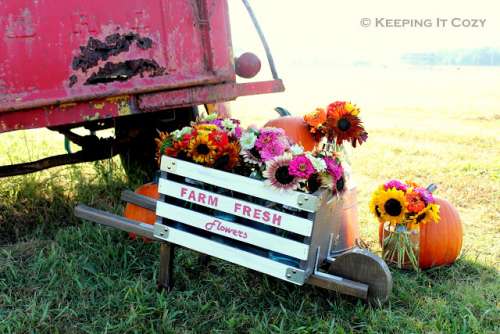 .
And I just found out this week that Home Depot offers monthly free DIH projects at their stores.  I'm excited because their class this month is making a wheelbarrow out of a wooden crate.  You can read all about the project by clicking on a blog post that my daughter wrote here, it also gives you instructions on registering with your local Home Depot for the FREE class (all you have to buy are supplies that cost under $25)!  It looks like such a fun project and I'm registered for the class and anxious to use my wheelbarrow for my Fall decorating!
.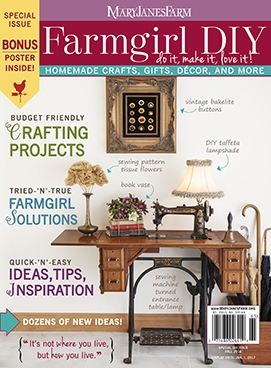 .
And now… for the giveaway!  I don't know how many of you Farmgirls know but MaryJane has a Special Edition DIY issue coming out in October and I'm so honored to have a DIY article in the magazine!  (And the really fun thing is that it will be on news stands on my birthday – October 11!)  This issue is not part of your subscription and will be available on newsstands October 11th.  Or you can do what I did and pre-order your issue by clicking here.
.
For your chance to win a copy of this special DIY Issue all you have to do is comment on this post!  I've pre-ordered a copy just for one of you Farmgirls and I will ship it to you as soon as it comes out.  
.
Until our gravel roads cross again… so long.
.
Dori