Dear Sisters,
They're here! They're here!  F.I.N.A.L.L.Y.  Dahlia days are here! Thank goodness, because I've got a wedding to do! I've been watering, feeding and sweating my fool head off to keep the flowers going in this heat and it's been worth every drop! Come stroll through the dahlia patch and get a glimpse of my first wedding of the season.
I hope you all had a great August. Can you believe there's only a few weeks of summer left? If you ask me the best weeks of summer are on the horizon. Here in New England the high temps, humidity and bugs take a hike and we can once again enjoy being outside in comfort. I must admit, for a BEACH farmgirl I haven't been at the beach much this summer. Our tiny off-grid beach cottage has been rented quite a bit as my hubby started a new job last month and my backyard flower farm has been very needy.
What's a farmgirl to do? Water. Water. Water. And water some more!
Those of you who've been reading this blog for a while know that I started growing dahlias in the summer of 2012. I've been obsessed with them ever since and I love inspiring others to grow them! There are just too many good reasons not to have these beauties in your garden.
Whether in a pot on the deck or patio, a flower bed, or, a field dahlias are a dreamy addition to your landscape or flower farm. Once you get the hang of growing them you can add new varieties to your collection every year. WARNING: Dahlias are addictive. They come in ever color under the rainbow so there's sure to be something to please every flower loving farmgirl. Besides, it's always fun to create your own backyard bouquets and you might even get the crazy idea to start a  boutique floral business like yours truly. DIY Weddings are all the rage now and more brides are digging the idea of growing their own flowers too!
To help you get started, here's a post I wrote about planting dahlias on my Dandelion House Blog a while back. Speaking of business…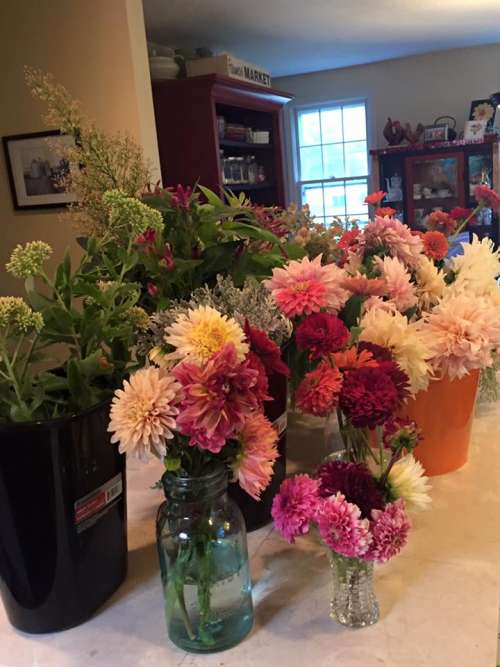 I have flowers conditioning in buckets on my dining room table and kitchen island right this minute for an intimate romantic, vintage-inspired wedding this weekend taking place in a beautiful backyard on Cape Cod, overlooking the Atlantic Ocean.
I'll be working into the wee hours of the morning getting the bouquets and centerpieces finished in time for delivery tomorrow.
The bridesmaids will be wearing soft blush pink gowns so I grew plenty of Cafe Au Lait dahlias along with a collection of dahlias from Eden Brothers called the Bridal Bouquet Mix which includes a large white dinner plate dahlia called, Snowbound and a most beautiful pale pink and yellow dahlia. ( Pictured below ).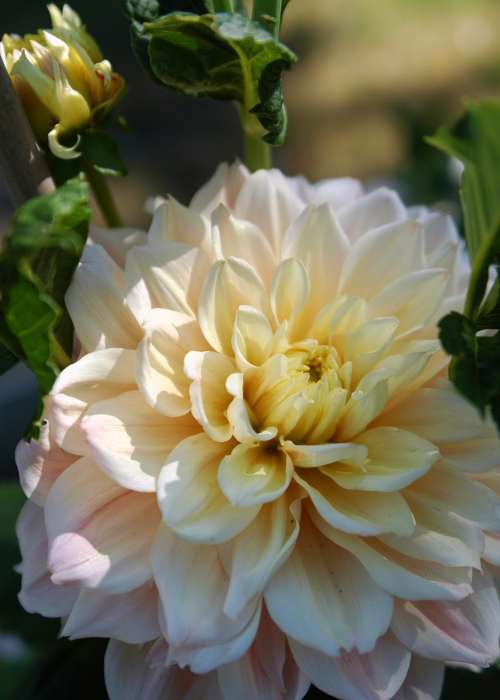 The dahlias below were loaded with bud over the last two weeks, just in time for the big day!
Every single detail of this charming wedding was handmade by Robin the mother of the bride or Anna, the bride.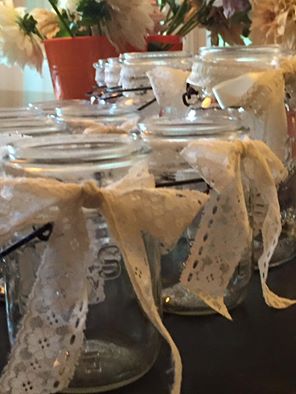 The bride used vintage mason jars and asked me to decorate them with vintage lace. I snapped the photo below just before my handsome Yankee loaded them up for me in the car after I had finished them. The star flower in the bouquets, and the centerpieces are dahlias of course. Zinnias, dusty miller, and fire and ice hydrangea round out the rest of the flowers for a casual romantic feeling.
Robin's mother works at a thrift store so she gathered vintage trays to use as a base for flowers, candles and table markers on the guest tables.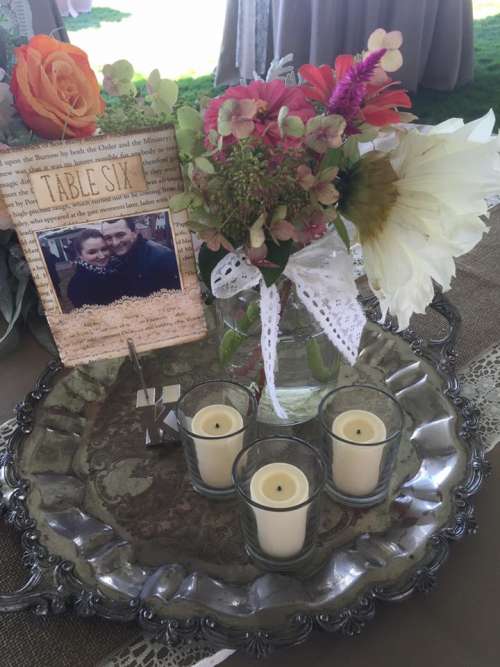 The 7 guest tables were marked with a table number featuring a photo of the couple capturing a moment of them in that year of their relationship. How cute is that? Burlap and lace table runners added to the casual, vintage vibe!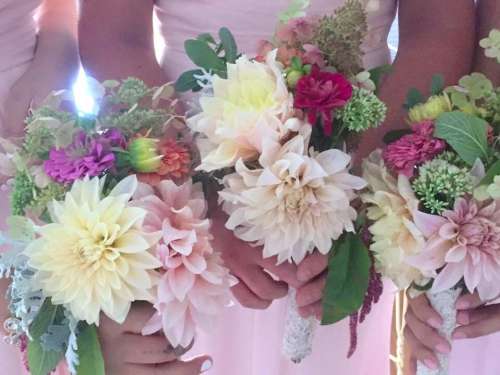 The muted pink and beige tones of Cafe Au Lait play so beautifully with the blush pink bridesmaids dresses. When the mother of the bride and the bride got the first look at the flowers they broke down in tears, then that got me going too. It was a moment I'll never forget.
Ta DA! The sweethearts!
Every year of this flower farming journey teaches me something new and brings new people into my life I wouldn't have met otherwise. I love that as much as I love growing flowers. I never dreamed I'd be doing weddings with my flowers. To think that I grew these flowers from seed to wedding is just crazy. It's the stuff of dreams. Now I understand what it means to truly be a farmer and to see something I grow have such a positive impact on others is a gift I wasn't expecting when I planted that first dahlia tuber back in 2012. I'm enjoying the harvest and I hope you are too!
Until our next shoreline visit~ Don't just dream your dreams, cultivate them until they sprout and grow then share the bounty with everyone. It's the farmgirl way!
Beach Blessings and Much Love,
The Beach Farmgirl
Deb # 1199
PS. Do you remember the Robins nest from my last post? All three eggs hatched and flew the nest healthy and happy!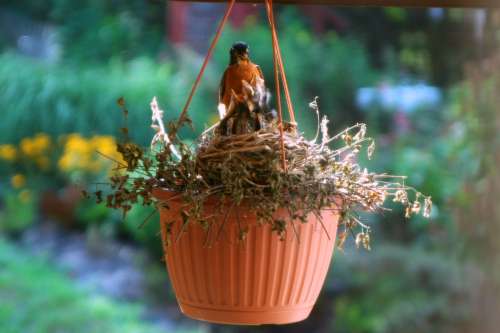 Save
Save
Save
Save
Save
Save
Save