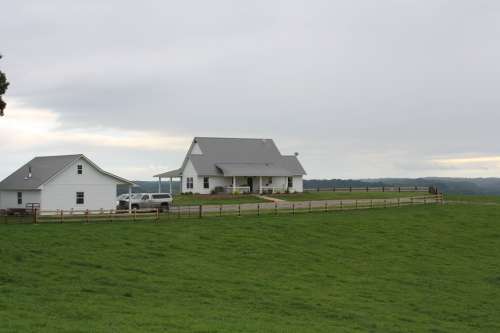 .
This summer, three years after we finished building and moved into our home, my husband and I finally started the long and hot project of building the fence around our house.  This isn't just a simple little fence, friends!  We've dreamed of one of those beautiful post and rail fences that you see all over Tennessee and Kentucky on the horse properties.  You know what I'm talking about right?
.
We have to have a fence to keep our cows out of our yard area and for 5 years we've had a temporary fence with t-posts and an electric strand.  Funny how temporary things just about become permanent!
.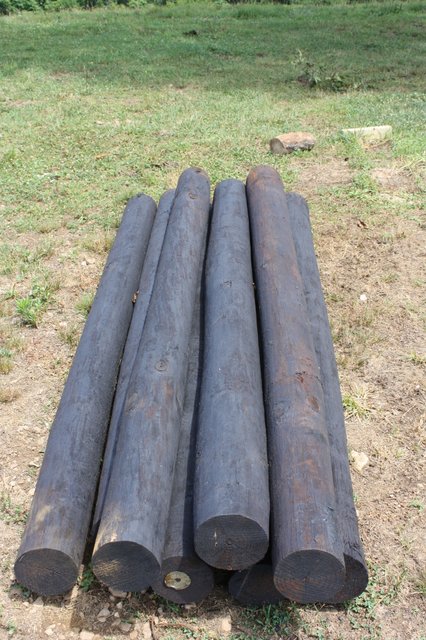 .
In early summer we began the process of building the fence.  We measured out the area on our hilltop and took in a large area surrounding our house, yard, garage, and beyond!  I think we came to about 1500 feet of fencing.  We did some research on the best wood to use and finally made a choice with pressure treated posts, which we were able to purchase at our local Farmers Co-Op.
.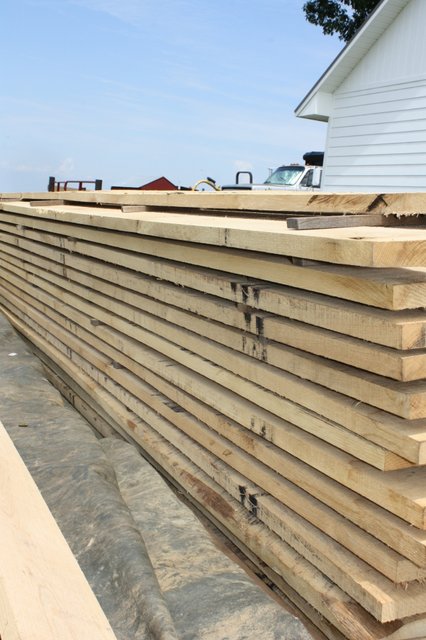 .
We used white oak for the rails.  My husband calculated how many 16 foot pieces we needed and ordered them from the local lumber mill where they custom milled them for him.  They are heavy and durable.  (Sometime this Fall we will be painting the rails black.)
.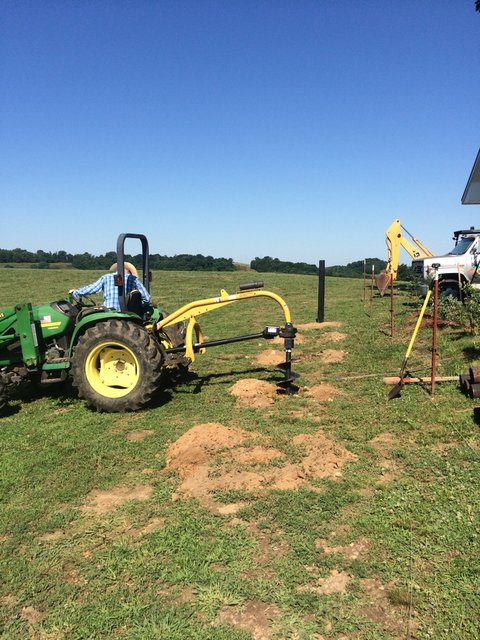 .
So then the big job began.  Eldon used the post hole digger on the back of his tractor, but because we have such rocky soil under all that green grass (now I know where the song "Rocky Top Tennessee" came from!) the post hole digger only worked for about 6 inches and then it was a miserable job of hand digging and chiseling through rocks so that each post could be put in an 18 inch deep hole.  He worked at a pace of about 5 holes a morning, digging holes every 8 feet.  I, thankfully, wasn't involved in this process!
.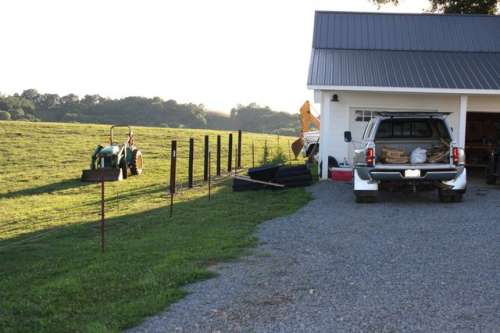 .
He would get a good distance and then I would help him every morning for a few days getting all the posts set in concrete in the ground.  At this time he then carefully measured and cut the tops of the posts so that they were a consistent height and a height that followed the curve of the land too.
.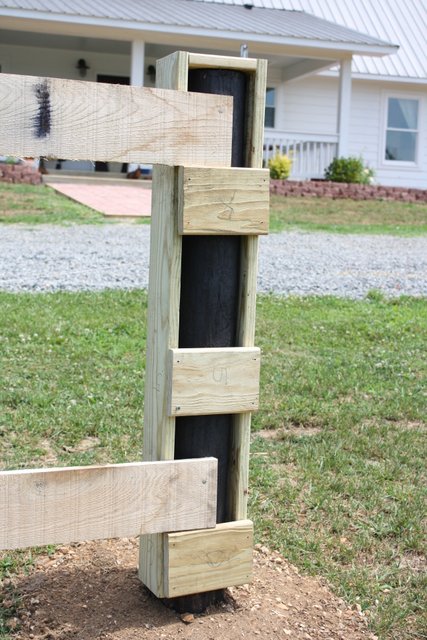 .
Then we would take a break from posts and work on putting on the rails.  Because these boards are 16 feet long and very, very heavy we had to devise a way to hold them in place at the middle post as well as the end where Eldon was nailing.  I was able to hold the other end.  So we came up with this handy little thing that my husband built that hung on each post!  It had hinges on it so that we could open the little "doors" to remove it when we had three boards attached and then move it to the next section.  It worked like a dream and really made the job of holding boards in place a lot more do-able.
.
.
Slowly but surely we worked our way around the hilltop.
.
.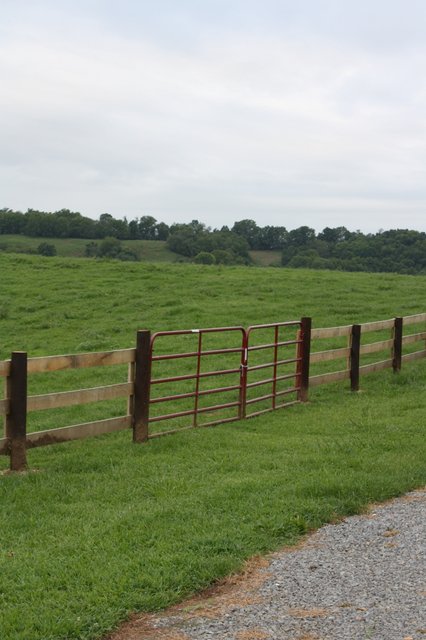 .
Eldon also put in some stock gates by his garage which makes it nice for bringing in any equipment.  It makes for easy access on that end of the hilltop.
.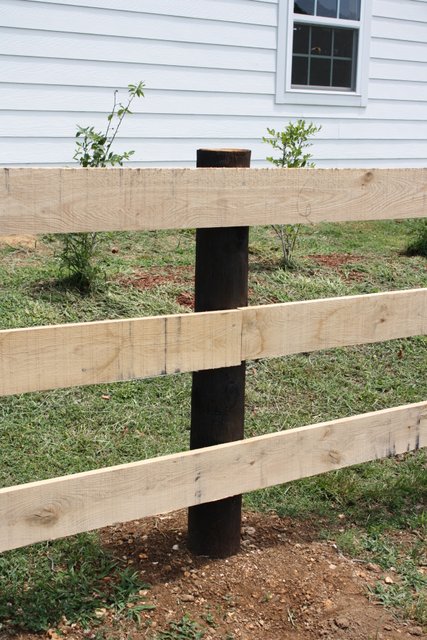 .
At each post where the rails met, it looked a little unfinished.  We've noticed before on all the post and rail fences that we've looked at (and that is A LOT) they put a vertical finish board on the outside of each post.
.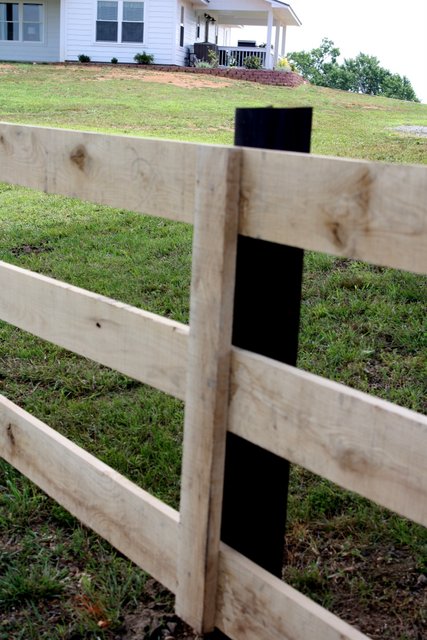 .
It gives it such a nice finished look.  (Eldon will also cut that final top of each fence post off flush with the top rail.)
.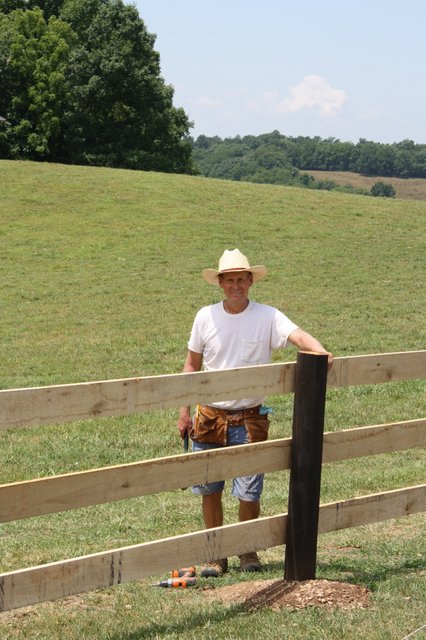 . 
Hot, tired and sweaty but just about finished!
.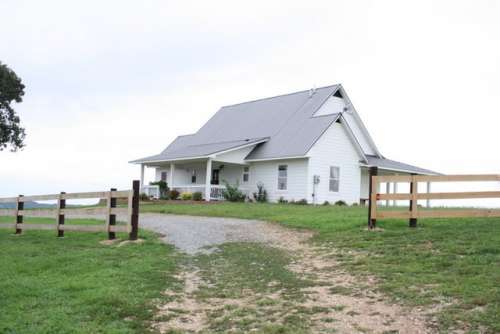 .
We have not determined what kind of gates we will have in the entrance yet.  Eldon will build them to match the fence, but the rails may be out of a different wood as the white oak is so heavy.  For now, that is on hold while he figures it out.
.
.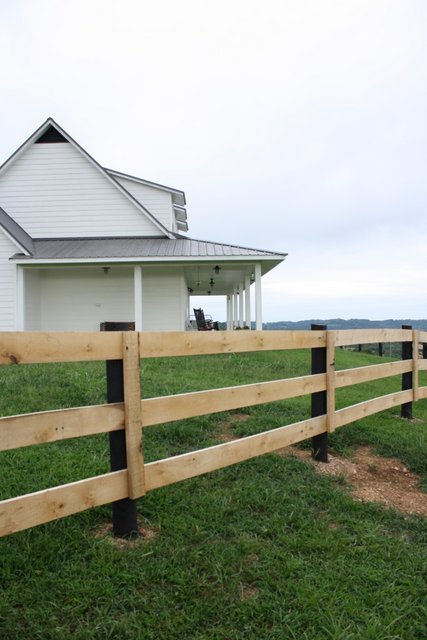 .
What a huge relief to have it finished (other than the black paint – oh I dread that job) and we couldn't be happier.  It is so nice to have a large yard area and it makes our home look a little less like a construction zone!
.
.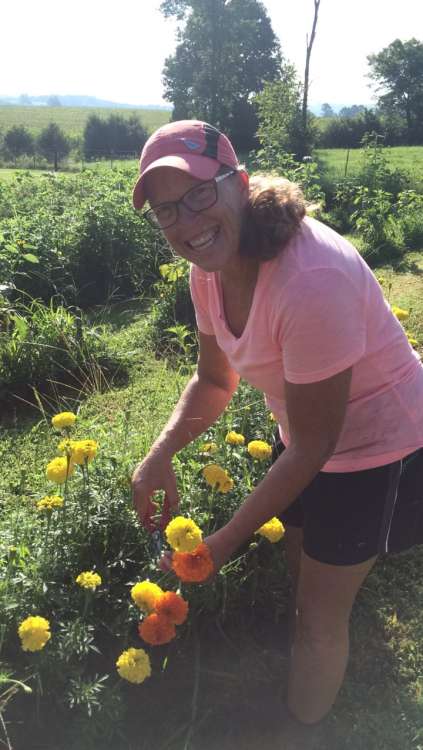 .
Between fencing, working in my vegetable garden, canning my produce and working daily in the flower farming business I have with my daughter… it has been a busy summer.  However, we've managed to fit in some boating and fun family time too.  Exactly the kind of summer I like!
.
I'd love to hear how your summer has been and what fun projects you've been accomplishing!
. .
Until our gravel roads cross again… so long.
.
Dori