It must have been 20 years ago when I first heard from an orthopedic surgeon that my feet and ankles were toast. As I usually do when I hear news that I don't actually WANT to hear, I put on my rose colored glasses and plopped my head up in the clouds and just kept trucking.
But, it's become harder to ignore. If you've been here with me for any length of time, then you know I have continued to injure my ankles and feet through-out the years. The last time I did, I just didn't bounce back. So, the time has come to do something about it. I've realized that I can't do the things I want to do. Like hike some of the the Appalachian Trail. And travel to cool places. And maybe, just maybe run again.
I know that it's no big deal to anyone who's not having it done. But to those of us who have it done, well, it's a pretty big deal. No weight on your feet and ankles for 6 weeks. I can't drive.

Mustache Cat, my sentiments exactly.
And. Sadly, I CAN'T RIDE A HORSE FOR 6 MONTHS. (Wait, what was that I just heard? Neighing and cheers of joy from the boys in the barn? Merlin! You know you'll miss me.)
I decided to bite the bullet about month or so ago and scheduled surgery for the 27th of July. I've been counting down the days. It has been a month of trying to figure out what all needs to be done and how I'm going to pull it off.
What is a Farmgirl to do??
#1 First thing in my mind was food. I like to eat. And since we're no longer in the city, take-out is not an option. We are also 30 minutes from a grocery. So I started cooking and freezing. A lot. All my daughter or husband has to do is pick a casserole out of the freezer and pop it in the oven. My daughter was a great help in this project. Here's her list of the casseroles we made. I'm glad she made it because I've lost count. And sure, I had hoped to do a few others, but ran out of time. 18 meals. That's pretty good.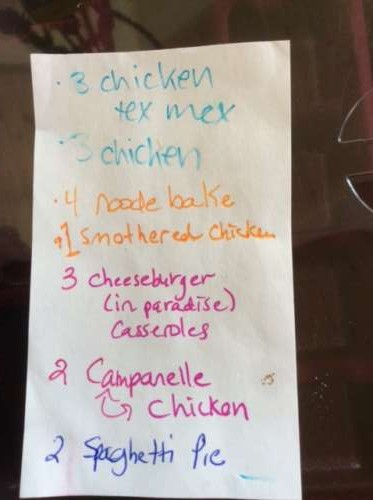 All of the recipes have meat and veggies that I already cooked, so it's just a matter of heating them up good and hot.
#2 Then I thought about sleep. I don't do it well, but I like to and wish I could and am always hopeful that I'll learn how to again. But what is important is that my bed is on the 2nd floor. I won't be able to climb stairs for quite some time. So I've worked to set up the guest room with everything I'll need. Clothes, shoes, make-up, personal things, entertainment. Here's my bedside stash of books.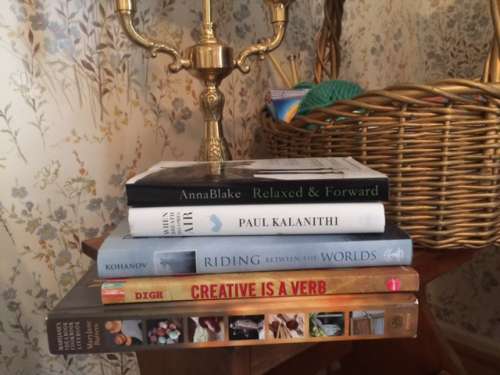 Please note this one. It is a fantastic book to just open up to any page and be and completely and seriously inspired by MaryJane.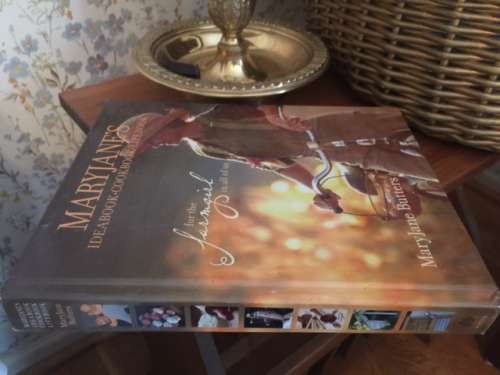 And I've added this to my pile of "things to do":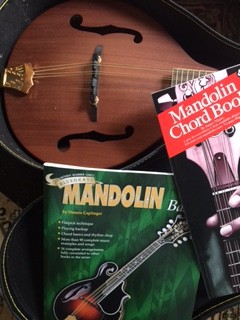 We'll see how that goes.
#3 Next I thought about my animals. I cleaned out the chicken house completely so the task of feeding and watering and caring for them would be as pleasant as possible for my husband and daughter. I'm sure the chicks appreciate the fresh hay in their nest boxes.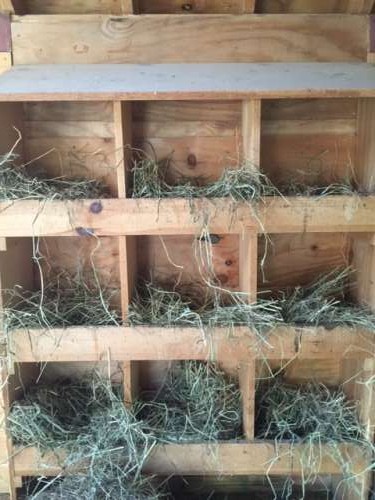 I also went to the feed store (also quite a distance away) to have extra chicken feed on hand so we wouldn't run out.
Now, you may not want to see this, but I'm showing you anyway. I'll make the photo small so you can't see the true grossness of it. I have it on the steps outside my chicken house. I'm telling you: these fly catchers are unbelievable. I set this one out about 3 weeks ago and look. Can you believe all those "nasty" flies? I say "nasty" flies because never have I ever heard my Mom just say "flies." She always says "nasty" flies, so therefore….I do. "There's a nasty fly in my kitchen!" "Get the nasty fly off our picnic!" "I'm going to kill that nasty fly!" You get the idea.
My horses are more of an issue. There is NO ONE in my household, other than me, that spends any time in the barn. I find complete peace there, shoveling manure, filling the water trough, petting soft muzzles. But I'm the only one here that does. Knowing that was the case, I set out to find some help. And I was lucky, lucky, lucky. A very hard-working and nice high school boy agreed to come and help me take care of the barn and horses. Thank goodness!
I also have a college gal (whom I trust big time) to come and ride my horses. She has been working to train Jesse for me and will work with the other horses as well. (What do you say about that, Merlin?)
#4 Learn to walk on these babies. I am so lucky.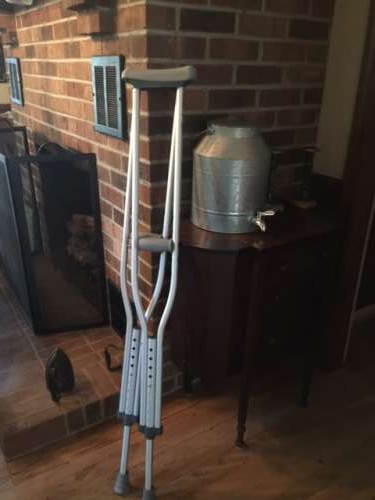 I've never had to deal with crutches before. I've been practicing and even have a little scooter for getting around. I also have this addition to my bathroom: a shower chair.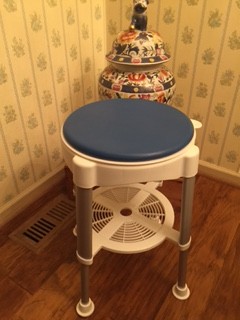 I'm feeling a bit elderly. Just a bit.
#5 You might wonder what's happening on a Christmas Tree Farm this time of year, late July? What responsibilities do I have to deal with there? None! One reason I picked this time of year to have this surgery is that the timing is good. The only things going on right now is weeding and tagging Christmas Trees. I don't deal with either of those things. #6 I'm also thinking about gardening chores. Those just aren't going to get done while I'm recovering. Oh well. There is one that I must take care of. I purchased a fig bush this past spring that I've needed to plant. I didn't know it until a few years ago, but I LOVE figs! My gosh, they are so sweet and delicious. And the ones you buy in the grocery store are just awful. So, I finally found a fig that is supposed to be able to weather our winters here. I've wondered about where to plant it, wanted to get just the right spot. Changed my mind so many times about where to place it.
And now, I can't wait any longer. I'm popping it in a hole made by a big rock we dug up. It will have to work.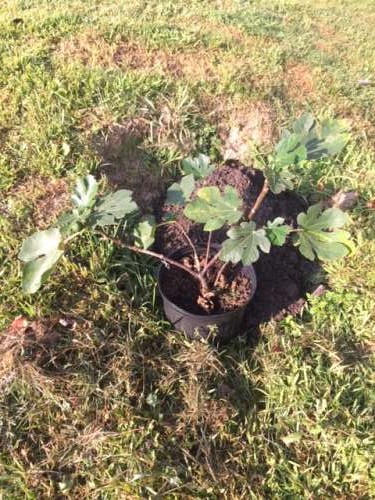 #7 Vacay. I am so stressed out. I knew I needed to get away. My daughter and I met my parents and my sister at a cabin in North Georgia for some relaxation and fun. We played games. Walked around (and yes, caught Pokemons). Ate delicious food. Visited. Sang camp songs. Sat in rocking chairs on the back porch. It was a wonderful, relaxing, peaceful time. Every minute spent with my parents is a treasure. They are such positive, happy people. A beautiful couple who will be married 60 years in a couple of months. I don't mean to brag, but my parents are the dream parents that everyone wishes they had. Being with them means pure joy.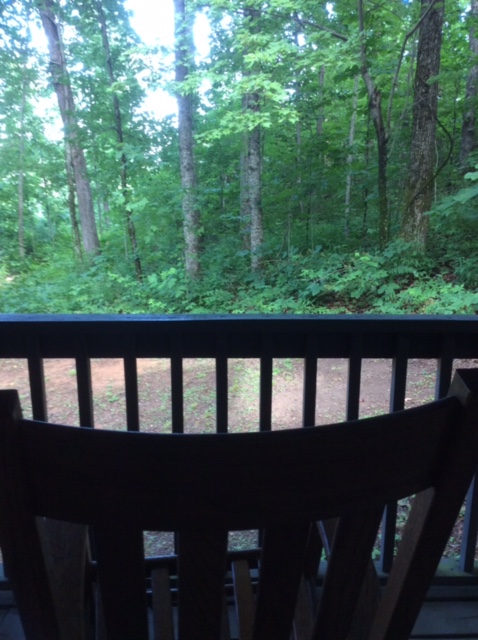 And while we were in North Georgia, we visited the Foxfire Museum. Finally! I've wanted to for years.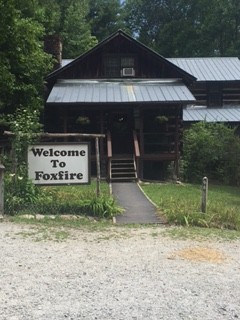 And then I headed to the beach. I hadn't seen the ocean in many years, since I did the Shrimp and Grits race at Jeckyll Island, like 10 years ago. This trip was soooooooooo needed. I sat and stared at the ocean. I played in the waves. I ate seafood. I laughed. I didn't get sunburned. Success! AND. It just happened to be the full moon while I was there. Meaningful. I took these photos from the balcony. The storm blew in, raged all night, and then blew out my 6 am. And yep, that's the moon in the 3rd photo.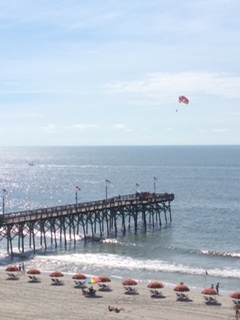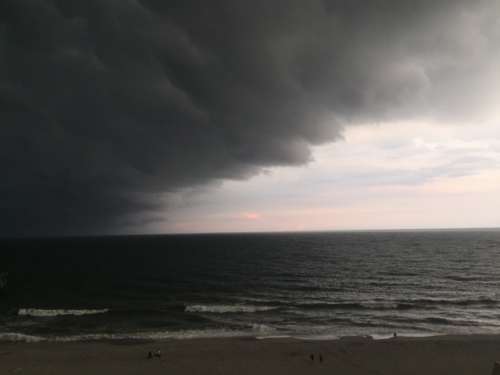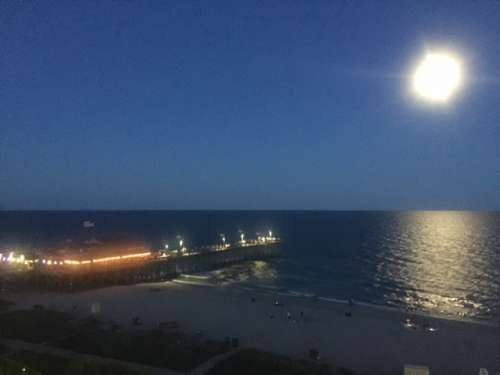 So the preparation is finished. Now I just have to do it.
And get it behind me.
And look forward to the adventures that lie ahead.
Until next time, Friends, savor the flavor of life!
Lots of love, The City Farmgirl in the Country, Rebekah
PS He's my pal now! Follows me everywhere and gets in front of my feet so I'll lean down pet him. Cute, handsome boy.